Chernobyl is a disaster that has fascinated us for many years. We have watched countless documentaries on the disaster before HBO released it's hit series. Here is the ultimate guide to Chernobyl, a place which feels out of this earth. It's a must visit for any traveller.
Introduction
Emma has always wanted to visit Chernobyl after watching the horror film 'Chernobyl' back in 2012. We had both heard about Chernobyl before this, but were even more intrigued after watching this and seeing how much of a ghost town it actually was.
Once we had booked Kiev, we started to look out for companies who would be able to do the full tour of Chernobyl and Pripyat. We stumbled across http://chernobyl-tour.com . We immediately started planning and working out the exact dates we could book and did it all online on their website (linked above). It was super straight forward and we confirm the booking and made a deposit for the tour. We liked this concept as we knew if anything had to change, only a deposit was made. The rest of the cost was to be paid on the day of the tour. It is quite expensive at $149 per person, however, this was for the one full day tour for the dates that we wanted.
Can You Visit Chernobyl?
Yes, the cities of Chernobyl and Pripyat can be visited by tourists, however, they can not be visited independently, you must go with an organised and regulated Chernobyl tour.
How Much Is A Tour Of Chernobyl?
The cost does vary in price depending on when you go. You can also book a two day tour which is a bit more extensive and you also stay in a hotel on site. We, however, didn't have the extra day to work with so just booked for the one day tour. When booking, we did also pay the extra $10 for a Geiger counter just to add to the experience. Another note to make when booking, it allows you to inform them if you are vegetarian. Emma is a Veggie so we ticked the box and then also let our guide know on the day so they could make sure there was some available when we had lunch later in the day.
Once we paid the deposit, we immediately got a confirmation email through telling us how much the remaining cost was and all of the guidelines that we needed to read before going on the trip.
What Clothing Do I Need For Chernobyl?
Clothing: necessarily with long sleeves (jacket, shirt), pants, closed comfortable shoes and a hat due to the weather. Be sure to see the weather forecast. If necessary, please take spare socks and a raincoat. It is PROHIBITED to wear any open type clothing and footwear in the Zone. As you can see from the photos below, we both wore a variation of gym clothing so that we could be comfortable and covered. It was extremely hot when we visited so we took this in to consideration with our outfits to ensure we wouldn't overheat.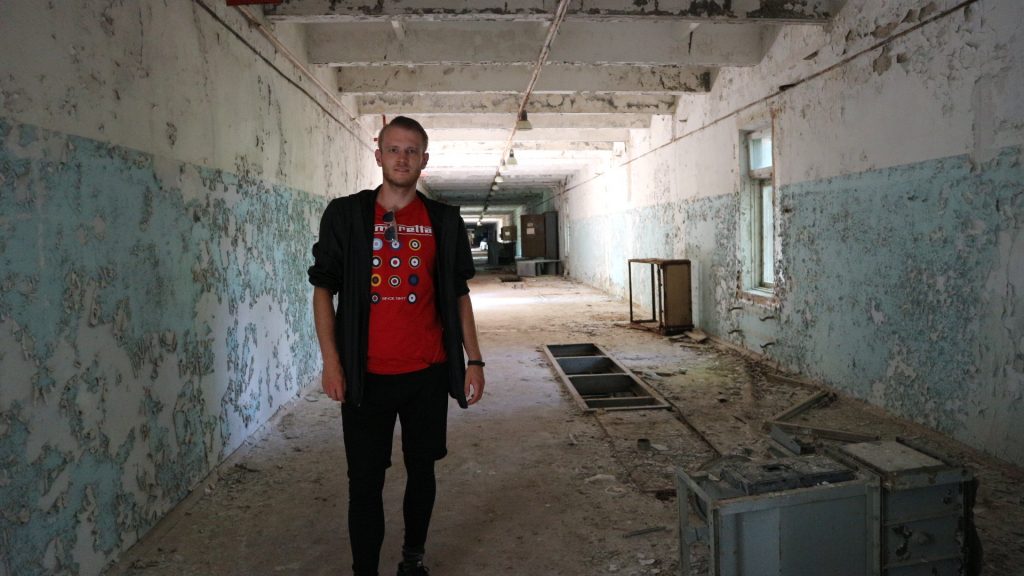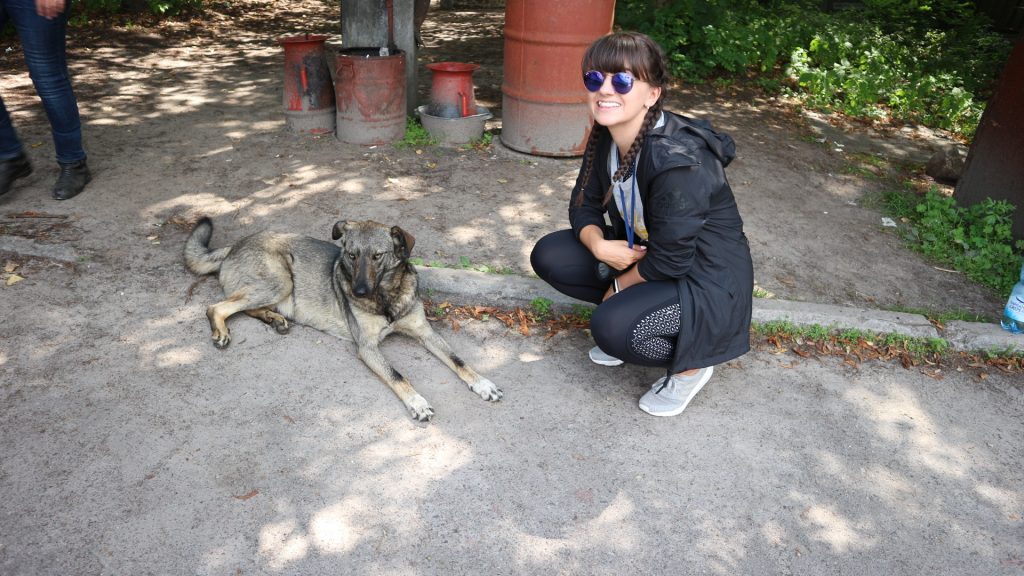 Food and Drink at Chernobyl
Taken from our tour website: It is advisable to bring along for the trip: your personal first aid kit, water, sandwiches and /or some snacks to eat in the bus. In the middle of the tour there is a lunch for the participants of the trip. If you need a vegetarian diet, please let us know about it when getting on the bus. If you have not booked lunch, you will be able to do it in the morning when getting on the bus.
Individuals who are intoxicated with alcohol, or in a state of alcohol /drug hangover are not allowed to enter the Zone. It is forbidden to use alcohol and drugs during a trip. It is prohibited to enter the Zone with any weapon and / whether ammunition.
The Start Of The Tour
We were advised that we needed to be at the pick up point between 07:15-07:30. The bus would be leaving at 8:00 sharp so we needed to ensure that we got there with plenty of time. We managed to arrange an Uber to get us there and it only cost around £2.
On arrival at the pick up point, we found our bus and went to see our guide. He made sure we had all of the correct clothing on. Myself and Michael both opted to wear gym leggings and sports jackets. It was extremely warm when we visited and was around 38 degrees. So this is why we opted for sportswear as we thought this might keep us a bit cooler. We got on board and met the rest of the people on the tour. The guides then spoke about Chernobyl and then showed us a documentary on Chernobyl.
Entering Pripyat
Once we arrived at the Chernobyl Zone, we were allowed to get out of the mini bus and look at the souvenir stall. This is the only place to buy anything on the trip. They offer magnets, tshirts, pens and drinks/snacks. There is also a toilet stop here, but be warned, it is DISGUSTING! Emma didn't go but Michael struggled that's saying something.
From the entrance to the zone, we headed to the first pit stop. Here, we were allowed to go in to an old school and doctors. We also went in a few of the older houses. We had our Geiger counter and were shown some hot spot areas in these rooms too. It was so eerie in these buildings knowing that the people who lived there had to flee and leave things behind.
There were definitely some good photo opportunities here with the creepy old dolls and beds scattered around the rooms. It was quite dangerous too as the floors were uneven and often broken in places so make sure you're careful on where you're stepping.
From there, we went to our next stop which was one of the reactors that they had attempted to keep hidden. The reactor was HUGE and towered over the trees. It's baffling how they thought they could keep it secret. We also spotted a few of the dogs roaming around and stroked a few (we washed our hands with sanitiser afterwards just in case). They were all so calm and loving.
Dinner At Chernobyl
We then headed to one of the worker stations for lunch. It was amazing to see it all running. We had to go through a radiation testing point to make sure it was safe to go inside and then we all queued up to get our food. Michael got some form of meat stew and Emma got so much fruit and fresh vegetables. Emma definitely got the better options of the two! There are toilets here too which are a lot cleaner (still not great) and significantly cleaner that the one at the checkpoint.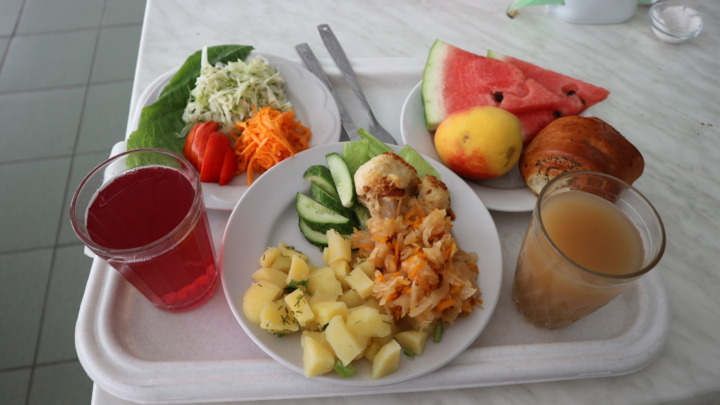 After food, we then headed to the closest point to Reactor 4 (the one that exploded during the Chernobyl disaster). We saw the monument that was created and talked about the history and the magnitude of the explosion itself.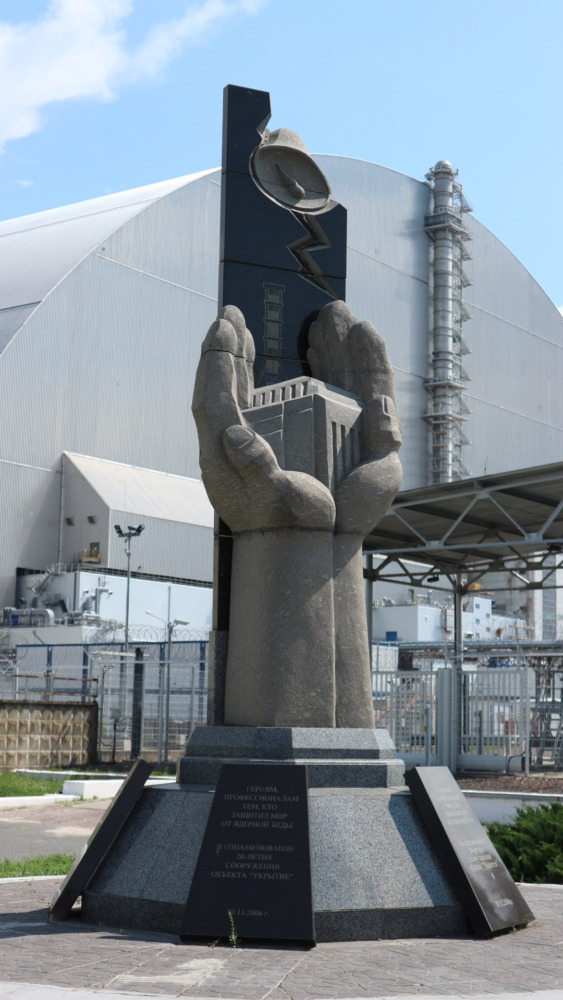 Pripyat and Chernobyl Fairground
We then headed further in to the town of Pripyat and wandered the abandoned streets. This was definitely one of our favourite parts of the trip. It seemed like it was just our group as everyone was spaced out. This made it super eerie and scary in some ways. We managed to get in the doorway of a good few buildings to have a look around. Unfortunately, the swimming pool and some other buildings were out of bounds due to recent damage and falling debris inside.
We also went to the fairground. This was never used as the disaster occurred before its grand opening. The ferris wheel was a hot spot for radiation and the Geiger counters were going wild. It was amazing to see how it was all still standing and definitely a good photo spot. We also spotted a football stadium too which was also never used. It was spooky to walk around the football pitch which was left to decay all of these years. It's definitely one of Michaels top stadiums he's visited purely for the fact that not many people would have visited it before.
From here, we went to see some of the robots that they sent in to monitor reactor 4 and also some more monuments that were created in memory of the disaster.
We were told that the remains of the towns affected may not be there for much longer due to the decaying buildings and wildlife taking over. If you're going to visit, definitely make sure you do it in the next few years whilst you can.
Is Chernobyl Worth Visiting?
Overall, we highly recommend this tour and we would love to get the chance to do it again if we could. It was highly informative and the tour guide was amazing.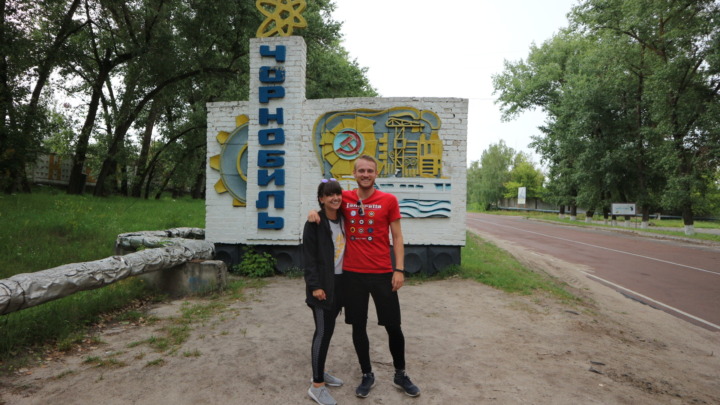 Since visiting, the HBO tv program called Chernobyl aired and showed another side to the horrific disaster. This is such a good watch and we definitely recommend watching it before you visit!
Check Out Our Other Destinations