Da Nang is the fourth largest city in Vietnam and is a great place to stay to see the Ba Na Hills, Golden Hands, Hoi an and The Marble Mountains. You may not have heard of this city but it's well worth a visit.
Introduction
Da Nang is one of the largest port cities in Vietnam and boasts miles of glorious golden sands. It is a popular base for tourists due to the cities proximity to Hoi An, Ba Na Hills and the Marble Mountains. A population of 1.134 million makes it the 4th largest city in Vietnam. The popular Grab service is available in Da Nang, we recommend that you use this over the taxi services.
Where to stay in Da Nang?
After much research, we opted to stay in the Aria Grande hotel. This proved to be a great choice and we would recommend that you stay at this hotel. The massage that we received was incredible!
Pros:
Very central location, in the middle of downtown and only a 5 minute walk to the beach
Rooftop pool and bar
Large rooms with modern interiors
A free massage for one guest during the stay
The hotel includes a spa with a steam room and sauna
Excellent breakfast with plenty of options
Cons:
Noise from the corridor on a evening
The pool was freezing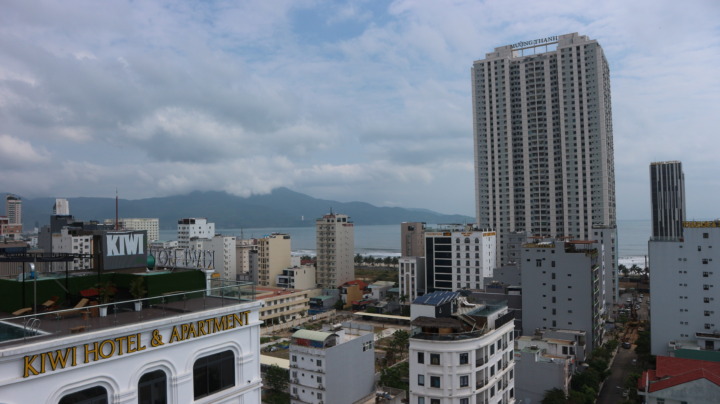 What is there to see in Da Nang
Hoi An
Da Nang is only a 40 minute Grab ride away from Hoi An. You can read about the city of lanterns, here.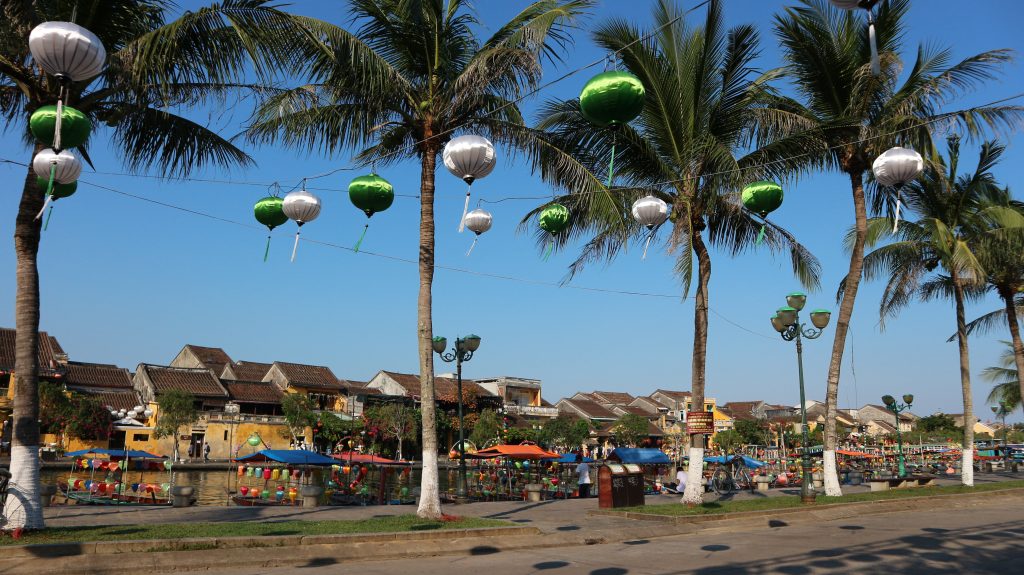 The Marble Mountains
This was the attraction that surprised us the most during our trip to Vietnam. Due to the weather taking a turn for the worse our plans to spend a day chilling on the rooftop pool and the beach were scuppered. On our taxi journey from Hoi An to Da Nang, we spotted the Marble Mountains, it looked like Halong Bay in the centre of a city and the 5 mountains dominate the skyline of Da Nang.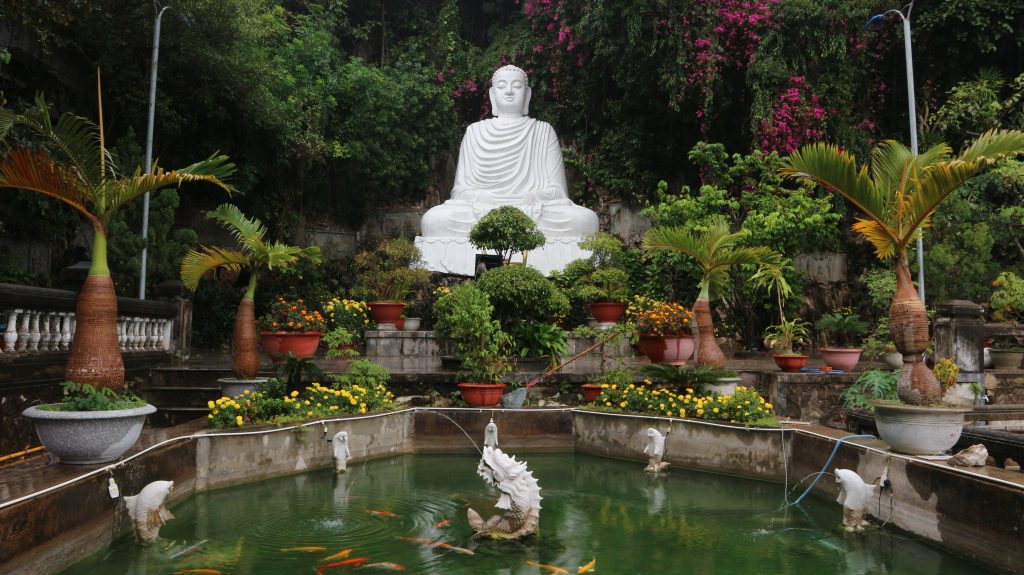 After dropping our bags off at the hotel we grabbed a Grab for the 15 minute journey to the Marble Mountains. Entry was cheap, costing only 40,000VND (£1.30) each. There is an option to pay an extra 15,000 VND (50p) to get an elevator up to the top of the mountain. To be honest, if you are fit and healthy you will have no problems with the stairs.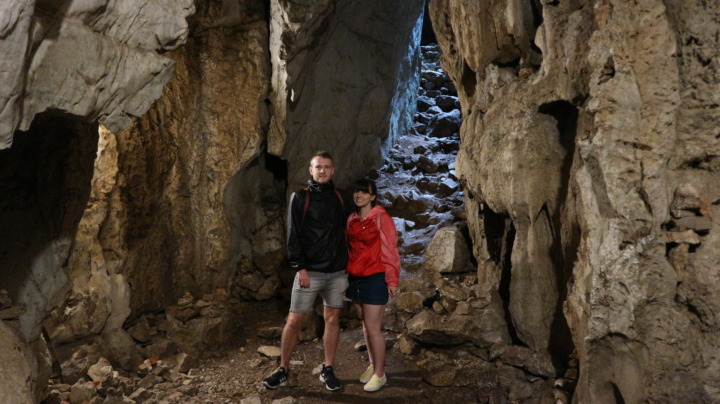 The Marble Mountains feature caves, temples, mountains, amazing viewpoints and even wildlife. You will see from our selection of photos below how stunning the Marble Mountains are. The biggest surprise was stumbling across a monkey who remarkably stole another tourists' bottle of Fanta!
Ba Na Hills
The Ba Na Hills are a short 45 minute drive from Da Nang. Read about the amazing Ba Na Hills and Golden Hands Bridge, here.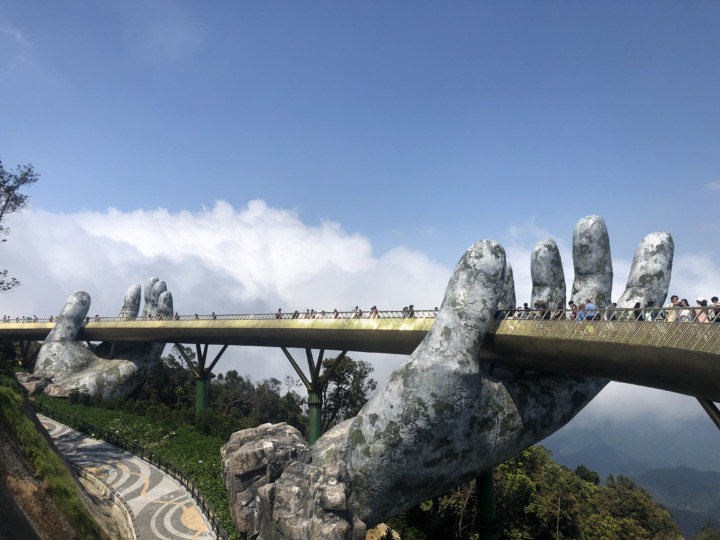 Upside Down World
The concept for Upside Down World seemed great and the photos from other travellers got us so excited to visit. What a disappointment it turned out to be. After our trip to the Marble Mountains, we decided to check out Upside Down World. Michael was mega excited about this.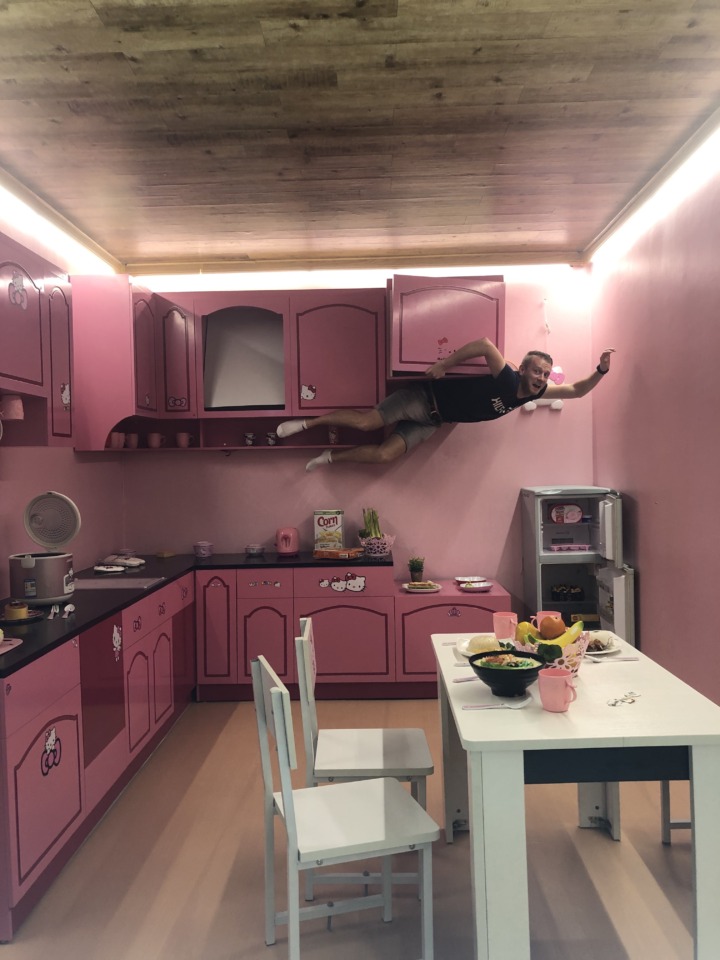 On arrival, we were surprised that it was 100,000VND (£3) each, almost double the price of the Marble Mountains. Maybe this is why we were expecting a lot more. We were admitted into the attraction but no clear indication was given by the staff.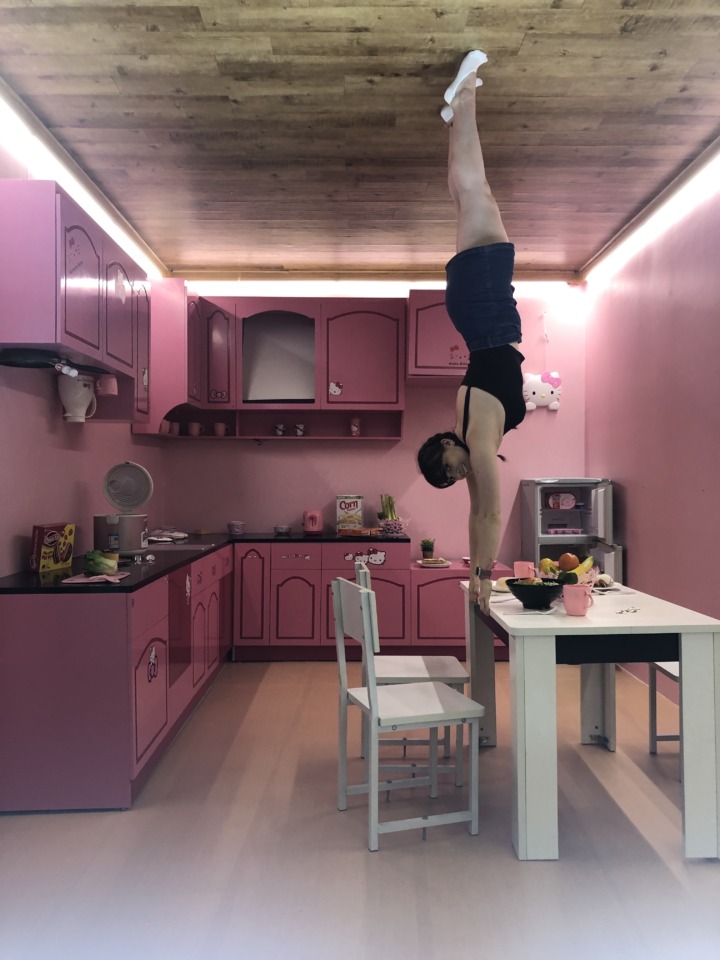 The photos below look cool but we only spent about 30 minutes in here and left mega disappointed. The whole place was quite dirty and not well kept. The toilets especially need a lot of TLC, they were full of spider webs and general dirtiness. We wouldn't recommend visiting this attraction.
Where To Eat In Da Nang
Sticky Fingers
We visited Sticky Fingers for a few beers and some pub grub. Sticky Fingers is an American themed bar that also serves pub grub. The food was decent, the staff friendly and the beers were well priced. Tacos were on the menu and took our fancy, we were not expecting much but the food was surprisingly good. We'll cover Sticky Fingers later on as it's also a great watering hole.
Burger Bros
Cash only. We'll start by saying that because yep, you guessed it, we only had our trusty Revolut cards on us. This cheap eat is in Downtown Da Nang and it is very much a cheap eat, there are no frills in this place, what you see is what you get. The burgers in this burger joint were the best we had on our tour of Vietnam. All of the ingredients were fresh and they also had an extensive vegetarian menu for Emma.
When the time to pay came we were told it was cash only, this led Michael on a wild goose chase to find an ATM. Grab's are that cheap that he got a grab down to the Hilton hotel that had an ATM outside of its hotel. Tip: always carry cash on you in Vietnam.
Where to drink in Da Nang?
Sticky Fingers
As previously mentioned, Sticky Fingers was a great place for food but it was an even better place for a drink. Equipped with a dartboard, pool table and live sport, its a perfect place for westerners to settle down for a few pints. There was a large ex pat community in here, all of them very friendly. Drinks were very well priced and this was one of our favourite bars on the trip.
Fun fact: Sticky Fingers was the birthplace of Trip Adviseher. It was where we first purchased the domain name following the advice from a random guy at the Horizon Rooftop Bar.
Horizon Rooftop Bar
Based in the Four Seasons by Sheraton hotel, the Horizon Rooftop Bar offers one of the most stunning views over Da Nang. As expected, drink and food prices in this place were treble of those elsewhere in the city. The views were stunning and we shared our time up there with a guy who was in Da Nang for a conference, he told us to start a blog after telling him of our travels. Unfortunately, we didn't catch his name but thanks for the advice.
The beer in this place didn't taste great and was overpriced. There may well be better rooftop bars in the area.
On The Radio Nightclub/Bar
Wow, what a night. After the Horizon Rooftop Bar, we were not ready to hang up our dancing shoes. After a quick Google, we found a bar that was open and had live music called On The Radio, What an experience.
When we first walked into the bar it was clear that we were the only Westerners in here. The atmosphere was not intimidating one bit. A hostess showed us to a table and we ordered our drinks. The live show was bizarre. Popular western pop songs were being covered by a Vietnamese act.
The locals could not have been friendlier, they didn't want us sitting alone and they dragged us over to their table to sit and enjoy the night. We shared beers, shisha and food platters. A memorable night and a must-do whilst in Da Nang.
Da Nang International Airport
A big plus for Da Nang is its international airport. Da Nang's location in the middle of the country is favourable, it means from here you can be in Hanoi or Ho Chi Min City within just 2 hours.
Is Da Nang worth visiting?
We used Da Nang as a quick overnight pit stop between Hoi an and Ho Chi Min City. It is well worth visiting for its glorious golden sands and to also see the Ba Na Hills and The Marble Mountains. It did seem like quite a modern city and we felt that one night was enough.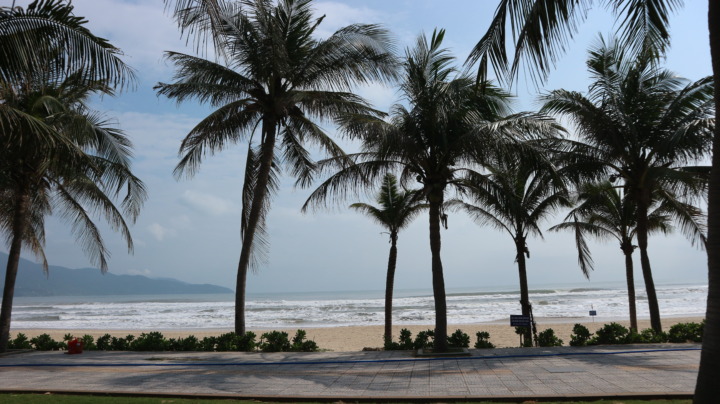 Where we visited in Vietnam
Ba Na Hills – Golden Hands Bridge
Cu Chi Tunnels and Mekong Delta
Check Out Our Other Destinations