Guimaraes, Portugal's birthplace, is often missed out by tourists but 24 hours in this UNESCO Heritage City should be at the top of your bucket list. Find out why.
Introduction
Guimaraes is steeped in Portuguese history. It is a UNESCO World Heritage site as it is an exceptionally well-preserved example of a medieval city. Guimaraes is the birthplace of Portugal as the nations first king was born here. In 2012 Guimaraes picked up the award for European Capital of Culture.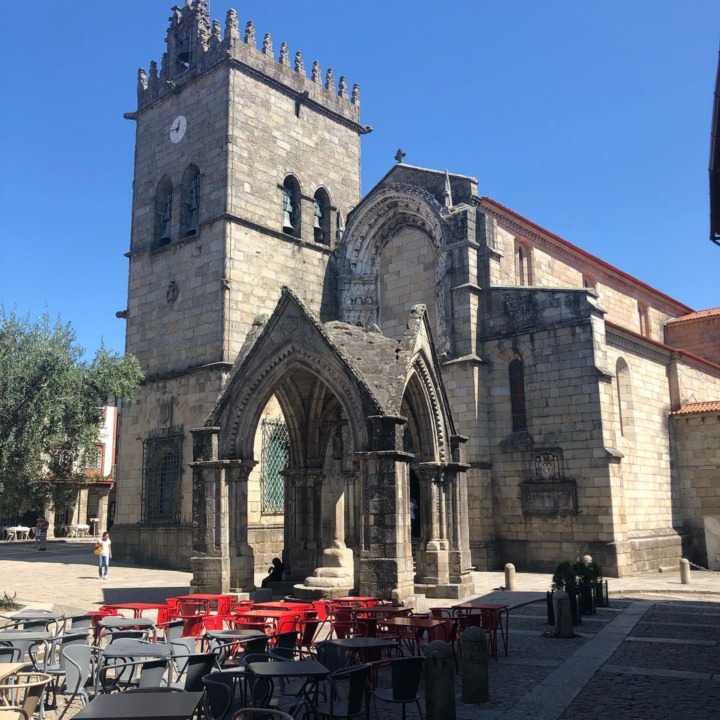 Michael visited Guimaraes alone as part of a trip he took before a work event. Read on to find out more about Michael's solo trip.
I travelled alone to Guimaraes from Braga and it was my last stop on my quick tour of Northern Portugal. 24 hours is enough time to see and enjoy Guimaraes, I'd highly recommend it to any travellers in this area.
How to get to Guimaraes
Guimaraes is easily reached from Porto, simply take the Guimaraes line and Guimaraes is the last stop on the line. It takes around 1 hour and 15 minutes to get to Guimaraes from Porto. I travelled from Braga to Guimaraes, this was a little difficult, however, there is a direct bus service that goes between the two towns. The bus, which drops off locals in remote towns along the way takes around an hour.
Best Hotel in Guimaraes
Santa Luzia Arthotel
Wow, this hotel is simply stunning.
It was around 30 degrees when I visited Guimaraes. I was looking for somewhere with a rooftop pool to relax and unwind after a long day in the sun. What I found (thanks to Google) at the Santa Luzia Arthotel was pure paradise. It's located slap bang in the middle of the city centre, a perfect location.
Now, I'm not sure if you can enter this hotel without being a guest but I tried my luck and it paid off. I walked through the grand hotel lobby and it looked spectacular. I got the lift up to the rooftop pool and to my surprise, I found it fairly quiet. The pool was just too inviting, I jumped straight in, enjoyed a swim and the excellent panoramic views of the city. It's a great place to relax, I claimed a double sunbed, a beer and drifted away listening to the wonderful Abbey Road by The Beatles.
Unfortunately, I didn't stay at this hotel due to the price but if you have the budget then you must stay here. The average cost is around £80 per night.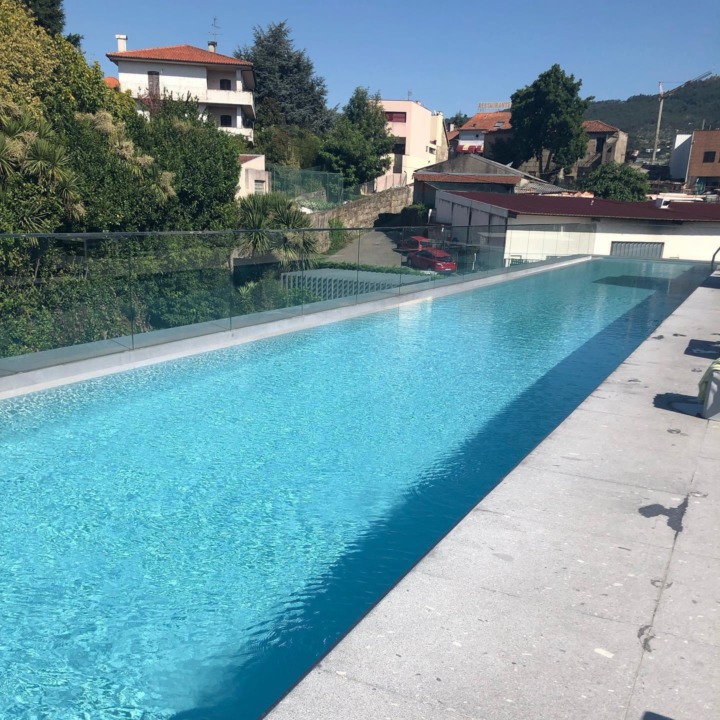 Where to eat
Deguste by Pedro Pinto
If a burger is taking your fancy then this place ticks all of the boxes. The views from the outside seating area overlook the stunning gardens of the Jardim Do Largo Da Republica Do Brazil and you also get a great view of the sanctuary of Penha. I managed to catch the sun going down here, making the cross of the sanctuary look even better.
The burgers here were incredible, I opted for the Tikka Masala burger. The chicken breast was thick and flavoursome and the masala coating, which doesn't seem like the obvious marinade was utterly delicious. The value for money is great at Deguste. A burger along with fries costs just €6.50, I enjoyed two beers at €2.50 each, taking my total bill to just €11.50. Unbelievable value.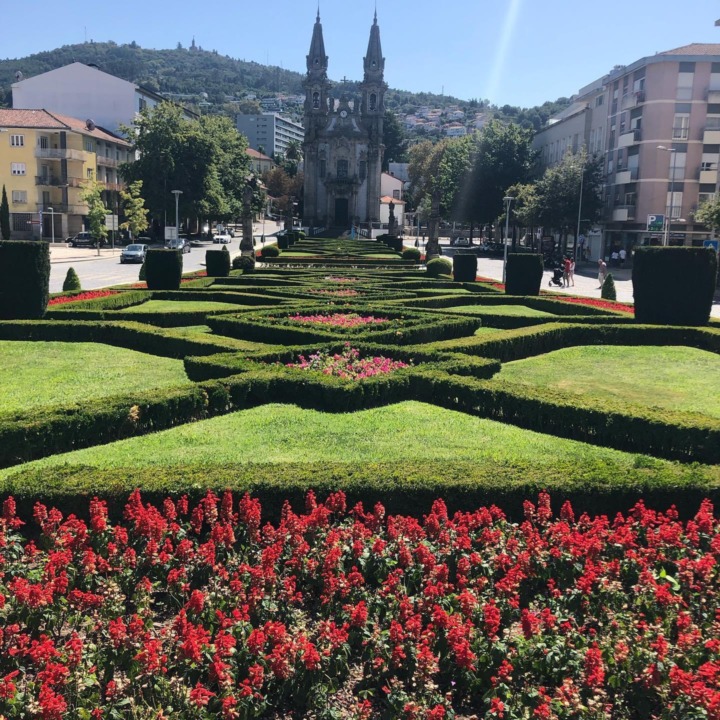 Duho Restaurant
This is very much a hidden gem, it's located about a ten-minute walk from the old town. From the outside, you might miss this wonderful place as it looks like unassuming. It is only through Google that I managed to find it and the positive reviews drew me in.
I visited on a lunchtime and I noticed that it was full of locals, not a tourist in sight, a great sign. I took advantage of their lunchtime special and opted for bruschetta, a sirloin steak (this was the highlight) along with fries and a beer for just €10. The food was delicious and of high quality. The price was unbeatable. I'd recommend anyone visiting Guimaraes visits Duho.
Things to do
Sanctuary of Penha
The Sanctuary of Penha is perched at the top of a hill that overlooks the city of Guimaraes. There is a cable car that goes up to the sanctuary but it is quite pricey at €7.50. It was a nice day, I was full of nice food from Duho so I decided to take a hike. What a mistake that was. It looked high from Guimaraes, however, I didn't know how hard of a climb it would be.
I'd consider myself to be very fit, I was training for a half marathon at the time so part of the reason of wanting to climb the mountain would that it would be a good leg workout. It took around 90 minutes to climb, the ascent starts going through a very hilly housing estate, you then hit the winding road that takes cars up to the top of the mountain. There's not really any footpaths on the ascent so you have to be wary of cars and buses and keep inside. The hike is incredibly steep and challenging and I would NOT recommend doing it. The views on the ascent are stunning along with the views from the sanctuary.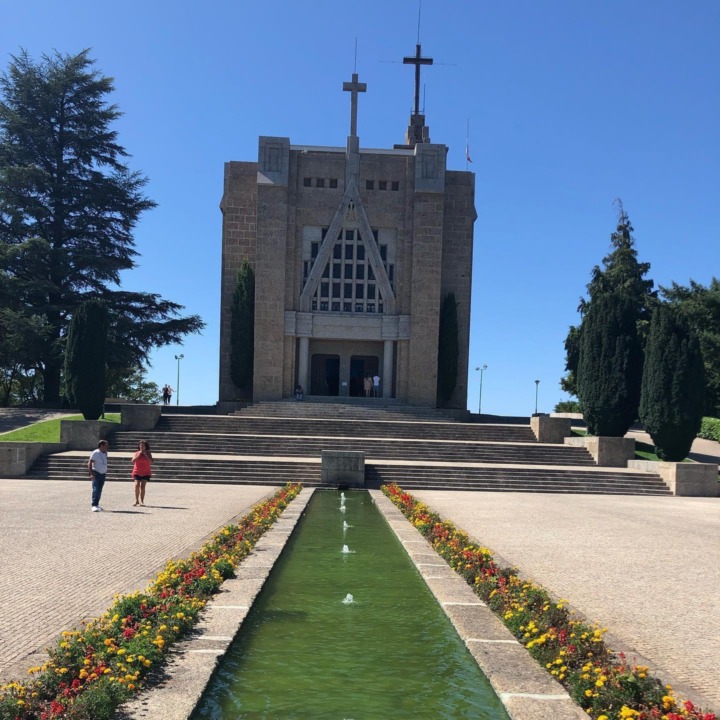 The climb down is a lot easier and you can also enjoy the views of Guimaraes and the surrounding countryside on the descent.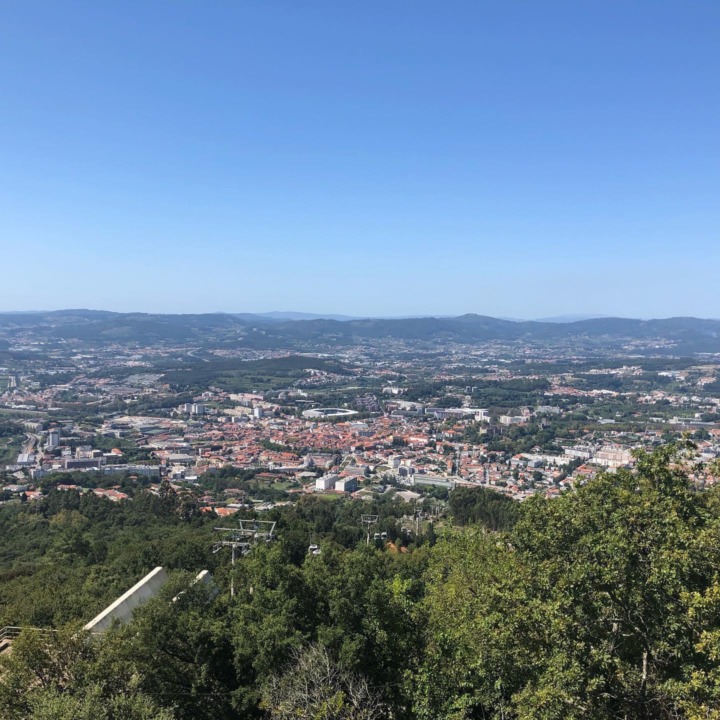 The Old Quarter
Guimaraes historic centre takes you back to medieval times. It is a maze of tight cobbled streets, squares, churches and castles. The old quarter is brilliantly preserved and a great example of how a medieval settlement is now a modern town. I found the old quarter very quiet and peaceful during the day. Tour groups quietly tiptoe around the city in awe at its beauty. By night it becomes a lot livelier, the restaurants and bars are bustling and the atmosphere around the old quarter is fantastic.
Guimaraes Castle
Guimaraes Castle is the birthplace of Portugal. I visited the castle early on a weekday morning and queues were already forming. To be honest the castle did not blow me away, the exterior was worth seeing but the full experience was not worth it.
Where to drink
Santa Luzia Arthotel
Although it's expensive, it's worth visiting the Santa Luiz Arthotel for a drink on their rooftop bar. In the summer it's in the perfect location overlooking the city. If you wish to cool down you can use their rooftop pool.
Pão Quente do Lugarinho
I found this place on my walk down from the Penha hills. If you are heading for the cable car then you will pass this bar on the way. After 2 hours of non-stop walking, I needed a refreshing beer. This place was cheap, only €1 for a bottle of Super Bock and offers fantastic views across Guimaraes.
El Rock Bar
I do like a bit of rock music so when I stumbled across El Rock bar it was a welcome surprise. They offer outdoor seating which is a must on those hot summer Portuguese nights. El Rock Bar is located on the main square in the old town where you will find an excellent ambience on an evening.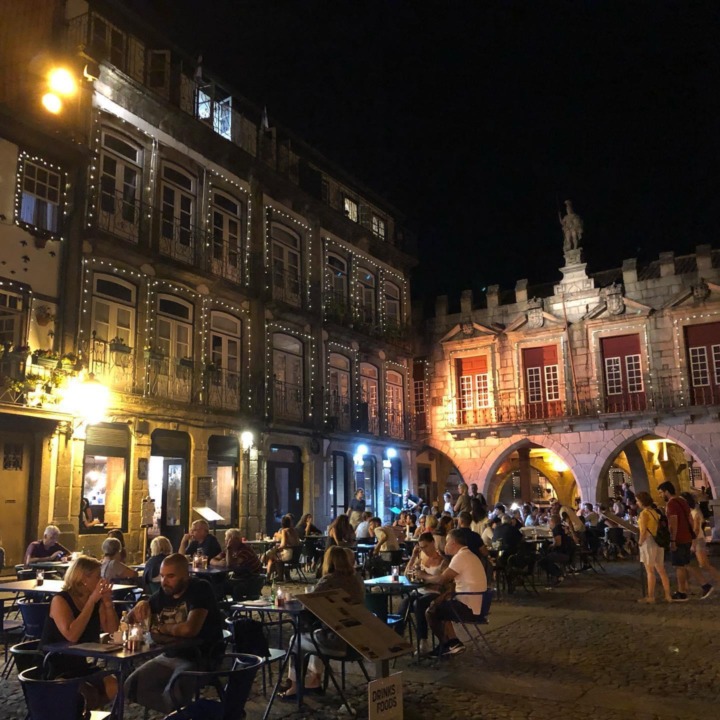 Is Guimaraes worth visiting?
Guimaraes is a must-visit if you find your self in Northern Portugal. 24 hours is enough time to see this UNESCO Heritage City. It is easy to reach from Porto and along with the neighbouring city, Braga is a must-visit. The restaurants and bars around the city are affordable and there is plenty to see and do in the city. It does feel at times that you have stepped back in time as you enter this medieval city.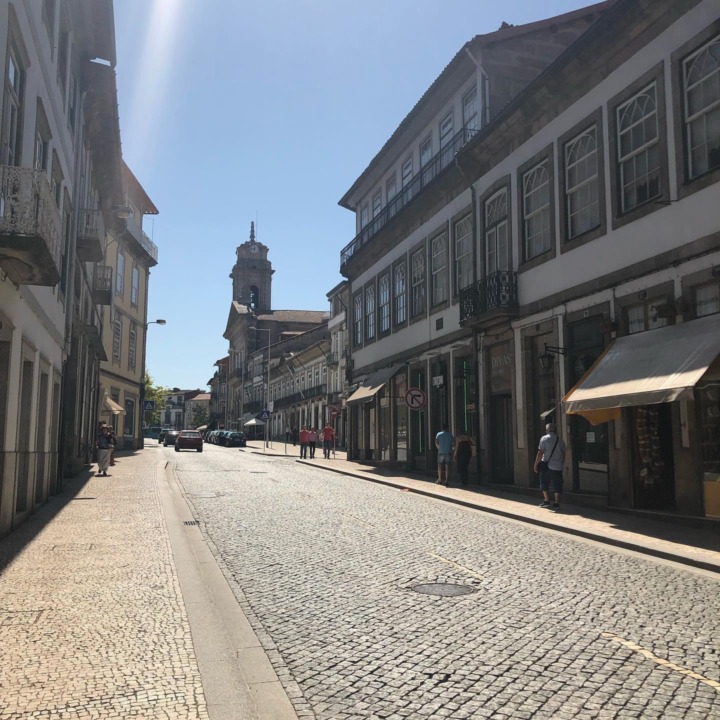 Check Out Our Other Destinations