The most populous city in Vietnam was one of our favourites. Ho Chi Min City ticks all of the boxes. Find out why Ho Chi Min City is a must-visit on your trip to Vietnam.
Introduction
Our Vietnamese adventure was coming to an end, although excited to reach Ho Chi Min City our arrival did come with a tinge of sadness. We arrived at Tan Son Nhat International Airport after a two-hour flight from Da Nang. With a population of 9 million, the city formerly known as Saigon is the most populous in Vietnam. As soon as you step off the plane you can sense the hustle and bustle.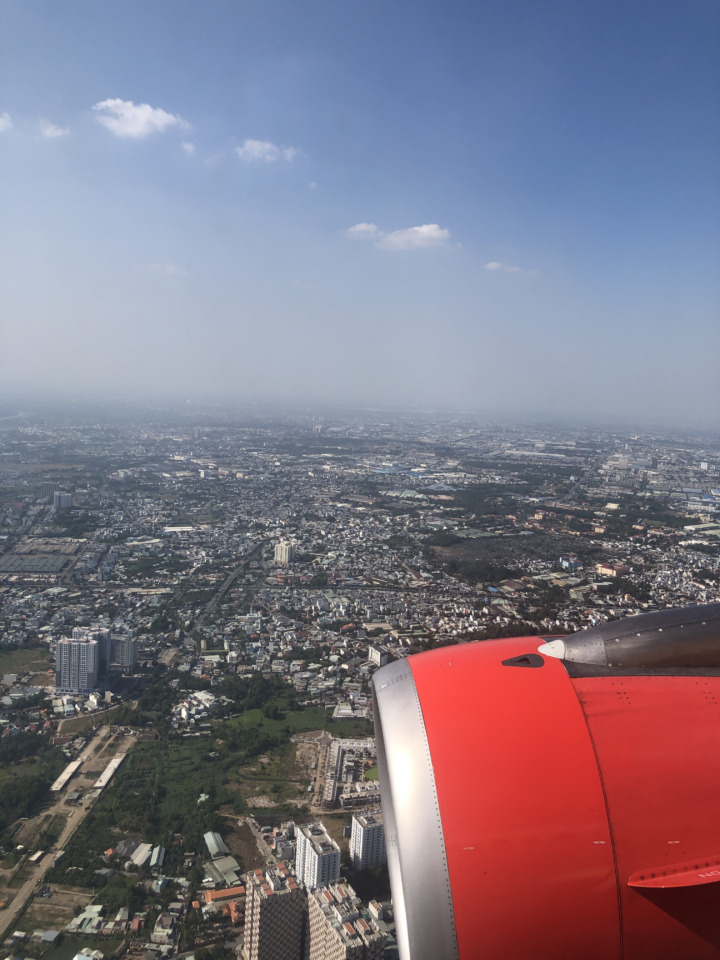 Getting from Tan Son Nhat Airport to Ho Chi Min City
We were overwhelmed as soon as we left the airport terminal, it was crazy. Luckily our hotel arranged with us before our arrival that they would have a driver waiting for us to take us to our hotel. After a quick WhatsApp to let him know we had arrived he appeared, it was like magic. The distance from the airport to the hotel didn't look too far but due to the traffic it took around 45 minutes, we did arrive at 5pm, right on rush hour.
Where to stay in Ho Chi Min City
After a lot of research, we chose to stay at the Chez Mimosa Boutique Hotel. This was due to its great location, great reviews and rooftop bar.
Pros:
Central location, no more than a 20 minute walk to all of the sites in Central Ho Chi Min City
Free laundry service! Yes, they offer a laundry service totally free of charge
Friendly staff – The staff here were attentive and always went the extra mile for you
Excellent rooftop – On a morning you can watch the sunrise whilst having your breakfast from the top of the hotel. By night it turns into a restaurant/bar where you can watch the sunset over a stunning Saigon skyline. Each room gets one free drink each per night at the rooftop bar.
Free foot spa – The hotel surprised you on your return from a hard days walking with a foot spa. This was filled with essential oils to relax and repair your feet.
Extremely quiet – Although it's based very centrally you don't get any noise from the outside. We had our best nights sleep here.
Spacious rooms – The rooms were big and modern, all rooms were equipped with a TV with international channels.
Cons:
Limited breakfast – Due to the size of the rooftop restaurant there is no facility for a buffet breakfast. Everything is made fresh and on site which is a positive but it's very limited. You'll have to get to breakfast early as things like fruit and bread ran out quite quick.
No pool/spa/sauna facilities – If you want these then this hotel is not for you.
Things to do in Ho Chi Min City
War Remnants Museum
It's quite surprising when you're walking through the centre of the most populous city in Vietnam to come across a huge American Huey Helicopter. The entrance of the War Remnants Museum shows off vehicles captured from the Americans in the Vietnam war.
Entrance costs only 15,000 VND (50p) and you will need at least two hours to see this place. As soon as you enter you can snap photographs of the machinery and vehicles captured from the Americans, after this you enter the 3 story building. Each of the floors have different exhibitions focusing on different parts of the Vietnam war. The most shocking exhibition was the one that focused on Operation Orange. This really did show the suffering that the Vietnamese people went through in the war. As expected, the museum is heavily biased towards the Vietnamese.
We thoroughly enjoyed this museum and felt that we learnt a lot about the Vietnam War.
Independence Palace
After the Army Remnants Museum we decided to wander the streets of Ho Chi Min City and see what we stumbled across. From the outside you can't really tell what this is, it's a fairly bland building in a modern Vietnamese style, however due to the size of the gardens and its prominent location, you can tell it's important.
During the Vietnam War, Independence Palace was home to the president of South Vietnam. To be honest there's not a lot to see here but for its historical importance, it was worth visiting. An army tank crashing through the gates of the palace marked the end of the Vietnam War.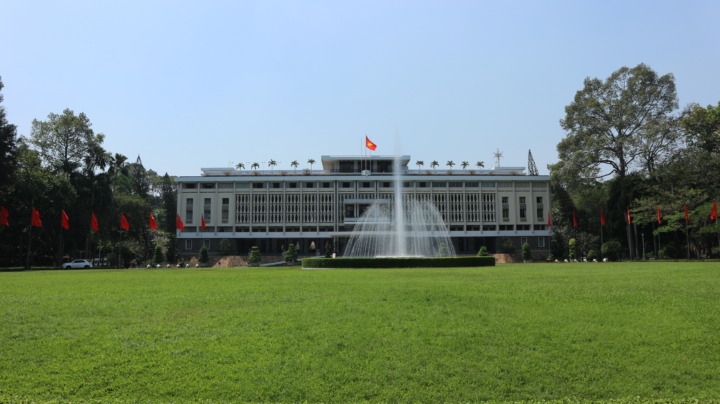 The five levels of Independence Palace feature meeting rooms, grand halls and a heliport on the roof. For us the most interesting floor was the basement, this dark, stark, utilitarian, windowless floor was full of equipment used for radio and communication during the war.
At a cost of 40,000VND (£1.50) it is well worth visiting. You will need around one hour to see Independence Palace.
Central Post Office
A post office would not usually be on our list of must visit sites on a city break.
The Central Post Office is an excellent example of French Colonial architecture. It's impressive both on the inside and the outside. Once inside the Post Office features looping arches, marble floors and antiquated telephone boxes, it really is like stepping back in time. Incredibly, it still functions as a post office today.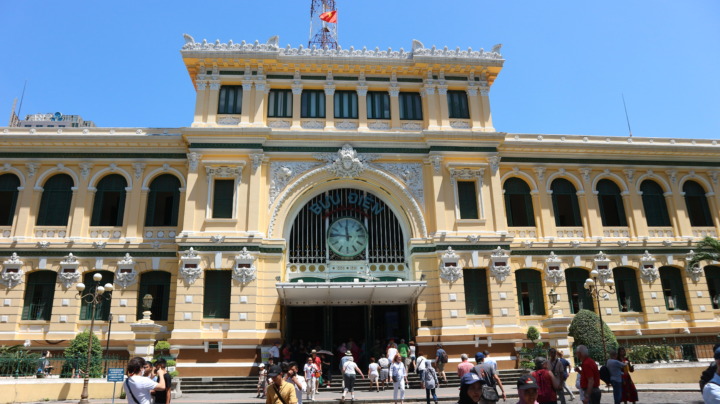 Entry into the post office is free of charge. The Central Post Office is located over the road to the Notre Dame Cathedral, meaning you can kill two birds with one stone.
Notre Dame Cathedral
The Notre Dame Cathedral looks out of place in Ho Chi Min City, this European looking church was built during the French occupation of Vietnam. Unfortunately, we could not enter the cathedral due to it being under reconstruction, the exterior was also covered by scaffolding. When these works are complete it should be stunning.
Pink Church
It was quite a long walk from the city centre but it was definitely worth it. Nestled between ordinary shops and skyline, the pink church sits proudly and boldly. Its beautiful pink facade stands out so clearly and makes it worth the walk! There are gates so you're unable to get closer to the church or go inside (or this was the case when we visited) and getting a photo outside can be quite difficult if you don't want the railings getting in the way of your shot.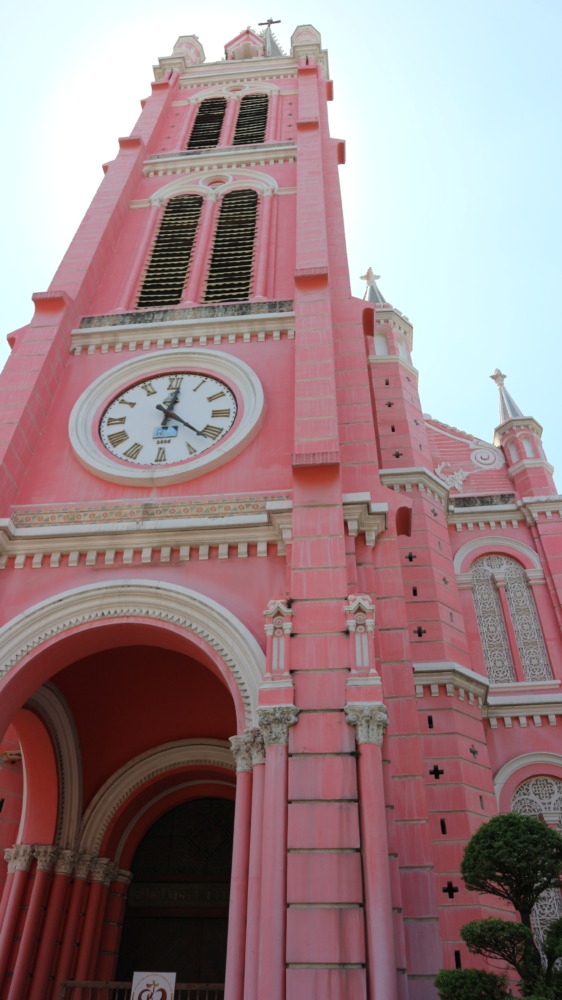 We crossed over the road to try and get a better photo and realised there was a little cafe with PERFECT views so we thought we would pop in for a quick drink and see if we could get a better photo. The cafe was brand new, unfortunately, it's not on Google and we've forgotten the name. You can't miss it though, it has an all-pink exterior and it's right opposite the Pink Church. The views were outstanding from the little balcony area that they had, however, the sun was shining right on it so it was super hot. The drinks weren't too expensive, we both had a Heineken but they did have a range of cocktails and coffees.
Overall, if you're visiting the pink church, definitely go to the cafe over the street as you'll be able to see it perfectly and get that perfect shot!
Ho Chi Min statue
This huge plaza looks to go on for miles, it's not often in Ho Chi Min City that you feel you have an abundance of space but this place is one of them.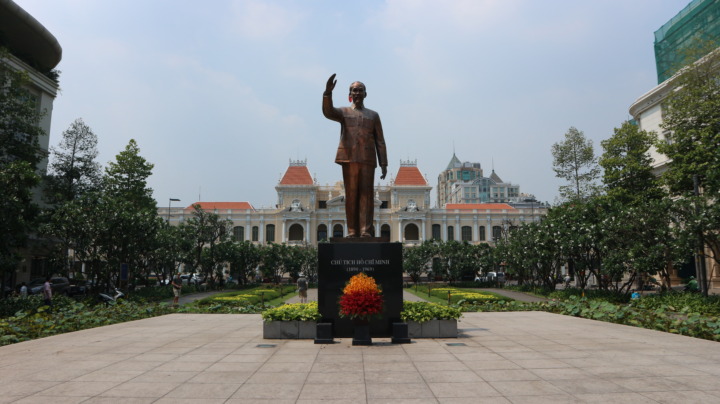 The long stretch, filled with colourful flowers and fountains are set around the centre point, the Ho Chi Min statue. It's nice to take a stroll down here and take in his statue. From here you can walk to the Bitexco Financial Tower or the Saigon Waterbus in ten minutes.
Bitexco Financial Tower – How to get to the viewpoint for free
This tip will save you some money. We nearly went up to the skydeck viewpoint of the Bitexco tower. The entrance being located at the side of the tower on the main street. This would have set us back 200,000VND (£7) each. Not a lot of money however it's better in your pocket.
So, how do you get up for free? It's simple and easy.
Head inside of the tower and go straight up the escalators, there is a desk opposite, tell the receptionist that you want to visit the 50th floor cafe. She will guide you to an elevator, select the 50th floor and be on your way.
Once up you will be blown away by the views, these really were the best views of Ho Chi Min City and perfect for sunset.
Saigon Water bus – River Cruise
A river cruise for 30,000VND (£1)? It seems to good to be true, doesn't it?
Simply head down to the Saigon Water Bus Station and buy a return ticket for the water bus. You must go into the building first to buy your ticket and the queue to get on the boat. This boat takes you 11 stops up the river Saigon and is full of both locals and tourists. You will enjoy stunning views of the Ho Chi Min City skyline throughout this tour and it also allows you to see the sides of Saigon that you will usually never see.
The round trip took around 3 hours.
Cu Chi Tunnels and Mekong Delta
We also visited the Cu Chi Tunnels and Mekong Delta, read about our day trip to these sites, here.
Where to eat in Ho Chi Min City?
Huynh Hoa Sandwich Shop
Banh Mi originated on the streets of Saigon. What is in a Banh Mi? I hear you ask? The crusty huge bread roll contains grilled chicken, pork, ham chillis, pickles and carrot.
Are you looking for the best Banh Mi in Ho Chi Min City? Look no further than Huynh Hoa Sandwich Shop. This place is nothing flash but you will instantly notice it by the crowds queuing outside. We tried Banh Mi all over Vietnam and this place topped the bill.
The cost of a Banh Mi here will set you back only 30,000VND (£1). It is the best £1 that you will ever spend.
Poke Saigon
You may recall that we found a restaurant called Poke Saigon in Hanoi and we LOVED it. We were delighted to find their sister restaurant here in Ho Chi Min City. This place is extremely difficult to find, it's located inside of a dirty building just down from the Ho Chi Min statue. Click here to find it on Google Maps. Once you enter the building, go up to the second floor and follow the signs to Poke Saigon.
Just like the Hanoi version of this place, the food was delicious, fresh and nutritious. It's a must-do for brunch/lunch when in Ho Chi Min City.
Saigon Smoothies
Doh, one morning we committed the cardinal sin and missed the free breakfast at the hotel. No problem, this allowed us to try out breakfast in the city.
We grabbed a Grab and unfortunately the place that we earmarked for breakfast was nowhere to be found. By more luck than judgement we stumbled across a lovely little place called Saigon Smoothie. Saigon Smoothie was owned by a lovely woman who put her heart and soul into her smoothies.
The smoothies here were extremely cheap and they were made in front of your eyes using fresh ingredients. It was one of the best smoothie bowls we have ever had. It was that good that we went back later for another!
Bollywood Indian Restaurant
Whilst searching for restaurants we tend to stay away from the busy and most touristy parts of town. However, after a day of travelling from Da Nang, our stomachs were rumbling and we needed to find somewhere quick. We headed out and wandered by chance up to Bui ven. Bui Ven is the party central of Ho Chi Min City, the street is wall to wall with bars, clubs and restaurants, you can find almost any cuisine you would want down on this street. An Indian meal took our fancy and Google gave us the recommendation of Bollywood. When we arrived the place was pretty empty, this changed in a matter of minutes as a big group of a travel group took up a table of 20 and another group of Indian travellers took up another table of 12.
The service here was fantastic and the food even better, having sampled Indian food across the world it's safe to say that this is one of the best. All of the ingredients were fresh and all of the curries cooked were authentic and had a mixture of different delicious flavours. We can't recall the price of the bill but all we can remember is that it as super cheap and we left a little bit too full!
House of Spices
This, for us, was one of the biggest disappointments of the holiday. We love spicy food and the menu in this place looked incredible. Unfortunately, that wasn't the case. Judging by the Google reviews we had found a hidden gem, tucked upstairs above another restaurant on the shopping street of Nguyễn Trãi.
To our surprise, when we entered we were the only two guests in the restaurant, this gave the restaurant a real lack of ambiance. The woman serving us was great but she didn't put on any music so we just sat in deathly silence, awkward. The only hope was that the food would save the day, we were expecting an explosion of taste on meals, Michael went for a chicken dish and I went with prawns. The food was pretty bland and had no hint of spices of any kind, unfortunately, the food wasn't very filling and we ended up going for more food later in the evening. On top of this, it was also our most expensive meal in Ho Chi Min City.
We may have been unlucky with the timing of this and on another night it may be fantastic, we were just underwhelmed and disappointed with the whole experience.
Best bars in Ho Chi Min City?
Lost Boys Hideout
This was the best bar that we found in Ho Chi Min City. Lost Boys Hideout is a taxi ride away from downtown but it is well worth the journey. When we arrived it was half full but throughout the evening it got busy, however, this did not affect the service one bit. There was a live band playing covers from bands such as Pink Floyd, David Bowie, The Beatles, The Rolling Stones and much more, this is our kind of music and it was just perfect.
The bar is set outdoors around a small lake, full of fish and other colourful delights. The drinks in this place were more expensive than in downtown but it's truly worth coming here for the experience, the beer and and cocktails were delicious. We also tried food in here, Michael opted for the tacos which he rated a 10/10 and my pizza was simply incredible. Make this place your destination for a Friday/Saturday night, you will NOT regret it.
Jet Lag Bar
If you're looking for live sports in Saigon then this is the place to be. Jet Lag Bar is quite small but it is packed full of screens that show every live sport that you could wish for. The bar runs on an aviation theme, unfortunately the game that we watched was a bumpy ride. Being a huge Tottenham fan Michael can not miss a game. Spurs were due to play Chelsea before our flight back home. Typically, Spurs lost 2-1 (as usual) but a great time was had in this bar. It was full of mainly ex pats and the prices were reasonable and the cold, fresh pint of Tiger was one of the best that we have had on our Vietnam adventure.
MALT Saigon
After a full day in the blistering heat exploring Ho Chi Min City, it was a huge relief to find a bar to put our feet up in and relax. MALT Saigon is based in the posh side of town so the prices are a little more pricey but it's a great place. Equipped with bar games and the best craft beer around it really is a must-do when in Saigon.
Is Ho Chi Min City worth visiting
Ho Chi Min City gets a big thumbs up from us. The bustling city was a hive of activity and you can pretty much do EVERYTHING here. There's a great range of day trips on the doorstep along with fantastic restaurants and nightlife.
Ho Chi Min City is pretty easy to get around and it is a must when visiting Vietnam.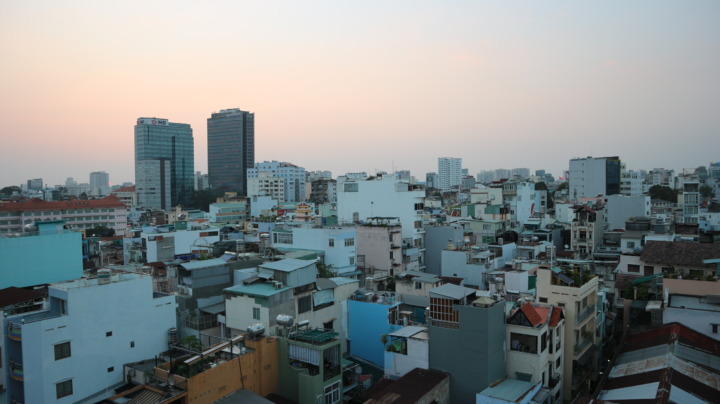 Where we visited in Vietnam
Ba Na Hills – Golden Hands Bridge
Cu Chi Tunnels and Mekong Delta
Check Out Our Other Destinations