Roker and Seaburn are two of the well known beaches in North East. For us, they are among the best, especially when the sun is shining. They really showcase our beautiful North East coastline and offer some fantastic walking routes. With plenty of paid and free parking, there's really no excuse not to visit.
Where to park at Roker Beach
Roker Beach has it's own car parking area, however, this does cost so make sure you take some coins with you for the machines. The charges are however very fare with 2 hours parking costing just £1.20.
Our favourite place to park is near the petrol station on the way down towards Roker, Sand Point Road. Turn right if you're coming from the City Centre at the petrol station and follow the road. Click here to open the street up on Google Maps. There's no yellow lines or parking restrictions on this street. Once you're all parked up, you'll need to follow the road down and it will bring you out at the Marina.
Sunderland Marina
From the Marina, you can follow it round and it will eventually bring you out at Roker beach. It's a lovely walk around the Marina too so you'll be getting the best of both worlds.
There's a beautiful little section of the beach here which you'll find people kayaking (something that we're really keen on doing this year!) and swimming (they must be mad! It's freezing!) This little section of the beach is protected slightly from the pier so it doesn't get as rough which makes it ideal conditions for swimming and kayaking.
Roker Pier
Now our ultimate favourite thing to do it to walk along Roker Pier. Unfortunately, it isn't always open (if the weather is bad or during the Winter months). It's very flat so perfect for walking along and takes you quite far out to sea. There's also a little lighthouse at the bottom which is perfect for a good Instagram photo!
Once we've finished our walk along the pier, we'll continue along the promenade, on to the beach (tide permitting) and head towards Seaburn. The walk again is quite flat and the beach is very sandy in this section so no rocks or stones to climb across.
Roker Park
If the tide is in and we fancy a longer walk we head to another beautiful place nearby which you can get to by walking along Roker beach. Simply walk along the promenade to the very bottom and then go under the bridge which will take you up to the park. It offers children's play parks, a steam train, beautiful greenery and flowers too. It really is just a lovely place to walk. From the park you can get back to Roker seafront or continue up towards Seaburn.
Sunderland Riverside
There is also a fantastic long walk which will take in some of Sunderland's best sites. Start at St Peters Metro station, the station offers free parking and it is also on the Tyne and Wear Metro network, making it accessible to all.
From St Peters, cross the road and walk down Bonner's Field (Parking is also free here). From here walk down the bank and you will arrive at Sunderland's Northern Riverside. This is an excellent point to photograph the Wearmouth Bridge which will span and tower above you to your right.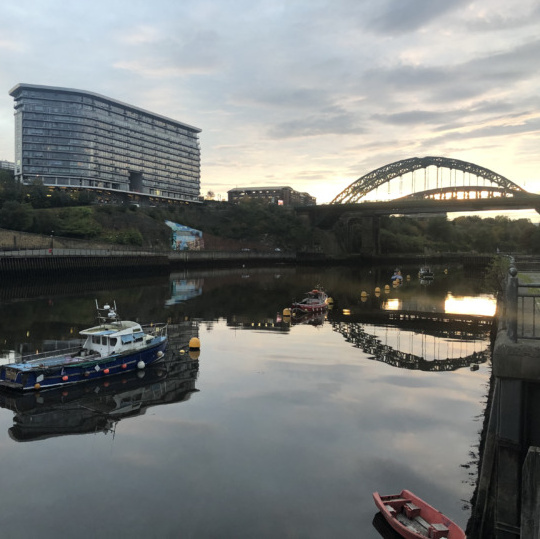 From here, however we recommend the walk to the left. Stick to the riverside path and it will take you all the way through the marina and to the beaches of Roker and then Seaburn. The walk from the Riverside and to Seaburn and back is around 14km. There are, however plenty of pit stops on the way…
Best Cafe's In Roker and Seaburn
What Sunderland has to offer on its seafront is a whole host of independent cafe's, bars and restaurants. You won't find any chains down here which makes it that much more appealing to us.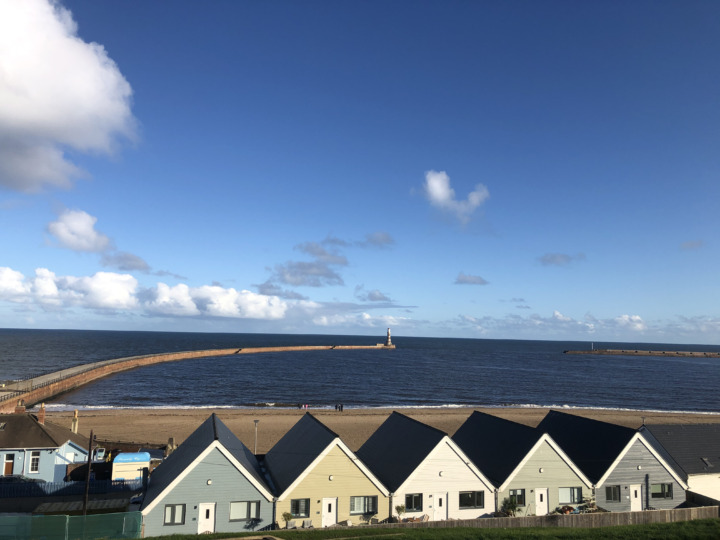 Gary's Kiosk
Ah, one of our favourites! Perched at the bottom of the Cats and Dogs steps (or just a stroll along the beachfront at Roker) sits Gary's Kiosk. In our opinion it has the perfect view of Roker Pier and Roker Beach, this spot is unrivalled. You must visit and look out to sea and to watch the waves crash amongst the pier. Plenty of photo opportunities here, so we can see why they picked this location!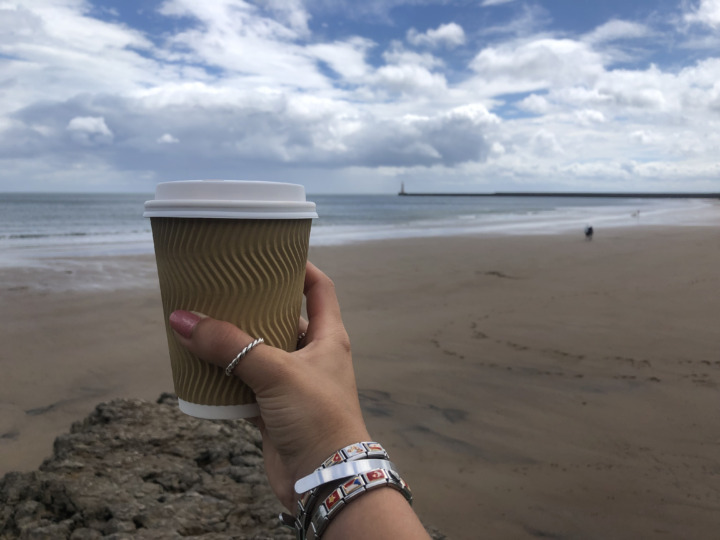 There are often artists who will draw in the sand here and it's great to watch from Gary's Kiosk. They offer plenty of coffee choices and some nibbly food so it's perfect for a little pick me up after a stroll, or to just sit and take in all of the scenery. It's super cheap, but make sure you bring some cash as they don't currently accept card!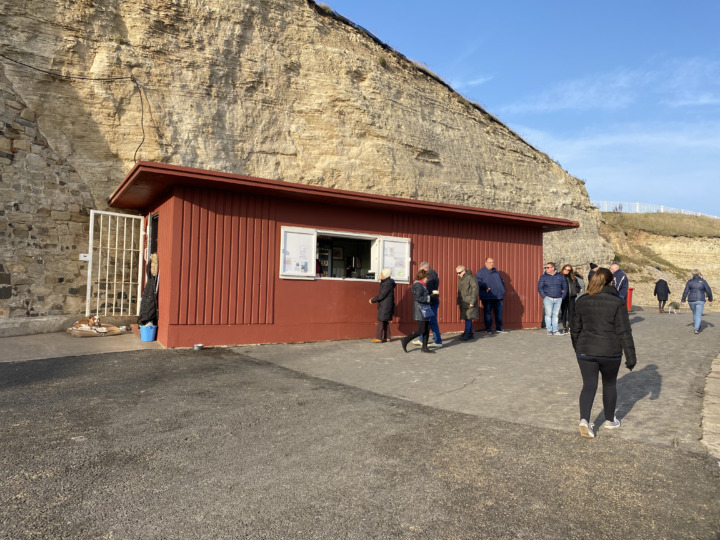 Sue's Cafe
Sue's Café is located in the main carpark at Roker Beach. It's ideal for a quick cheap cuppa or an ice cream just at you're setting off or heading home. It's also perfect for those going swimming in the icy water for coffee to warm up once they've gotten out of the water. There's always a queue but they're always super speedy in getting everyones orders!
Best Cafe's and Restaurants in Roker and Seaburn
The Scullery
Located on the road just parallel with Roker Pier, the Scullery is your perfect beachside café! Offering your usual sandwiches, coffees and cakes. It's reasonably priced (unlike some of the other restaurants along the same strip) and 90% of the time, you can always get a table. They have indoor and outdoor seating which is perfect, especially when you have dogs with you so you can all sit outdoors and enjoy the beautiful coastline.
Poetic License Bar
This bar is located inside the Roker Hotel. It's primarily a gin bar but also serves some great food. The views from the beer garden are delightful as the Poetic License sit's above Roker beach and Roker Pier. It's the perfect place to sit and watch the world go by.
Let There Be Crumbs
This one is located on the main road up from the beach next door to the Roker Hotel. They offer afternoon tea and beautiful views of the coastline from a higher vantage point. The afternoon tea is a great value for money and we can confirm tastes GREAT! 100% recommend if you're after afternoon tea with a view!
The Salthouse Kitchen
This is Michael's favourite restaurant on the seafront. He frequently visits for breakfasts which are on another level! The food is always cooked to perfection and the service is always fantastic. We do prefer this place on a winter's morning as they have a welcoming fire which sets up the ambiance perfectly. You can view The Salthouse Kitchen menu, here.
The Stack
Only recently opened, the Stack is going to take off this summer once COVID restrictions have lessened. You do have to however book in advance at the moment and availability is hard to come by. At The Stack you'll find everything from fish and chips to Thai food and from beers to smoothies! We are yet to visit the stack but our friends who have been all enjoy it!
Cole Cafe
This one is nestled just one street back from the main road above the beach at Roker. Offering some beautiful artisan style sandwiches, plenty of beautiful cakes and a good ol' cup of coffee/tea. It's quite small inside and doesn't offer a lot of seating, however, they do also do takeout and you really won't be disappointed. Definitely recommend if you're wanting to spend a little bit more but try some beautifully created sandwiches!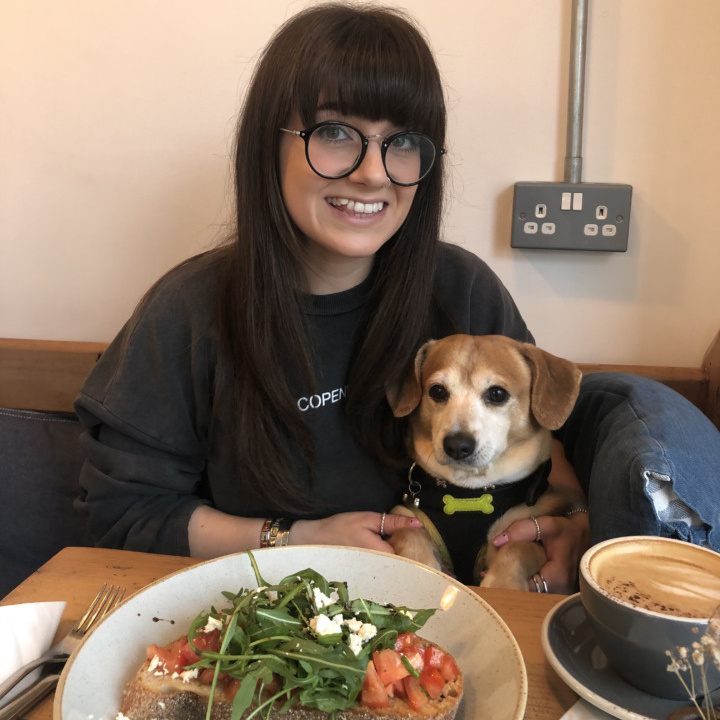 Why You Should Visit Roker and Seaburn
Roker and Seaburn are absolutely stunning parts of our North East coastline and if you're ever visiting, definitely try some of the incredible businesses for food and drink that we've mentioned above! They really don't get enough credit! It's a great place for a day out for everyone including families and there's plenty of sandy beach areas to let the kids run around and tire themselves out.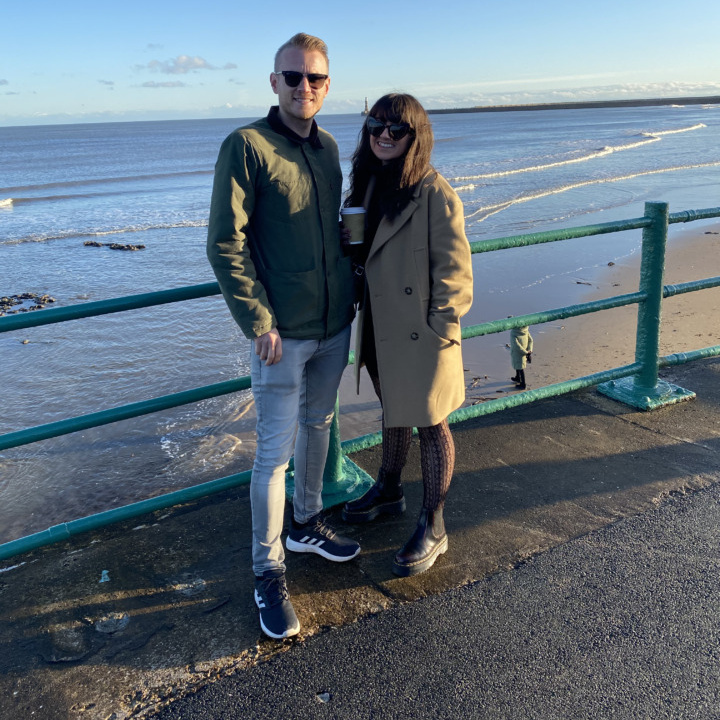 Check Out Our Other Destinations