Seaham beach is one of our slightly smaller local beaches which is slightly rockier but with a great promenade to walk along! It is becoming more and more popular with the people of the North East and investment has seen it rise to become one of the best seaside locations in the region.
Seaham Beach
The main beach at Seaham stretches for around a mile and when the tide is out, you can walk all the way along to Ryhope and Hendon beach. It's a great walk, although some parts are extremely rocky and need to be climbed over to reach the next section.
It's a really great beach to have a walk down and tends to be a lot quieter than Seaburn/Roker beach due to the rocks.
Hunting for Seaglass at Seaham
The beach is very popular with people searching for sea glass and Seaham is one of the best places in the country to find it. The glass can go for hundreds of pounds online. Although we see people looking for it every week we however have never tried it apart from when we were children.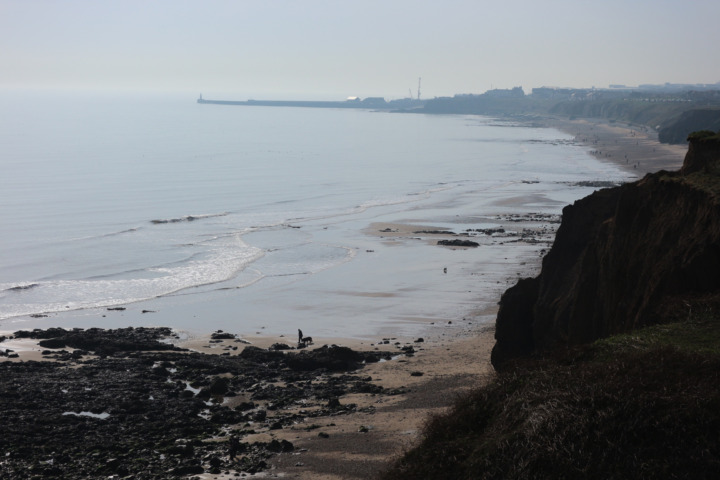 Blast Beach
Noses Point/Blast Beach is located around a 5 minute drive from the main car parks of Seaham beach. The walkway down to Noses Point beach is extremely steep or you can walk along the coastal trail until you reach the stairs down. These are also very steep too. The coastal walk itself is also a beautiful place for a stroll and you can look down at the beach area below.
Blast beach use to be a dumping ground for colliery waste prior to the 1990's where it was rejuvenated and even featured in the movie Alien 3! It really does feel like you're stepping into another world when visiting this beach.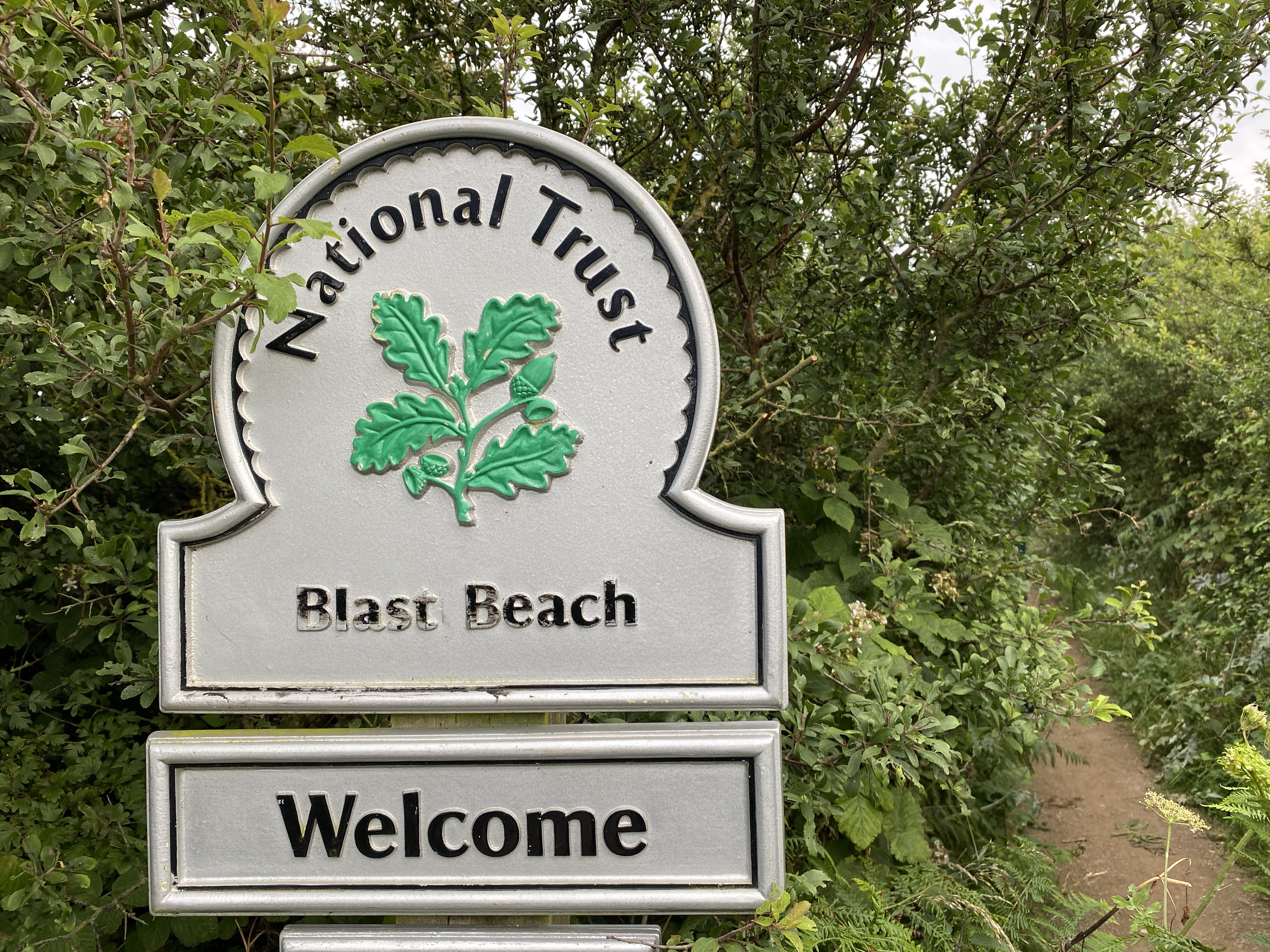 There are still remnants of it's past life where the limestone cliffs and red/yellow oxide coloured pools appear. This definitely gives it the spooky edge when you visit!
Tommy Statue
The sculpture of Tommy is one of a World War Soldier and was made by Ray Lonsdale. Tommy is a great reminder of those soldiers who have lost their lives for our freedom. He was originally in Seaham in 2014 on a temporary basis, however, due to his popularity he has now made Seaham his permanent home. People trek from far and wide to visit Tommy and pay their respect. It's also located in a beautiful spot over-looking the sea and surrounded by amazing independent cafes and restaurants.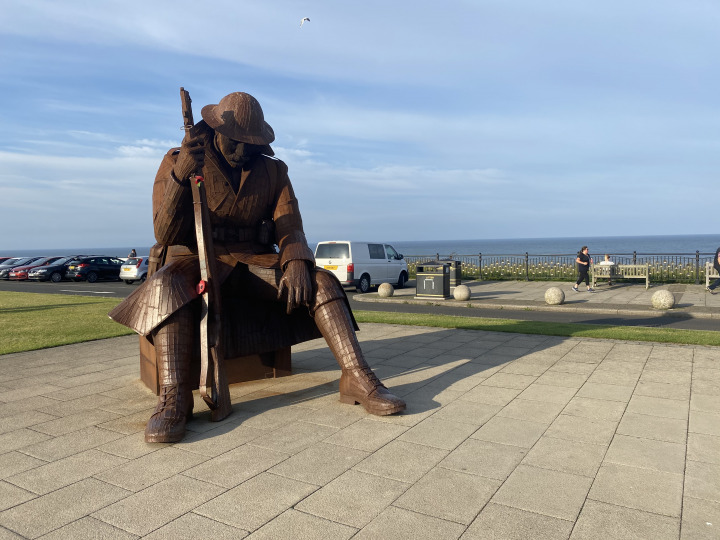 Seaham Hall
This place is for the very posh, if you've got some pounds in your pocket then Seaham Hall is worth a visit. We actually visited in September 2020 for an afternoon tea. Both of our families managed to get together (just before the rule of 6 was brought back in last summer). Seaham Hall had great service from start to finish. We were greeting at the door and took to the dining area. They then brought over the towers of afternoon tea which was a mixture of mini sandwiches, scones and cakes. It was delicious and we would definitely go back for another afternoon tea.
Where to eat in Seaham
Seaham has a range of independent bars and cafes as well as chain places such as Costa and Subway. We've visited a few places and recommend the following along with the Flamingo Cafe and Clean Bean.
Port of Call
Port of Call was somewhere we visited a few times during summer 2020 during the 'Help Out to Eat Out' scheme. The interior of this place is incredible! It's quirky but with plenty of historical references to Seaham back in the day. It's really fascinating to look around and there's something that catches your eye everywhere you look.
Now, we didn't sample any of the alcoholic beverages, however, they do offer SO MANY! It's definitely something we can't wait to get back and try when the restrictions are lifted.
The food, however, this is something we have tried and we can assure you, it is incredible.
Emma sampled one of the pizzas and Michael had the chicken gyros. They were both incredible and we can't wait to get there again and sample some more things from the menu!
Lickety Split
Oh my god! Lickety Split are famous in the North East as they serve the BEST ICE CREAM EVER!
Set in the style of a 1950's diner, Lickety Split is a must visit if you have a sweet tooth. Ice Creams Sundaes are fairly expensive at around £6 but you pay for what you get and Lickety Split is easily the best.
Downey's Fish and Chips
Downey's is on the main street at Seaham and you won't miss it. The queues for the award winning Downey's stretches down the high street and it's easily the most popular place in Seaham to grab fish and chips. It's award winning for a reason, offering the best fish and chips in the land. Forget Whitby fish and chips, Downey's beats them all.
Is Seaham worth visiting?
If you're in the North East then a trip to Seaham is a must visit. The lovely seaside town on the Durham coast offers plenty of stunning walks and views to pass a day away. Seaham also has many bars, restaurants and cafes so there's plenty for everyone.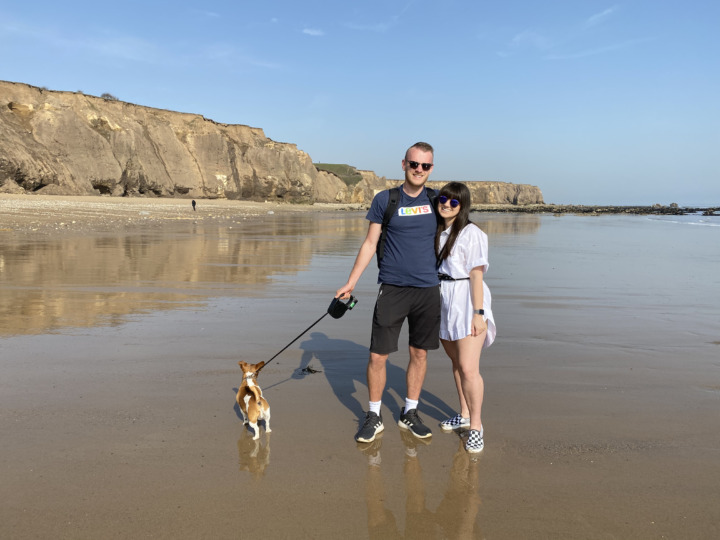 Check Out Our Other Destinations