Back in 2018, we booked a trip for Emma's birthday so we could visit Naples, Florence and Bologna over 7 days. We were getting everything arranged to travel and booking the accommodation when Tottenham drew Barcelona in the Champions League! That was it, Michael wanted nothing more than to go. We had previously been to a Barcelona and Real Madrid game earlier in the year so hearing his team were going to be playing them, he had to squeeze it in to our itinerary.
Firstly, it was a quick call to work to make sure the holidays were authorised, then we were set! He looked at flights and managed to get us one going out a day before we were due to travel to Naples and found an accommodation super cheap where we could rest our head for the night before the journey would continue. He also managed to luckily find flights to Naples from Barcelona the next morning so we would still arrive there with time to explore for the full day.
We were flying from Manchester and had to make the journey over the Pennines from our home in Sunderland. It's not a long journey, around 2 and a half hours. We are also music fans and love going to gigs. Our favourite band, DMAs, were due to play in Leeds the night before we were due to fly from Manchester and we just couldn't miss it. We both managed to get an early escape from work and it was all steam ahead – destination – Leeds.
As always, the DMAs put on a fantastic show but in our minds it was the warm up for the main event the next day.
That was it, everything was booked but it was going to be tight! We didn't have any time for delays so were hoping that Easyjet were going to get us there with time to spare.
We parked the car with no issues and walked the 20 minutes to the airport and arrived with time to get a bite to eat as there would be no stopping once we landed in Barcelona. So far so good, no delays and we managed to get seated on the plane and get our bags on without any issues.
And we were off!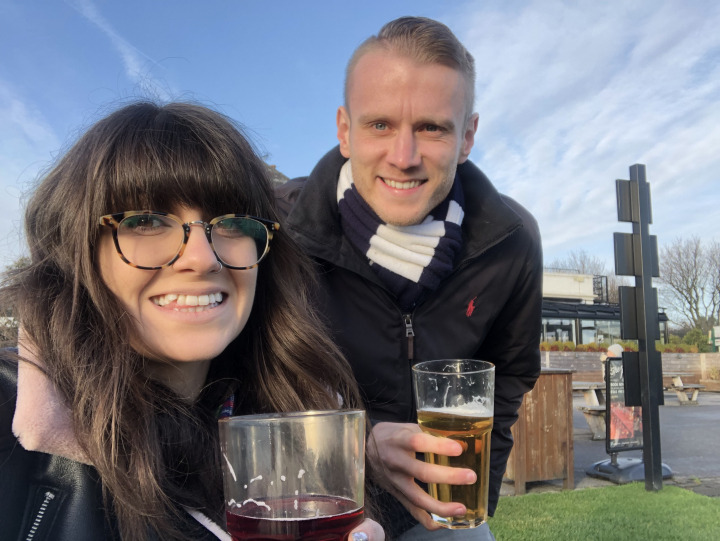 The plane got us in to Barcelona with around 1.5 hours to spare. We needed to get out of the airport and in to an uber ASAP and go straight to the hotel to drop the bags off and then again, straight into another uber to as close to the stadium as we could get!
In that first uber is where we hit our first issue, SO MUCH TRAFFIC! It was everywhere! It was backed up to get out of the airport, backed up on the main roads heading to the city centre. We didn't think we would make it in time. Luckily for us, our uber driver was also not a fan of the traffic and managed to swiftly get through back lanes and streets to get us to the hotel as fast as he could. We got checked in straight away and realised that so many other Tottenham fans were also staying in the same hotel so we knew we were on to the right tracks!
The bags were thrown on the bed as soon as we got the door open and we sprinted back down to the reception to get another uber. It didn't take too long for it to arrive and we were off. Words can't describe seeing your team in a stadium as famous as Camp Nou. Michael has followed Spurs over land and sea for over ten years. The Nou Camp seems on another world when you're used to visiting the likes of Burnley, Newport and Bolton. It's an opportunity we could just not miss.
The only negative about following an English side abroad is that the local police like to use you as a punching bag. English fans unfairly still have an awful reputation on the continent. They can't shake off the demons of Heysel and other hooligan tragedies. We witnessed this first hand at Camp Nou. As we approached the away end we were asked for our tickets and passports, we were then ushered through. The next part was shocking, they cattled all of the Spurs fans through a little walkway instead of opening the full road. This small walk way had a Robo-cop style policeman who was whacking as many fans as he could as they passed through. It didn't matter your age, creed or sex, if you passed near him, you'd get a whack.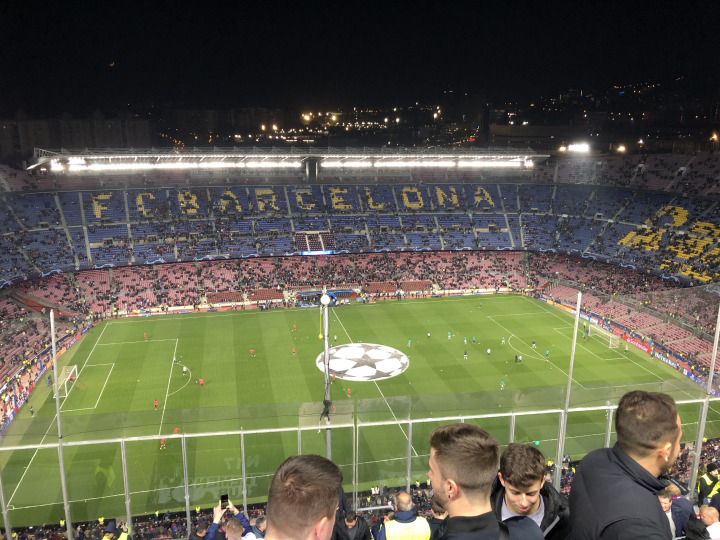 We got into the ground fairly early and quite remarkably beat the rest of our mates in who had been in Barcelona for a few days. The away end is situated at right at the top of the stadium. When you're up there you can practically touch the Ryanair and EasyJet planes flying into the airport overhead. The climb to the top tier is brutal, stairs after stairs after stairs. After we reached the summit and quite out of breath we found our seats, they were, yes you guessed it, up another flight of stairs. It was quite empty when we got there but the sheer size and scale of Camp Nou is breathtaking. It's exterior leaves a lot to be desired, mind you. A grey concrete block which would look better placed in a former-soviet eastern European city. Inside though, wow.
So the atmosphere builds, Spurs have 5,000 official tickets but there must be at least 15,000 in the ground on the evening. There are just Spurs everywhere. Everyone goes to Barcelona pretty much without a hope of qualifying. After a bad start in the group we needed to match the Inter Milan result.
The game stars, Barca are playing a weakened team but it's still very strong. Messi, the man who many people travelled to see is on the bench. The game starts and within 7 minutes, disaster strikes, Barcelona lead through a Dembele goal. Typical Tottenham, always making it hard for ourselves. Another ten minutes pass and word comes through that PSV have taken the lead in Milan, it couldn't happen, could it? As it stands, we would go through.
The game is end to end and Spurs are taking over the Camp Nou but we can't make the breakthrough. The game passes by with not much to talk about and 20 minutes from time we get the heartbreaking news that Icardi has levelled for Inter Milan. We now need to score and there's only 15 minutes left in our game. It looks like the end.
5 minutes from time, we do it. A wonderful team move ends in Harry Kane putting it on a plate for Lucas Moura who passes it into the net. What do we do? Go for another goal to seal our place in the next round? Or do we sit back and hope that Inter Milan don't score. We choose the latter, we sit back and our game finishes 1-1, as it stands we are through.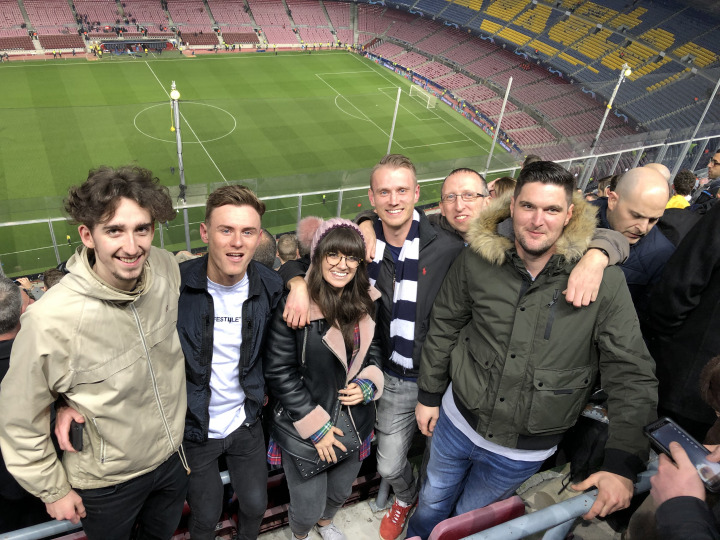 One problem, the game at San Siro is still ongoing. A nervous few minutes pass and then the news filters through from Italy. Inter have failed to beat PSV and we've done it. We are through.
It was an unbelievable night and the celebrations and sangria flowed until the early hours. The nights in that Champions League campaign got better and better, next we went to Dortmund and won. Then we competed in two classics against Manchester City and Ajax in Amsterdam. Unfortunately, we didn't win it against Liverpool in Madrid but by god, the journey will be never be forgotten.
Check Out Our Other Destinations