What Is Ghyll Scrambling?
The Lake District is home to stunning mountains, fells and lakes. Ghyll scrambling is simply travelling up or down one of these mountain streams, it sounds easy doesn't it? We can assure you that it isn't and it will be one of the most adrenaline-fuelled activities that you will ever do. Find out why.
How To Book Ghyll Scrambling
Our friend Callum found ghyll scrambling by chance when looking for things for the four of us to do when in the Lake District. It seemed quite a lot but looking into it further, it was 4 hours worth of activity so we jumped at the chance. We saved a lot of money on the hotel, see our Carlisle blog post for that, so thought why not.
We booked the Stoneycroft Ghyll and Canyon. The price was a very reasonable £55. The price includes all of the wetsuit equipment, a professional guide who will also photograph your journey. You can book just the Stoneycroft Ghyll for £40 but we'd recommend paying the extra to have an extra hour abseiling down the canyons. You can book over on their site, here.
What You Will Need
All you need is something to wear under the wetsuit, underpants or swimwear, a towel for changing and sturdy footwear. We opted for a pair of old trainers which were perfect, just make sure they have plenty of grip.
The Start
We booked it for 11:15am on Sunday and promptly arrived in time. We noticed on arrival that there wasn't really anywhere to park, so had to squeeze the car on the edge of a verge. Make sure if you do book to set off in advance in case you need to park further away.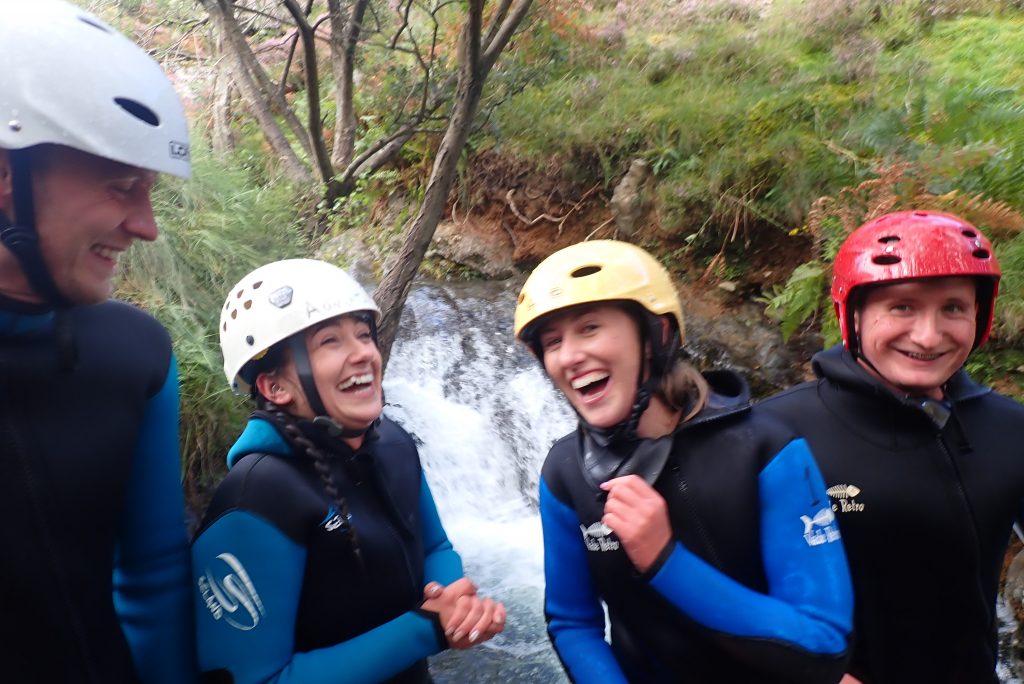 One other thing we did notice on arrival was that there was nowhere to get changed. None of us had our swimming clothes on so had to try and get changed in the back of the car!
TIP – Arrive dressed in what you'll be doing it in so it's easy to take off your outer clothes and get the wet suit straight on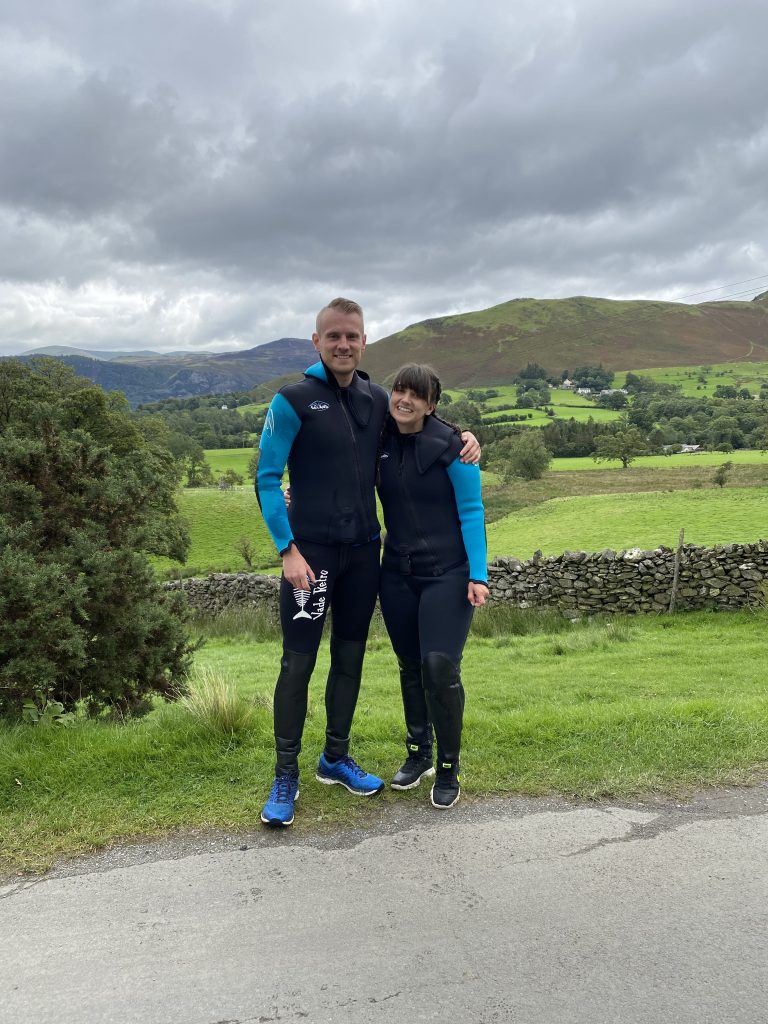 We all got our wetsuits on and we were good to go. We were introduced to our guide called Matt and we made our way up to the starting point. It was around a 15 minute walk away from where we parked the car. Be warned that walking uphill in a wetsuit was both difficult to walk in and so warm!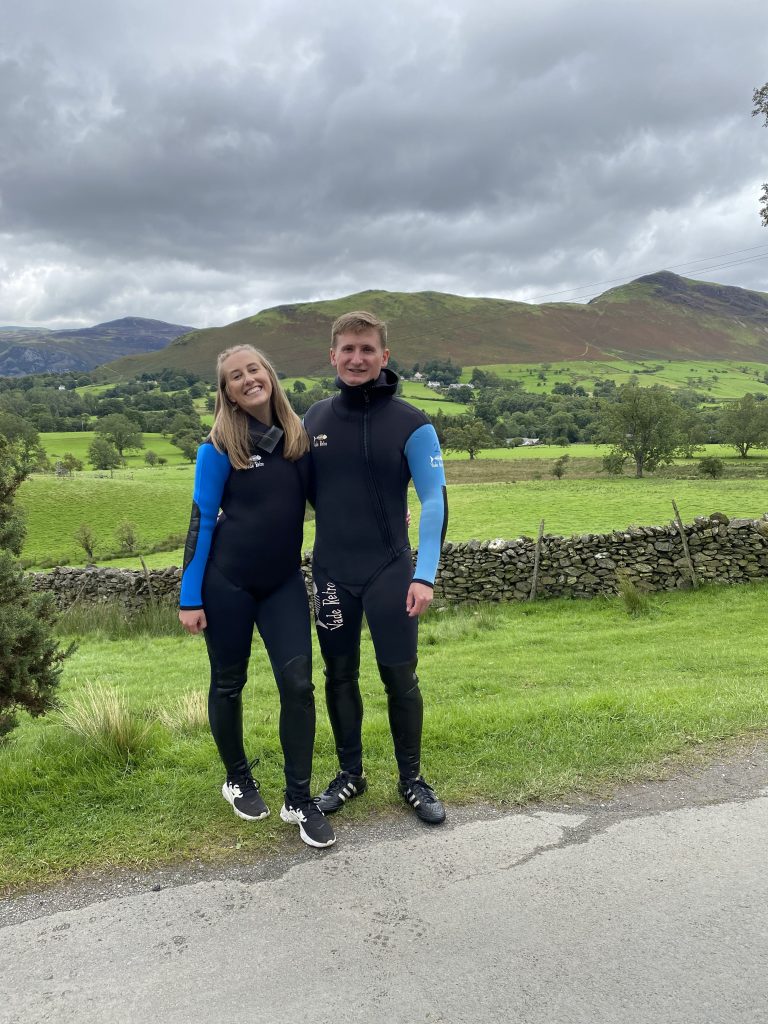 Matt then showed us some hand signals that would be used throughout the scrambling as the water would be too loud to hear over in some points. They were easy signals that were easy to remember.
Then that was it! We were all told to fully submerge and embrace that icy cold water! It took our breath away, that's for sure! Then that was it, we were ready.
Stoneycroft Ghyll
Make sure you watch out for the rocks as before we even started, Emma, fell over in the water and landed awkwardly on a rock and hurt her rib. It wasn't anything serious though. Just a bit of bruising.
We then made our way through the creek (I think that's what we would call it HAHA). We flew down natural made slides in the rocks, leaped from higher points in to pools that spin you around like washing machines and climbed across rocks and trees to get through the Ghyll. It's such an adrenaline rush and it really is an experience you won't forget.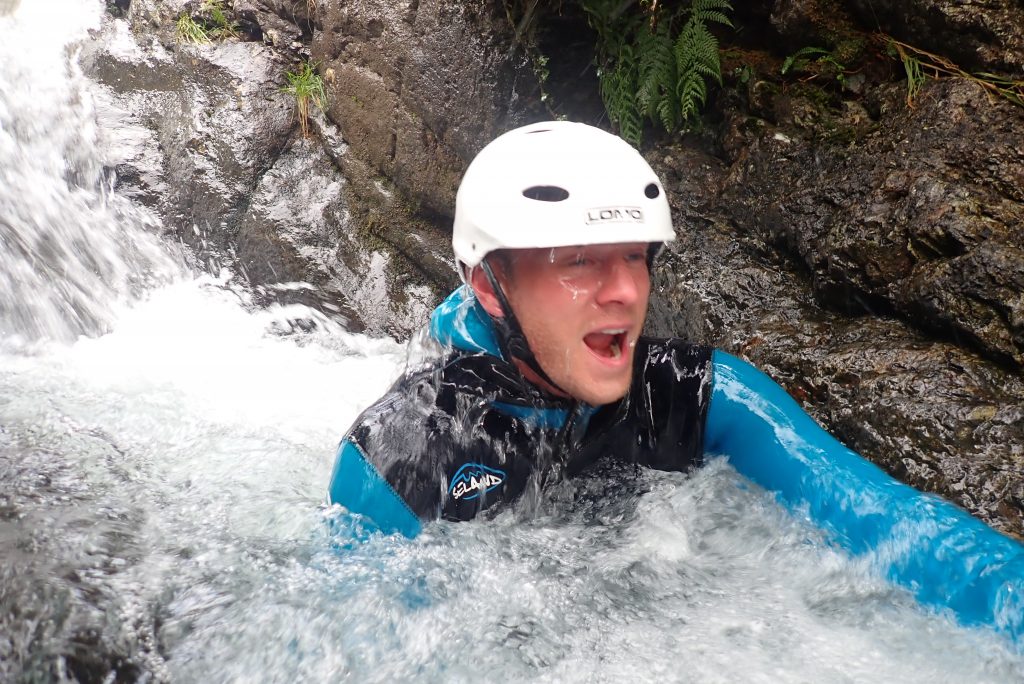 Our friend Stephany was an absolute machine and went first for nearly everything! Nothing scared her at all!
The washing machine jump is definitely a highlight due to Emma getting stuck! HAHA! Another group member had to jump in and try and hoist her out. Emma was just too short to be able to reach the ledge to try and pull herself out and then ended up getting out bum first! It was hilarious and definitely something we'll never forget!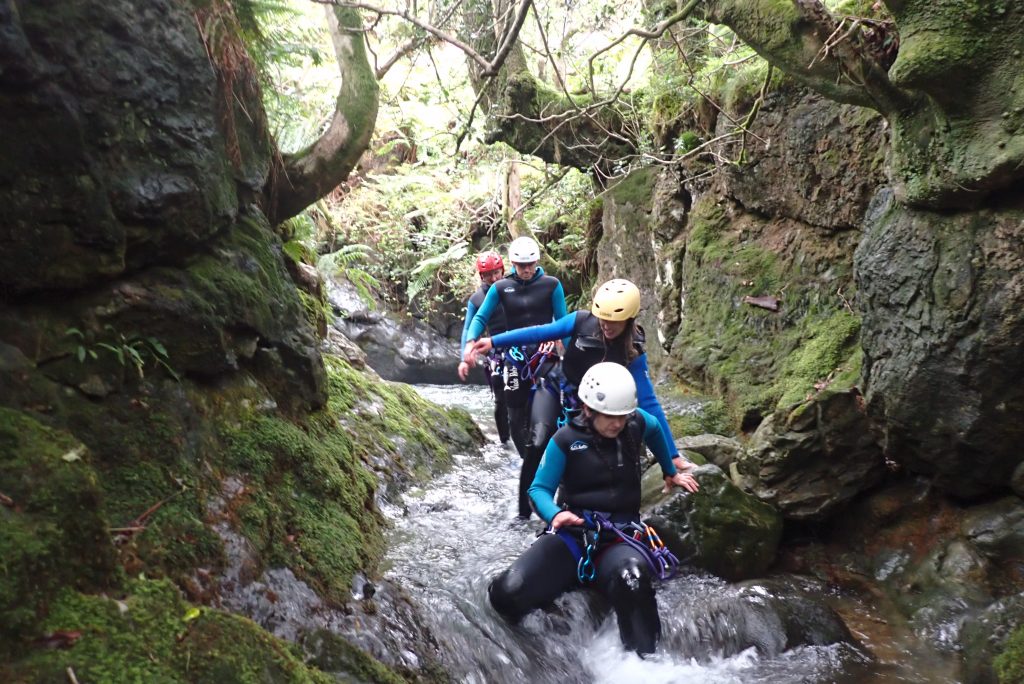 Once we'd made our way down the canyon, we stopped to have some hot orange and a well-deserved break. This is the end for most groups, but Callum had signed us up to do the Canyon section where we would be abseiling.
Canyon Abseilling
At first, we thought it would be quite similar to the first part, however, we were totally wrong. Matt started showing us how to secure our lines for abseiling and holding our weight and ensured we were all harnessed up. Once we had a trial of abseiling standing upright, we made our way back into the canyon to get to the steeper and more challenging sections.
We had to pull ourselves around the sides of waterfalls with only a rope to help us and work as a team to get to the next section. It was a really tough section but we were still enjoying ourselves.
The hardest part was the biggest waterfall. We had to abseil from the top to the bottom! Stephany was up first and descended to the bottom in what seemed like only a few steps. She absolutely bossed it! Next up was Emma. She got halfway and shouted up to Matt that she didn't like it and couldn't do it. Matt replied with 'You're kind of committed now' there was no going back! The only way is down.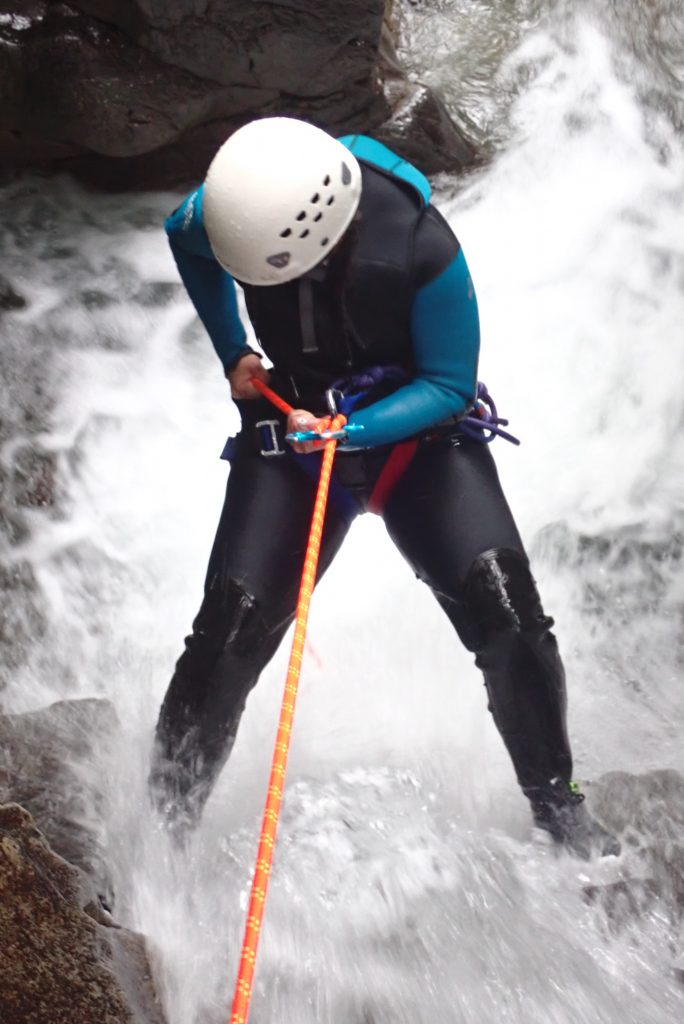 Then was Michael. Poor Michael.
The annoying thing with this one is, the waterfall doesn't even look that big! But in person it was a lot bigger and abseiling down it, in general, was much scarier.
He didn't agree with this waterfall at all. He attempted to start abseiling but due to his feet slipping in the water, he kept letting go of the rope and swinging into the jagged sides of the waterfall. Matt worked hard to try and get him back up to have another go but it happened again so Matt lowered him to the floor so he didn't abseil down. Next was Callum and again, he bossed it. It seemed like it took him 2 seconds and he was down at the bottom with us.
When we got to the end, there was one more slide to do and then we could finally get out of the cold water! 4 hours we were in there but it didn't seem like it had been that long at all. We were concentrating on climbing and jumping that time flew by.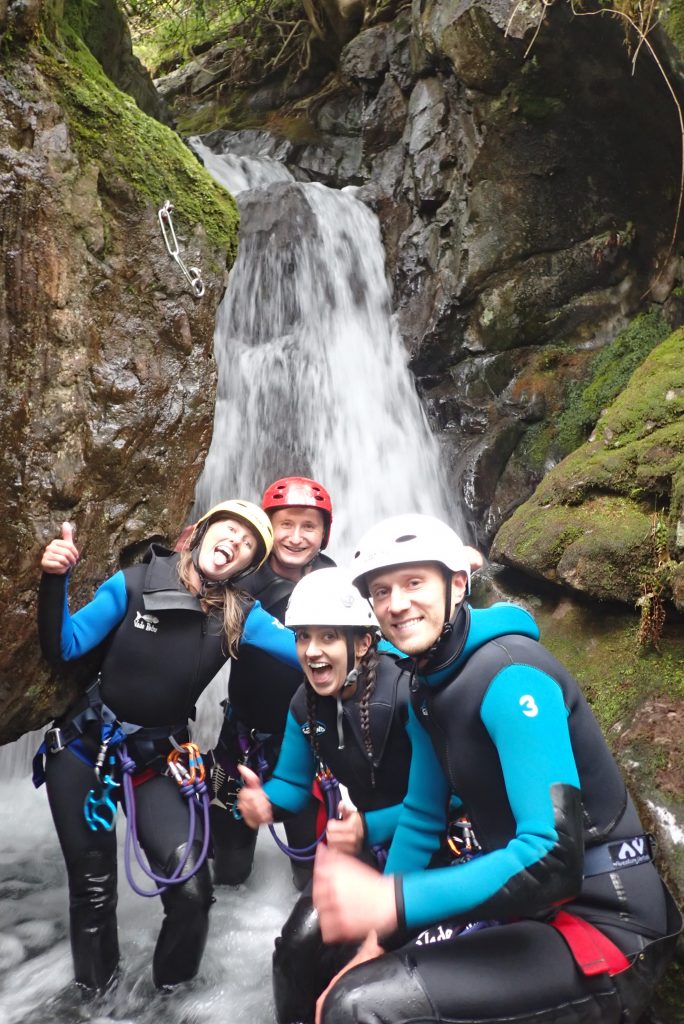 Is Ghyll Scrambling Worth Doing?
Emma struggled with the cold so be warned that it was freezing. She doesn't regret doing it though. We were all so proud of ourselves for getting through it all as it was massively out of our comfort zones.
It was such a challenging experience but we highly recommend this when visiting the Lake District. It's definitely better if you are somewhat an active person as it is gruelling and tough but at the end you'll feel amazing for doing it and the adrenaline rush you get it beyond words.
The experience cost us £55 per person and we were in our own group with Matt as our guide. Matt was amazing too and we all had a good laugh with him during. Honestly couldn't recommend this any more.
Check Out Our Other Destinations