Braga is known as the Rome of Portugal due to it's many religious sites, however, it wasn't the cathedrals that brought me to Braga, it was the football. I travelled to Braga alone as I had a few days to explore Portugal before a works conference. Braga is home to SC Braga who plays in one of the most unique football stadiums in the world. Braga's Municipal Stadium is built into a quarry and during my solo trip to Portugal Braga were due to play Portugal's biggest club, Benfica. I didn't know what to expect from Braga but the city pleasantly surprised me, it's an Instagrammers heaven…
Hi, Michael here. I actually did the trip on my own. I was travelling to a work conference and decided to extend my trip so I would be able to visit Braga which is somewhere I've wanted to visit for quite a while (mainly for the football) Keep reading to find out about my very short solo trip to Braga.
How To Get To Braga
I travelled from Porto to Braga and the journey was cheap and easy. Braga is the last station on the Urban Porto Network green line. A single journey from Porto to Braga costs just €3.25 and you can get the train from Porto's main Sao Bento train station. The journey takes around an hour.
You can view the train timetable between Porto and Braga, here.
Where to stay
Braga City Centre is quite small and it does seem to be missed out by tourists who stick to the Algarve, Porto and Lisbon. I opted to stay in the newly built Ibis Hotel, it's location was slap bang in the city centre and the hotel was clean and modern. My room cost just €35 and included breakfast.
What to see
Due to my travel plans, I only had 24 hours in Braga and I wanted to make the most of it. I arrived in Braga at 11am and luckily the hotel let me check in early. The walk to the hotel from the train station took me through a labyrinth of cobbled streets and the Archiepiscopal Court. On first impressions, I knew Braga would be a city that I would love.
The weather was hot, 30 degrees and there was not a cloud in the sky. I unpacked, grabbed my running vest and trainers and decided to give myself a running tour of Braga. I felt that this was the best way to familiarise myself with the city. The run further reinforced my feelings for Braga, I was really starting to love this place.
Bom Jesus
I had researched Bom Jesus prior to my trip to Braga and it was the site that I wanted to visit. I'm probably one of the least religious people in the world but Bom Jesus looked stunning and the panoramic views of Braga and Northern Portugal were meant to be stunning. When I arrived at the hotel I instantly noticed Bom Jesus, perched high on the surrounding mountains.
Getting to Bom Jesus was quite straight forward, catch the number 2 bus and it takes you all the way up the mountain. I was tempted to walk up but it was quite far and very steep. It took around 20 minutes to get there using the bus and cost a measly €1.65. The bus drops you off at the top of Bom Jesus, if you want to walk up the famous steps then get off at the stop before.
The views from Bom Jesus were simply stunning, I got a great panoramic view of the city of Braga and the endless amounts of rolling hills of Northern Portugal, it really did feel like I was on top of the world. The sanctuary itself did not blow me away, to be honest, religious sites don't do it for me. After taking in the views I climbed down the famous steps, the picture that you can get at the bottom is a gift from god from Instagrammers.
Due to time constraints, I got an Uber back to the hotel, which set me back €5.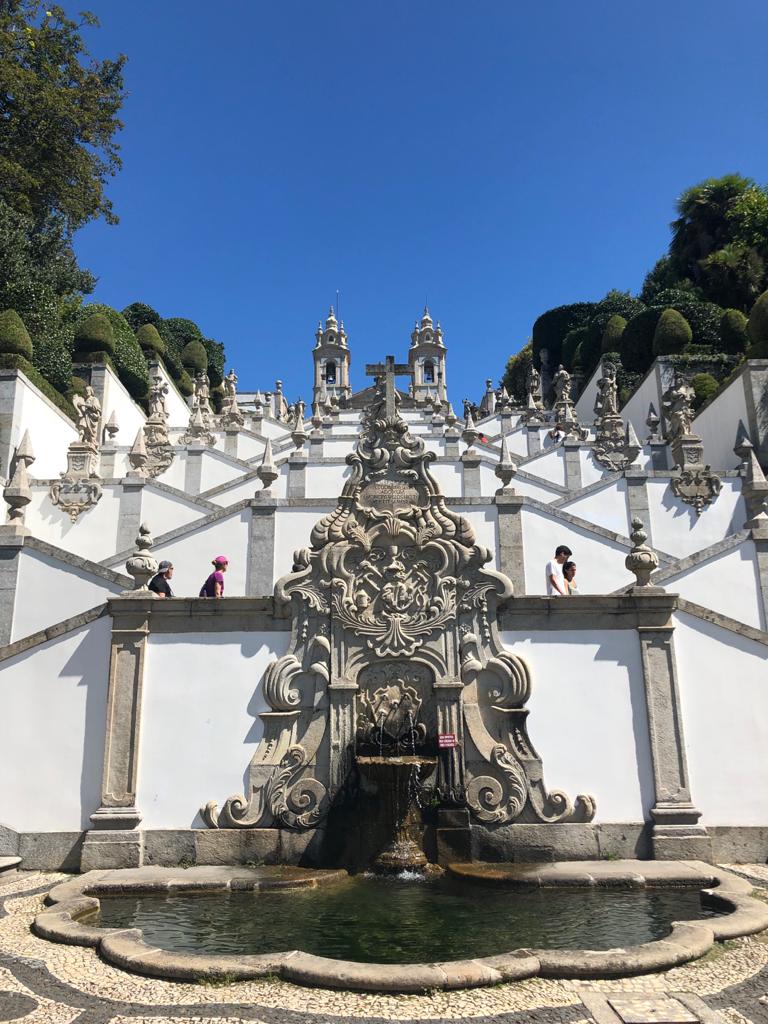 Braga Cathedral
Braga Cathedral is one of the most important buildings in Portugal as it is the seat of the Archdiocese of Braga and the Primate Archbishop of Portugal and Spain. Work began on Braga cathedral in 1070 and it took more than a century to complete. It was actually built before Portugal, being erected several decades before Portugal was founded – a mind-blowing fact. The price for a tour of the chorus is just €2 and it will cost you an extra €3 to see the museum. The Cathedral is open from 8:30 until 18:30. The Treasury-Museum is open from 9:00 to 12:30 and 14:00 to 18:30.
Holy Cross Church & Sao Marcos Church
The square where these churches are situated is simply stunning. Here you will find the Braga sign (A must for the gram) and an array of colourful flowers. It's the perfect place to sit, grab a beer and watch the world go by. This square was undoubtedly my favourite area of Braga.
Archiepiscopal Court
This beautiful garden in the walled city is a must-visit for any tourist. The garden is open and free to enter, it won't take you long to see the whole garden but it is simply stunning.
Palácio do Raio
Another must for the Instagrammers. It's classed as the centre of Braga and the facade of this museum, built in the 1750's is comprised of stunning blue tiles. It's stunning at anytime of the day but especially on an evening when it is lit up.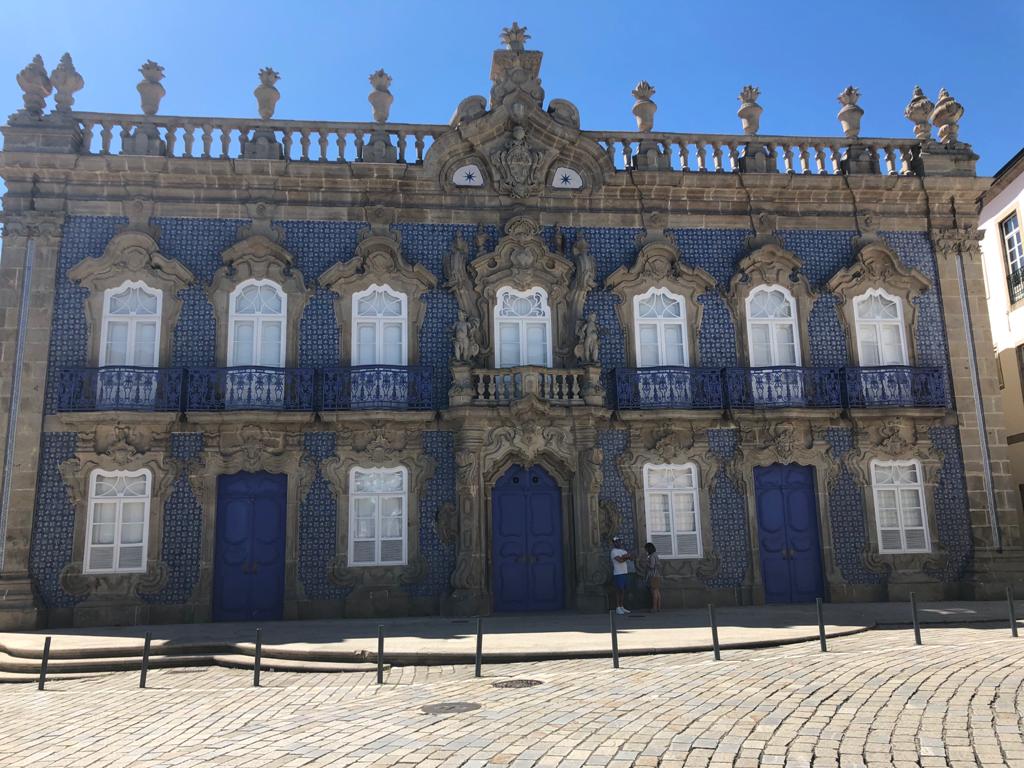 Where To Eat
Apologies that this section is so short due to me only having 24 hours in Braga.
Hamburgueria DeGema
Braga is quite a traditional place and with Sunday being the day of rest a lot of places were closed. I left the hotel and across the square was a Hamburger restaurant that caught my eye. I had a quick check on Google and the reviews were great and it turned out to be a fantastic choice.
This a perfect place for the hungry, the portions are generous and burgers are super tasty. It was bliss sitting on the terrace, overlooking the stunning Archiepiscopal Court in the summer sun, enjoying a burger and beer.
When I received the bill I was genuinely surprised at the price. Due to the restaurants location and the quality of food I was expecting quite a pricey bill, I received the total opposite. The burgers on the menu range between €4.50 to €6.50. Due to being exceptionally hungry i ordered a double along with fries and 2 local beers. The bill came to a total of €12.30. An absolute steal!
So, if you're in Braga and up for a cheap, quality eat then this is your place.
Best Bars in Braga
Otsu Biru
I love Estrella beer and Otsu Biru advertised that they sold it on their chairs outside of the restaurant. I sat outside and the views of the square were phenomenal. The restaurant serves Japanese cuisine and it looked incredible but unfortunately, I had only eaten so only wanted a beer. The interior of the restaurant was stunning, I was a bit gutted that I didn't get to eat here.
The ice-cold beer was just what the doctor ordered on this hot day. If you want good beer in a people-watching spot then this is the place for you. I did expect, due to the location and it being a restaurant that the beer would be expensive, however, like everything in Braga, it was fairly priced.
You can view the Otsu Biru menu, here.
Bill's Sports Bar
I'm a huge Spurs fan and on this particular Sunday, Spurs were due to play Arsenal, our biggest game of the season. I visited a few bars in Braga but frustratingly, no one was showing the game as there was games from the Portugal Liga Nos showing at the same time.
Through Facebook I managed to find Bill's Sports Bar, it was quite a way out of the City Centre but I gave them a call and they told me they'd be showing the match. Due to it being a nice day I walked to Bill's but the walk took me through a pretty rough area, I'd recommend getting an Uber.
Bill's itself was great and a must for anyone wanting to watch sports in Braga. They have multiple screens and are happy to show any sport that you want. Bill's has Superbock on tap and a pint is only €3, perfect. You can also grab food in here, I grabbed (another) chicken burger, it was even better than the one I had previously. This one really does tick all of the boxes.
The locals were super friendly and supported Spurs when they found out I was a Spurs fan. We took a 2 goal lead but unfortunately, in true Spursy style, blew it and the game finished 2-2. I would have took that before the game but it was disappointing. No time to mope though, another beer and then off to the footballing mecca, Braga's Muncipal Stadium.
Football in Braga
SC Braga
Braga's Municipal Stadium is a Mecca for any football fan. Built for Euro 2004, the stadium is built into a quarry and only has 2 stands, both holding 15,000 in each giving the stadium a total capacity of 30,286. Behind each of the goals is the rock face from the towering mountains in which the stadium is built. The stadium design is innovative and different from any stadium that I've ever visited.
Braga v Benfica
No matter what team Braga were due to play, I was going to go. Lady luck was on my side as the fixture list threw up a massive game as Braga were due to play Benfica, the biggest club in Portugal and reigning league champions.
Tickets for Braga games are normally a straight forward affair as they don't normally sell out. However, due to trouble between Benfica and Braga last year ticket sales were limited to members and season ticket holders only. Benfica got a reduced allocation and tickets for Benfica fans were priced at an eye-watering €70. To be honest, I was going to pay it as it's a ground I've always wanted to tick off. Luck was against me, tickets were snapped up by Benfica season ticket holders and no tickets were available for general sale.
Panic and disappointment set in. The kick-off time was Sunday, 9pm due to TV, I planned to head to Braga on the Sunday and somehow source tickets from Braga fans in the pubs around the city. As I was due in Portugal for the European leg of the Soccerex conference later in the week I asked around some of my contacts if they had any idea on how I could get some tickets. A saviour appeared. Through my contacts, I managed to acquire a ticket from a guy who worked closely with SC Braga. I fell on my feet, the seat was right in the middle of the main stand and amazingly it was free!.
The Match Day Experience
Walking to the ground you could sense that this was a big game, it had that feel. Braga fans packed the pubs on the walk to the ground and television cameras were everywhere. It was weird walking down to the ground as the roof is on the street level, so you enter from the top of the stand. My seat was in the lowest tier, so I had to walk down several levels of stairs. As you walk down the stairs you can see how the stadium is actually built into the quarry stone.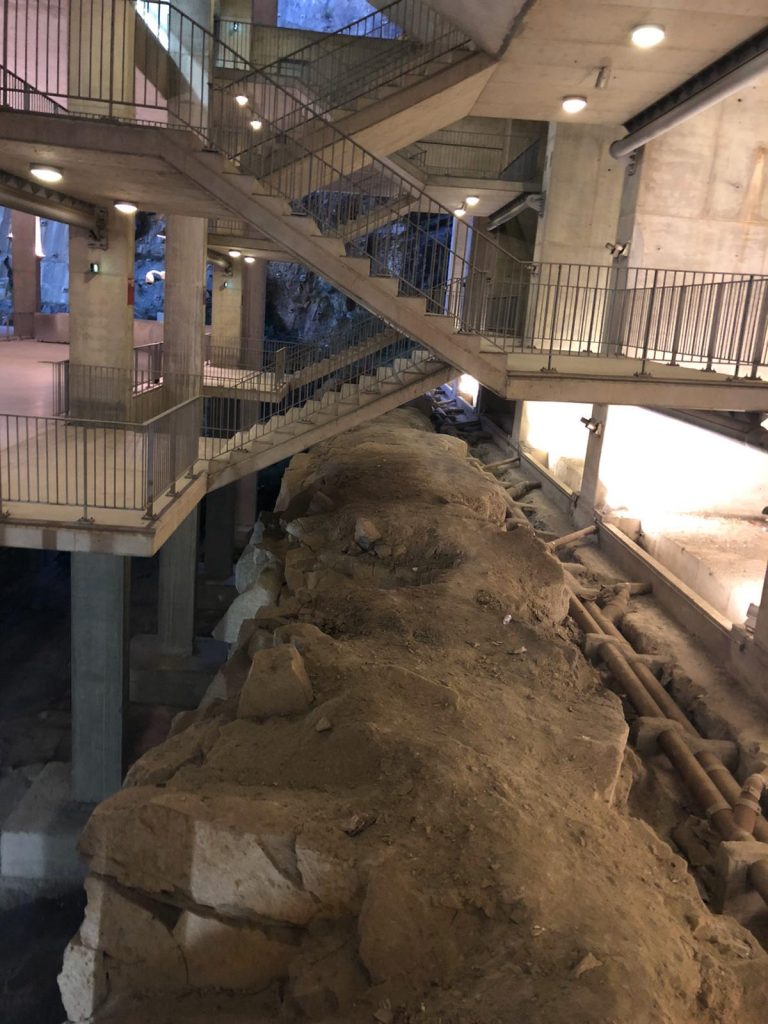 Benfica dominated the game and their class really shone through as they raced to a 4-0 victory. Benfica's loyal supporters who made the long 360km journey were loud, raucous and even put on a pyro show.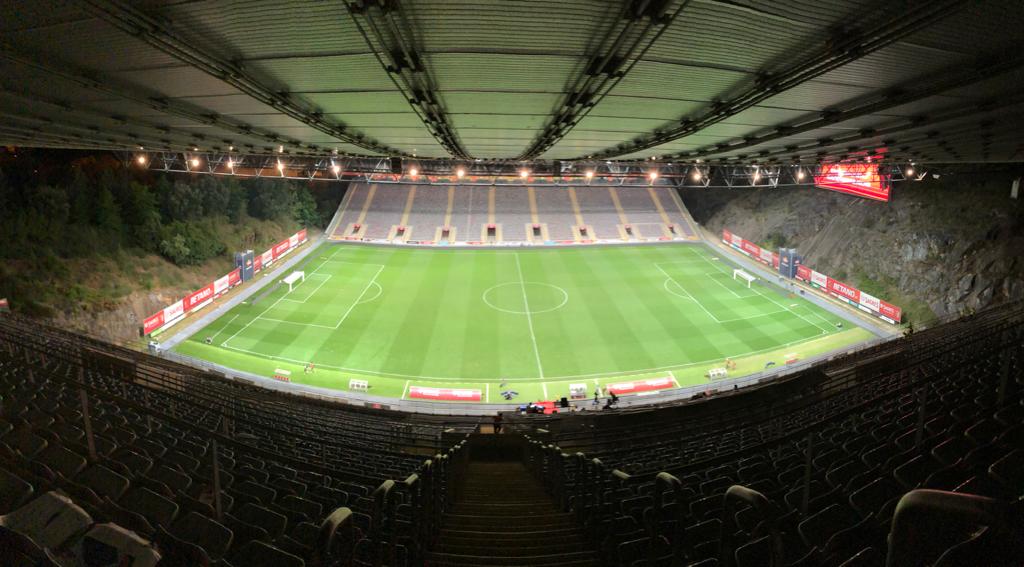 Braga Stadium Tours
You can't have one of the world's most famous stadiums and not offer stadium tours can you? Tours cost just €6 for adults and €2 for kids, an absolute bargain.
Tour Schedule:
Monday to Friday: 10.30 am, 2.30 pm and 4.00 pm
Saturday: 10.30 am and 3.00 pm
Sundays and Matchdays: None
Top tip: If you can't make the tour then you can see the ground for free, but please be careful. If you get an Uber or walk to W2007, Ldao, which is here on the map. Walk to the end of the street and before you come to the construction shop. Then, take a right up the hill. Keep walking and you'll get to Monte Castro where you'll have incredible views of Braga's famous stadium.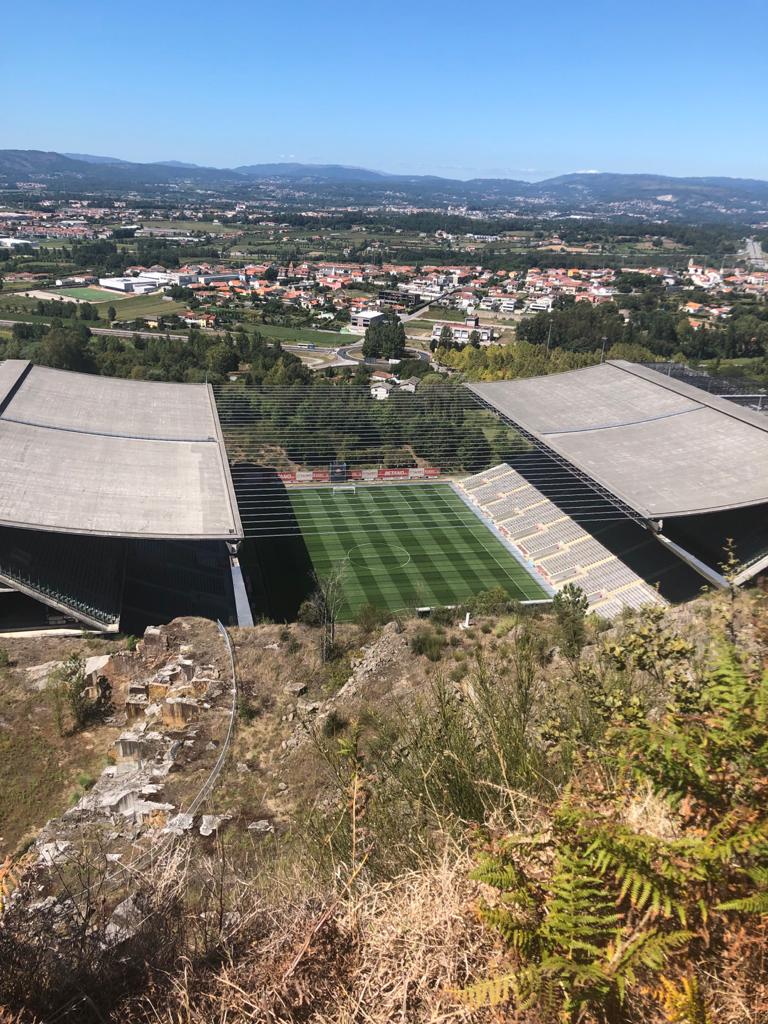 Is Braga Worth Visiting?
100% yes. If you are in Northern Portugal then you must visit Braga. It's a place of importance for religious sites, which are in abundance with the incredible Bom Jesus and Braga Cathedral. The old town of Braga, with its labyrinth of streets, makes it feel like you've stepped back in time. In addition to all of this, Braga's stadium built into the quarry is also a must-see. Even if you're not a football fan.
I found Braga to be inexpensive with incredibly friendly locals who welcome tourists with open arms. I visited Braga alone and felt safe throughout.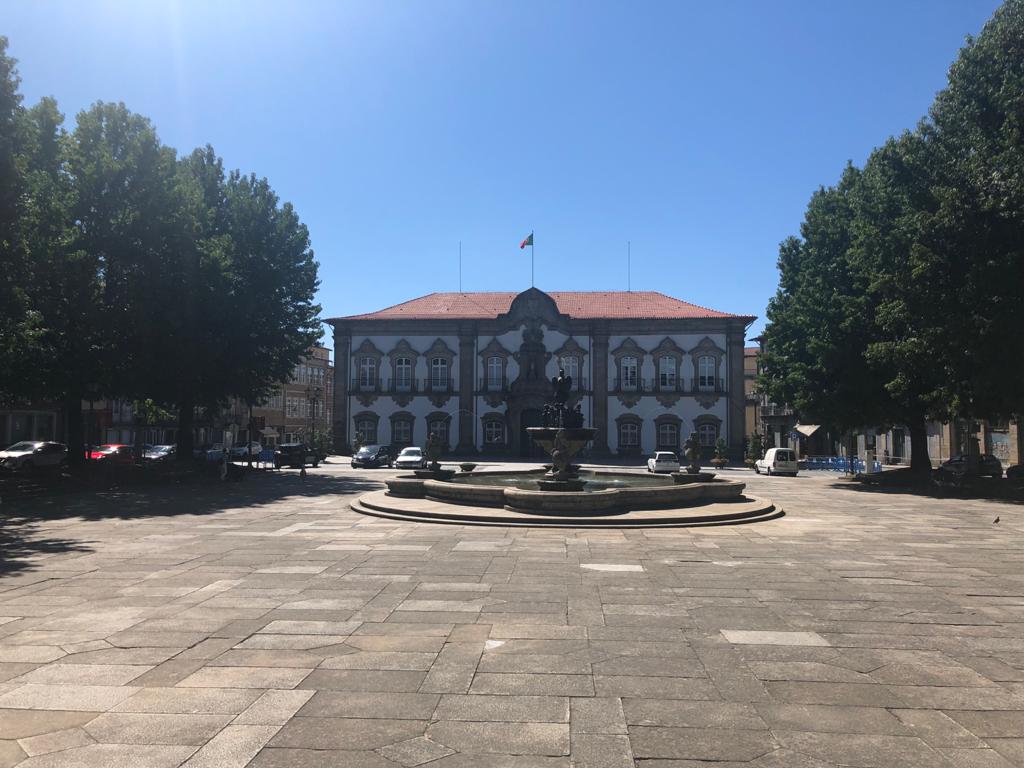 Check Out Our Other Destinations