Krka National Park is famous for it's series of seven waterfalls. We had seen photographs of the park on social media and it looked amazing. We just had to find out for ourselves.
How to get to the Krka National Park
All of the tour companies in Split and Zadar offered day trips to the Krka National Park. As we had a car on hire we decided to drive from Split. The drive was nice and straight forward. It takes around an hour with the majority of the driving being on a modern dual carriageway.
We used google maps on our phones (as we made sure we had 4G) and followed it's instructions easily. There was also plenty of parking when we arrived. Make sure you lock your belongings up. We hadn't intended on such a big car but it was a saviour for going here as we had our big suitcases in the boot! So bear that in mind when driving around.
What is the entry cost for Krka National Park
For full entry to all areas of the park, tickets cost:
– 200 Kunas for adults in July and August (120 Kunas for children aged 7 – 18)
– 110 Kunas during April to June and September & October (80 Kunas for children)
– 30 Kunas for adults for November to March (20 Kunas for children). Children under the age of 7 have free entry throughout the year.
As well as obviously buying tickets on arrival, tickets can now be pre-bought online on the Parks of Croatia website.
We didn't purchase our tickets in advance, so on arrival, we queued at the desk and got our tickets. The cost was 200 Kunas per person.
Exploring the Krka National Park
We first entered the park and wandered around for around an hour exploring all of the wooden bridge paths and looking at the miniature waterfalls.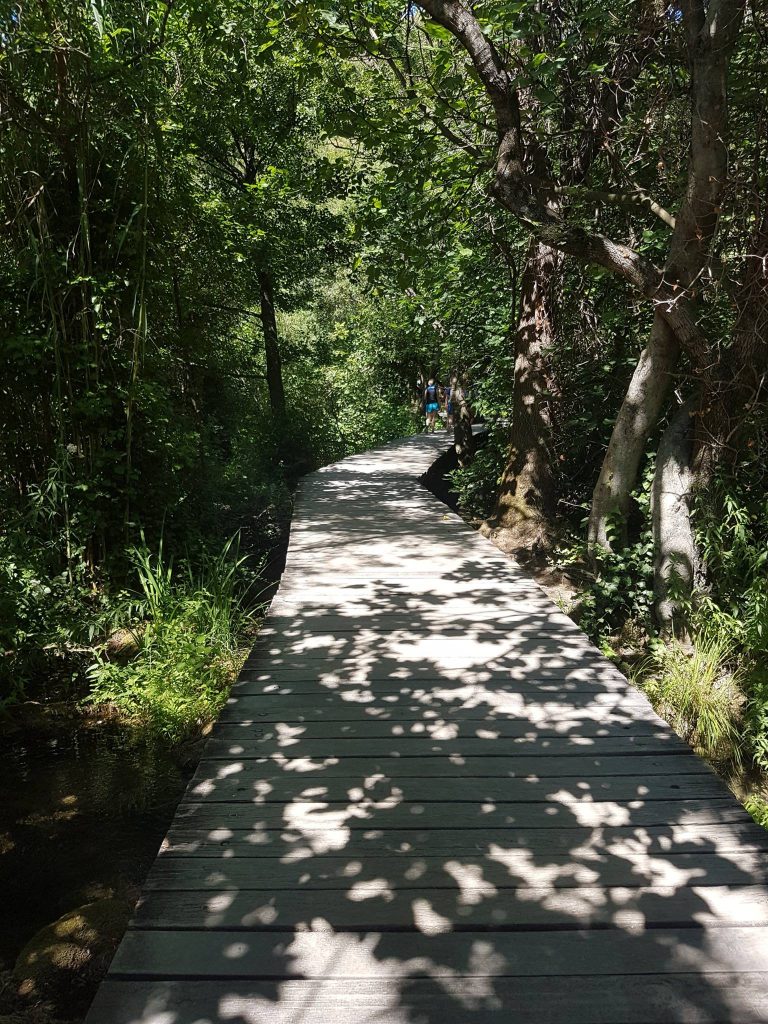 You can swim in some of the pools/waterfalls at the Krka National Park so be prepared and wear your swimming attire underneath your clothing (this definitely worked out the easiest option for us). Also, because you can go swimming, make sure you don't bring valuables with you. There are no lockers near the waterfall area where you swim so you need to leave your belongings on the side. Emma carried her phone with her in the water (if you're phone isn't waterproof, it might be worth investing in a waterproof bag/case for it)
Speaking of waterfalls and swimming, the most popular waterfall and attraction within the whole of the Krka National Park is the Skradinski Buk Falls. This area is truly beautiful and the photos we've taken and the ones we've seen online don't do it justice. The water is definitely on the chilly side, but its lovely to cool off in after all of the walking around the park.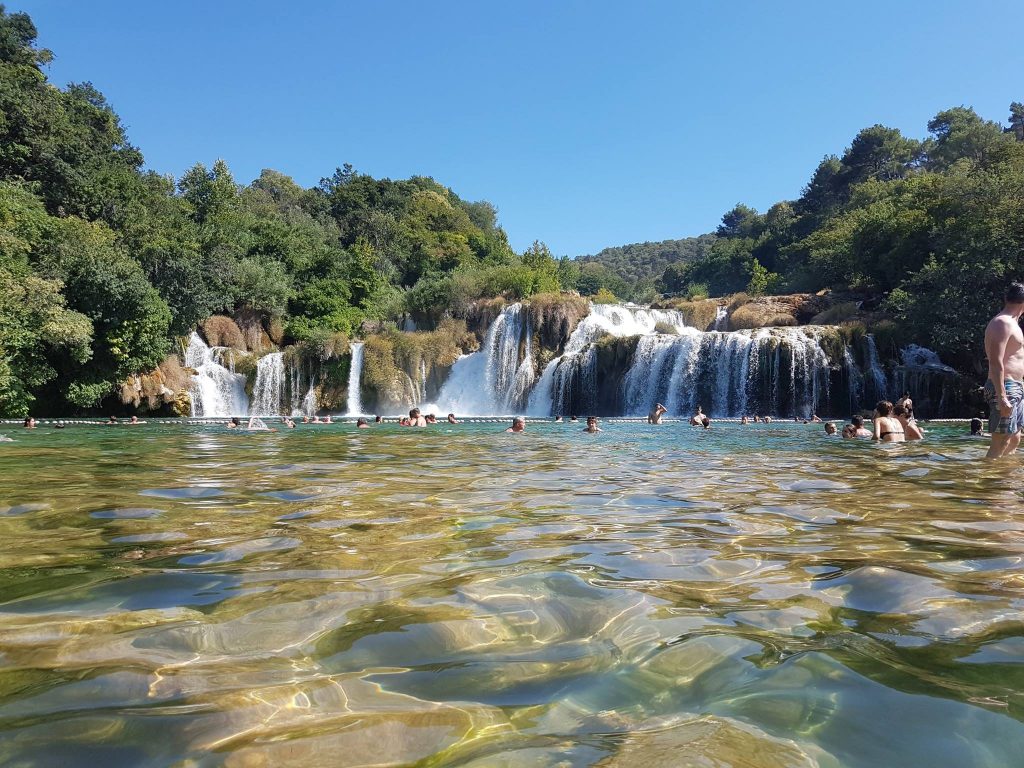 One negative would be how busy it gets here. As everyone is going for a swim, the sides are covered in peoples belongings and it can make it difficult to navigate to an area to safely get in to the water.
One tip aswell would be to take swim shoes. We both didn't have any on this trip and really regretted it. The stones in the water were quite slippy to get in and out of and Emma did slip a few times as you can see in the photos! HAHA. So if you have swim shoes, we definitely recommend popping them on before you go in to the water just to give yourself an extra bit of grip.
Nature and Wildlife in Krka National Park
Another main feature of the National Park is the wildlife and plant life. The below section is from Visit Crotia which gives you so many facts about the National Park.
'There's a wide variety of both flora and fauna in the Park. Over 800 species of plant life are present in the National Park. Much of the animal life lives, unsurprisingly, in and around the waters of the Krka River which is home to different amphibian and reptile creatures. You will also be able to see many different bird species (there are over 200), and possibly some of the 18 different species of bat who call the Park their home!'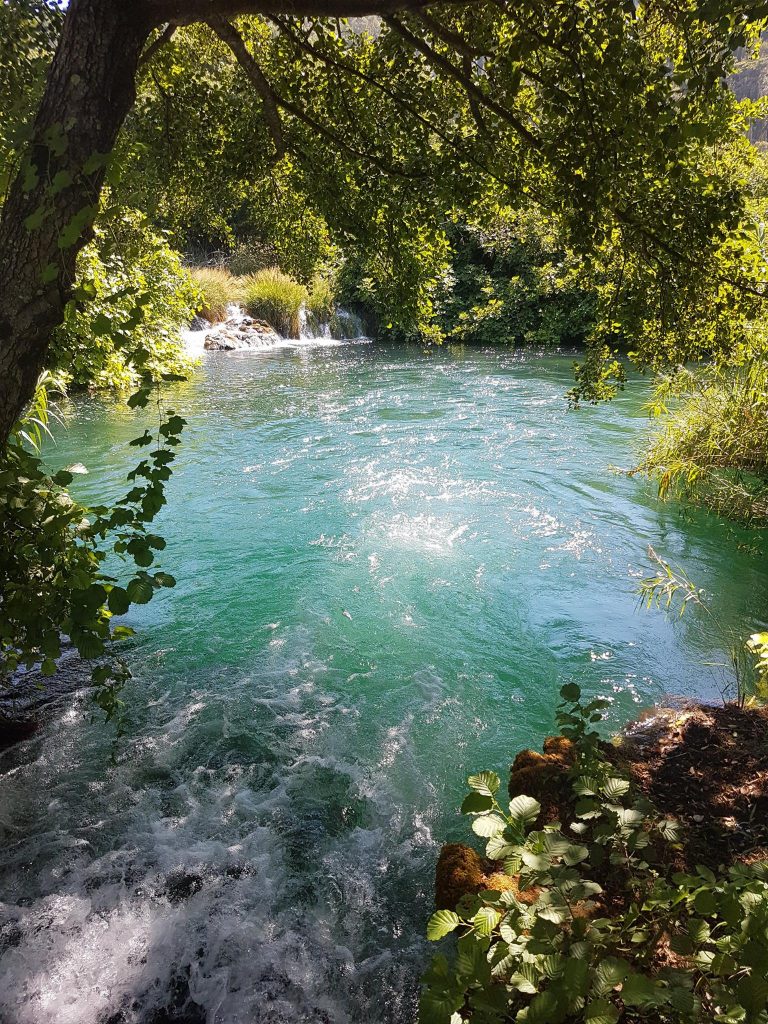 There is honestly so much to see at Krka National Park that a few hours means you won't even scratch the surface. We stayed for around 4-5 hours but then had to leave as we had to drive to our next destination. It would have been lovely to spend longer there and explore so do make sure you try and get there early to make the most of your time.
Is the Krka National Park worth visiting?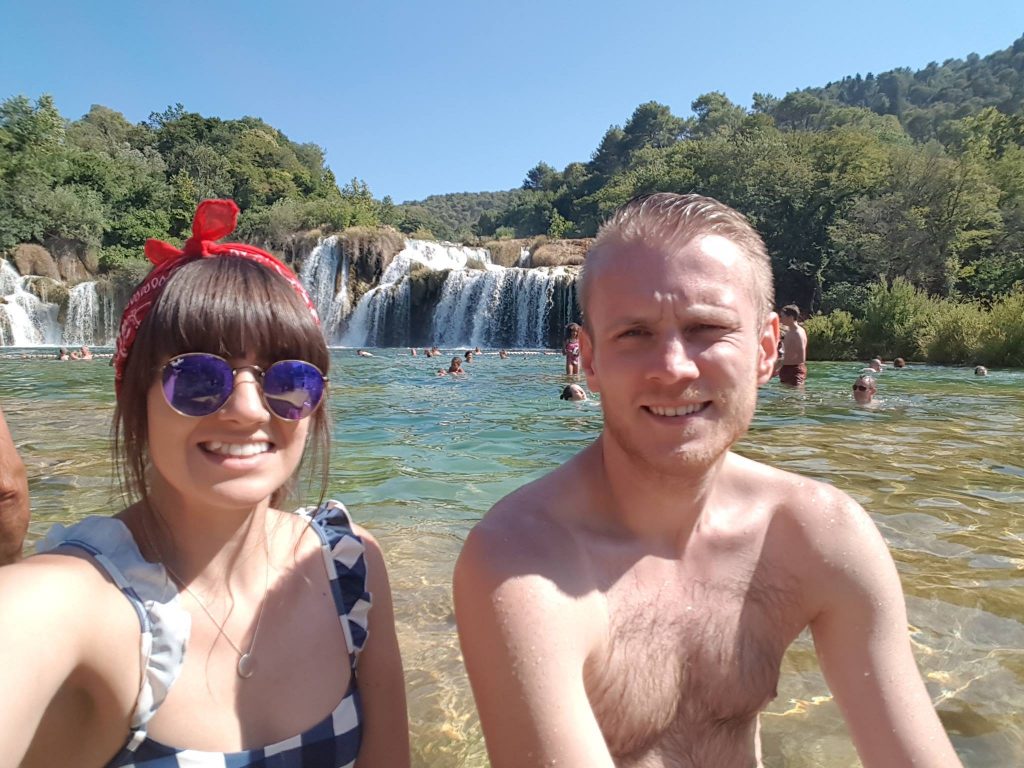 We would 100% recommend visiting the Krka National Park. Although, it is very touristy and gets very busy, it was worth it. The waterfalls and the plant life are incredible and well worth going to see.
Check Out Our Other Destinations