Sycamore Gap tree is England's "Tree of the Year". Located in a dramatic dip in-between two hills makes it the most photogenic tree in the land. The tree is known as the Robin Hood Tree as it is famous for featuring in the Robin Hood movie.
We spontaneously visited Sycamore Gap on route home and needing to visiting another landmark before the end of our trip for our Camera Caper game. It wasn't too much of a detour as we were heading to Prudhoe for an Italian meal at Gloria's restaurant (which is an incredible restaurant and is very well priced). Check out their Facebook page here.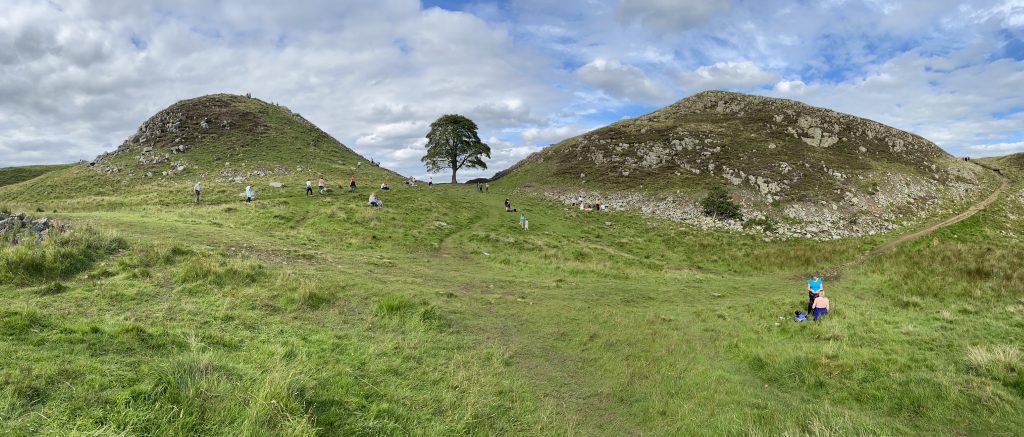 We have previously visited Sycamore Gap around 4 years ago. As it was on the way home we thought it would be perfect for a little walk and stop off on the way for food. Well we say little walk, it can be quite challenging in wet conditions and is around 4km in total.
What Is The Robin Hood Tree?
The Sycamore Gap Tree or Robin Hood Tree, is a sycamore tree sitting in a dip in the landscape near Crag Lough in Northumberland and stands beside Hadrian's Wall. It is one of the most photographed trees in the country. It got the name Robin Hood tree from being featured in a prominent scene in the Robin Hood: Prince of Thieves back in 1991. The tree also won the 2016 Tree of the Year award. So it's safe to say, it's a famous tree and it's perfect for photo opportunities.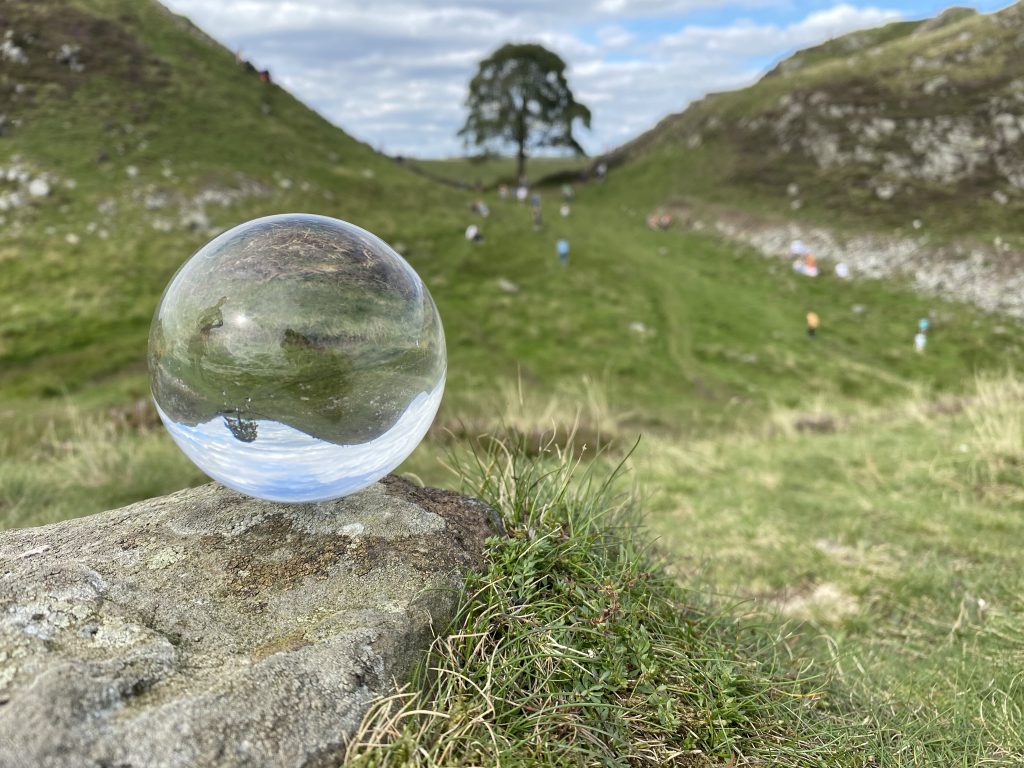 Where Is The Robin Hood Tree?
The Sycamore Gap Tree is located just off the B6318 road which in turn runs parallel to the A69. This is the main road linking the North East to the Lake District. Here it is on Google Maps. Access to the Sycamore Gap Tree is easy due to its proximity to these main roads. It will take you around an hour to get here from the Lake District and around an hour from the North East. There is a car park on the site with around 40 spaces. Parking costs £3.50 and you can pay using your phone or contactless card.
The Walk
To get there, you can either go around the outside where it's quite flat or you can do a bit of climbing. If you opt to climb you see some of the beautiful surroundings and Hadrian's Wall up close.
We opted to do the climbing on the way there and it is a little tough going up the little steps due to them being quite narrow. We then had to come back down at the opposite side and had the choice of whether to go up again or go around. This time we chose to go around and went straight for the famous tree. It was a little busy when we arrived (it was a Bank Holiday Monday and around 2pm) but it wasn't too bad and still plenty of places to sit and take in the views.
After a good amount of photo taking, we headed up again, right next to the tree and to the right, you can climb up again and see views of a little lake near-by. This wasn't too bad of a walk as the steps were larger so a lot easier to climb. We headed back after this and decided we would walk the longer flatter route going back to the car.
TIP – Be prepared if you do this as it was super muddy (Emma's bad).
Is The Sycamore Gap Tree Worth Visiting?
Overall, we definitely recommend visiting Sycamore Gap. It's a great walk and when else can you say you've visited a famous tree from Robin Hood and England's most famous tree!

Check Out Our Other Destinations