What can we say about Krakow? It's honestly our favourite place in the world. Michael and I first travelled here back in March 2014 and it was our first trip together as a couple. We were not sure what to expect when we first booked it but it has become our go-to city break destination.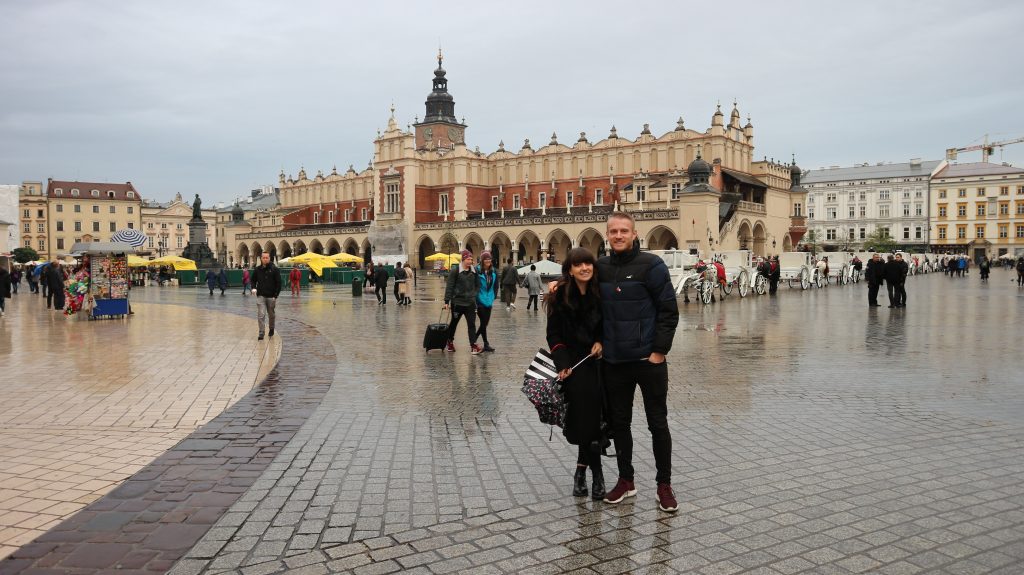 Krakow
Since our first visit, we've visited every year. We're hoping to go again this year for a week around New Year! Let's just hope the world is safer by then. Wintertime is our preferred time to visit Krakow. We have visited in the summer months and did really enjoy it, however, there is nothing better than wandering the streets and the Christmas Markets with a hot cup of coffee and a pint breathing in that icy air.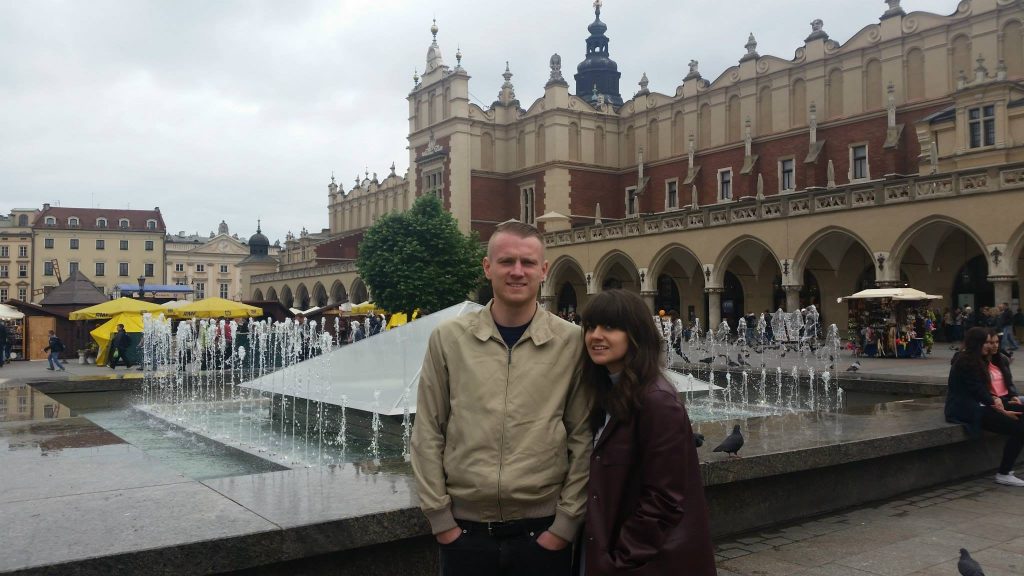 If you love wandering around beautiful old streets with history on every corner, great food and cheap drinks then Krakow is the place for you. We honestly think Krakow it's somewhere that everyone should visit at least once in their life.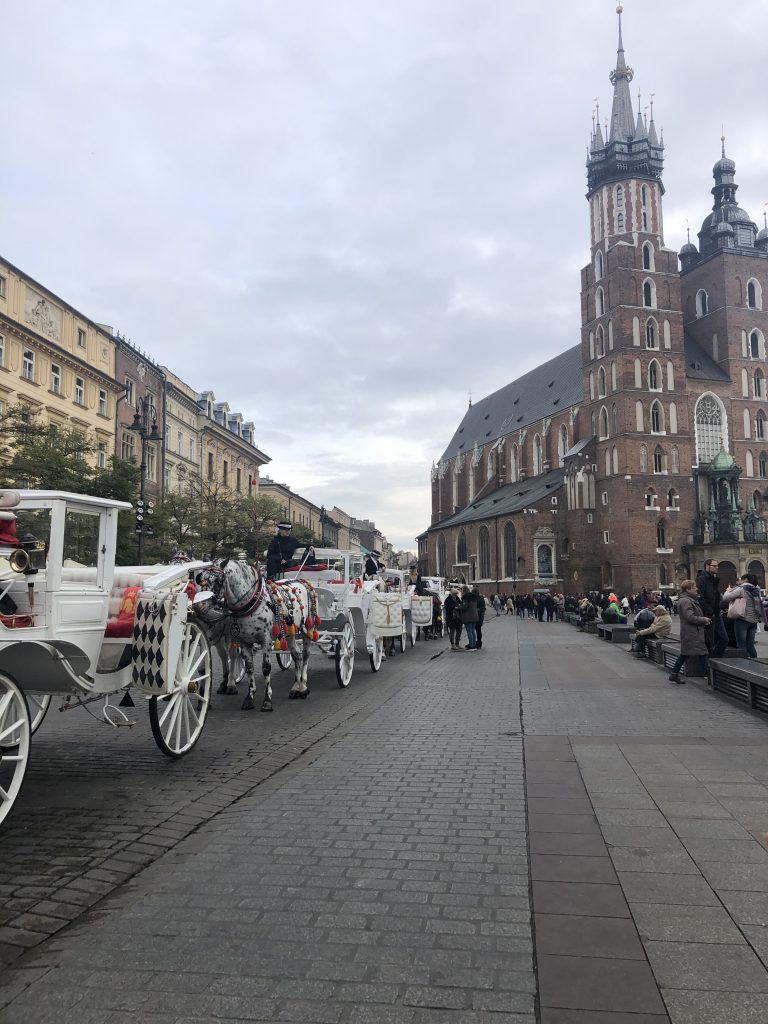 What Makes Krakow So Special?
Krakow is one of the oldest cities in Poland so it is bursting with history. You feel the history when you're wandering the streets and it really is on every corner. However, the saddest part of Krakow's long history came during the 1940's. Krakow and it's Jewish residents were some of the hardest hit by the Holocaust. Many visitors to Auschwitz use Krakow as a base because of the cities history during this time. We cover the World War 2 sites in Krakow further down this page.
When we first arrived in Krakow, we had arranged a taxi through our accommodation and this is where the lovely Marek was introduced to us. He was waiting at the airport with a sign with our name on and was just generally the friendliest and kindest man we've ever met. 6 years later and we still get Marek to come and collect us and take us on all our trips when we visit and we always keep in touch via Whatsapp. He really is a true friend now after all of this time!
Taxi Recommendation in Krakow
If you're planning on visiting Krakow, then please drop Marek a message here (https://www.facebook.com/transfersbyMarek or email him taxiairport@op.pl) and he will certainly be there to help plan your excursions!
Some of the services he offers are airport pick up and drop offs, trips to Auschwitz, trips to the Salt Mines and many more.
Also, if you do travel with Marek, then please do write him a review: https://www.tripadvisor.com/Attraction_Products-g274772-d15677446-Transfers_by_Marek_Idzik-Krakow_Lesser_Poland_Province_Southern_Poland.html
We prefer to stay outside of the square and closer to the Kazimierz area as this is our favourite. We usually stay in apartments which we book through either Airbnb or Booking.com and find that these are the best places to look for accommodation. Over the years, we've stayed in some beautiful apartments and usually only pay around £40 per night. Make sure you check reviews when searching for apartments and ensure it has a few, therefore you know you're staying in a reputable place.
Apartment Recommendations
Dielta 32 Apartment – Modern and cosy. It boasts a great location on Dielta and is a 10 minute walk from the castle, 15 minutes from the square and 5 minutes from Kazimierez. Cost – £27 per night.
Krowoderska Apartments – Very modern interior, a 10 minute walk north of the main square, 20 minutes walk from Wawel Castle. To get to Kazimierz it would be a taxi ride away. Cost – £35 per night.
Lwowska 2 – This place is ideal if you're travelling as two couples or as a group of friends. It's location is just over the river Wisla from the centre of town. It's a 2 minute walk to Schindlers factory and the Podgorze area. Kazimierz is a 10 minute walk away and the square and castle around 30 minutes. Cost – £45 per night.
Apartment on Krakowska – A great location in the heart of Kazimierz. Wawel Castle is a 10 minute walk away and the main square around a 15 minute walk. This apartment is a great size and perfect for couples. The interior is very modern. The only downside is that it's on a main road so cars and trams can be heard. Cost – £35 per night.
Best Restaurants in Krakow
Ribs On Fire
Meat, meat and more meat. Ribs On Fire has two restaurants in Krakow, one by the main square and one in Kazimierz. We always opt for the Kazimierz restaurant, this is normally out of pure convenience as we stay in this area. This restaurant is extremely popular so you should book in advance.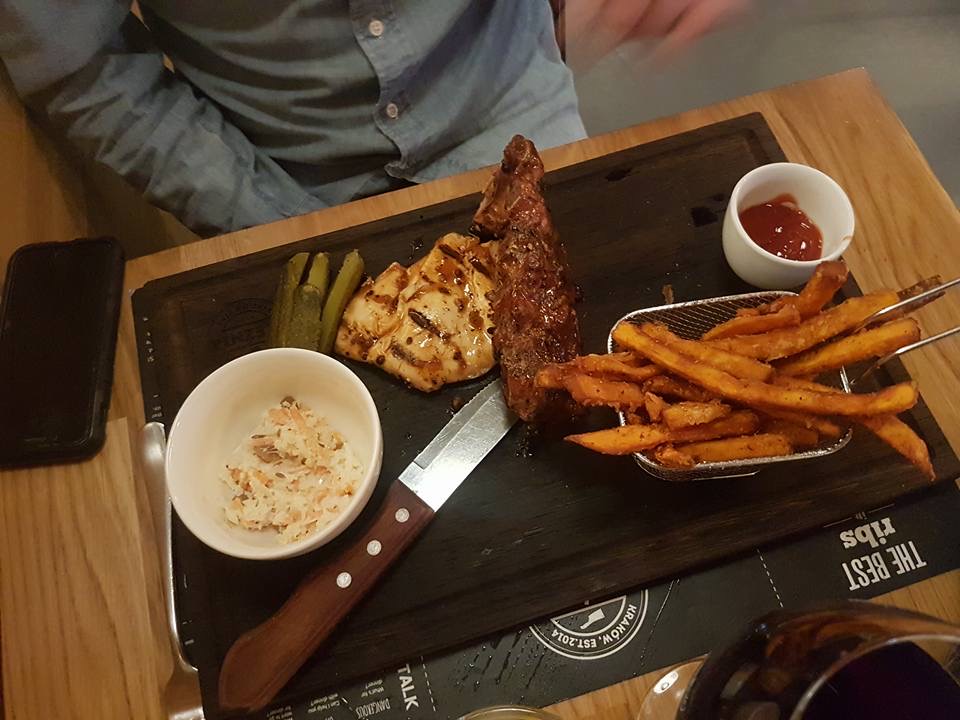 Let's start with the ribs, these are the reasons you need to eat here, they're out of this world. Succulent and full of flavour the meat falls off the bone and only the highest quality meat is used. The other meat on offer is also great but they don't match the same standard as the ribs, which are super special. With Emma being pescatarian she opted for the Tuna Steak which was also delicious.
View the Ribs On Fire menu, here.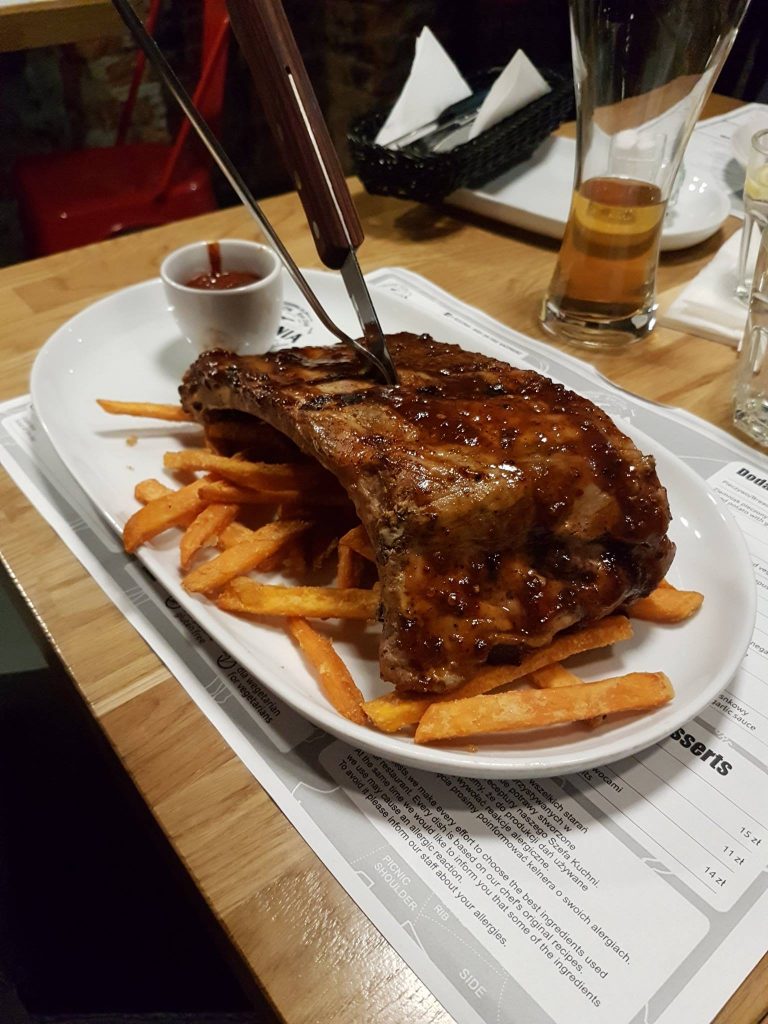 Mazana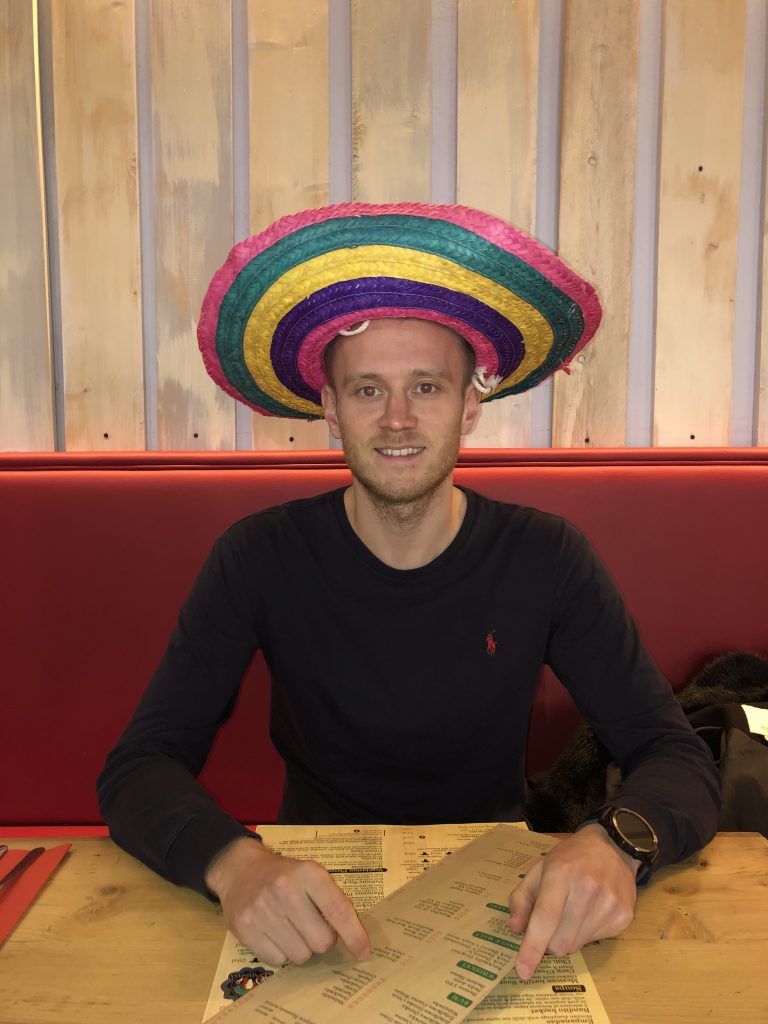 A Mexican haven set in the historic Podgorze district. Manzana will send your tastebuds tingling with their flavoursome menu. Out of all the Mexican restaurants in Krakow this one is the best, every time we visit Krakow we make a bee line to visit Manzana. You will not need a reservation for lunch but if you plan to dine out on an evening then we recommend you contact Manzana to make a reservation. You can view the Manzana menu and make a reservation over on their website.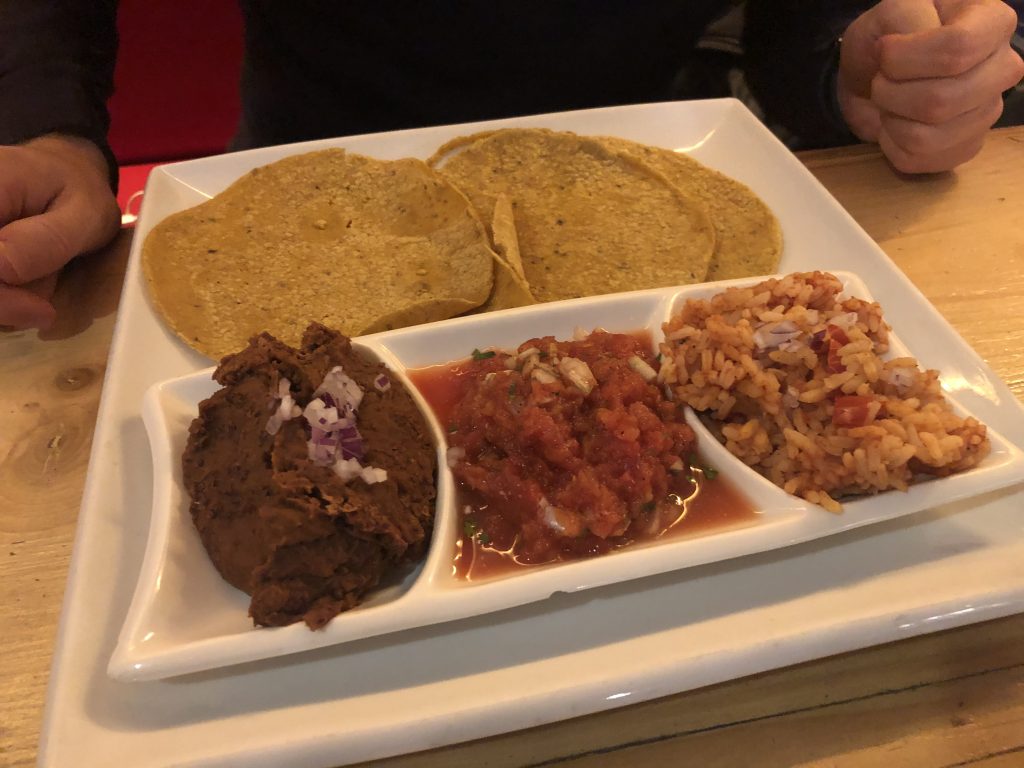 Pimiento
Pimiento has 3 restaurants in Krakow, 2 in the main square and one in Kazimierz (The Jewish Quarter). It's not surprising to see how Pimento is so popular, the Argentinian Steakhouse does everything right. The service, decor and more importantly food is all perfect. The price is a bit more than other restaurants in Krakow, however, for the quality of food the pricing is very reasonable.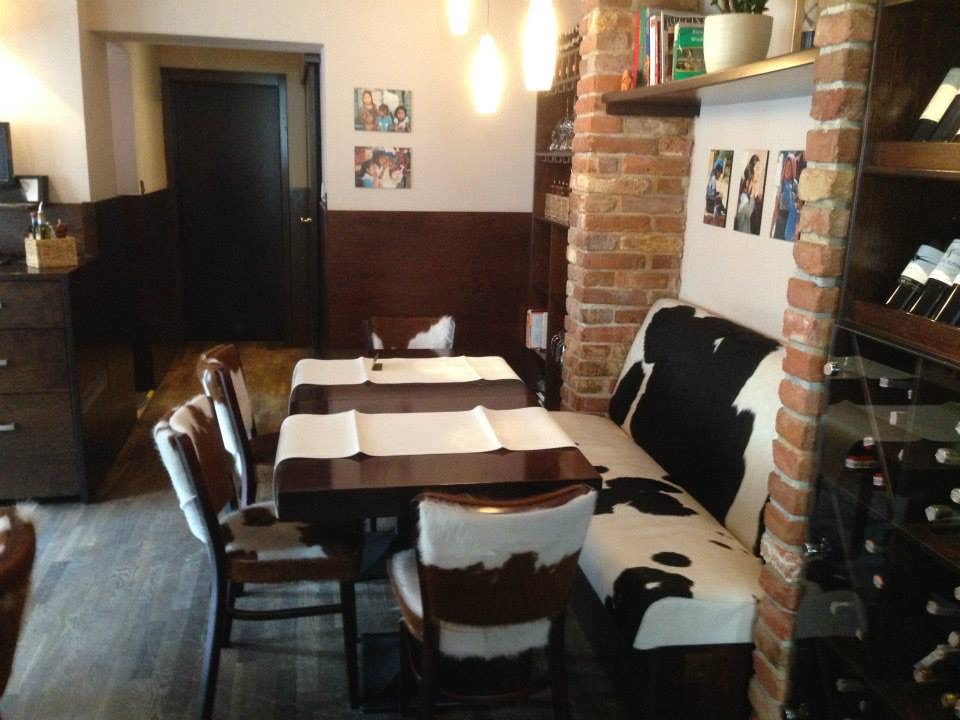 As Emma is a pescatarian a steakhouse wasn't top of her list. To be honest, if you're not a meat-eater then Pimiento shouldn't be top of your list as the menu is very limited. She did get the grilled tiger prawn which was delicious, though. Michael opted for the Sirloin Steak, compared to the UK it was great value, at around £13 for 200g.
You can find the Pimiento menu, here.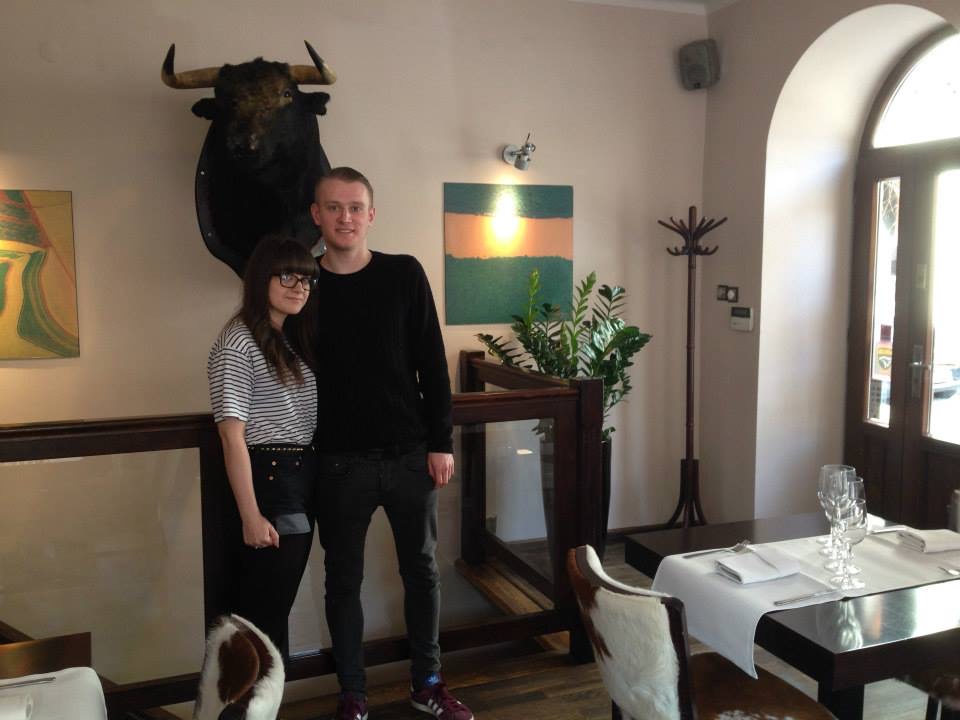 Trezo
We absolutely love this modern stylish restaurant. It's exterior looks splendid and oozes class, an all-glass finish and it really stands out amongst the old buildings of Kazimierz. Trezo is one of the finer restaurants in Krakow and the whole experience is memorable.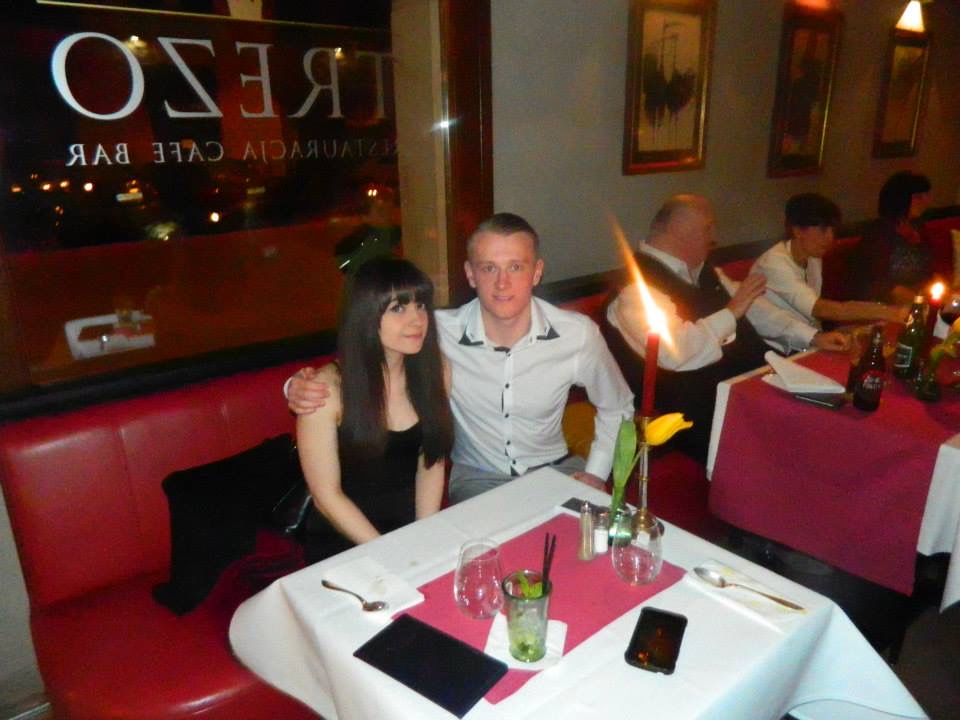 The synergy between old and new works a charm. As previously mentioned, the outside is really modern but as soon as you enter you get the old style feel with the interior being mainly brickwork.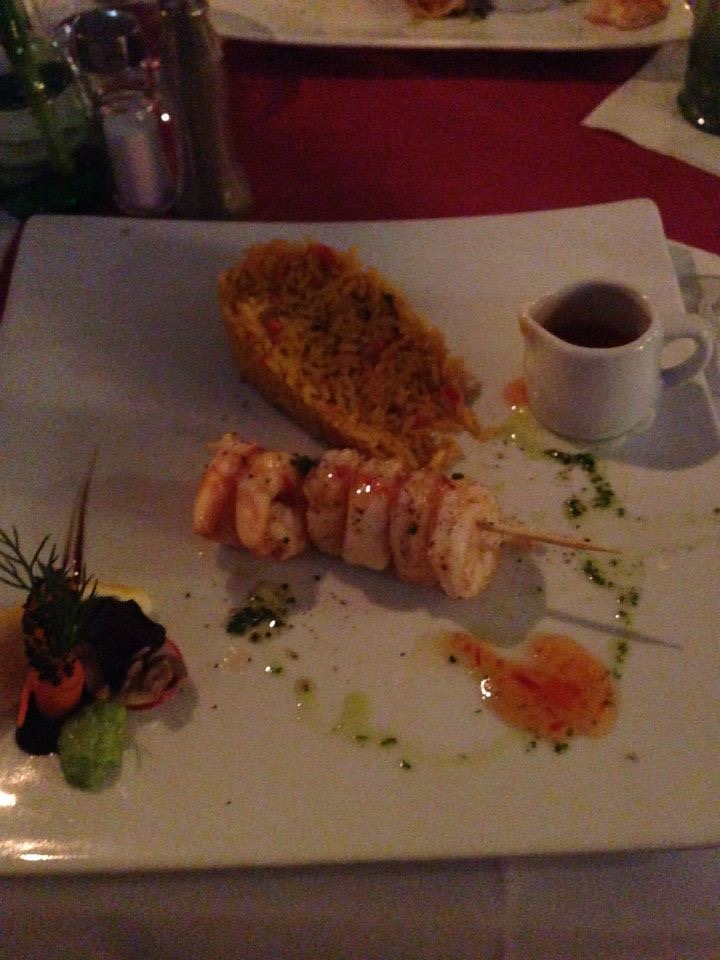 The service in here is top class, we felt it was the best service of any restaurant in Krakow. On our visit here they also had a live musician playing the guitar, this added to the ambiance and made a great experience.
The food, wow, it's absolutely amazing. Trezo is one of our favourite dining experiences in Krakow and a one you must do. You can view the menu, here.
Salta
We had an absolute nightmare getting to Krakow on our latest trip from Newcastle. Unfortunately, due to fog lingering above Krakow airport it was impossible to land. As a result, we were diverted to Katowice. Due to wanting to get to Krakow, we shared an uber (500 Zloty, £100) with another couple, which we felt wasn't bad for a 90 minute journey.
The rest of the flight were stuck in Katowice for a further 3 hours before Jet2 put them on a bus which only dropped them off at Krakow airport. Shambolic service.
Anyway, this was all saints weekend, so Poland pretty much goes into shutdown with only skeleton services. It's a huge celebration so restaurants and bars are packed. When we arrived in Krakow, around 10pm everywhere was full or closing. We got rejected from so many restaurants but Salta, thankfully, managed to squeeze us in.
From the outside it looked very upmarket and we were grateful that they admitted us so close to an early closing time. The service and food was incredible. Michael went for the Steak which was one of the best he has had on our travels. This cost just 88 zloty (£18) for 300g. The falafel burger that Emma had was HUGE and we couldn't believe the price at just 29 zloty (£6). All of the food on the menu looked incredible. View the menu, here.
Moments
Moments is our go-to breakfast place. Michael always opts for the energy breakfast what consists of smoked salmon, poached eggs, avocado and spinach. Emma opted for the Salmon Toast, which is pretty self-explanatory.
Moments is very popular so be prepared to wait for a table. If you are in a rush then this isn't the place for you as service is quite slow.
You can view Moments menu, here.
Molam Thai
This was a new experience on our latest visit to Krakow. There's something about this place that just makes you feel good. It may be the quality of food, it may be the excellent service from the staff who go above and beyond. In our opinion, this is the best Asian restaurant in Krakow (and Poland). The food flavoursome and the atmosphere was amazing. If you are looking for authentic Asian food then this should be your go-to place.
You can view the Molam Thai menu, here.
Cyrano De Bergarac
Wow, this place is so fancy! The restaurant is below street level, not far from the main square and the brick-lined, candlelit cellar serves as the perfect surrounding for a memorable experience. The entrance is hard to find and to be honest, doesn't look quite inviting. However, step inside and you enter another world.
We visited Cyrano on our first visit to Krakow and this was our choice for a posh night. Cyrano serves French cuisine and although it's more pricey than the surrounding restaurants, it's well worth it. Michael had Frogs Legs in here, memorable to say the least! Unfortunately, we can't remember what else we ate but we can remember it being brilliant. The service at Cyrano really makes it special along with the fantastic, fresh food.
We plan on visiting again this year so we can test it out again!
You can view the menu for Cyrano De Bergerac, here.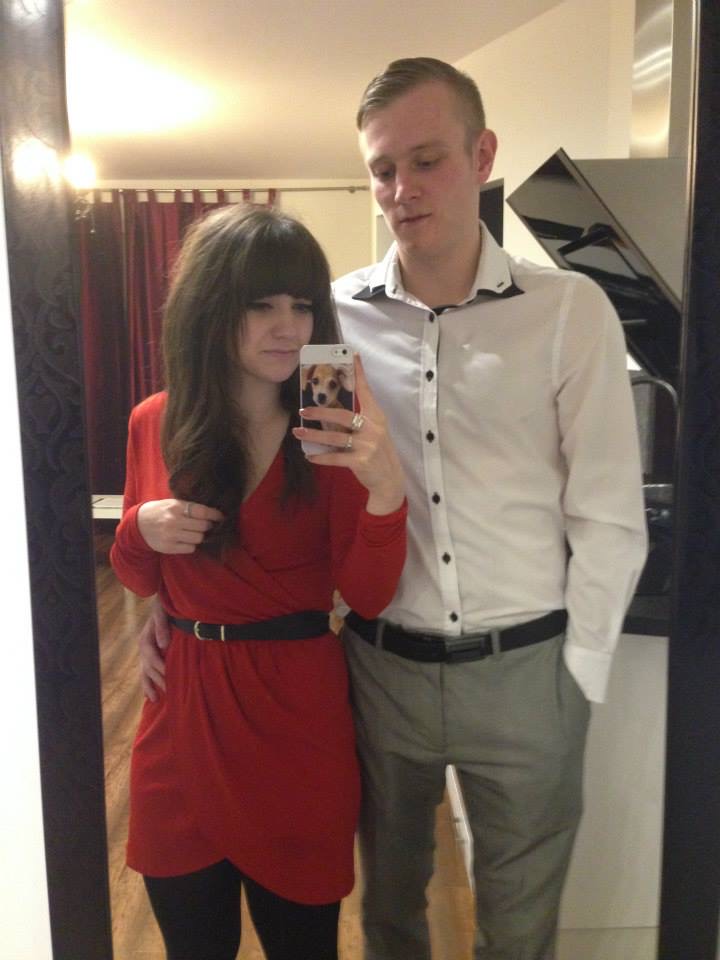 Things to do in Krakow
Auschwitz
It's a name that strikes sadness and fear into everyone. Auschwitz is the symbol of the holocaust and a place that everyone should see. It's a day that will fill you with sadness and tears but please visit, you must visit.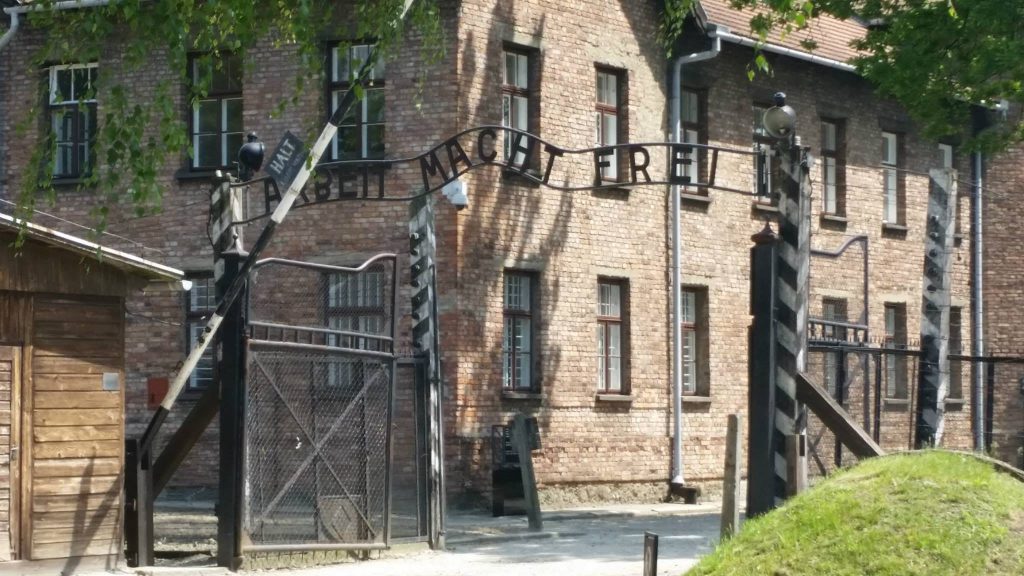 We've visited Auschwitz on two occasions, both times we opted to visit without a guide. Michael is knowledgable on all things World War Two and all of the information is in English. On both occasions we hired Marek for the day. It's quite a long day with a 7am pick up, this ensures that you miss all of the queues and you'll arrive back in Krakow for 4pm. You can also get the train to Auschwitz but we have never done this, Oswiecim (the Polish name for Auschwitz) is the station that you need, you can reach it in 2 hours from Krakow main train station, however, there are only a few trains a day.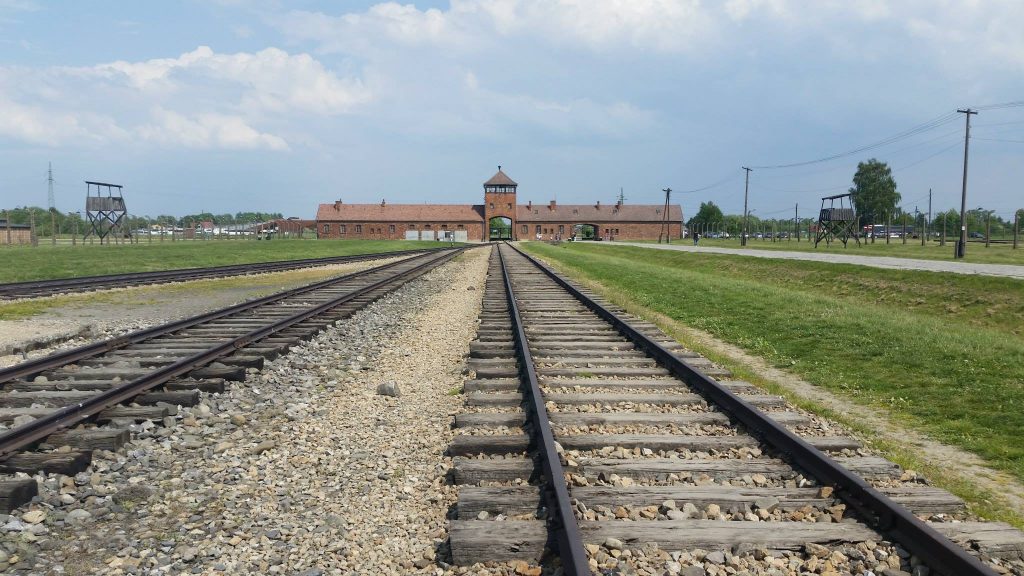 When visiting Auschwitz you should visit Auschwitz 1 first, this smaller camp features all of the exhibitions, every building in Auschwitz 1 features a different exhibition. Hundreds of photos of the victims of Auschwitz cover the walls in the buildings and it really is eye-opening putting faces to the names. There are some harrowing exhibitions displayed at Auschwitz including victims' suitcases, shoes and even glasses.
Auschwitz Birkenau
After visiting Auschwitz 1 you should visit Auschwitz Birkenau, this is the larger death camp, the scale of this place will shock and sadden you. When you first arrive, you'll notice the train line and main building which is used in a lot of films and documentaries. Once you pass this main building, you're able to view the scale and the buildings that the victims slept in. There are some that are open to the public so you can see the areas where they had to sleep.
Walking further, you'll come across the gas chambers which are no longer actual buildings. They now lie as piles of rubble but it is still so horrifying to know what happened here and the lives these chambers took.
The first time we visited Auschwitz, we didn't walk any further past the chambers. The second time, however, we ventured further through the trees and came across the below. The meadow behind was so beautiful and was so silent other than a few birds singing. It was truly heartbreaking to read the gravestone, knowing that behind this beautiful little meadow, lay a horrific past.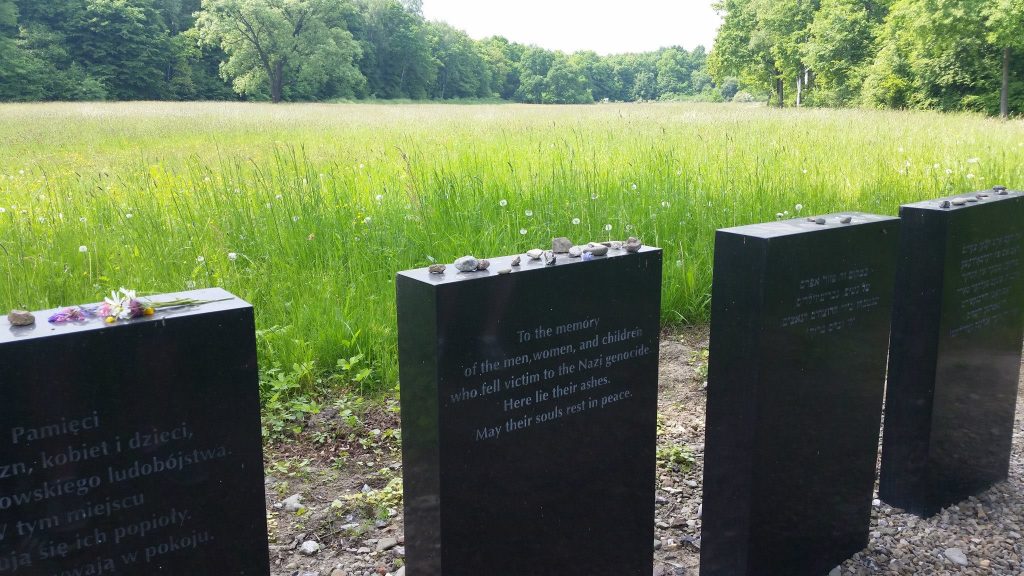 Why You Should Visit Auschwitz
Overall, we believe that everyone should visit Auschwitz at some point in their lives. It's eye-opening for everyone. We feel like going without a guide allowed us to take more in than those with a guide as it allowed us to take it at our own pace and when an area was busy, we would come back so we could ensure we could read it all without getting in the way of touring groups.
Tip – When visiting, please only take a small bag with you. Due to changes, they do a passport control type screening area where bags are searched. A5 is around the best size of bag to take with you, however, if you do travel with Marek, he usually lets you leave your belongings in the car so you don't need to carry anything unnecessary with you.
Salt Mines
Go 372 metres underground and visit the stunning Wieliczka Salt Mines. The salt mines are a UNESCO world heritage site and date back to the 13th century. Up until 2007 it was a fully functioning salt mine. Weave your way through the labyrinth of tunnels and get lost in some of amazing sites of the salt mines. It can be tight in places so if you suffer from claustrophobia you should get advice before visiting. We loved our trip here and highlights include a stunning chapel built purely of salt!
The salt mines is an obligatory trip for anyone visiting Krakow and you can easily visit it in half a day. You can buy your tickets online, here.
The salt mines are easy to reach from Krakow. Go to the main station and ask for trains that go to the salt mines, tickets are just 3.5 Zloty, one way (Under £1).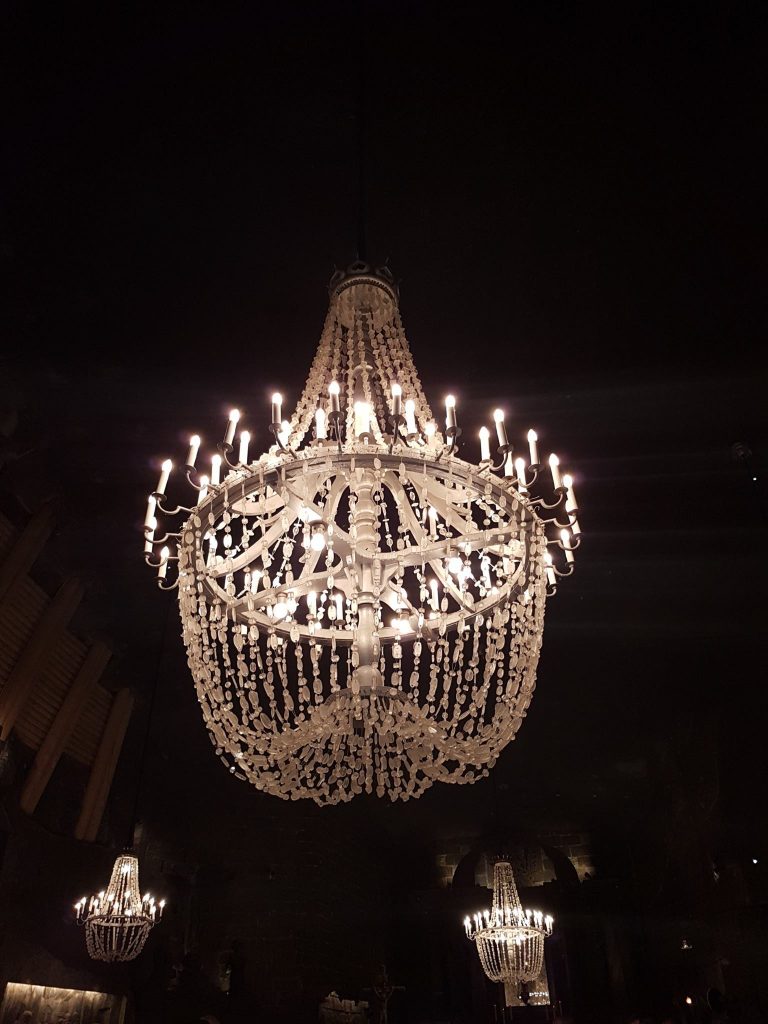 Fire Breathing Dragon
Okay, it's not exciting as it sounds but it's still worth seeing. Located on the banks of the river Wisla, underneath Wawel Castle lives Smok Wawelski.
Famous in Polish mythology, Smok Wawelski was said to terrify the people of Krakow, destroy their houses and even eat their daughters' many moons ago. A local cobbler, named Skuba defeated the dragon and therefore won the hand of King Krakus' daughter.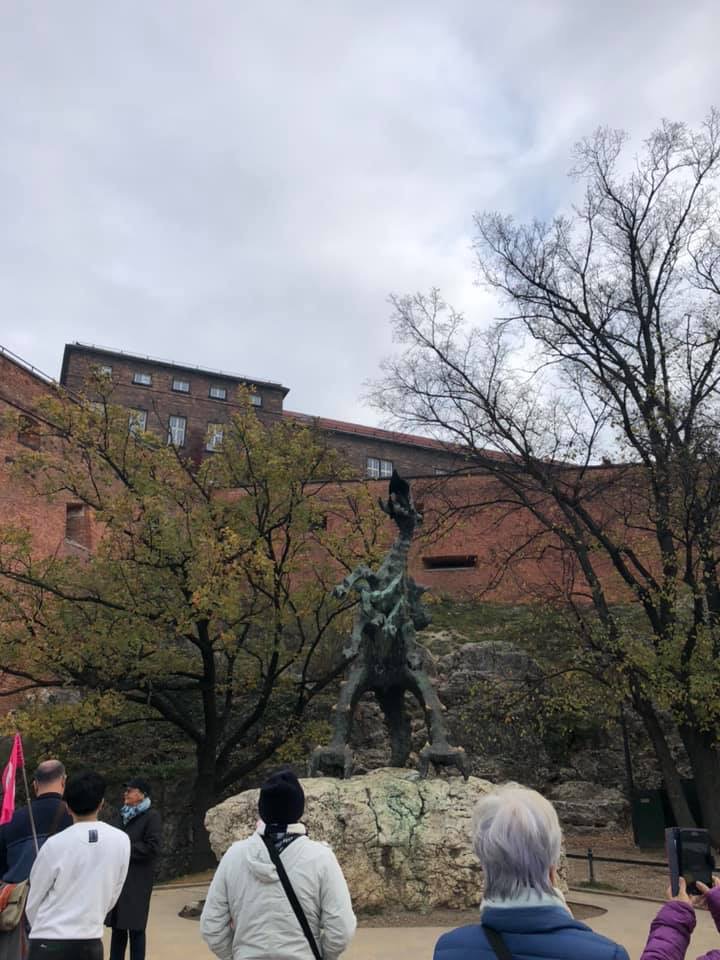 The sculpture was installed in 1972 and every 15 minutes it breathes fire for 15 seconds.
Lost Souls Alley
A haunted house just off the main square, it doesn't really sound very terrifying, does it? Think again.
Set back from the hustle and bustle of the main square lies the place of your nightmares, Lost Souls Alley. puts you and your party in a labyrinth of terrifying rooms. We won't tell you what happens inside the walls of Lost Souls Alley but expect the unexpected and expect to be scared senseless.
The experience lasts around 20 minutes, due to us being absolutely terrified we only made it through 10 minutes before asking to leave. We take our hats off to you if you manage to finish it.
Lost Souls Alley is extremely popular. You must pre-book your time slot and you must turn up 10 minutes before your slot.
Gestapo Museum
A small and very hidden museum in the old headquarters of the Nazi Secret Service on Pomorska Street but one that is chilling and well worth a visit. The museum tells the brutal story of life in Krakow during World War Two and the many atrocities committed by the German occupation. The highlight of the museum is being able to visit the actual cells that held prisoners during the war and the last scribblings of the last prisoners are still there to this day.
The cost:
Adults: zł 6 (£ 1.20)
Students: zł 5 (£ 1)
Tuesday: free entrance
Best Viewpoints in Krakow
Krakus Mound
This, for us, is the best free viewpoint in Krakow. Kopiec Kraka is in the Podgorze district and will take around 45 minutes to walk to from the Main Square. The walk is flat and takes in many historical sites on the way. Krakus Mound is said to be the resting place of Krakow's mythical founder, King Krakus.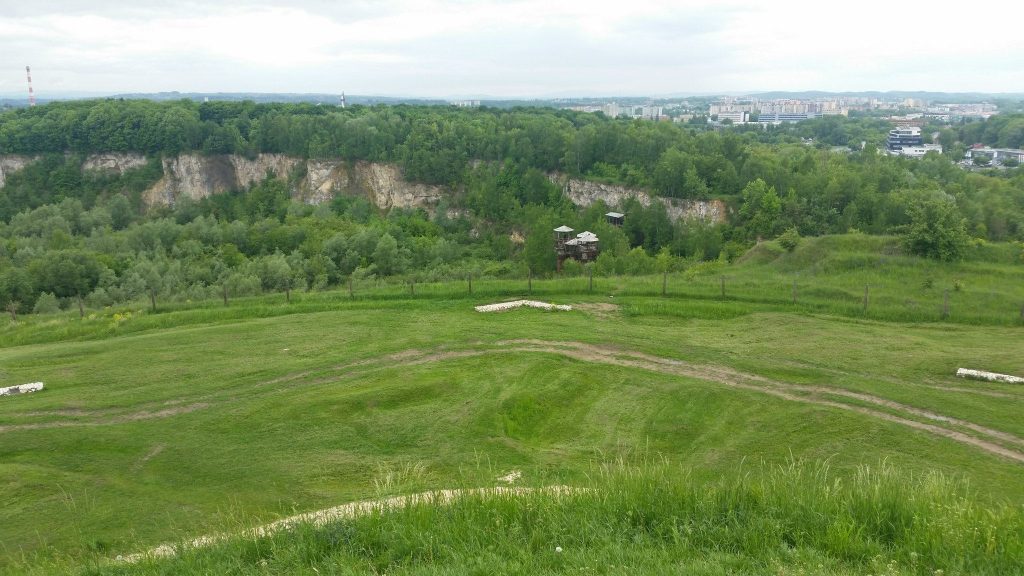 You can find Krakus Mound here. The climb to the top of the mound isn't too strenuous and the views are fantastic from the top, where you will get panoramic views of the city.
Cost – Free.
Kościuszko Mound
Erected in 1823 by Cracovians to commemorate Polish hero Tadeusz Kościuszko lies another great Krakow viewpoint. This viewpoint is a bit further out, it's walkable in around an hour from the old town. The views aren't as good as Krakus Mound but it's well worth a visit.
Cost – 14PLN (£3)
Static Hot Air Balloon
On our most recent trip to Krakow, we noticed that the static hot air balloon was back out (after around 2 years of not seeing it when we visited). We decided that this was the year that we finally go on it.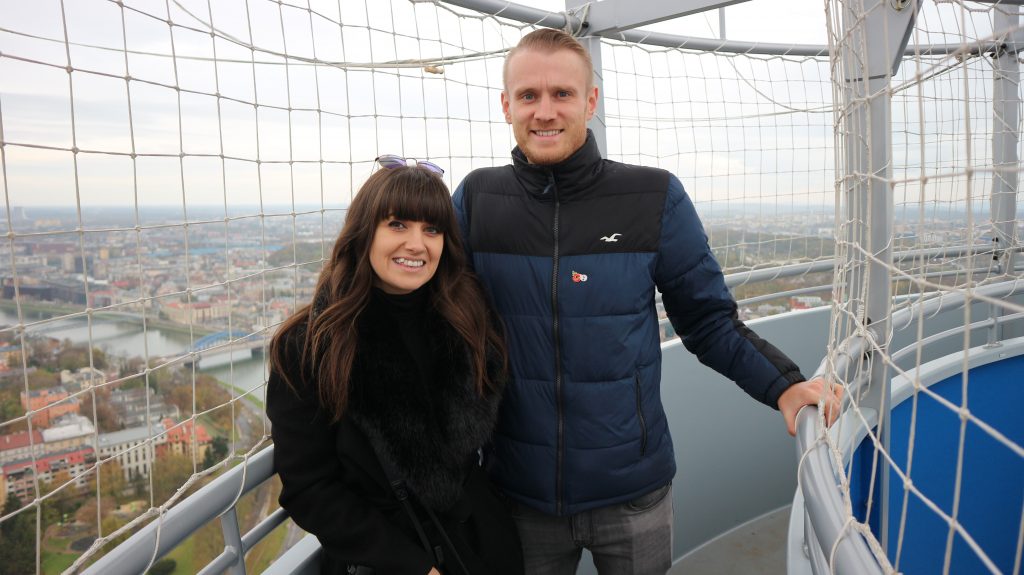 Ever since we first went to Krakow back in 2014, we always referred to it as 'The Moon' as this is what Marek called it once and it was definitely fitting. The large white balloon itself is fixed to the floor and is located right on the river banks and gives the most amazing views of the city.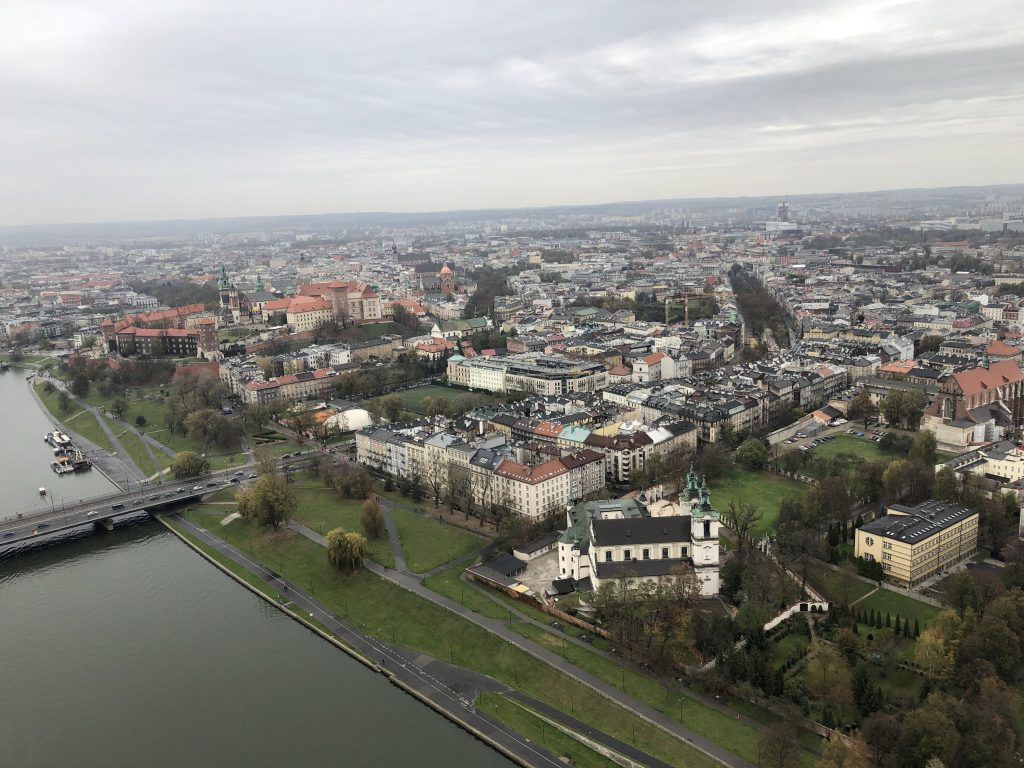 It cost around 70 zloty per person which is on the pricier side of things, however, after wanting to go on it for several years, we were happy to pay it. Once we had bought our tickets, we headed straight over and realised that there was only going to be us and one other couple. It was almost like a private balloon ride as we were on separate sides! From the sky, we had perfect views of the castle and we could even see the square and the surrounding areas.
100% if you go to Krakow you should do this. It was worth every penny and we thoroughly enjoyed it. It really is a beautiful experience and if you do get good weather, it really is a must-do!
Hot Air Ballonn Krakow Price:
Monday to Friday – 55 zloty (£11)
Saturday and Sunday – 69 zloty (£14)
Town Hall Tower
Situated in the heart of Krakow in the main square stands the Town Hall Tower. The tower was once part of the old Krakow Town Hall which is sadly now demolished. Due to the tower being very old the stairs are steep and thin, making them hard to climb. The balcony is off-limits so you have to make do with looking out of the windows at the top, the views of the square and Krakow are good from up here but we were a bit underwhelmed. The cost to climb the Town Hall Tower is 10 Zloty (£2).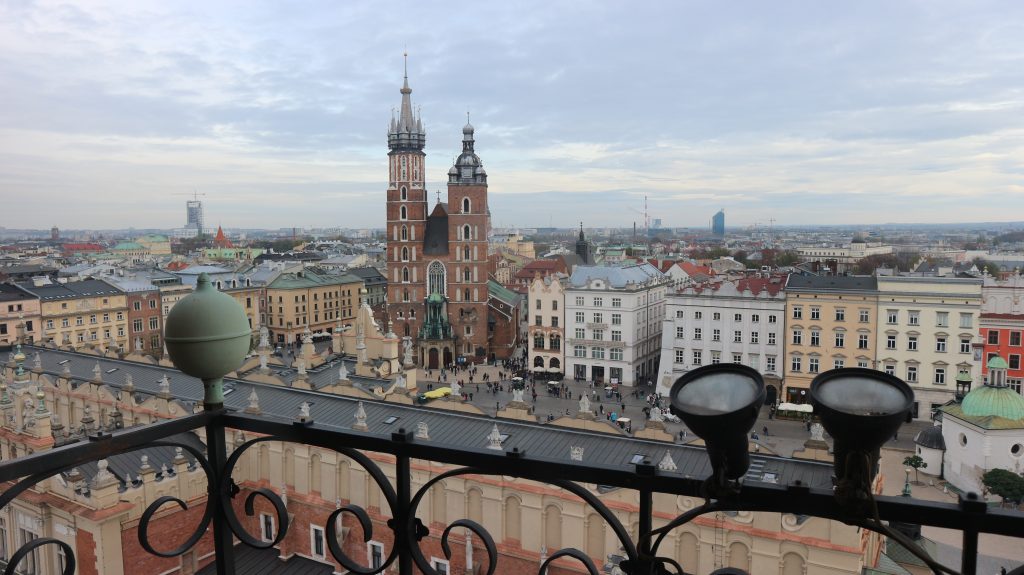 Opening Times for Krakow Town Hall Tower:
April-October – Every day from 10:30am to 6pm
November and December – Midday to 6pm
January, February and March – Closed.
Best Bars in Krakow
Cosmic Mini Golf Pub
This place is just surreal. It is a fully licensed bar equipped with a luminous mini-golf course. This place is super cheap both to play the mini golf and to enjoy the wide range of beers and drinks that they have on offer. Cosmic is the perfect way to spend an hour on a rainy day, it's great fun and it will draw the competitiveness out of your party.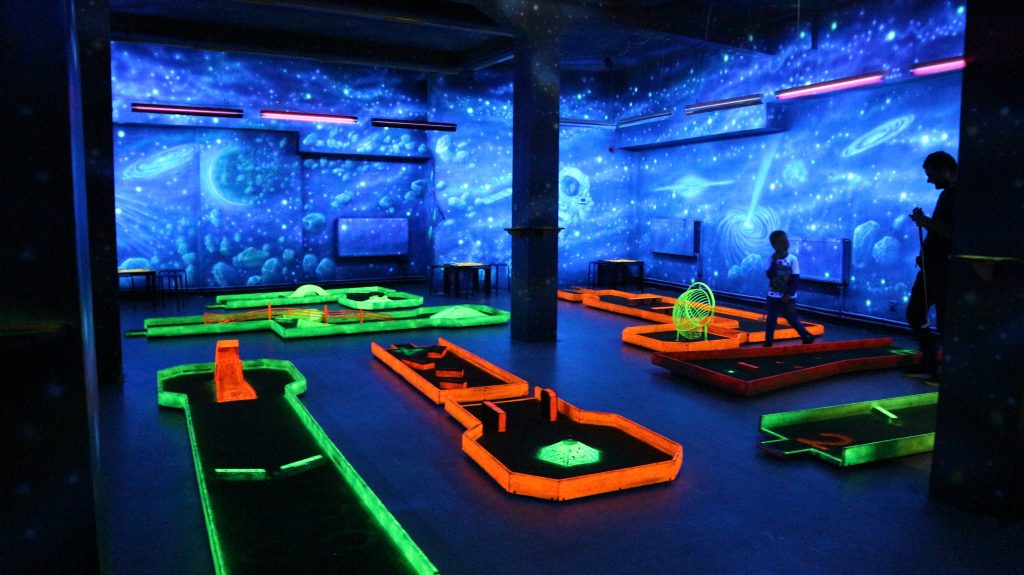 Along with the mini golf is air hockey and table football.
Singer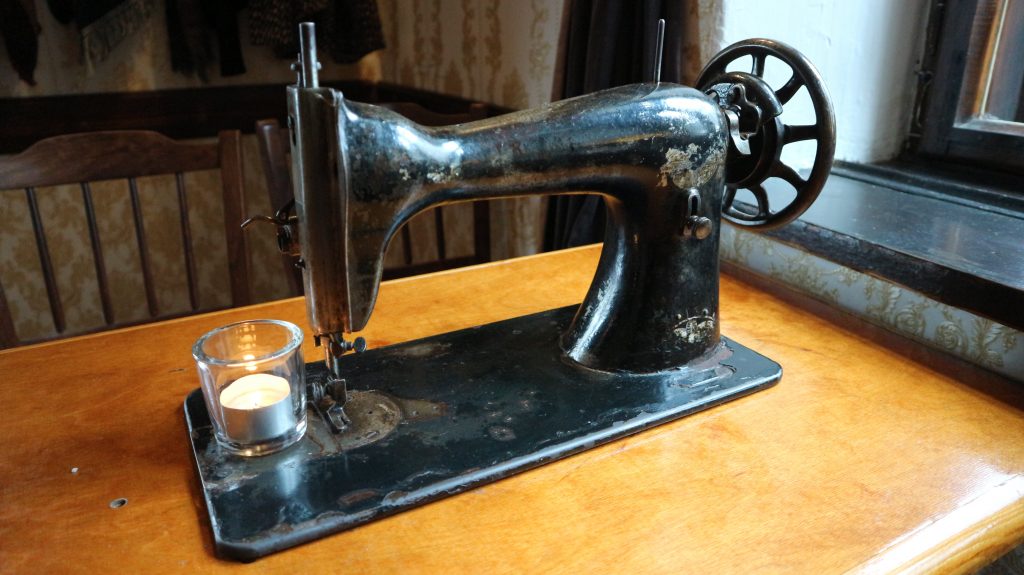 Singer is one of the bars that you MUST go to when you're in Krakow. Most of the tables in the bar are Singer sewing machines, hence the name. When you walk into the doors of Singer you may be mistaken for thinking you've entered someones 1930's home. There's no TVs in this bar, no sign of the 21st century, only wooden tables, a piano, classic paintings and a whole host of Singer sewing machines.
Singer is super cheap, one of the cheapest in Krakow, you can pick up a pint of the local beer (Tyskie) for 8 zloty (£2). It's much quieter during the day and really does come alive at night, it's a hive for local drinkers coming in for a dance and a sing-song. Click here to view Singer in Google Maps.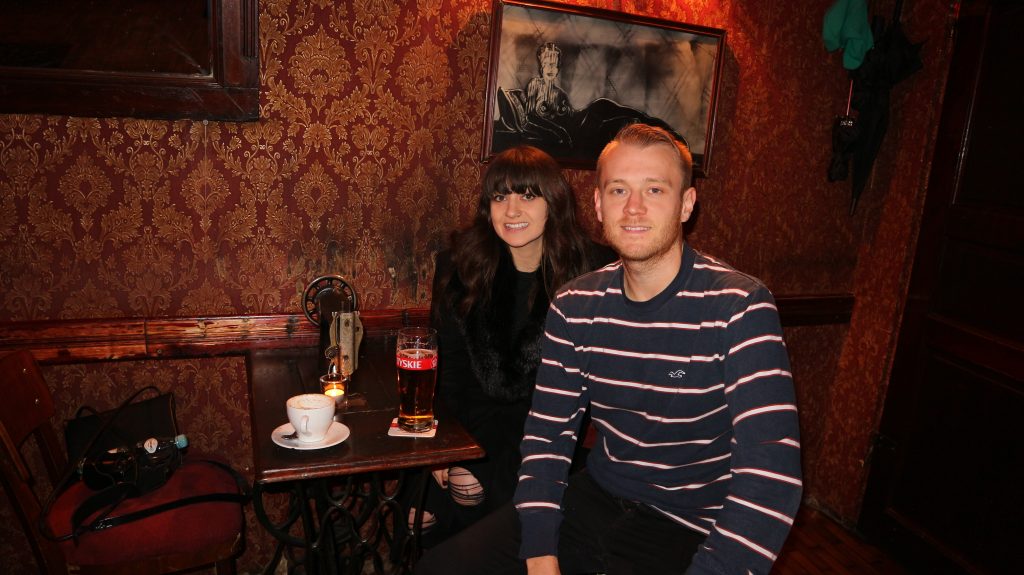 Alchemia
Based across the Estery circle is another one of our Krakow favourites, Alchemia. This bar has a similar theme to Singer, all of the light is candlelight only and you feel like you've travelled back in time when you enter. However, this bar attracts a much more younger crowd and it is a lot more lively. On weekends the basement floor of Alchemia opens and plays host to bands and musicians.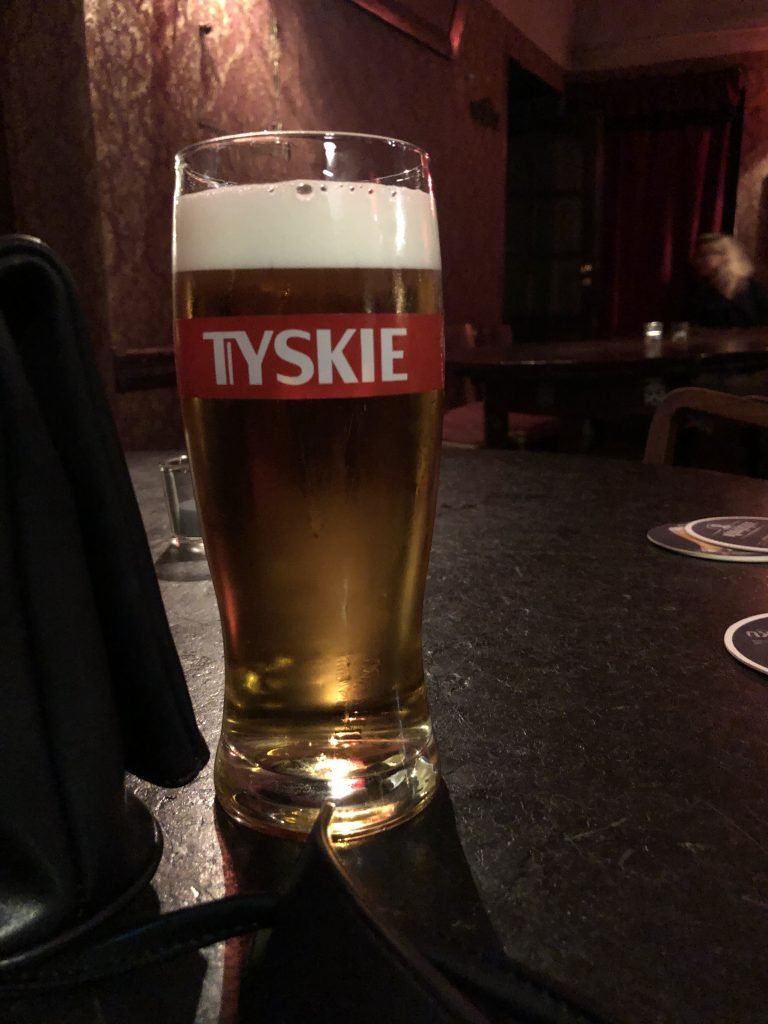 Alchemia is super cheap, the only problem you may have it finding a table. During the day it's a quiet bohemian style cafe, by night it's a hub of activity. It's a must-visit when you're in Krakow.
Wodka Bar
This is a popular must for tourists in Krakow, it's possibly the smallest bar in Krakow but one of the best. Vodka, vodka, vodka. But, not just vodka as you know it, vodka of every different style, flavour and taste, from caramel to bison.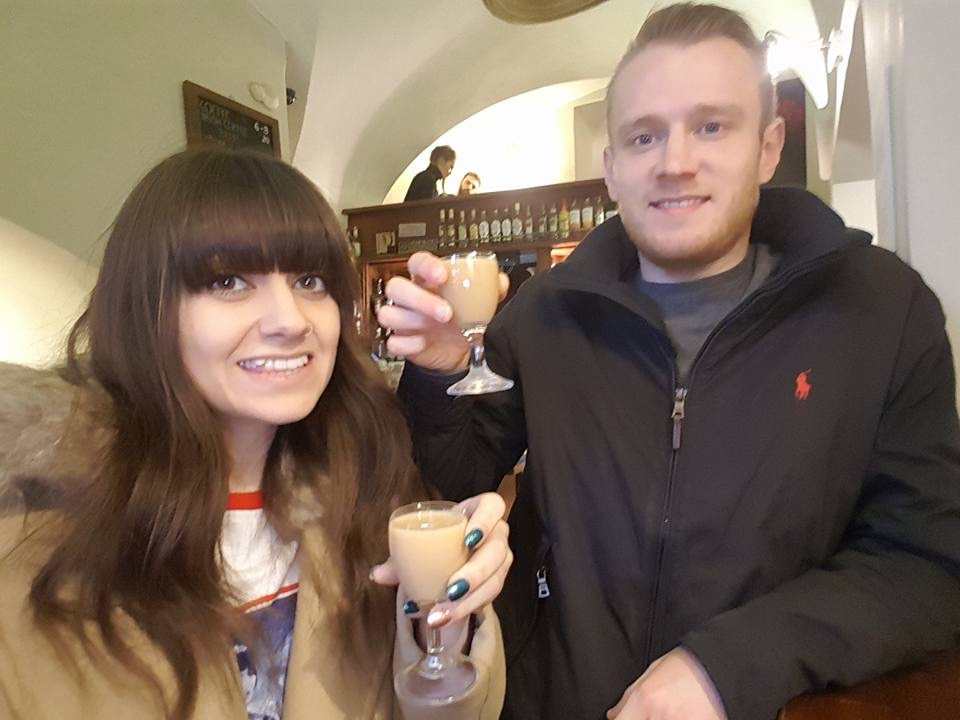 We opted for a tray of 25ml shots each on our visit, this is the taster option and includes 6 different vodkas. Some of the choices included: caramel, cherry, chocolate, blackberry, ginger, apple, plum and many more. Whatever flavour you think of, the Wodka bar seems to have it.
You'll find the Wodka bar just off the main square.
Tip – The Caramel Vodka (third along in the photo below) was our personal favourites
English Football Pub
Are you looking to watch live Premier League football in Krakow? Look no further. Located in a perfect location, just off the main square. Located in the arches underneath the streets of Krakow lies a heaven for sports fans. Drinks in here are really cheap and it's the perfect place to get your sports fix whilst in Krakow.
Tytano
A city within a city, six buildings spanning a huge area gives you Tytano. Tytano is home to many independent businesses who have taken a space at this former tobacco factory, you'll find a range of restaurants and bars in this complex.
Craft Beer Pubs in Krakow
We normally don't give craft beer pubs their own section but there is so many in Krakow that we've had to on this occasion. Krakow is literally craft beer heaven.
Relaks
Relaks, you've got to do it.
The selection of drinks in Relaks is very varied, you can grab craft beer, the local beers and cocktails. The prices here are also super cheap for the location which is just off the main square. A pint of the local Okocim will set you back just 7 zloty (£1.50), you'd pay double this just a one minute walk away. A craft beer costs 10 zloty (£2) whereas the cocktails will only cost you 15 zloty (£3), we will warn you, they are very strong.
Relaks also do a range of food, however we did not try the food on our visit.
Football in Krakow
Krakow is home to two football teams, Wisla Krakow and Cracovia. The teams two stadiums are located less than 1 kilometre from each other as they sit at either side of Blonia park. This is where the closeness ends, the two teams hate each other. The hatred runs that deep that you will see footballing graffiti all across the city and unlike in the UK you will never see a Wisla/Cracovia replica shirt being worn in Krakow. The derby is known as the 'Derby of knives' due to the amount of stabbings that take place when the sides face each other. We visited Wisla v Cracovia and one occasion, the atmosphere was electric but it was truly terrifying.
If you decide to go to a game then we highly recommend that you do not wear colours. The old town and Jewish Quarter are Cracovia areas so Wisla colours and scarfs are not welcome. Michael found this out as he and a friend went to a Wisla Krakow game and bought a scarf as a souvenir, on the return to a bar in Kazmierez he had the scarf on show when one of the bar staff hurried over to tell him in no uncertain terms to hide the scarf or he would be in great danger.
How to get tickets for Wisla Krakow matches
Wisla is the more successful and bigger Krakow club. The 14 times winners of the Polish top-flight play their home games at the 33,326 capacity Stadion Miejski im. Henryka Reymana. You will not struggle to get tickets for any Wisla Krakow game except for the derby game against Cracovia.
To get tickets you must go to the ticket office based at the stadium before kick of. Note that you will need your passport to obtain a fan ID card to then purchase a ticket. DO NOT sit in the C section of the stadium, this section is the cheapest section but it is solely for the clubs ultras. Tourists are not welcome in this area but they are welcome in every other part of the ground.
Tickets are very cheap compared to the UK, a seat in a good part of the ground costs just 50 zloty (£10).
The football on show is of a poor standard compared to England but the ultras make every game a spectacle. Armed with pyrotechnics, huge banners and ear-splitting vocal support makes a game in Poland a must-do on your visit.
How to get tickets for Cracovia
Cracovia has a less glamorous history than their neighbours but they've still lifted the Polish top-flight title on 5 occasions, however, the last time was way back in 1948. One thing you certainly can't call fans of Cracovia are glory hunters.
Cracovia plays at the 15,000 capacity Marszałek Piłsudski Stadium, the stadium may be half the size of their rivals Wisla but you wouldn't think it judging by the noise generated inside. We bought tickets for Cracovia vs Lechia Gdansk, due to crowd trouble in the previous fixture the fans from Lechia Gdansk were banned.
We bought our tickets online through the Cracovia official website and we only needed to take our drivers licence to the match. Again, avoid the ultras section, we purchased tickets right on the half way line and they were cheap, costing just 50 zloty (£10) for Michael and just 10 zloty (£2) for Emma, yep, that's right, women get in Cracovia way cheaper.
Is Krakow worth visiting?
Krakow is our favourite destination. It's a place that you will fall in love with and return year after year. You'll see that there is a magnitude of things to do and see in Krakow. Another plus is that you can eat out at great places and it won't put a huge hole in your pocket. If you're thinking about visiting Krakow then stop thinking about it and get it booked!
We have visited Krakow several times throughout the years through all of the seasons. Our personal favourite is at Christmas/New Year. At this time of year, Krakow is magical! There are Christmas markets, twinkling lights and just an amazing vibe throughout the whole city. Back in 2017. we went for New Year and honestly, the New Year fire works were amazing from the square. We stood on the outskirts and it was perfect. Everyone was cheering and singing and popping bottles of champagne.
If you do get a chance to go, we really recommend travelling in the winter. We're positive it won't disappoint.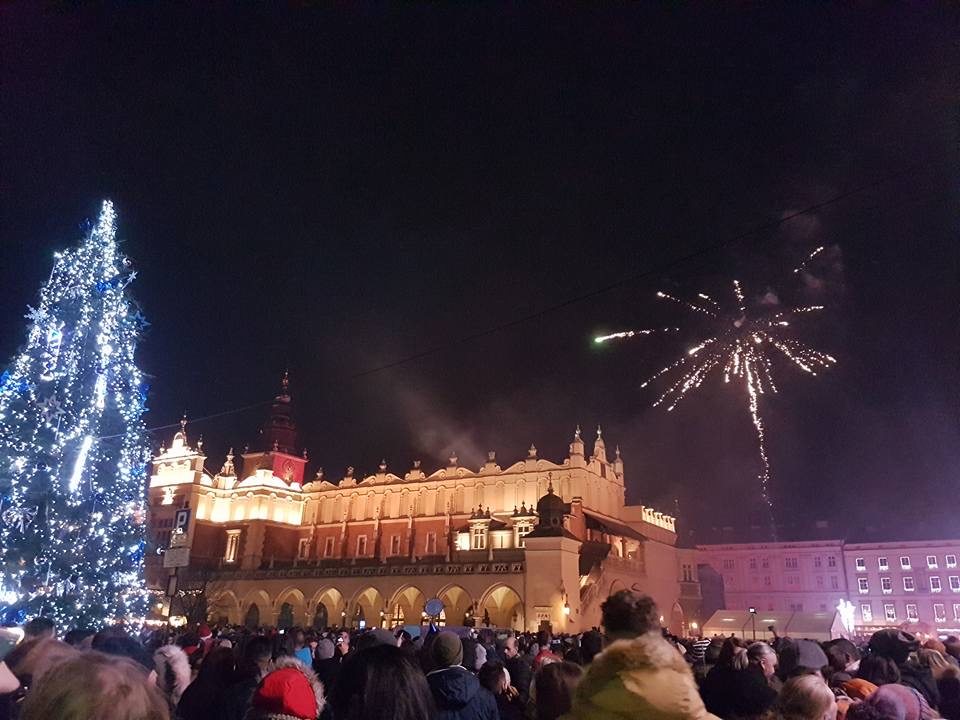 Check Out Our Other Destinations
Things to