New York – New York, The Big Apple, The City That Never Sleeps. New York has a big reputation and it often referred to as the greatest city in the world. The Big Apple has always been on our bucket list but it had HUGE expectations to live up to. Does New York merit it's reputation? Find out…
We first visited New York back in 2015. This was just the pair of us and we decided to book a package holiday with it being somewhere we had never been and so far from home. The second time we visited with Michael's mum. Throughout this post we will take you through both of our trips.
Which Airline Is Best To Fly To New York?
Jet2
We chose to book a package holiday and flew with Jet2 from Newcastle as this had just recently launched. This flight took us to Newark airport rather than the usual JFK. With the flight and hotel, this cost us £900 each! It was for 4 nights and 4 days. The rubbish part of this was (other than the hefty price tag) as it was Jet2, it meant it was a low-cost airline still and this meant that there were no TV's, no meals and no comfortable seating. It was your basic plane that you travel on to Spain. It was a very long 7 hours for this journey and this was also before the days of us owning iPads. The only positive was that it was a direct flight and they did play Frank Sinatra-New York, New York as we landed!
When we arrived, we had prebooked a transfer with Super Shuttle. This wasn't the best experience. They had us waiting for around an hour before anyone came to help and tell us where we were going. There were queues everywhere and no one knew what was going on. They were basically, an unorganised mess at this point.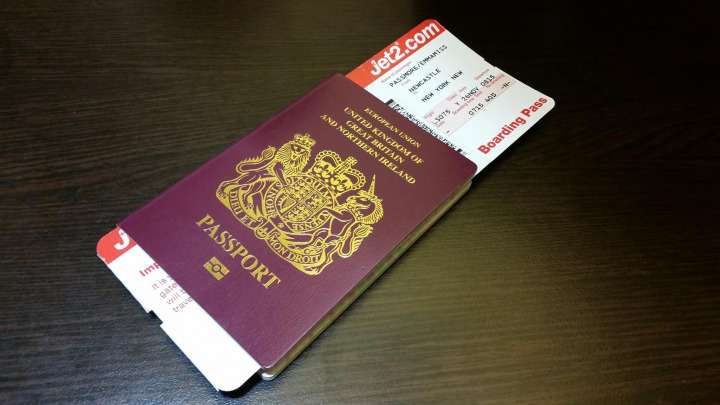 British Airways
This time round, we were definitely more savvy and saved A LOT of money. We opted to fly this time with British Airways and flew from Newcastle to London Heathrow and then London Heathrow to New York JFK Airport. It was around £350 per person and this time, we booked for 9 nights and 10 days! The flight was everything you'd expect from a long-haul flight across the pond. Leg room is plentiful, you have a range of movies on a modern tablet, meals are included and most importantly, the alcoholic drinks are free! We also have to say that the customer service from the British Airways crew was as always, top class.
Where To Stay In New York
The first time round we opted to Stay in the Edison Hotel in Times Square. The location of this hotel is perfect if you want to be in Central Manhattan and the lobby area is stunning. The rest was very 'meh'.
After arriving at the hotel, we got given the keys to our room and headed straight up. The room was extremely small for the price we paid for this holiday and it was a little disappointing. It was also really dark. None the less, we knew we wouldn't be in the room for too long as there was plenty of exploring to be done.
The second time around we decided that instead of a hotel and staying in main areas, we would book a AirB&B in Brooklyn. The one we booked was perfect. It was super quiet, 2 bedroomed with a small kitchen area and cost around £400 between us for the 9 nights! YEP, you heard that right! What a bargain! The whole trip only cost us around £450-£500 each which for how long we went for, the space in the apartment and the fancier flight with BA, it was 100000% worth every penny.
The apartment that we booked was also a 5 minute walk from two different subway stations which was perfect for us. We opted to get a subway pass for 7 days which cost us around $35 per person which again, with the money that we saved, worked out perfect. We would definitely recommend getting one of these subway passes for getting around. They're extremely good value.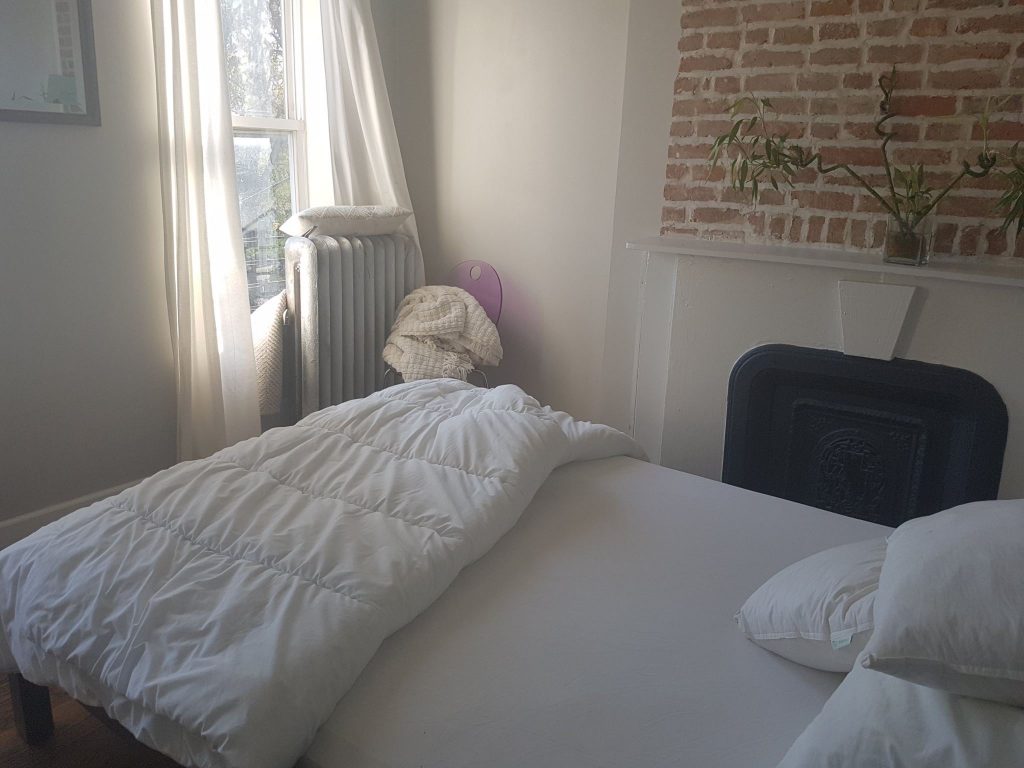 We'll touch on everything that we got up to on these two trips below.
Things to do in New York
We did invest in a New York Attractions pass and we would also really recommend this. It meant we had access to a number of attractions all at a discounted price. We used this for the Empire State Building, Rockefeller and Madame Tussauds to name a few.
New York Helicopter Tour Review
Now, this was booked as a surprise for Michael for his birthday which was the month before we were going. Emma wrapped up a little toy helicopter and hey presto! Surprise, we're going on a helicopter over NYC! It cost approximately £70 per person at the time for a 15 minute ride. It sounds like a lot, but we would do it again the next time we visit. We both thoroughly enjoyed it and as you can see from the video below, it is breath-taking. We did this back in 2015 but any future visits we go on, I would definitely go on one again. It was such an experience and it definitely earned Emma some brownie points for getting such a cool present.
One World Trade Centre
We visited One World Trade Centre on our 2016 visit with Michael's mum and gobsmacked with how good this place really is. If you've ever been, you'll know about that breath-taking moment, but for those who haven't, you must go and experience it. We don't want to spoil it with how incredible this is. Once you do get to the viewpoint, the views are stunning and you can see for miles. You can see all of the main attractions in NYC. We opted to book at sunset, and boy, this was such a good decision. As the sun came down it was beautiful to look at the lights turning on in the city that never sleeps. The only word to describe the view from the top would be breath-taking.
9/11 Twin Towers Memorial – Ground Zero
The memorial is located in the places where the Twin Towers originally stood before the devastating terrorist attack on September 11th 2001. This site is operated by a non-profit institution whose mission is to raise funds for the memorial and museum at the site. The names of the 2983 victims are inscribed on 152 bronze parapets on the memorial pools and are often filled with flowers from people paying their respects.
We were both around the age of 9/10 when the horrific attack happened and to see the site in person put it in to perspective of just how big of an impact this attack had, not just in New York but the rest of the world too.
This is definitely a must see when visiting New York, the memorial allows you to reflect and pay your respect to those who lost their lives.
9/11 Museum
The museum is next to the memorial site for the Twin Towers. We must advise, the queues are exceptionally long here so please make sure you factor this in to your plan for the day.
Once inside, the museum is spaced out really well to allow you to take in each exhibit and reflect before getting to another. There are actual fire trucks inside which are heavily damaged due to the impact of the attack, there are also parts of the original twin towers buildings and also recordings of some people who lost their lives being played. It really is a reflective place.
Top of the Rock – Rockefeller Centre
70 floors up and 360 degree views. That's what the Top of the Rock Observation Deck has to offer. Full of exhibits before you get to the top the Top of the Rock has a lot to offer. The views are amazing when you reach the top and definitely worth the visit. We had the Rockefeller centre included in our New York Pass which meant that as long as we used our pass, we got in for free. There was a bit of a queue when we arrived but we got a timeslot and headed up around an hour later.
Empire State Building
This is Emma's all-time favourite building in New York. (Maybe its from watching too much Gossip Girl). With 102 floors, the skyscraper towers above and can be seen from quite a way away. We again used our New York Pass to gain entry here. However, there was an additional charge to get right to the top (This wasn't included in the pass). We paid it though and found it was worth it for the extra little bit of view from the top.
Friend's Building
Do, dododo, do, do, dodo do (if you know, you know)
Definitely off the beaten track, we had to tick off the Friend's building when we visited New York! I mean, after watching it for so many years, we couldn't not. Situated in Greenwich Village and in a normal housing area, it wouldn't stand out if you're not a fan. We love friends though, so it was definitely perfect for a cheeky photo!
Central Park (Ice Skating)
Central Park is somewhere we had both seen so many times in films and really wanted to go to. With us going in the winter time, it coincided with the ice rink which was amazing! The first year that we went, Emma dragged Michael on the ice even though he's basically Bambi! Emma loves ice skating and thorough enjoyed it. It wasn't too badly priced and it was super spacious so there was plenty of room to zoom around. After ice skating, we also searched for the typical movie features in Home Alone and many others to make sure we saw as much as possible. We'd highly recommend visiting and spending a good few hours wandering around.
Another must see in Central Park is the John Lennon memorial. Michael is a huge Beatles fan so wanted to pay his respects. The area around the imagine heart was full of musicians paying homage to Lennon by playing his music.
Tip – If you're wanting to go on the horse and carriages which are located just outside of Central Park, be prepared, they are not cheap. When we priced them up they worked out at around £100 for the two of us and we really couldn't justify that price so opted against it.
Yankee Stadium Tour
The Yankees are the most famous baseball team in the world. They are also one of the most successful teams in the USA, not just in baseball but across every sport. World renowned names in the sport including Yogi Berra, Babe Ruth, Joe DiMaggio and Micky Mantle have all pulled on the famous Yankees cap.
The Yankees Stadium tour was on Michael's bucket list and the tour was included on the New York City pass. There did not seem to be much around Yankee Stadium but it is very easy to reach via subway from Downtown. Our tour guide was extremely knowledgable about all things Yankees. The tour was very much access all areas – giving you access to press rooms, dressing rooms, VIP areas and pitch side.
We found this tour to be one of the best sporting tours that we have ever done. You don't have to be a sports fan to appreciate Yankee Stadium and enjoy the tour. This is a must do in our opinion when in New York City.
Maddison Square Garden Tour
Maddison Square Garden is the most famous indoor arena in the world. It has held events which will always be remembered in both Sport and Music. Muhammad Ali defeated Joe Frazier in the fight of the century, the Knicks lifted the NBA Championship and more recently the Rangers 1994 Stanley Cup triumph. Musicians to have played at the garden include John Lennon, Frank Sinatra, Elvis Presley, The Rolling Stones, Bob Dylan and Stevie Wonder.
Unfortunately, due to cost we didn't get to see a game at the garden, we instead opted for the tour as it was included in the New York City Pass. Maddison Square Garden is beginning to look very dated on the exterior and it's also showing its age inside. The tour was good, the guide was knowledgable about all of the Gardens history, main events and the teams that play/played here. The tour lasted around 90 minutes and takes you around the whole arena including court-side. The Knicks had a game on the evening we went for the tour, unfortunately, this meant that the dressing rooms were out of bounds but it was great seeing Maddison Square Garden set up for a big event.
We do have to say however, due to the age of Maddison Square Garden, the sight-lines from all seats aren't brilliant. If you're on a budget you'll get a way better view and experience at the Barclays Centre.
Barclays Arena – Brooklyn Nets and New York Islanders
Originally we wanted to see the famous New York Knicks. However, the price of tickets were extortionate at around $150 per ticket. We are not huge NBA fans and purely wanted to go for the atmosphere. After a quick Google we found that New York City was home to another top flight NBA team, the Brooklyn Nets.
The Brooklyn Nets play across the East River at the Barclays Arena, the arena is modern and is much better to watch sport than Maddison Square Garden. On the day of the game we visited the Ticketmaster resale website and picked up 3 tickets for the price of just $12 each. We were seated in the upper tier but the view was good and the atmosphere was brilliant. The facilities are great however the price of food and drink is very expensive.
The Nets ended up losing when we went but we were now hooked! After a quick look at the schedule the Nets were due to play at home again in a few days, we had the bug so we went back. Unfortunately, lightning struck twice as the Nets ran out losers again!
Our other visit to The Barclays Centre was to see the New York Islanders. The Islanders are a top-flight Ice Hockey team who play at the Barclays Arena. We really enjoyed the game and unlike the Nets, the Islanders won! It was great fun and we would not hesitate to go back if we had the chance.
The Barclays Arena is a fantastic venue and holds host to some of the World's biggest sports events and music acts. If you're in New York then be sure to check out their schedule.
Grand Central Station
Grand Central has the most famous and majestic terminal in the world. It's quite easy to miss from it's exterior, it's dwarfed on all side by skyscrapers so it seems quite unassuming. Once you enter the main hall its quite breathtaking. It's one of our favourite landmarks in New York, it's great to get some food in the food hall downstairs and then sit and watch New Yorkers wading through the rush hour. The Grand Central Station makes a great photo opportunity and is a must not miss when in New York.
High Line
The High Line is just one innovative addition that makes New York that special place. Formally a Subway line it is now a one-mile park in the sky which cuts through the heart of Manhattan.
We started the High Line walk on West 34th Street, you can see the entrance as it's right next to the Megabus bus stop. If you're having trouble locating it, then find it here. There is also elevator access at Gansevoort Street, 23rd Street, and 30th Street.
The high line offers great views of New York. It is a great way of getting away from the hustle and bustle of the big city for a few hours. It's a must to get your snaps for Instagram. The best thing is, the High Line is totally FREE!
Madame Tussauds
This wasn't an attraction that we had thought about visiting the first year that we went, however, it was included in our New York pass. We have never really been interested in going to Madame Tussauds, however, on a particularly rainy afternoon and waiting for the clouds to clear before heading up the Empire State Building/Rockefeller, we headed in here to keep dry for an hour. It was okay for an attraction, however, there weren't that many people that we recognised if we're honest. There were a few of the usual such as ET, Kim Kardashian etc but a lot of people that we didn't know at all. It was still funny to walk around though and definitely killed a bit of time during the rain shower.
Statue of Liberty – Crown
The first year we visited New York, we didn't opt to do the Statue of Liberty. We did see it from the helicopter tour that we did, but due to only having a limited number of days, we opted against it. A year later, this was our time to visit and after a little bit of research, we found that you could actually go all the way up to the crown! We thought why not, it was only a little more cost wise and it would definitely be a good experience.
We got the ferry over (after a few mishaps and some missing ID! But that's a story for another day) The walkway up to the top of the crown was quite tight and the stairs were also quite steep (especially for Emma with her little legs) but when we made it to the top it was great to see the skyline. We probably wouldn't do this again, however, it was definitely worth it. One big tip is you need ID to get to the crown. Emma and Michael both had UK drivers' licenses with them which were fine, but we forgot Michael's mum's so had to go back to Brooklyn to get her passport in time to catch the ferry! Stressful isn't the word so make sure you don't forget it!
Macy's Day Parade
The first year we visited New York, we actually missed the Macy's Day Parade by a few hours! We were a little bit gutted but we definitely made up for it the year after. In 2016, we made sure we arrived the day before so we would be there in plenty of time for the parade. We researched the best place to go to watch it and found a street in-between the Hilton to be our best option. We headed there quite early and waited for it all to start. It was such a busy and bustling event so if you're not a fan of crowds, be warned it does get super busy.
The parade itself is amazing to watch with all of the giant floats with the classic characters and then some of the NYPD. There were also lots of schools and groups involved in the parade and watching everyone in their costumes waving to the crowds was definitely worth watching. If you do get a chance to go to the parade, make sure you head there in plenty of time and take snacks!
Black Friday Shopping
For Black Friday, we did a lot of research to make sure we were hitting up the best sales. We found an outlet mall called Jersey Gardens, which, as you've probably guessed, is in Jersey. Now it seems a little far to go when you're in the hustle and bustle of New York, however, in Jersey, you don't pay tax. The price you see is the price you pay which is amazing.
The first year we visited, we laughed at the amount of people who had suitcases on the bus to fill with their purchases but realised pretty quickly that they were actual genius'. The second year we learnt from our mistakes and took 2 big suitcases with us to put all of our bags and it was a life saver. No more cut hands from carrying all the individual bags and a lot easier to store on the bus aswell.
During these sales, Michael found that the best shop for discounts was Ralph Lauren. He picked up a winter waterproof coat which would have cost around £450 back in the UK for around $40! Emma also managed to bag a Michael Kors camel coat which should have retailed for around $950 for $200. So another great saving. There were so many more shops doing great deals such as Kate Spade, Adidas, Nike, Levis and so many more.
Big tip for going shopping on Black Friday is have a rough idea of what you're going for and also, GO EARLY! Due to jet lag, we ended up arriving for around 8:15am into the mall and it worked out perfect. By the time we were finishing up at around 12:30pm, it was super busy and a lot of the sizes of things were selling out.
Places to eat in New York City
Wok to Walk
You sometimes just can't beat what you know. After a day of getting lost in the streets of Manhattan we decided to grab a Wok To Walk on the way back to the hotel. We've had them in Europe and we love a stir fry so it's perfect for us! For quick and easy woks, this is the place to go. There are plenty in NYC so you won't go far without seeing one.
Quality Meats
A friend recommended Quality Meats to us as he had such a great steak and experience there. For us, unfortunately, we were very disappointed.
We may have been unlucky but we found the steak to be very poor and the ambience just wasn't there on our visit. Unfortunately, we were also seated next to a mother with her screaming kid. Now, we normally don't mind this in restaurants but due to how upmarket this place was we expected a bit of peace and quiet.
Pisillo Italian Panini
This is THE BEST cheap eat in New York. Hidden away in the financial district is a fine piece of Italy. The sandwiches here are huge and packed full of different tastes. They are huge and one sandwich can be used across two meals. The sandwiches are divine and it's a place you'll have to visit when in New York. Be warned, you will go back, it's THAT good. One sandwich will set you back just under 10 dollars.
Bills Bar and Burger
We were jet lagged and tired on our first night of our second trip to New York. After a night of sightseeing, showing Michael's Mum the bright lights of New York we decided to grab a nice juicy burger. The vibe in this place is great, it's a typical American diner with a great atmosphere. We were not expecting much with the food but it was surprisingly delicious and great value for money. It's located in Rockefeller Plaza, if you're in the area, give it a try.
Is New York Worth Visiting?
You HAVE to visit New York City at least once in your life. For us, New York exceeds all expectations, it really is the best city in the world. The Big Apple is a bucket list place and we don't know one person that has visited NYC and not absolutely fallen in love with the place. If we created a list of top places to visit, New York City would be top of it.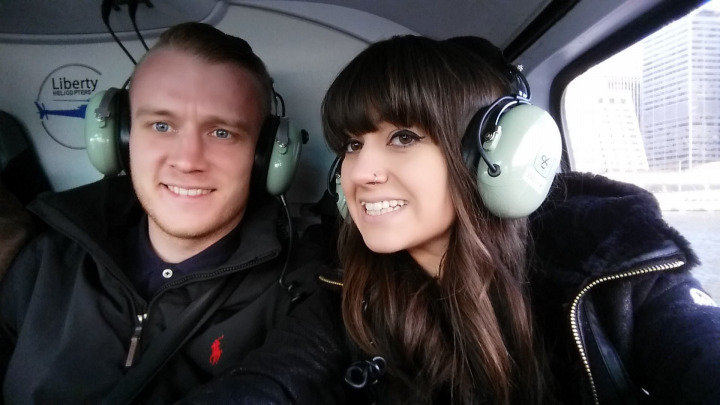 Check Out Our Other Destinations