Halong Bay is one of the most incredible experiences that we have or will ever do. Simply Stunning. Here is our ultimate guide to visiting Halong Bay.
How to book Halong Bay
So, before we even travelled, we decided for easiness that we would pre-book this trip with the hotel. The hotel arranged it all and we got the details through that a company called Serenity Cruises would be taking us on their 2 day trip. You can book cheaper if you go direct. We decided on doing the 2 day and 1-night trip so we could make the most of it. The trip cost around £130 per person, however, this included a pick up from your hotel in Hanoi, meals and water on board the bus and boat.

Our Visit
We were picked up bright and early from the hotel and taken on a coach. The journey took around 2 and a half hours and we had a little stop off at a service station. I'll pre-warn you now that this place is totally overpriced. Make sure you are prepared for how busy and dirty the toilets are. We had a lot of hand sanitiser with us luckily (you know, COVID 19 and all that jazz – bare in mind, this was before everything was on lockdown and not many things were in place and it was fine to travel!).
Once we'd been to the stop point, we continued the journey to the port to board our ship. Now I know what you're thinking, it's going to be a little shanty board isn't it?! Let me tell you, it was FAR FROM THAT! This boat was beautiful, it was clean, it was modern, it was outstanding. We were welcomed on board by some lovely staff members and taken to the dining area to be welcomed in.
One big shout out that we'd like to give would be to our guide Sean, He was incredible. He chatted with us all on the bus going to the port and then he also joined us onboard our Serenity Cruise. He was such a nice guy and his English was outstanding. If you book through Serenity Cruises and you get Sean, you're in for a treat!
The views were incredible, although, we must be honest, it was very foggy in parts. This did however add to the atmosphere and beauty of Halong Bay. Luckily, we managed to keep away from the rain for the majority of this trip.
The Rooms
We were given our itineraries and our room numbers and told to meet back in the dining area in 30 minutes to have our lunch. We were shown to our room and all I can say is OH MY GOD. The bedroom itself was pretty basic and included a giant bed, wardrobe and shelves with a few books left from previous guests, which was a really nice touch. What blew us away was the balcony area (with two seats and a table which was perfect) and THE BATHROOM. Oh my god the bathroom. We had the usual toilet, sink and shower, but best of all we had a ginormous bath in front of the biggest window! It was so peaceful and relaxing watching the beauty of Ha Long Bay pass us as we sailed around it.
After dropping our things off to the room, we headed back up to the dining area and had our lunch. It was a set menu but for those like myself who don't eat meat, there were other options available The staff were super flexible and helpful. At this meal, it was all fish which was perfect for us. The one thing that really stood out was the deep-fried squid. It was out of this world. The rest of the meal was also incredible and you certainly wouldn't be disappointed. We were so full afterwards!
Cat Ba Island
Once food was over, we headed to the Cat Ba which is an island within Ha Long Bay. We were told due to COVID-19 that it was a Government requirement to wear facemasks to protect yourself and the local people when we visited. This was a precautionary measure which was absolutely fine.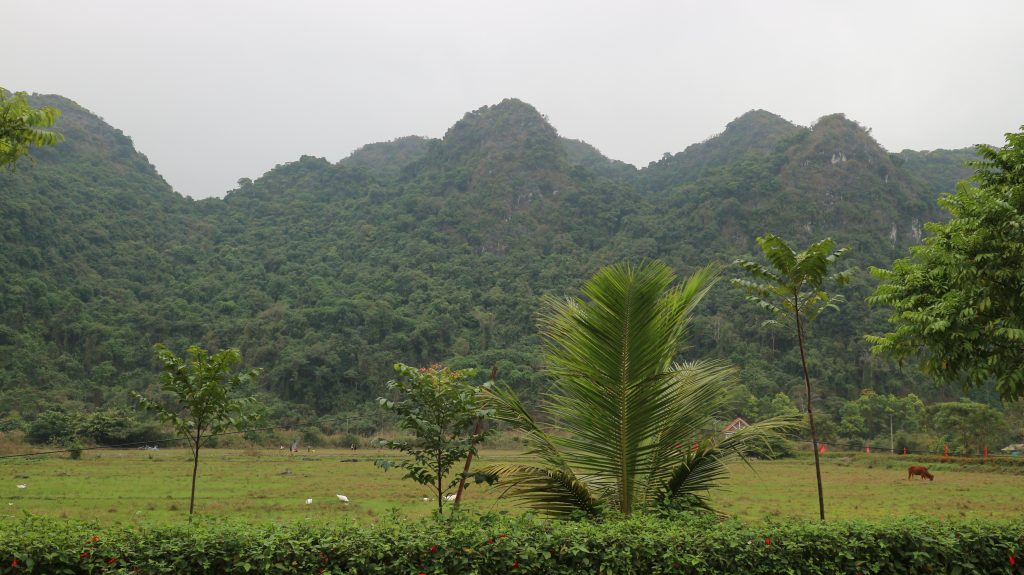 We took a smaller boat to the island and then had the choice of getting on an a little golf buggy or cycling. On this occasion we opted for the golf buggy to take us further in to Cat Ba. To be honest, it was a great experience and we're glad we opted for this as it was quite a long way with a good few hills! The first leg of our journey took us to a local area where we could see children playing football in the fields below the mountains. As we waited for the rest of the group who were cycling to arrive we got the opportunity to have a little wander around the village.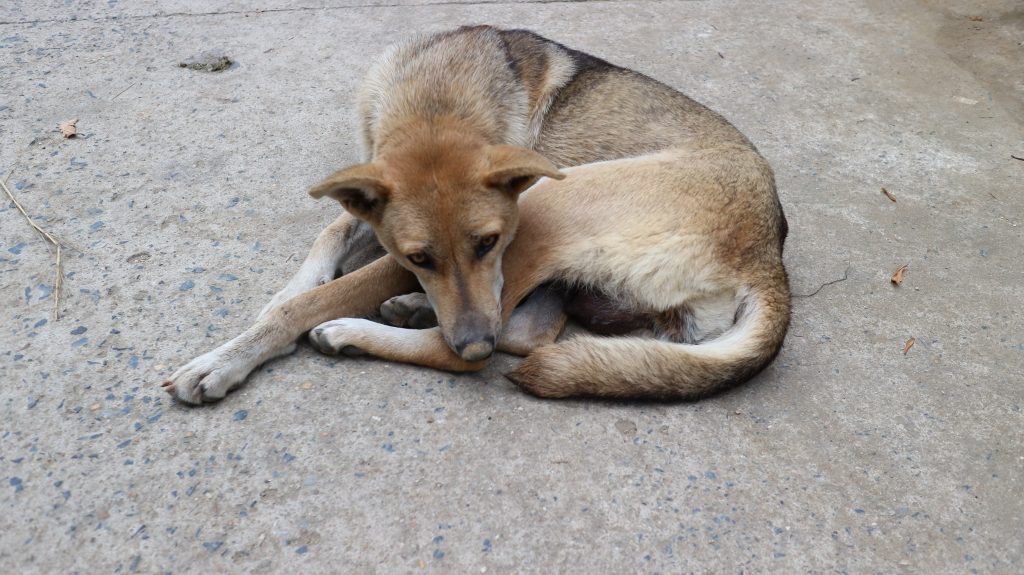 There were loads of the local dogs which were more than happy to pose for a few photos! (We did also wash our hands after touching them, just in case). Then, Michael's favourite part, we were shown some of the local drinks (yep, that is a scorpion and snake inside those!) and were told all about the island, Ha Long Bays history and about the wildlife that we could come across. We then had the chance to try some of the drinks. Now, obviously, Michael tried them all but I wasn't too keen on the idea so I sat this one out.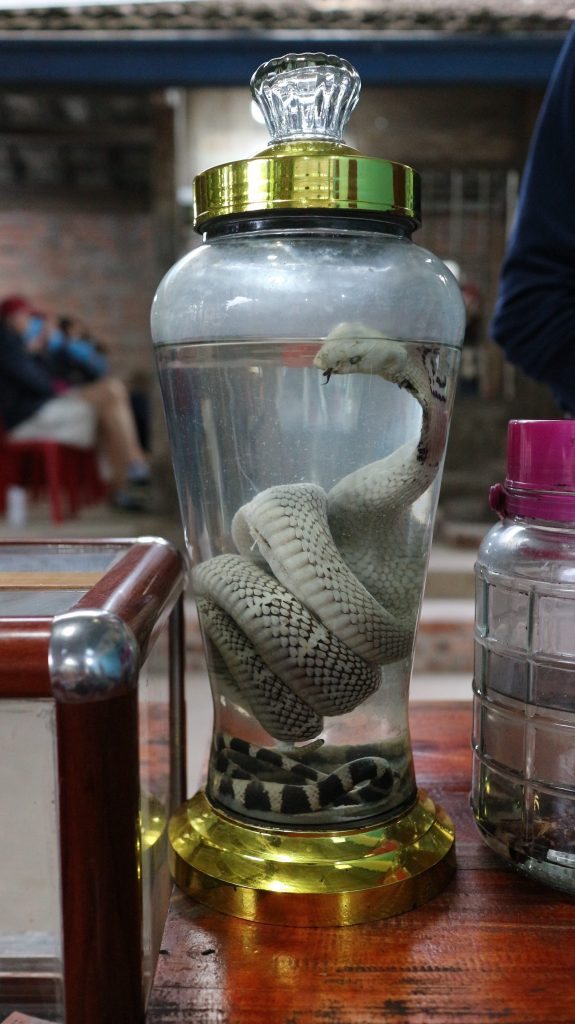 Evening On The Serenity Cruise
Once we were ready, it was spring roll making time! Our lovely guide arranged for us to learn how to make traditional spring rolls from scratch. It was very hands-on and everyone got a go and then we all ate what we made. Our guide also printed off the recipe for us to take home with us (I have even made them at home since then! Not as good as they were there but I tried!).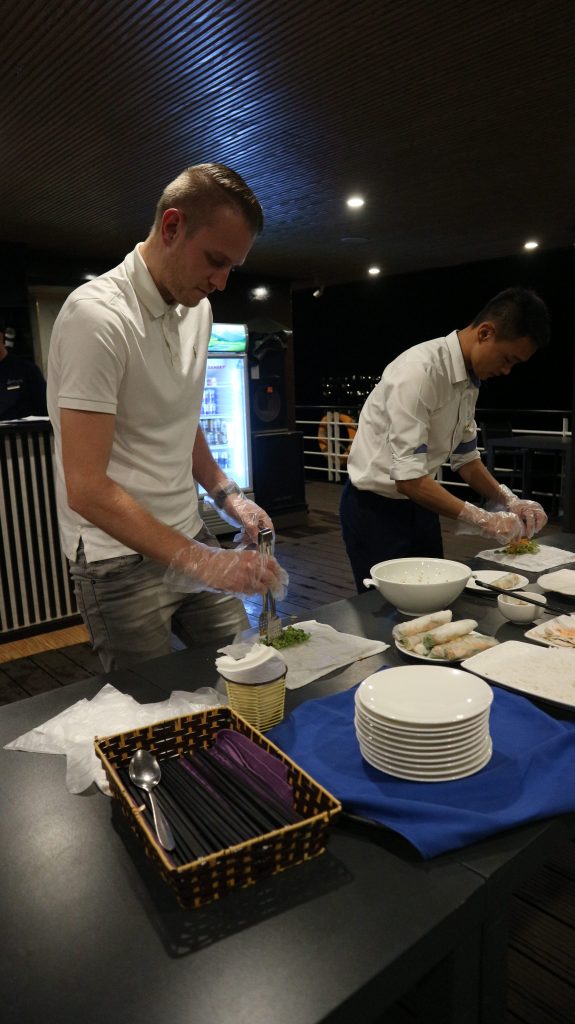 After this, we made our way back to the boat where it was time to relax before dinner time. We headed to our room, obviously had a bath. How could we not?! Then got ready and headed up for dinner. Dinner again was outstanding with lots of different options for us. This boat was definitely not a place where you were left hungry. We ate so much food.
After food, it was time to relax and either head to bed early as it would be an early start the next morning or stay up a bit later for drinks and squid fishing. We opted for a few more drinks and attempted the fishing. I even helped another guy get a squid! That can be my claim to fame since I didn't manage to catch one myself! To be honest, it was terrifying though so I'm kind of glad.
A nightcap and a spot of fishing later, we headed to bed and had a great night's sleep. Although, it was a little odd waking up and seeing that the islands in the distance had moved and then we felt a little wobbly.
Kayaking in Halong Bay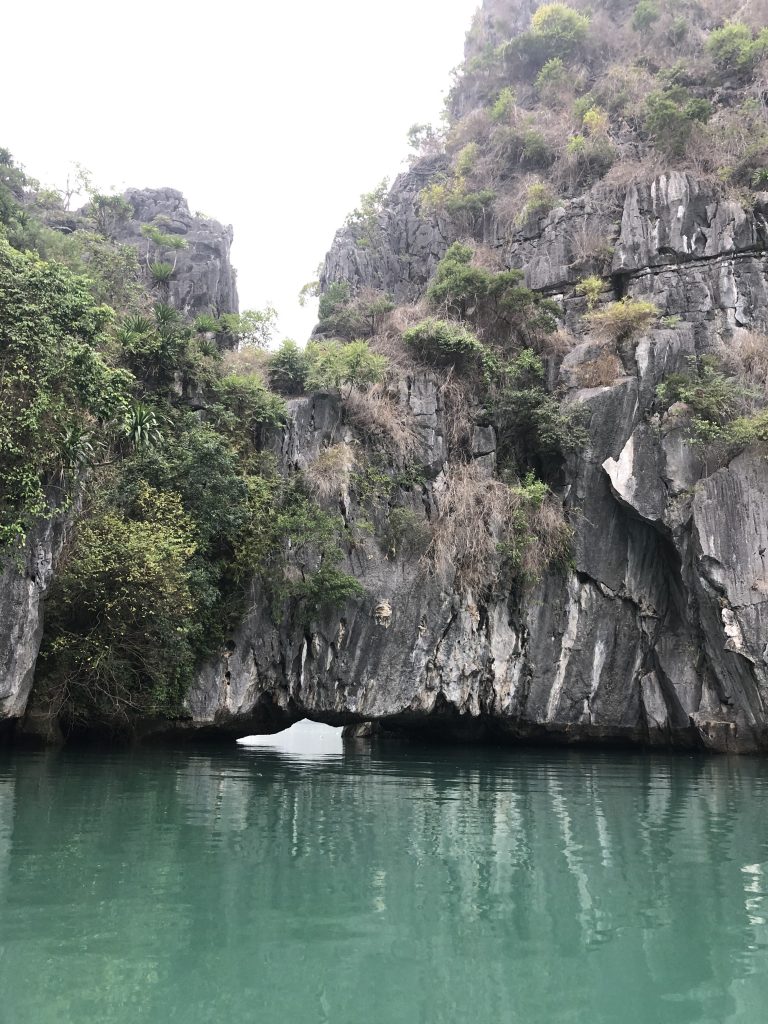 The next morning, it was our last activity before making our way back to shore and it was kayaking. Neither of us had ever done this properly before but honestly, it's up there with some of my favourite parts of this holiday. It took us a while to get in to it, but we managed and ended up soaking from not moving the paddles right haha! Be prepared for this and wear some of your older clothes as they absolutely stink of the fishy water afterwards. We kayaked for a good few hours, went via the fishing villages and then on to a little cove. We did have to duck under some rocks to get to the cove, but honestly, this was amazing.
It's one of the most outstanding things we've ever seen. No boats could visit this section so everything was so still and peaceful. OH MY GOD, the birdsong here aswell was out of this world. None of it seemed real. We stayed here for a good while getting so many photos and then closing our eyes listening to it all and taking it all in. Honestly, don't miss out on doing this if its on offer. You won't regret it.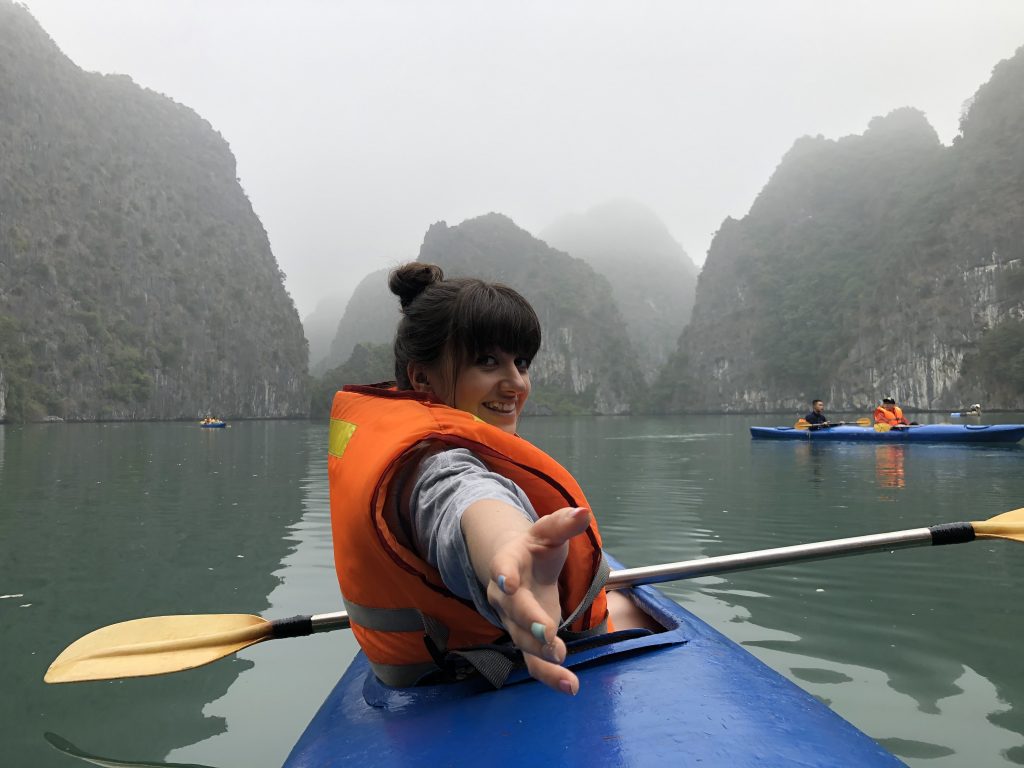 After kayaking up a storm, we headed back to the boat for breakfast where again, there was so much on offer. We stuffed our faces and then it was time to head back towards land.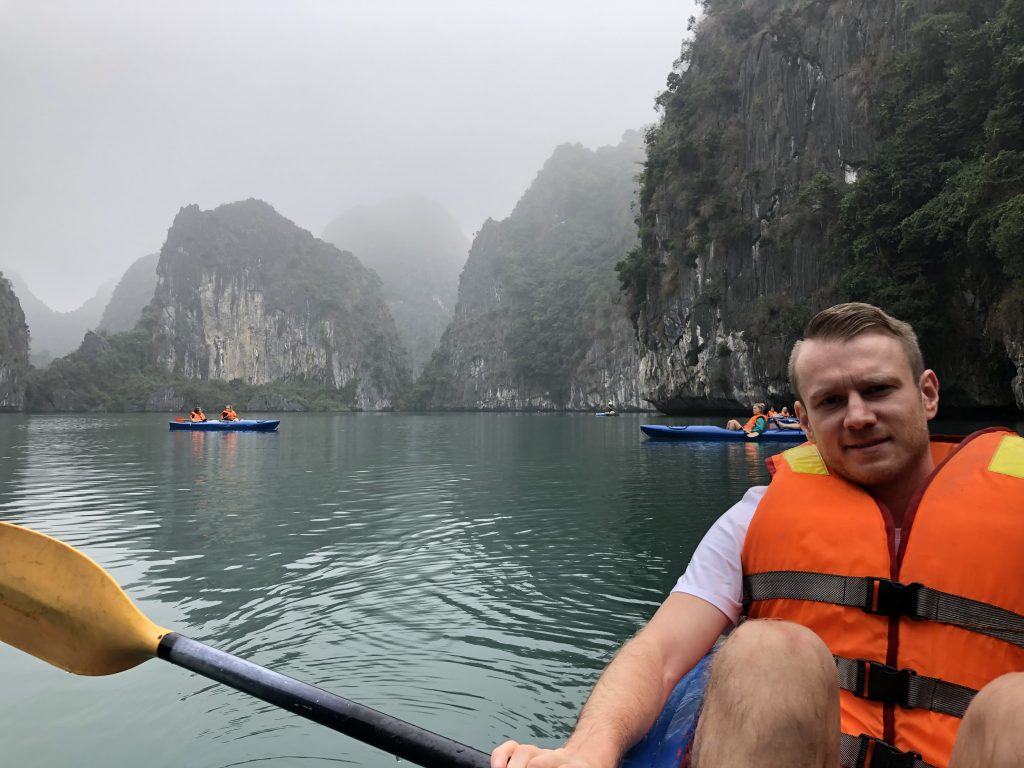 Is Halong Bay Worth Visiting?
Overall, we highly recommend this trip. It was definitely one of the best parts of our trip and one of our favourite ever excursions. It was worth every penny and I'd highly recommend doing it with Serenity Cruises too. We read up on a lot of horror stories of some boats being horrendous, but you definitely won't get this with Serenity. We couldn't have asked for a better trip!
Halong Bay is easily reached from Hanoi, read our ultimate guide for Hanoi, here.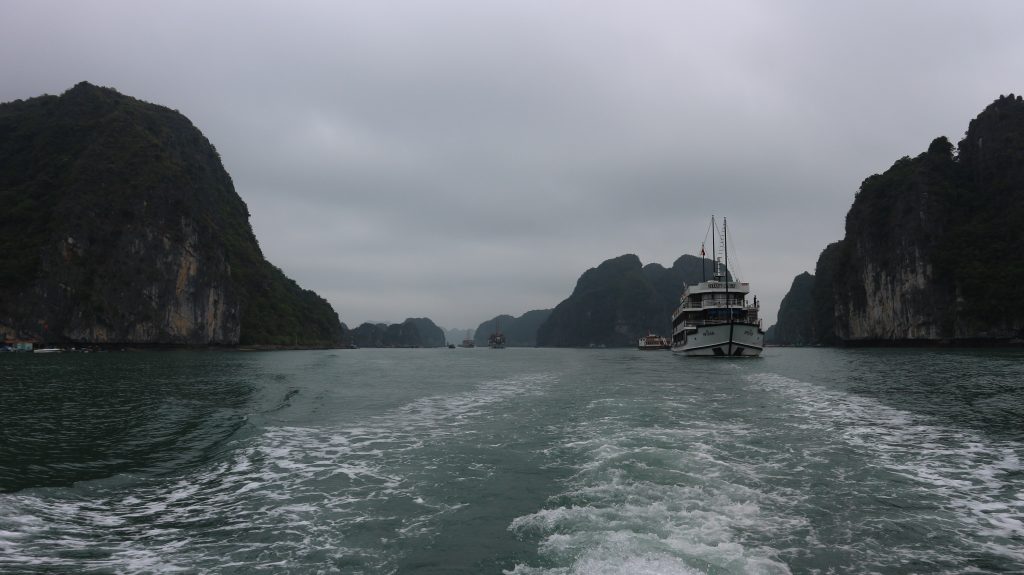 Where we visited in Vietnam
Ba Na Hills – Golden Hands Bridge
Cu Chi Tunnels and Mekong Delta
Check Out Our Other Destinations