We stumbled across Ukraine by chance a few years back when looking at places we could travel to from Krakow during a New Years trip. What do you think of when you think of the Ukraine? Brutalist Soviet architecture? Unwelcoming people? Freezing cold winters?
Well, you'll only find one of them in Lviv, and it's not the first two. Find out more…
Where is Lviv?
Lviv is one of Ukraines largest cities and is situated in the west of the country around 70KM from the Polish border. The city in the past used to be part of the Polish Kingdom and you can see this in the cities architecture, especially on the main square.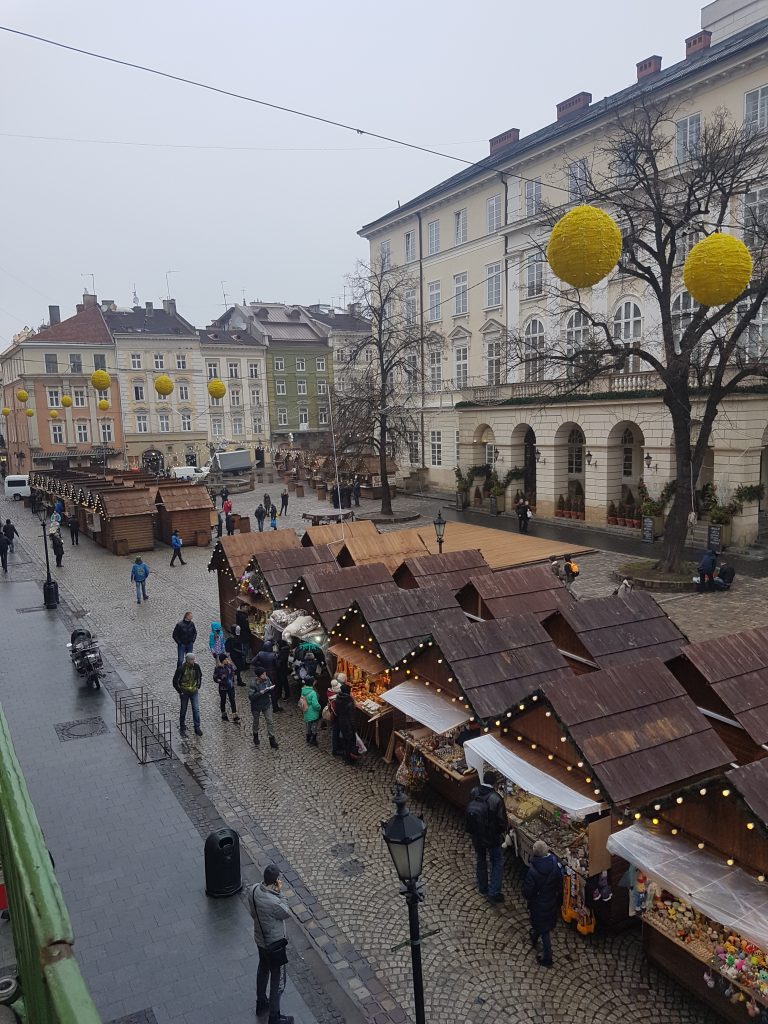 Lviv is at the other side of Ukraine to the current war in Crimea. There is no threat of war reaching the city.
How to get to Lviv from Krakow?
We discovered that we could get a train from Krakow to Przemyśl which lies on the Polish/Ukranian border. From there to Lviv which would take around 5 hours. The train fare cost around £30 per person which we didn't think was too bad for such a long journey. We got around an hour and a half in Przemyśl to get some lunch before heading to our next train.
TIP – Border control is also done on the train and the ticket inspectors on board stamp your passports so make sure you take them with you!
The train itself isn't the nicest thing in the world from Krakow – Przemyśl so make sure you pay for the best seats they have. You have to share a cabin with up to 8 people with minimal luggage storage (just a shelf above your head). The train from Przemyśl to Lviv is actually a lot more modern and just like your classic passenger train so definitely a lot nicer with a bit more luggage space.
How to get from Lviv Train Station to Lviv City Centre
When we arrived at Lviv's main train station it felt like we were transported back to the 1950's. It's fair to say we haven't experienced anything like it. The station is stunning with all of it's internal and exterior architecture seemingly untouched from it's opening in 1904. Having had no experience of Ukraine we couldn't' make sense of any of the signage and the locals couldn't speak much English either, it did feel like we've been picked up and placed in an alien land.
We navigated to the exit through a busy terminal, the hustle and bustle continued outside where we were met with the full force of the Ukrainian winter with sub zero temperatures. When we exited the station we were shocked by the states of the roads. The roads were all cobbled and so uneven, a ride along a car in this road would give you serious whiplash. Lviv station is miles away from the centre of the city so your only option is a Uber or taxi.
On arrival in Lviv, we noticed that there was no wifi in the station (our phones would have charged a fortune for connecting through 4G) so we were unable to contact an Uber. We didn't have any Ukrainian money to hand and didn't understand the denominations so were concerned about withdrawing at a cash point as to how much we would need for just a few nights. We wandered around a little bit and stood outside a nearby restaurant who had open Wi-Fi, we couldn't believe our luck! Hey presto, we managed to get an Uber ordered to get us to where we were staying. We climbed aboard our Uber and made our way to our apartment on the main square. The roads as previously stated were awful and our necks are still suffering!
Where to stay in Lviv
We booked apartment right in the main square in Lviv through Booking.com. It cost around £50 between us for 2 nights which is an absolute steal! We messaged the apartment owner via Whatsapp and met them outside. Luckily for us, the Christmas markets were right outside of the room and we had a little balcony looking over them. It was perfect. The room was very basic with minimal furniture;, however, it had a kitchen, bathroom and decent sized bed. What more would you need! Especially with us being literal steps away from where the action happens. We must add as well, the apartment was so quiet inside considering the number of people outside wandering around the markets and also the bars that were just a few doors away.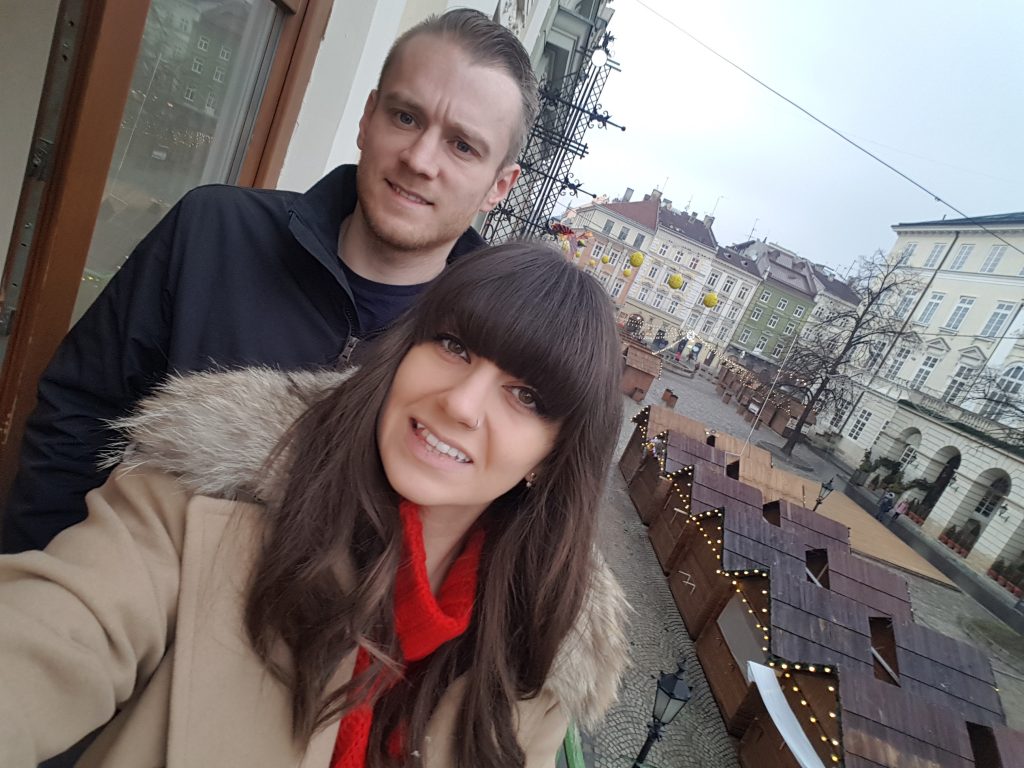 Find the apartment that we booked here.
Best Bars in Lviv
Pravda Beer Theatre
Speaking of bars, Pravda was located a stones throw away on the main square and was incredible. It stands out on the main square as the building has retained it's stunning exterior but also complimented it with a stunning, modern glass front. The beer here is so cheap by Western standards and the entertainment is brilliant. They have live music, a shop, a bar, seating and so much more going on that you don't know where to look. They have so many variations of beer, from IPA's, to Sours which is perfect for the pair of us. Emma loves a sour beer and often struggles to find them, but they even had them on tap in here. We both walked away with a good few souvenirs from this place as well. This is a must visit when in Lviv, you will want to go more than once!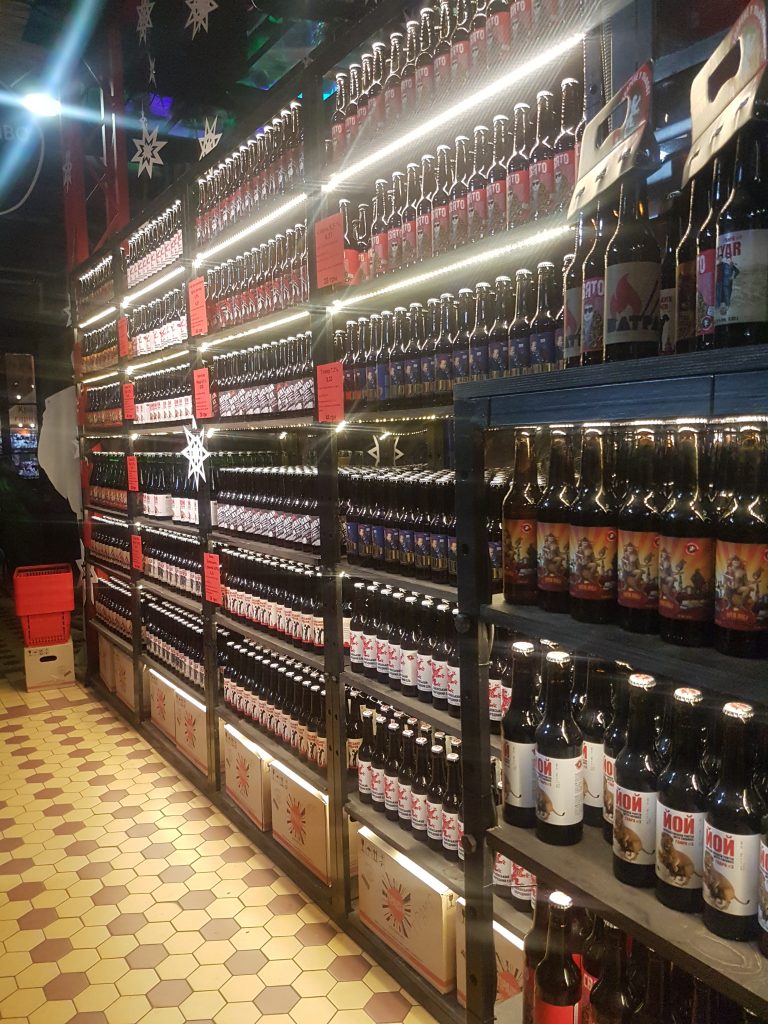 Libraria
This hidden cocktail bar is a must find in Lviv. Prior to visiting here we had never been to a secret bar. Google helped us find the place and we walked up a few flights of stairs before trying a door, we had no idea where this door would lead but when we opened it we stumbled across a stunning victorian library bar.
We arrived quite late and unfortunately missed the live Jazz band that took to stage earlier in the evening. However, we were enjoying the ambiance and decided to stay for a cocktail or ten. It's a very cozy place and they had a huge screen showing one of Adele's live concerts, it was so fitting and a real memory and highlight of our visit to Lviv.
The cocktails were around £5, standard for Western European visitors but expensive for the locals. However, the cocktails were so good and the experience made it worth the premium price.
House Of Legends
Step into this Harry Potteresque themed bar and get lost in the weird and wonderful world of House of Legends. Now, we have visited our fair share of bars over the years but House of Legends ranks at the top as one of the most whacky and memorable.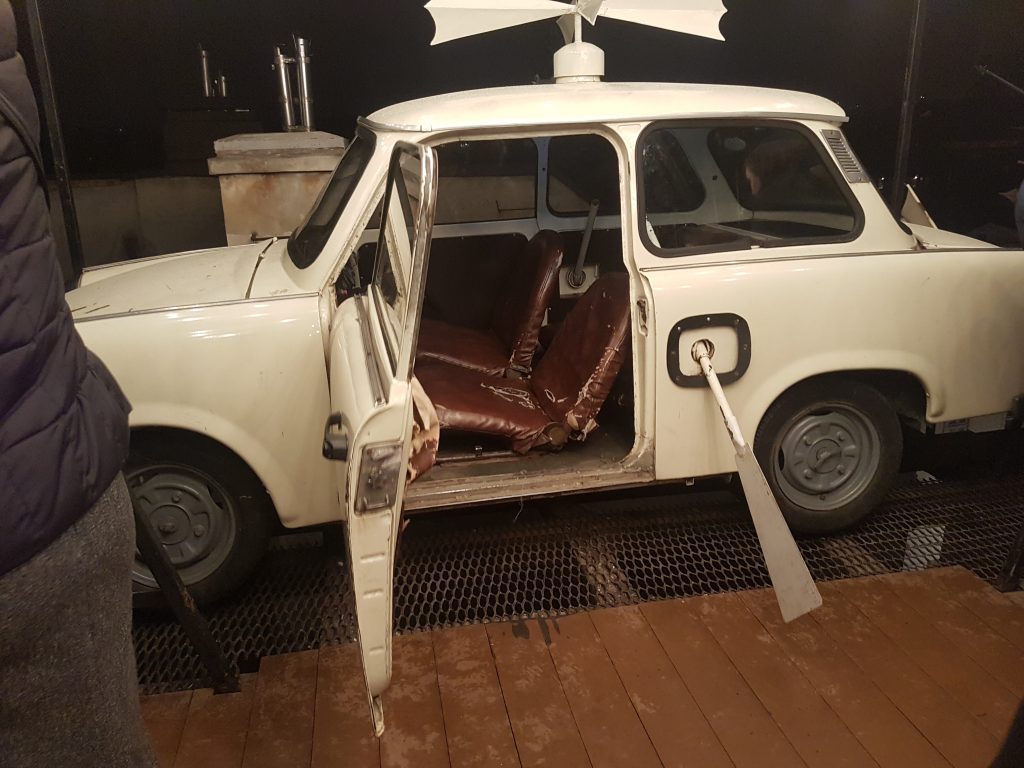 This bar and restaurant is a figure of your imagination. It is a building of a Lviv chimney sweep where legends now live.
There is a Harry Potter style car on the roof/balcony area which was great for taking photos with (If you've seen Harry Potter and the Chamber of Secrets, you'll know the one!) It also had a game where you could throw a coin in to a pipe on the roof too! It's super difficult and I think Michael only got it in once but it was great fun whilst we were having a drink. This place is a MUST visit when in Lviv.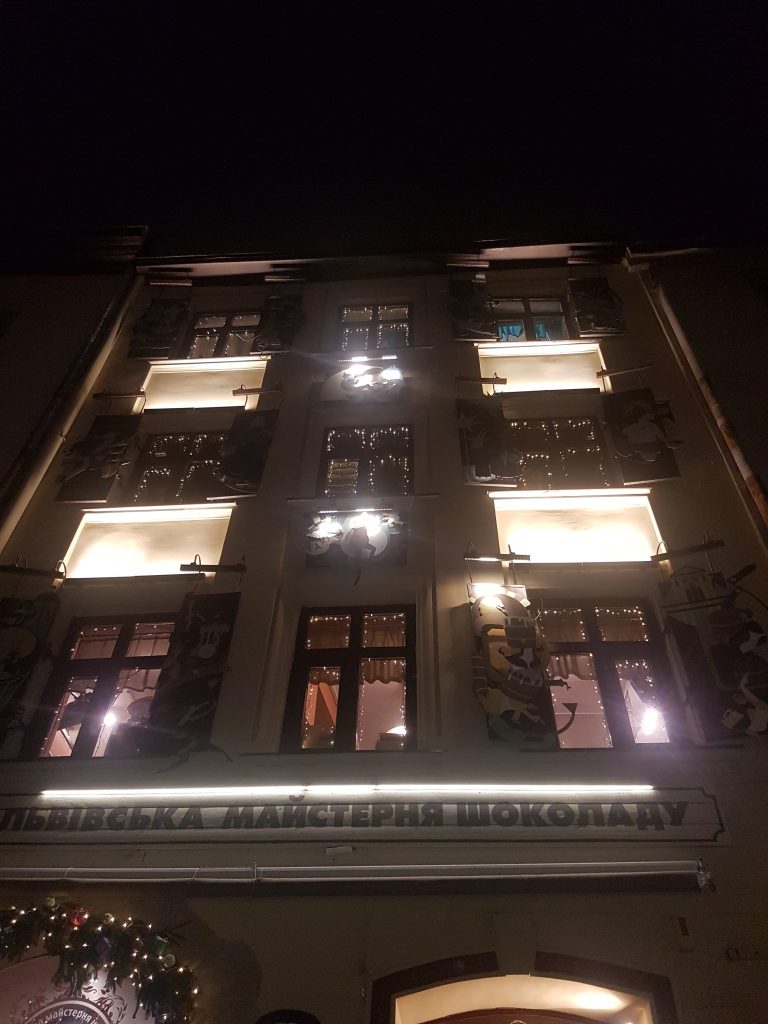 Things to do in Lviv
Lviv Main Square
The main square in Lviv is simply stunning. It's around the same size as Krakow's main square and when we visited at Christmas time the square was full of Christmas stalls. You will find restaurants, bars and tourist shops on the square and for Western European standards it's super cheap!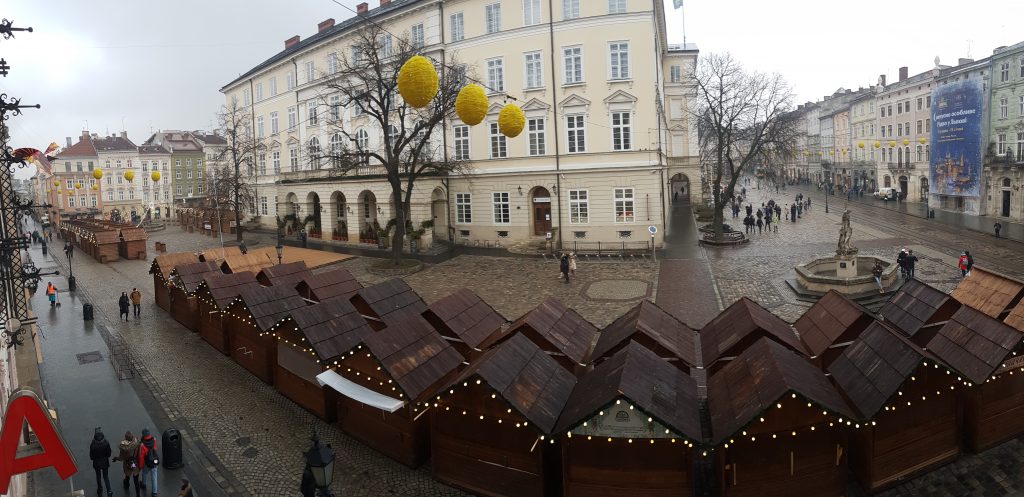 Lviv City Hall
Lviv City Hall was actually opposite our apartment and when looking in to it, it turns out you can climb to the top. We did this on one afternoon and climbed the 306 steps to reach the viewing platform. The walk is quite strenuous and the stairwell is quite tight. The view from the top is definitely worth it though. You can see the whole of the city. We would definitely recommend visiting the City Hall Tower.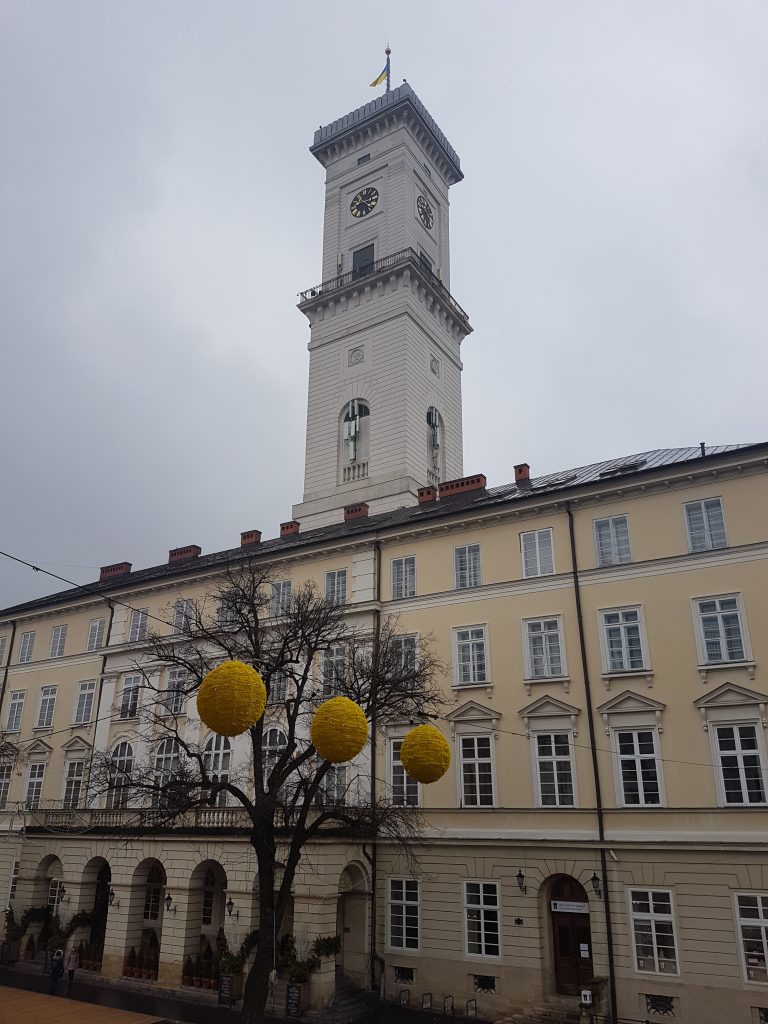 Admission to the city hall tower – 5Hr.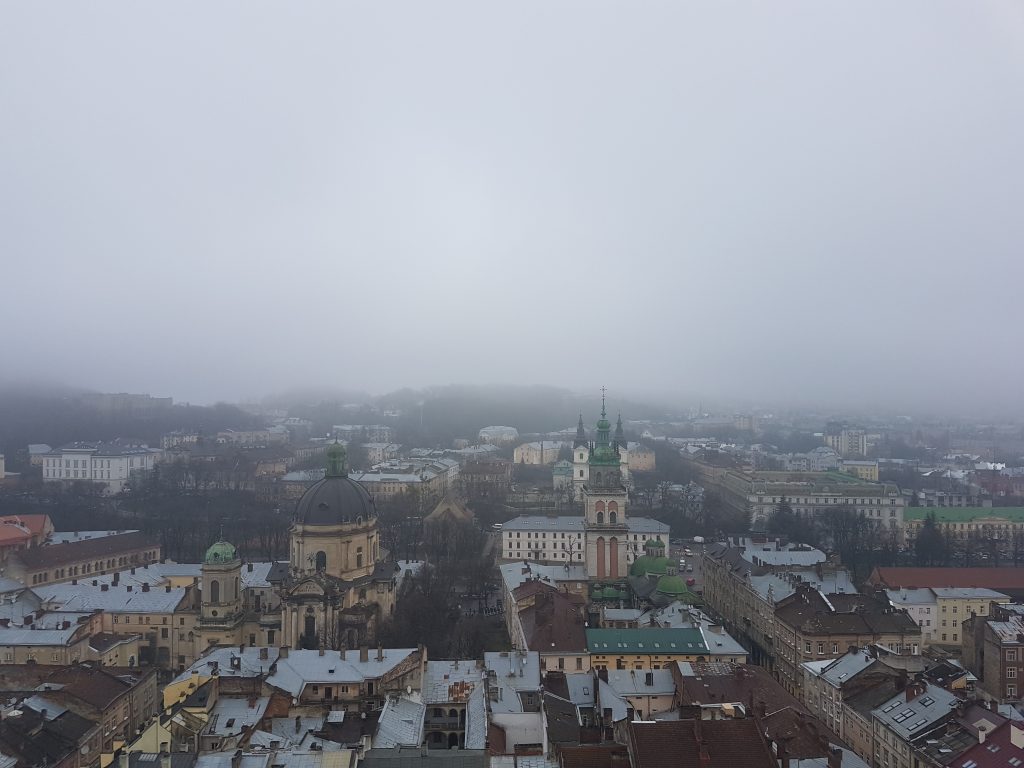 Lviv Opera House
On the night we arrived, we were supposed to be going to watch the Nutcracker Opera at the Opera House. It was very well priced, however, due to being delayed and arriving later then we planned, we opted not to go. We would recommend having a look at what's on when you're planning on visiting. We would definitely go to the Opera the next time we visit Lviv. The museums exterior is stunning and we are a bit gutted that we didn't see the interior or the show.
The Beer Cultural Centre Lviv
We LOVE beer but we have never visited a brewery or taken in a beer tour, until Lviv. This place isn't that well known and we had the entire place pretty much to ourselves. The Beer Museum interior is stunning and it has a lot of history to take in. Beer Cultural Centre covers everything from the time beer was invented in ancient Egypt up to the present day. There are huge tanks where you can see the fermenting process and some stunning visuals. We won't spoil the rest of the tour for you but we will point out that all of the information on the tour is in English as well as Ukrainian.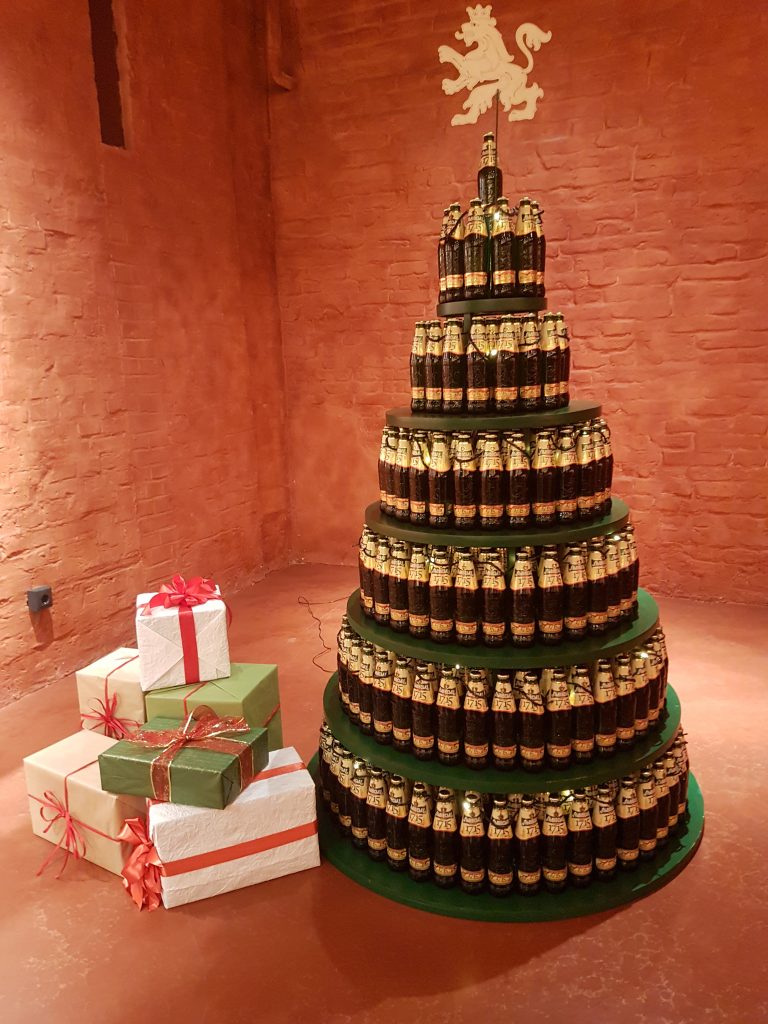 After the tour you finish in the bar, where for an extra 50hr (£1.31) you can grab a tasting tray of 4 beers. It would be rude not too after watching the whole process of how it's made.
TIP – Grab and Uber there and back, we walked back to the city centre and the area was quite unwelcoming, it didn't seem safe.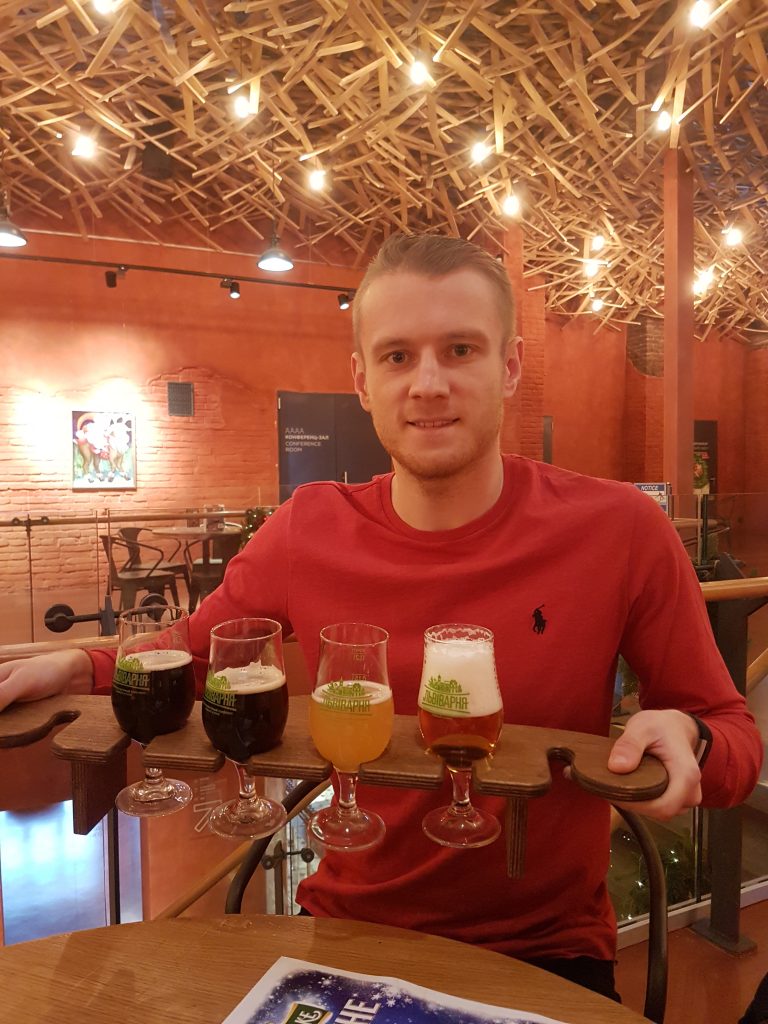 Best restaurants in Lviv
Meat and Justice
Words can't do this place any justice! We would travel back to Lviv just to try this restaurant, it's a must for meat lovers. The menu is extensive and very well priced. The signs were good for this place as the queue to get in was quite long, there were times when we were tempted to leave and find elsewhere but, my god, it's worth the wait.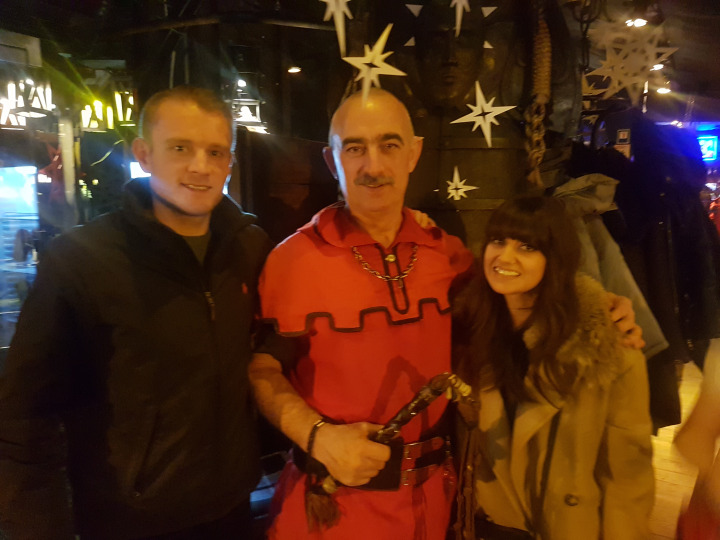 Meat is their speciality and it's grilled to perfection. However, this is more than a restaurant, it's an experience. The whole experience is fantastic and it feels like you have been transported back to the medieval times.
Emma, however, is pescatarian and did struggle, not only in this restaurant but all of the restaurants in Lviv. It wasn't an option for vegetarian or vegan on the menus so it was a whole fish or nothing at all! The fish dish that Emma did get whilst in Meat and Justice, was however, delicious!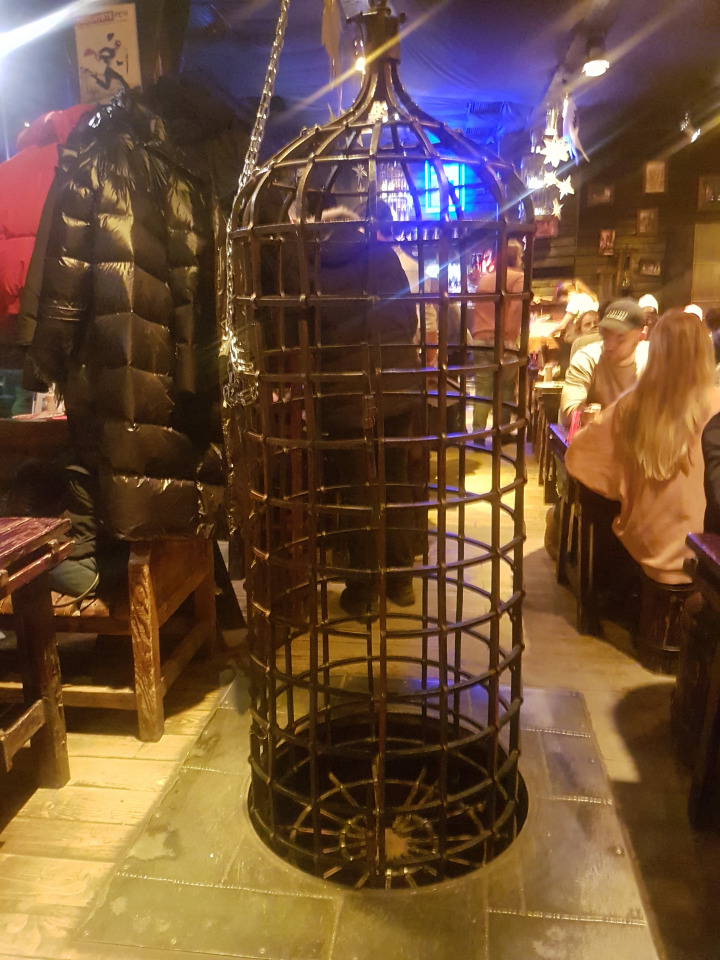 Michael went all out! Getting a steak but also with chicken breasts AND ribs on the sides. He couldn't move after and suffered from the meat sweats. We also drank a lot, around a bottle of wine and a few pints. We were envisaging an expensive bill. Remember this was our first night in the Ukraine and we didn't understand the currency conversion. We paid with Revolut and the total in English Pounds was £11 for both of us. Yes, that is how cheap a quality restaurant in Lviv is!
Kryivka – Ukrainian Themed Secret Restaurant
Well, if we thought that Meat and Justice was an experience then what was to follow on the next night would go a step further. This was our first experience of a secret restaurant. We found out about it thanks to Trip Advisor and decided to give it a go, purely for the experience.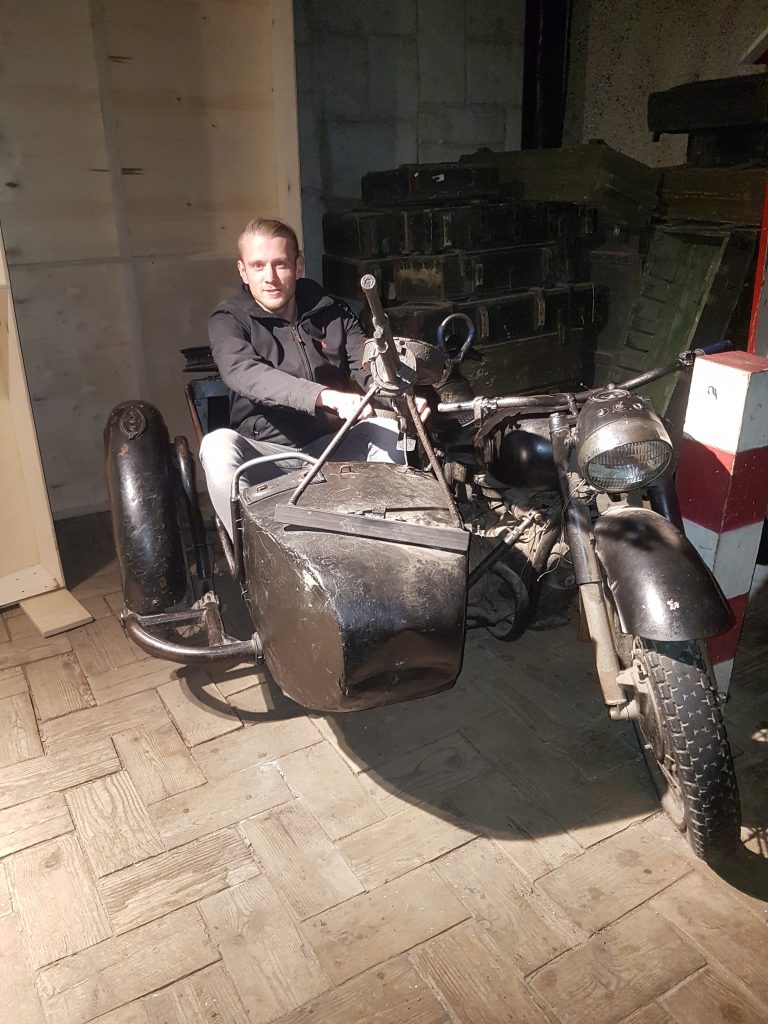 There's no signage pointing you towards this restaurant, you go down a passageway and knock on a big wooden door. A guy answers and you must shout 'Svala Ukraini' – which roughly translates into 'Glory to the Ukraine.' The door then swings open and you're ushered into a room which is so small. Here the guy, who has a machine gun around his waist interrogates you. If you pass then you are rewarded with a shot. Fail? Well, we aren't sure, it could end bad.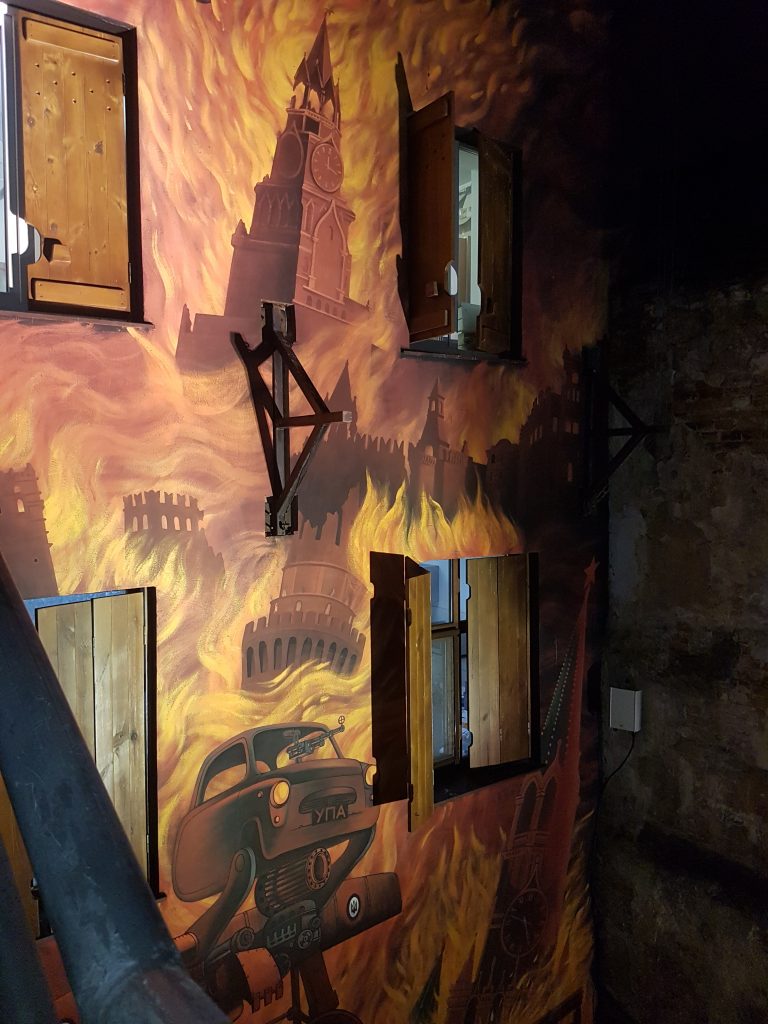 We passed, we got a shot (the alcoholic kind, phew) and then the bookcase in the room opened and you are marched through labyrinth of corridors in the bunker until they seat you at your table. The Ukrainian war artefacts in here from a historical point of view are very interesting. Staff are also dressed in Ukrainian army uniform, adding to the theme and the overall atmosphere. The best part for us was to be able to sit in a old army machine gun turret, a great photo opportunity.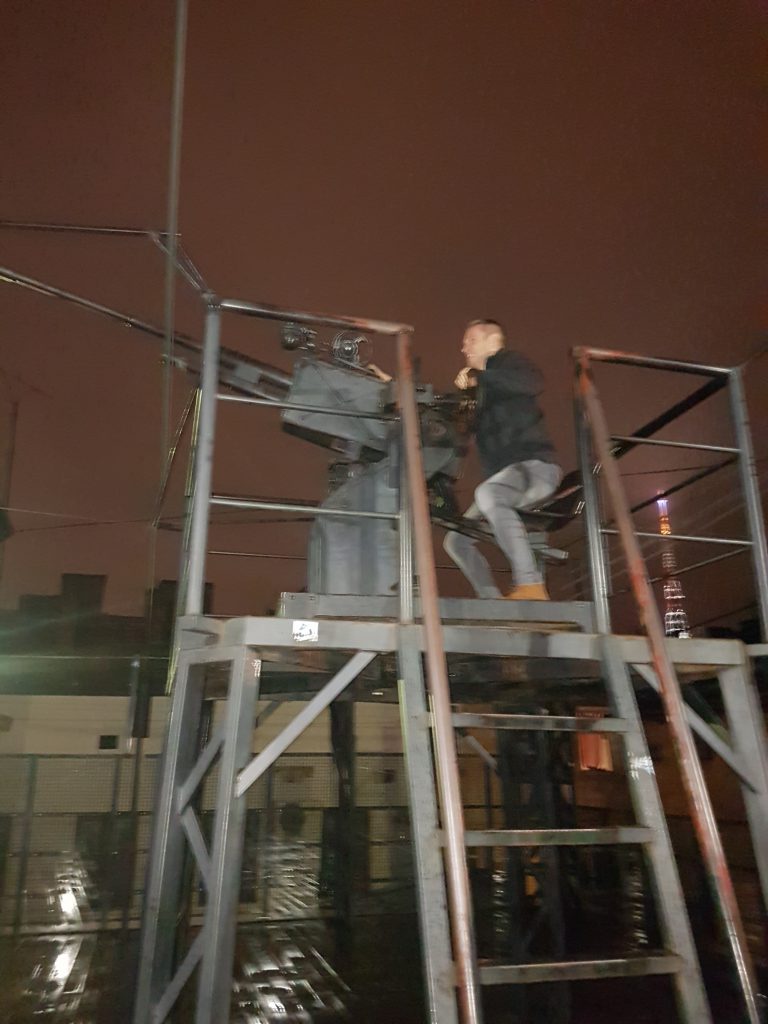 As previously stated, the atmosphere and theme of this restaurant was amazing. However, if you're after a great meal then it's not the place for you. We found the menu to be very short and our food came out around 15 minutes apart. Now, Michael enjoyed his but Emma wasn't happy with hers, they don't seem to have grasped vegetarianism in Lviv. This may however have changed since out visit.
We thoroughly enjoyed the overall experience though but if you are Russian or of Russian descent then you may find it very unnerving.
Arsenal Rib Restaurant
Being a big Spurs fan you'll never see Michael like anything Arsenal, this rib restaurant is the exception though. They specialise in ribs and if ribs are your thing then they will blow you away. The meat on the ribs fall off the bone, so succulent, full of flavour and more importantly meat.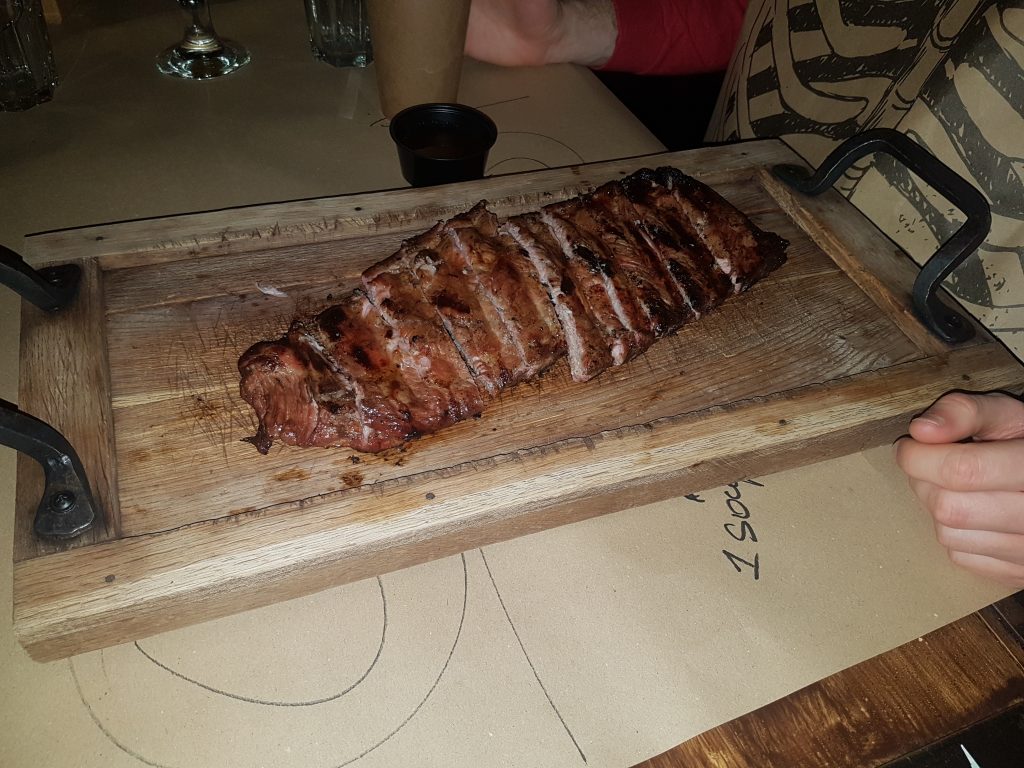 By western standards the menu is exceptionally cheap, 400g of ribs will set you back just £3.63. Yep, it's that cheap.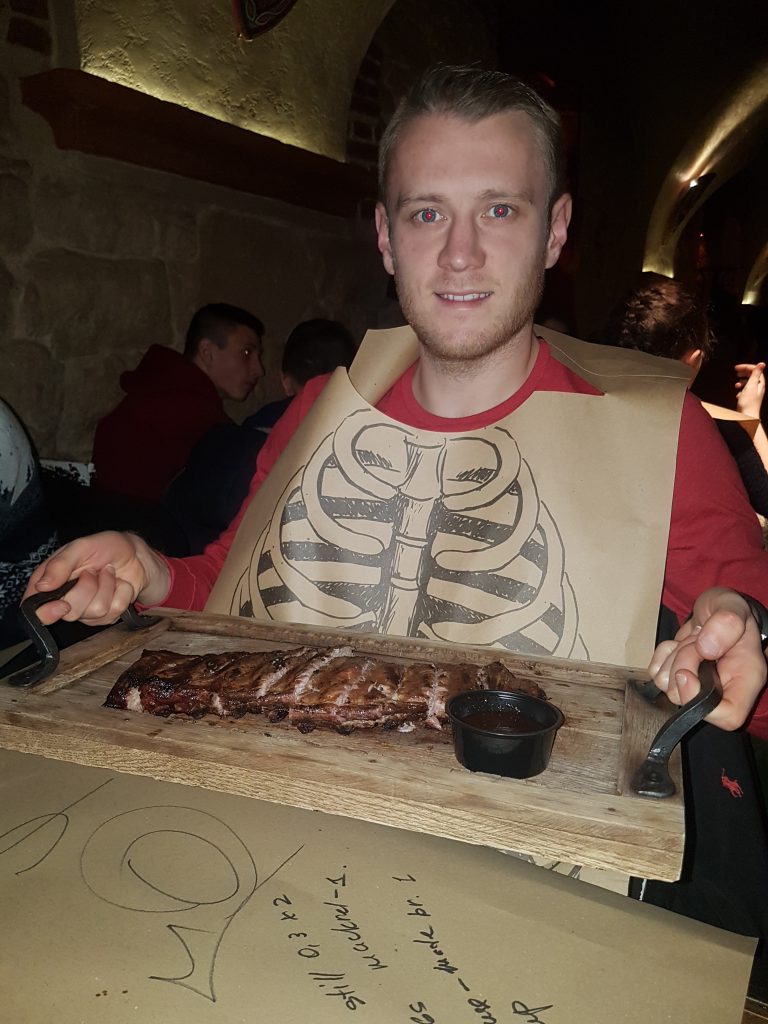 Arsenal rib restaurant did seem quite touristy and we did prefer Meat and Justice however you should definitely visit both. It was super busy on an evening with mile long queues, during the day though you can walk straight in and claim a table.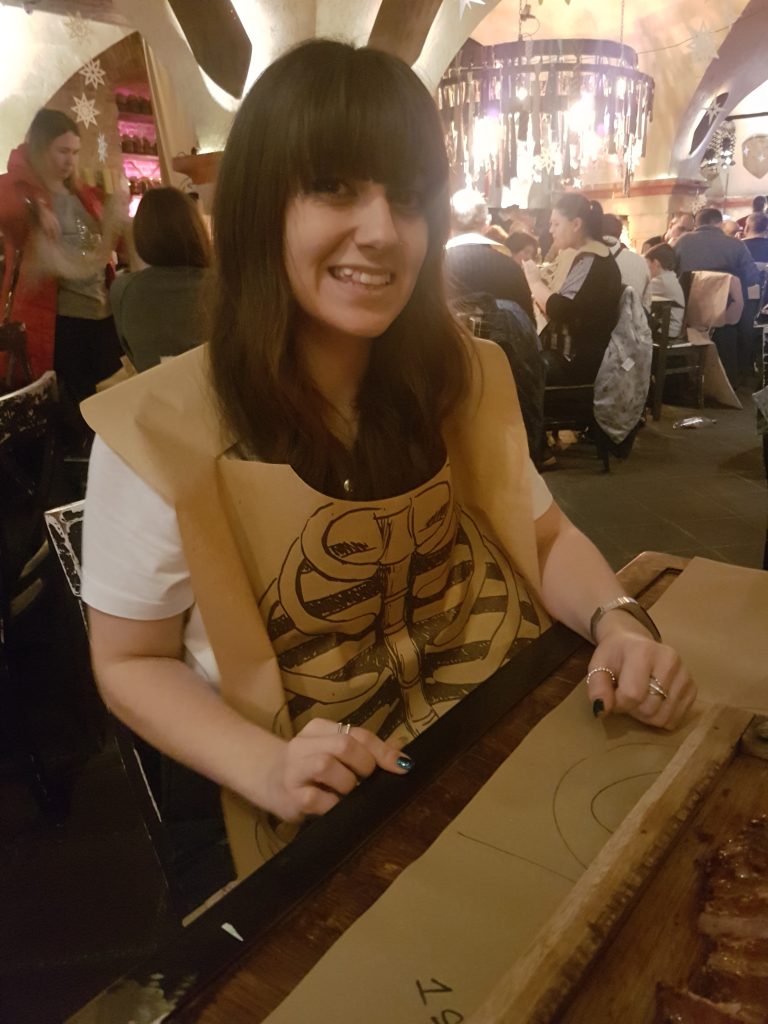 Is Lviv worth visiting?
We are fairly well travelled and Lviv is top of the list of places where we have felt that we are in a different world. It has an old fashioned feel and gives you a sense of stepping back in time. We loved the place. The city centre is gorgeous, you can tell it's a former Polish city by it's architecture that is similar to that of Krakow, Wroclaw and other great Polish cities.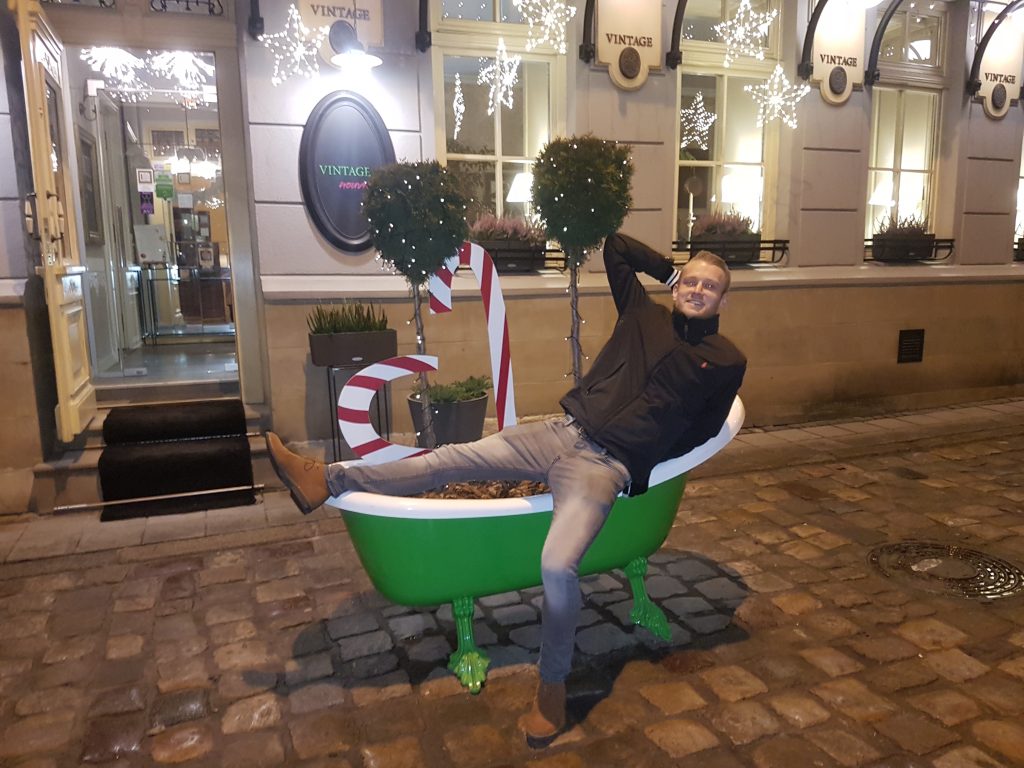 The city however is rough around the edges, the buses for example look like they should have been left in the 50's, the roads are in an awful state. This, for us however added to the character and charm of the place.
Going at Christmas definitely gave it a magical feel and the themed bars and secret restaurants made it one of our most memorable trips. You can live like a king in Lviv, it's super cheap. The average cost of a beer is around 40p and the average meal in a top restaurant about £15 per couple.
We have attempted to go back but due to Coronavirus our trip got cancelled. Lviv is top of our list for our Christmas 2021 break. Fingers crossed!
Check Out Our Other Destinations