Hoi An is a truly magical city. It is one of the most popular destinations for tourists visiting Vietnam. Take a look at our ultimate guide to Hoi An.
Is Hoi An Worth Visiting?
Hoi An is definitely a must-do whilst touring Vietnam. We decided to visit Hoi An on our Vietnamese Adventure as it was highly rated online and looked beautiful in all of the photos. Hoi An is known as the city of lanterns and it lives up to its name once the sun sets. The streets and rivers are packed full of lanterns, giving the city a magical look.
How To Get To Hoi An?
To get there, we travelled from Hue to Da Nang via train which took around 3 hours. The train cost around £5 per person. We opted for the train as it was super cheap (THIS WAS FIRST CLASS) and was definitely worth it. Please bear in mind though, first class is not what we perceive as first class. We both wore masks on the journey as all of the seats were taken. The train also went through Hai Van Pass which was great to see. The journey takes around 3 and a half hours but it's a pleasant journey with fantastic views.
Once we arrived in Da Nang, our hotel was supposed to have arranged a driver to come and collect us, however, this didn't happen. We managed to speak to a local taxi driver and got quite a good deal. It was around a 45 minute-1 hour journey from the station to our hotel, the cost was around £10.
Where To Stay In Hoi An?
We stayed in a hotel called the Hoi An Hai Au Boutique Hotel. It cost approximately £65 for 3 nights for the pair of us. This also included breakfast.
When we arrived, our room wasn't quite ready so we left our bags at reception and headed outside to the pool. This area was really quiet and ideal for a little relaxation before heading to our room.
We were then given our keys and made our way to our room. It was on the top floor and there were no lifts, however, one of the porters carried our bags all the way up which was great! The room was very spacious and had everything we needed. It was also around a 20 minute walk from the centre but it was a very flat walk.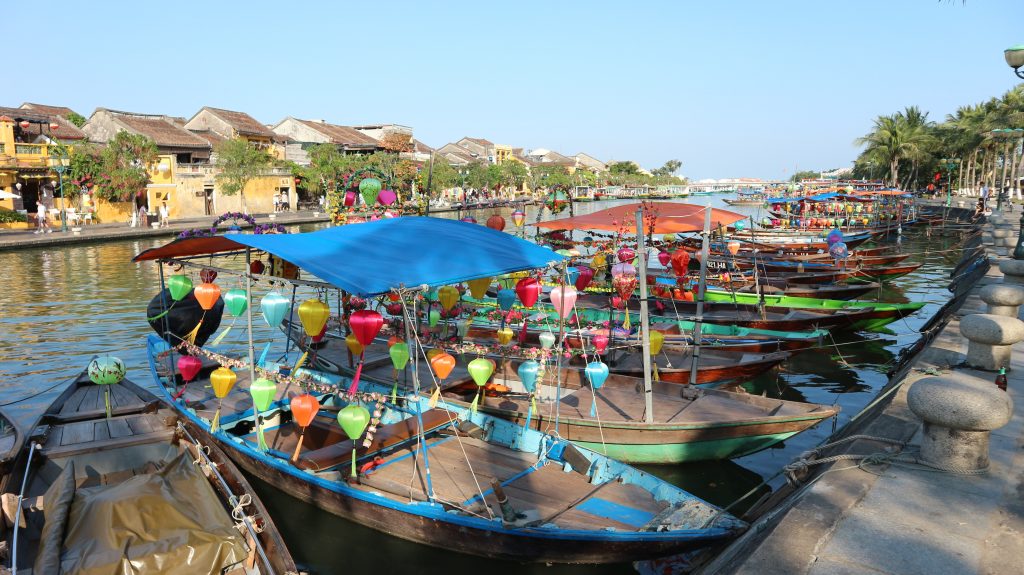 Things to do in Hoi An?
The City of Lanterns
Walking around the ancient town of Hoi An itself is an amazing experience. Your eyes take in every little part of it from the colourful lanterns. Beautiful flowers/trees and incredible architecture wherever you look. There is also a huge street market which was amazing to walk around in the day and the night. There were plenty of souvenir stalls and also food vendors.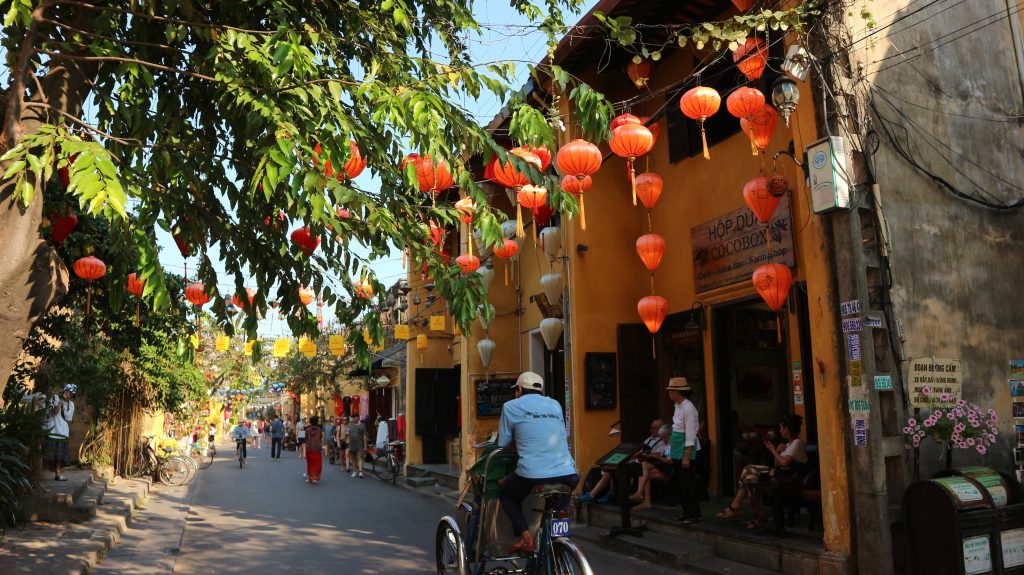 Magical Boat Ride
On our first evening, we headed for a few drinks and we were approached by a salesperson down by the river asking if we wanted to go on a boat ride. At first, we weren't so sure but thought, why not? it looked beautiful. There are many people selling the same thing and this does become quite annoying. Make sure you stand your ground and stick to a price. We boarded our little boat and we were given our own paper lanterns with candles to float in the river and make a wish, which was a super cute idea. The man rowing the boat was also great at taking photos of us.. If you do get a chance, I'd definitely recommend it, it was a really beautiful experience. This cost around £6 for the pair of us.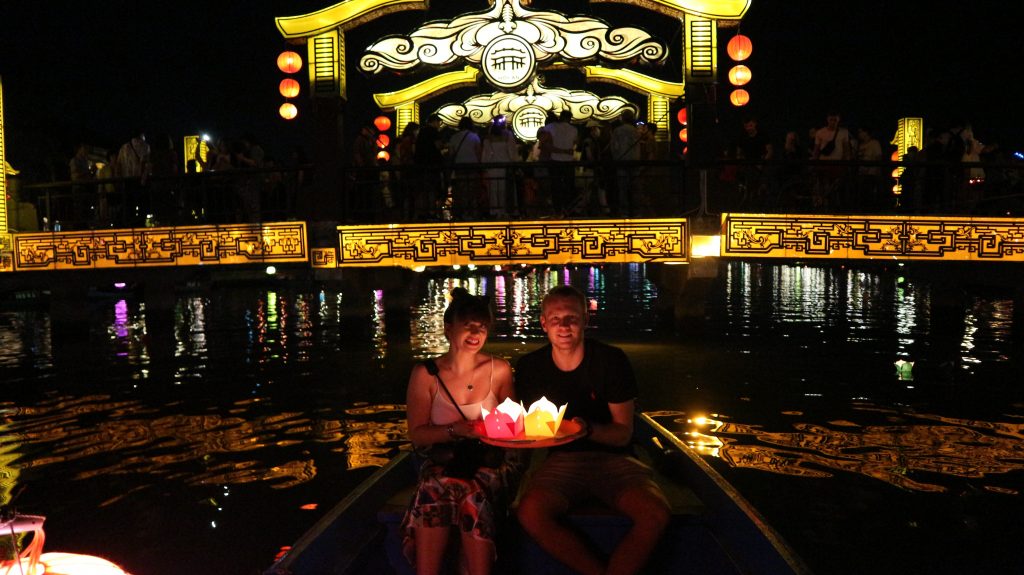 Cycling
Another thing we did whilst in Hoi An was hiring a bike from the hotel (This was one of the things that they offered and only cost around 20p per day!). Michael is a keen runner so opted to run alongside me, we cycled/ran all the way to the beach which was around 3km away. It wasn't a bad journey at all and I thoroughly enjoyed it. The beach itself is beautiful and we would have spent a lot more time there had the weather been better. Unfortunately, it was a little overcast when we went but we still had a lovely time!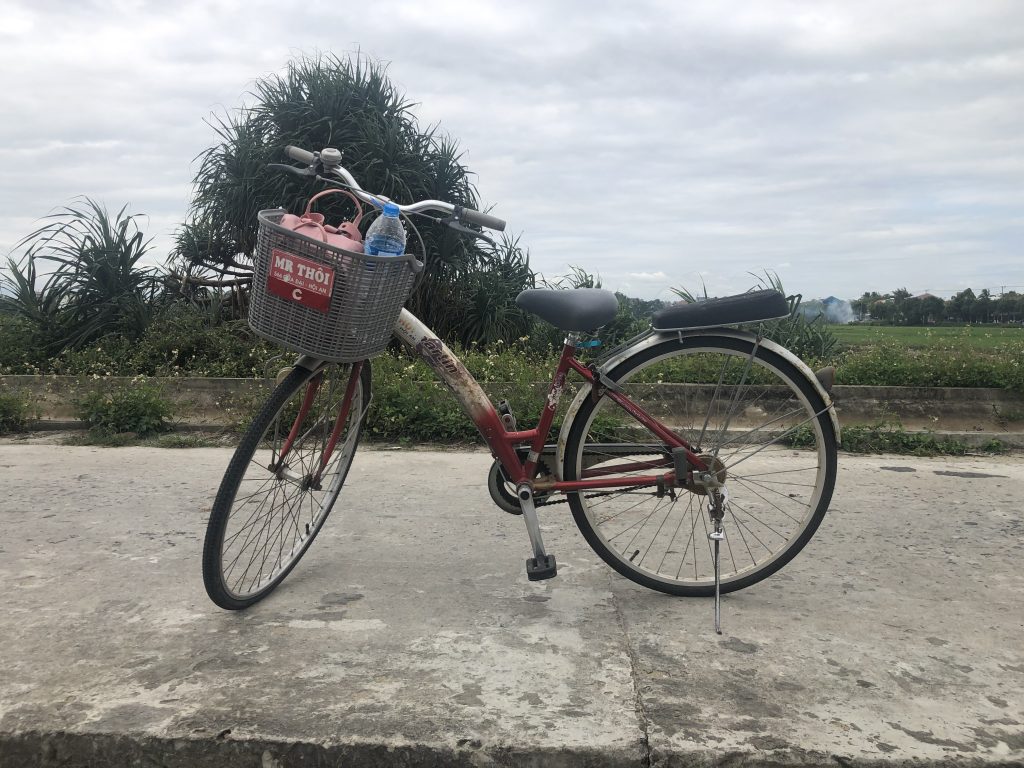 Where to eat in Hoi An?
Hoi An really is tourist central and the prices of food and quality reflect this. We were starving when we arrived in Hoi An after our 3 hour train journey.
Hola Taco
We took a walk into the centre of town from the hotel on the search for food, we spotted a Mexicans and decided to go for it. The place was called Hola Taco, the food here was good but it was expensive for Vietnam. Mexican cuisine did take our fancy and this place hit the spot.
Burger Craft
We found a diamond of a cheap eat, a craft beer bar that served awesome burgers. The prices were good and the food was delicious. Burger Craft around a 5 minute walk from the centre of town and they have a range of blissful burgers along with vegan and veggie options. They do a great beer and burger combo. Be warned, the beers in this place are strong!
The Secret Garden
You've always got to have a posh night in each city, we read reviews on Trip Advisor and a restaurant called 'The Secret Garden' was highly rated. We called in during the day and reserved a table. This place is in the middle of Hoi An but it is well hidden up a side street, the ambience is fantastic and it really gets you away from the hustle and bustle of the main streets.
This place is very upmarket so the prices reflect that. On our trip around Vietnam I'd say that the quality of food wasn't great compared to other upmarket places but it's worth a visit when in Hoi An.
Overall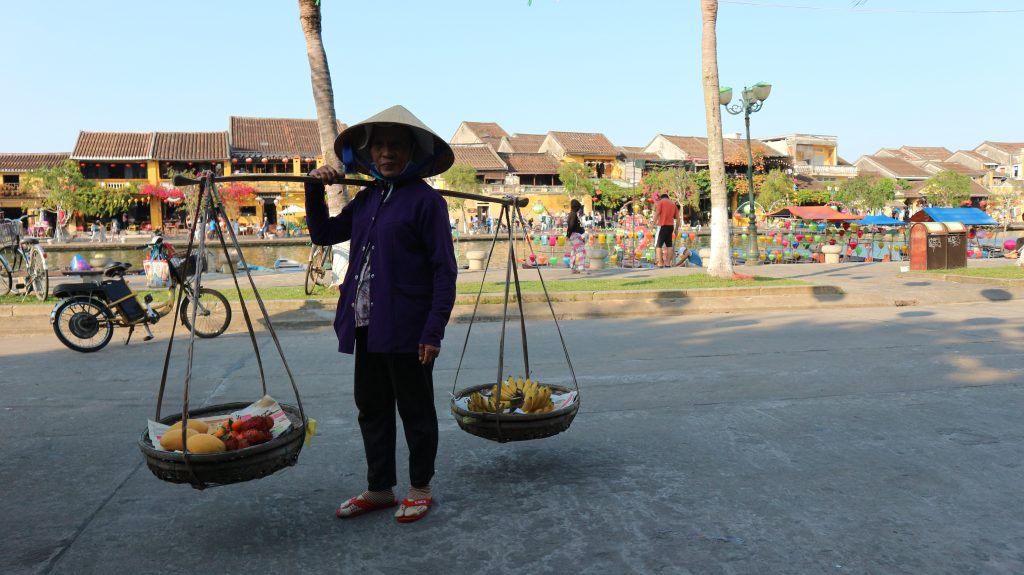 Hoi An is a must-see city on your trip to Vietnam. 3 days is more than enough time to see Hoi An.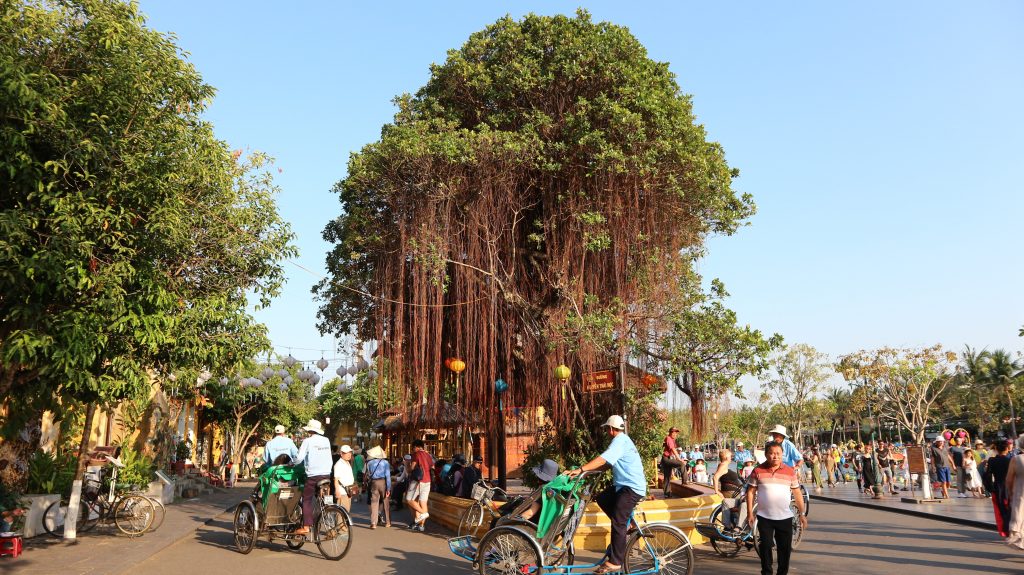 Where we visited in Vietnam
Ba Na Hills – Golden Hands Bridge
Cu Chi Tunnels and Mekong Delta
Check Out Our Other Destinations