Is Gdynia worth visiting? It's a question we always get asked. Here are the reasons why the Port City should be on your list to visit
Introduction
Gdynia, along with the stunning old town of Gdansk and beach town of Sopot make up the Tri-City area.
The Port City is the second-largest city in the Pomeranian Voivodeship. Gdynia boasts a vibrant waterfront and beach. It is a regular stopover for luxurious passenger cruises and is always bustling with tourists.
Gdynia has won many awards for the quality of life, safety and tourist attractions.
How to get to Gdynia?
Gdynia is just a 25 minute drive from Gdansk International Airport. You can also reach Gdynia by public transport, it's just a short 30 minute train from the airport.
Many base themselves in Gdansk or the beach town of Sopot and want to travel to Gdynia for a day out. A train from Gdansk main station takes between 20 and 35 minutes. A 24 hour ticket which covers all transport in the area costs just 15 zloty. A train from Sopot to Gdynia takes between just 9 and 13 minutes.
It takes around 25 minutes to walk from the City's Main Train Station to the marina and the beach. The walk is flat and takes you through the city centre, which boasts many bars, shops and restaurants.
Where to eat and drink in Gdynia?
We'll start with the bars. The beach and modern Marina boast many bars.
Browar Port Gdynia
Our favourite has to be Browar Port Gdynia. This stylish bar sits right on Gdynia's main beach. Downstairs boasts a spacious beer hall whilst upstairs you have a rooftop where you can lose yourself in the views of the stunning Baltic Coast.
Browar Port brews all of it's own beer on site, meaning it's as fresh as can be. They normally have four beers on tap, ranging from Lager, IPA to Wheat-beer. The prices are very reasonable, with a beer costing 10 zloty and a stein 15 zloty. Browar Port also has a restaurant on site but we have never tried it.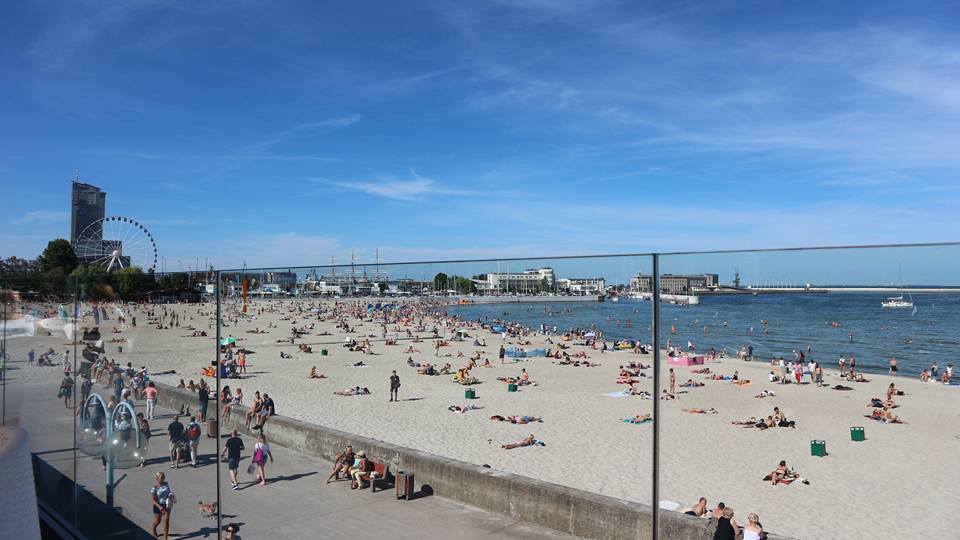 Ale Browar
If you have ever been to Poland before you would have come across or drank an Ale Browar beer, you might just not know it.
Brewdog, eat your heart out, there's a new brew in town.
In our opinion, Ale Browar, the self called, 'Hop Heads of Poland' is the best independent brewery in Poland. Whatever your taste, Ale Browar will cater for you and your tastebuds. Ale Browar is situated on one of the main streets in Gdynia. It's handily only a ten minute walk from the main station. They have around 12 beers on tap (all their own) and many, many more in bottle form.
They also have pubs in Sopot and Gdansk, but also further afield in Wroclaw. Emma's favourite drink in here is the 8% Hazy Juicy Double IPA – El Fruto whilst Michael opted for the strong IPA – Rowing Jack or the 9%, double IPA, Crazy Mike. Find out what is on tap at Ale Browar Gdynia.
Tako Gdynia
If you're familiar with the blog you know that we just LOVE Mexican food. It doesn't come much better than Tako Gdynia. The food has an awesome authentic Mexican taste. The must-try here are the nachos, they're amongst the best we've ever had. The cocktails in here are very, very strong, so bear that in mind when you order.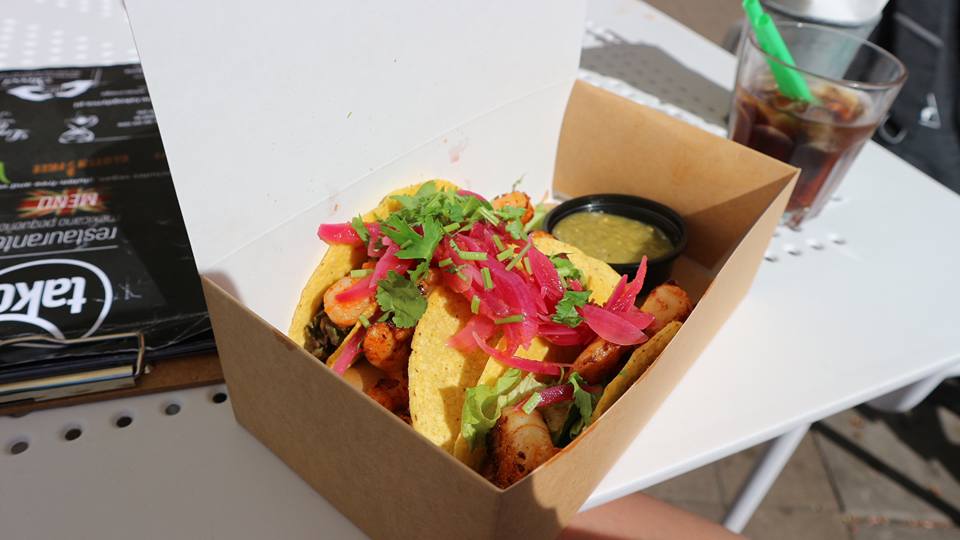 Lolo Thai Jolo
This Thai restaurant is another great place to grab a bite to eat. Everything on the menu is tasty, fresh and flavourful. They provide English menus and Lolo Thai Jolo is very affordable.
Things to do in Gdynia?
There is an Aquarium and Maritime museum in Gdynia but we have not visited either of those.
Arka have plied their trade in the Polish Top flight, the Ekstraklasa since 2016. The Gdynia club defied all odds in their first season back as they were crowned as the Polish FA Cup champions in 2016/17. They were also runners up in the same competition in 2017/18. Following on from the cup successes, Arka won the Polish Super Cup in both 2017 and 2018.
I visited Arka Gdynia with a friend, their stadium is fairly new, with construction finishing in 2011. Arka were playing league champions and one of the biggest clubs in Poland, Legia Warsaw. Apart from the derby against local rivals, Lechia Gdansk, the visit of Legia Warsaw is one of the most anticipated game for Arka fans. We took our passports to the game, due to Polish law at most Polish clubs you need a fan card, however at Arka all you need is your passport.
We arrived 30 minutes before kick-off. The queue was quite short and we queued for about 10 minutes and then got our tickets which were situated in the main stand. It was a low scoring affair but the Arka fans did not care as their team ran out 1-0 winners.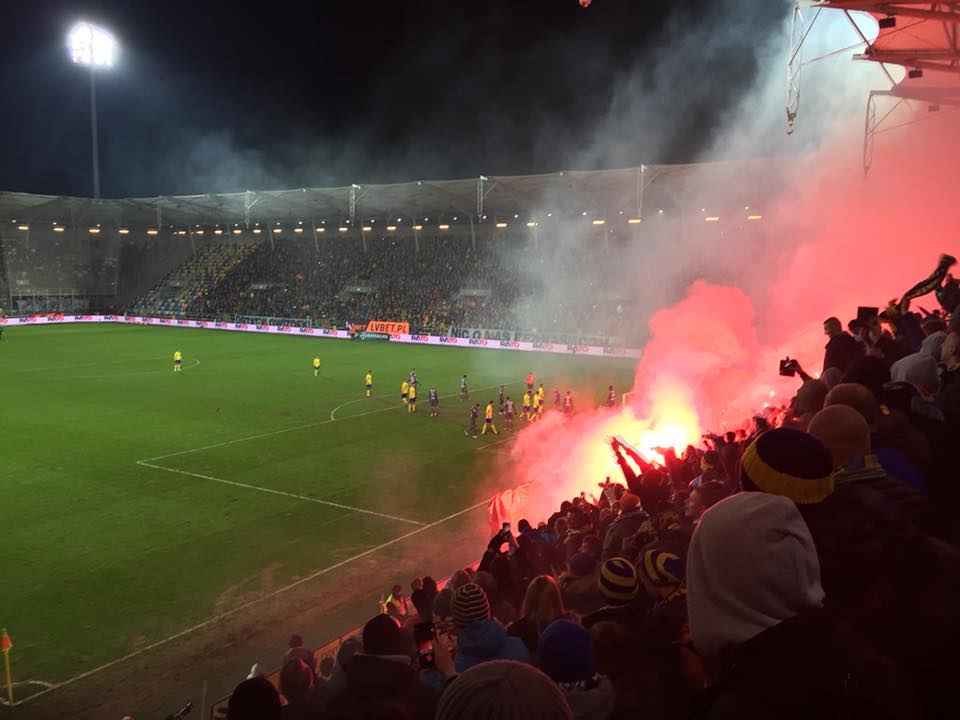 Is Gdynia worth visiting?
The Port City is great for a day out from Gdansk. If you want a beach destination with bars and restaurants then Gdynia is the place to be, but don't expect grand old buildings and old, cobbled streets.
We like to visit Gdynia as we feel you see a real Polish city where tourism has not yet hit. When visiting Gdansk we always make a bee-line and head up the coast.
The other cities in the tri-city area is the city of spires, Gdansk and the beach resort of Sopot
Check Out Our Other Destinations