Porto is a special city. Set on the Douro River. We started our 2018 European Tour in Portugal's second city and to be honest we didn't know what to expect. In truth, we only flew to Porto due to its connections to Spain and the flight times from Manchester worked. It's a city that captured our hearts and cemented itself as one of the best cities that we have visited. Michael loved it that much that he went back whilst doing a bit of solo travelling.
Where to stay in Porto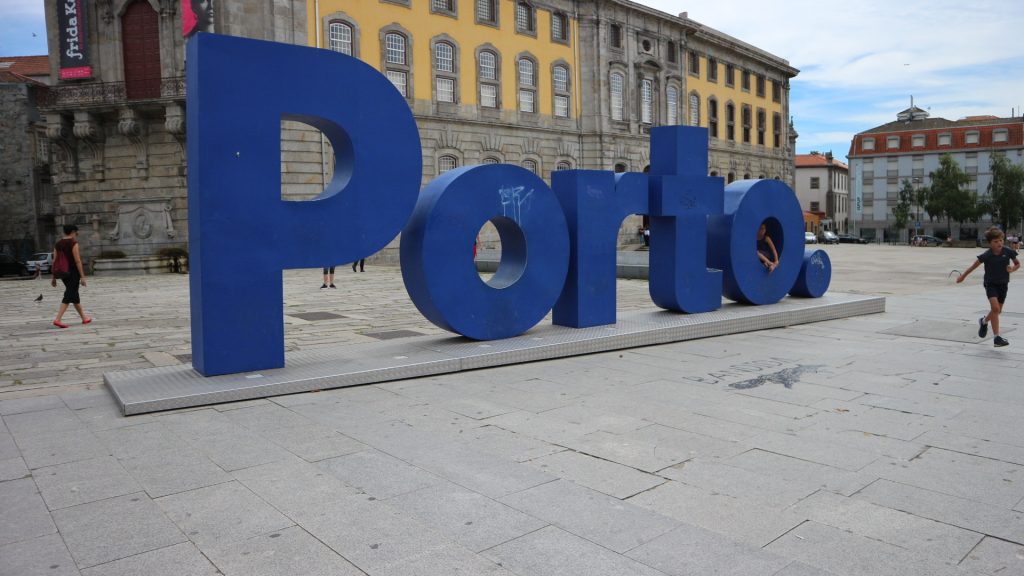 As a solo traveller both of the hostels were good. Michael needs quiet to sleep so he can sometimes be a nightmare.
The Colony Guest House
The location of this hostel was great, it is on the tram route from the airport to the centre so it's easy to access if you're arriving in the city by air. The rooms are small but they have everything you need and are super clean. The staff here are amazing, Michael had tickets for a football match in Braga, the hotel held onto them for over two weeks until he arrived. It's a very small hostel with only 4 or 5 rooms, there's a small communal area and it's not a hostel for young travellers wishing to party.
The cost was just £39 for the night, as this was a Saturday night the room was a bit more expensive. You can book it, here.
Campanhã Boutique Station
This place was incredible. The location was the only thing that slightly lets it down, it's a short train ride away from the City Centre. As it is close to Porto's second main train station, Campanha, a direct train gets you into the City Centre in just two minutes. You also get a stunning view of the bridges of Porto from this train journey.
This hostel is better than many hotels that Michael has stayed in. Communication and service from the owner was second to none. The hostel has a huge communal area which is super modern. There is literally nothing I could fault about the facilities. The rooms were large, the bed comfy and everything you needed was provided at the hostel.
Breakfast was also included in the price, the choice at breakfast is plentiful and it will set you up for the day ahead. The price for one night was just £35. Book at Hotels.com, here.
Porto Things To Do and What To See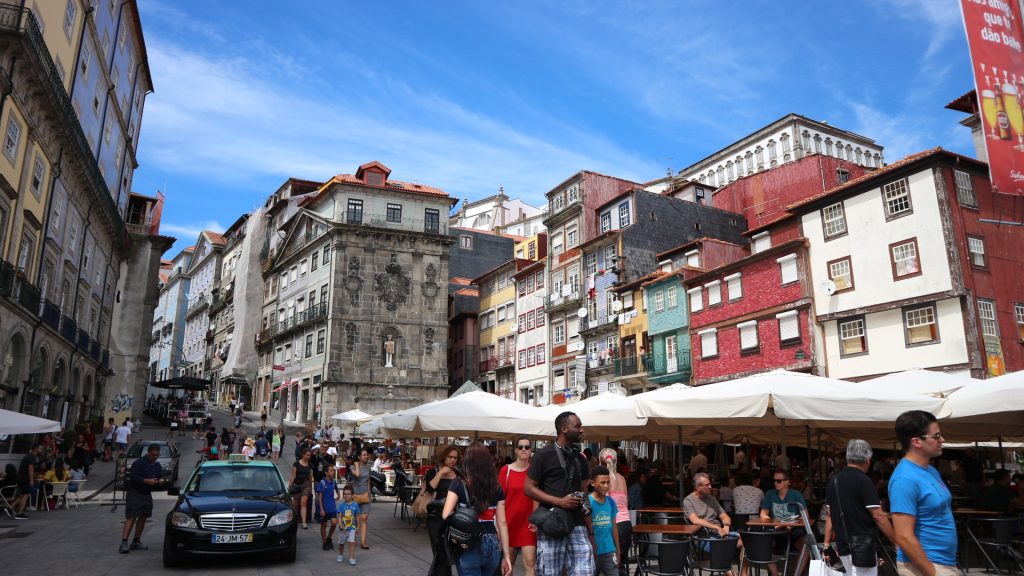 Bridge walk – Ponte De Arrabida
This was one of the best things that we have done on all of our holidays.
This is one of the best activities that we have done on our travels. The value for money was incredible. It will cost you just €17.50 each to do the bridge climb and it takes around 90 minutes. For an extra €3 you can pay for a drone to get photos of you on the climb, this is a must in our opinion.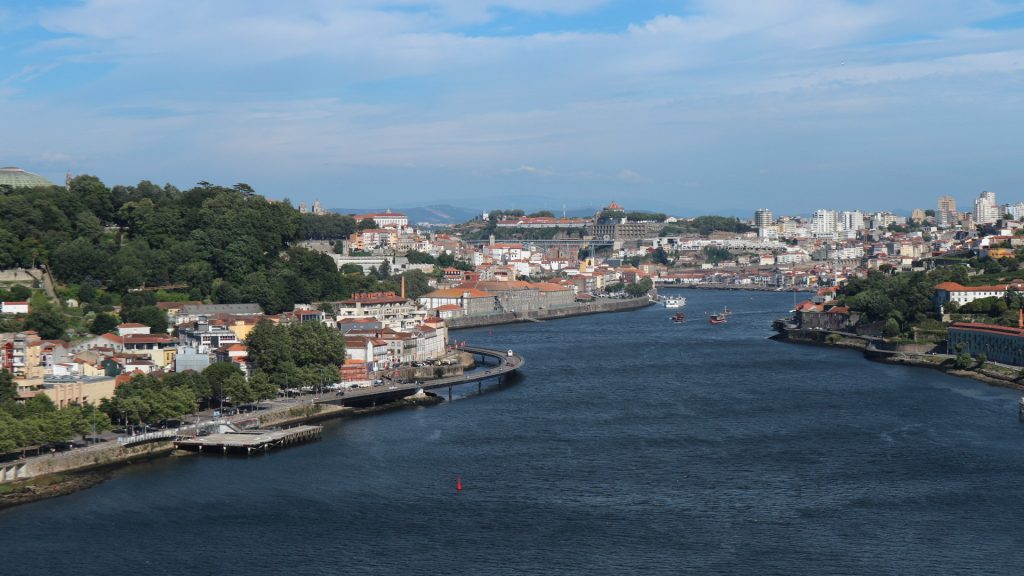 The bridge, Ponte De Arrabida was opened in 1963 and at the time it was the largest concrete arch bridge in the world. It is the only arch bridge in Europe that is open to the public to climb, having been closed for 53 years.
Now, the bridge you climb is less than impressive, a 1960's looking bridge that features a dual carriageway, it's not a bridge that will make it onto Porto postcards. However, it's HIGH, VERY HIGH. We arrived and the staff were brilliant, they spoke perfect English and guided us through the safety procedures. The harnesses were then applied and then we were off. The climb is very easy and the bridge being totally concrete gives you a sense of security. Once you climb the 65 metres to the top the view you are met with stunning views of Porto and the Duoro Estuary.
Once you get toe the summit you can sample another famous Porto delight, WINE! Yep, that's right, you are given some red wine in a chocolate glass, this gives you a bit of dutch courage for the descent.
Luis 1 Bridge
This is probably Porto's most famous landmark, every photograph or postcard you have seen of Porto would have featured Luis 1 Bridge.
The great thing about this bridge is you can walk across the top of it and across it on the ground level, we can't recall many other bridges where you can do this.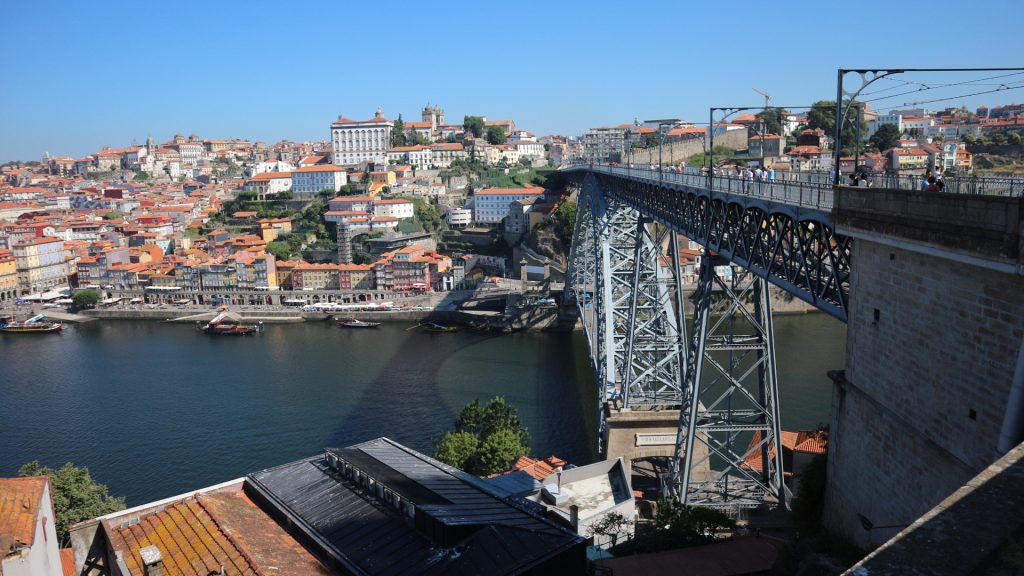 To walk across the top of the bridge go to Sao Bento and follow the road/tram lines. The views from across the top of the bridge are great. It can be quite scary when a tram crosses as you're walking across and is it literally shakes the whole bridge!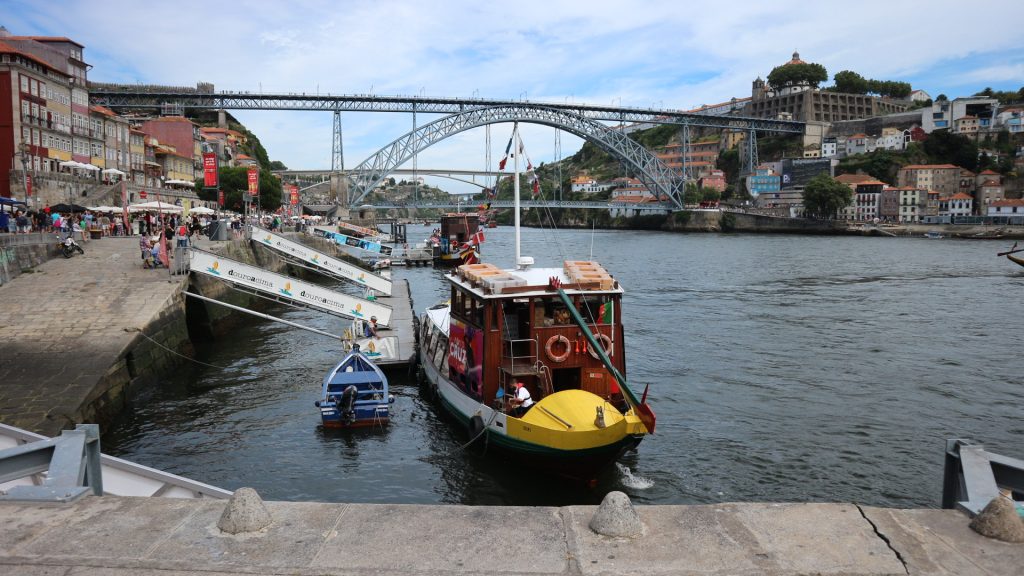 All of the bars and streets on the street level all seem to lead to the bottom of the bridge. It's quite tight to walk across so watch yourself as it's easy to fall onto the road. The locals love to jump off the bridge and you can see it from here.
Sao Bento Station
Train stations aren't normally a must see site in a city but Sao Bento bucks this trend. The main ticket hall is simply stunning, a masterpiece and a work of art. The ticket hall is kitted out in Azulejos. What is Azulejos I hear you ask, they are beautiful Portuguese tiles. This is very unique and we haven't seen anything like it across the world, making Sao Bento a must to visit.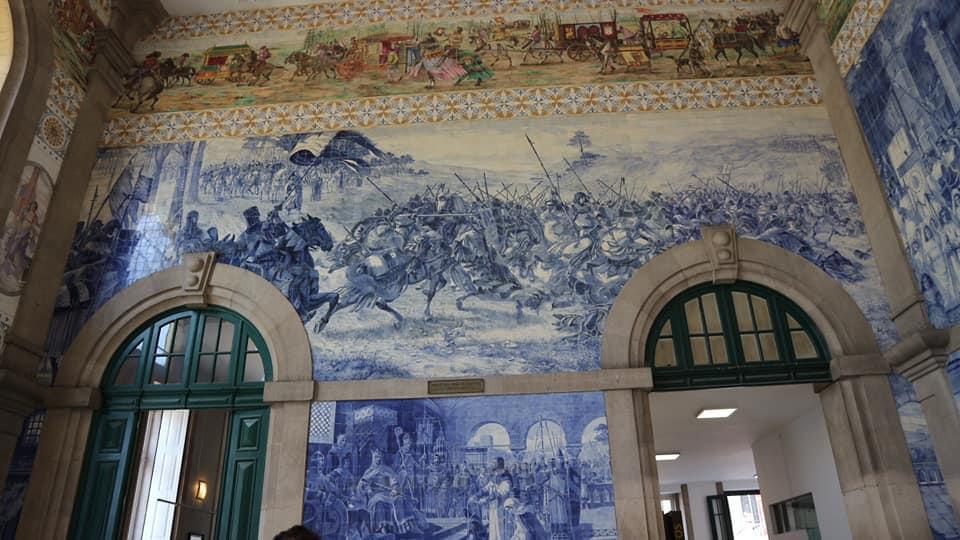 Igreja dos Clérigos
Now, churches and cathedrals aren't our thing but we can't help admire them. Igreja dos Clérigos is perched on the top of a large hill in the centre of Porto. You can see it as you exit Sao Bento station and it looms above the city, looking powerful and majestic.
Miradouro da Vitoria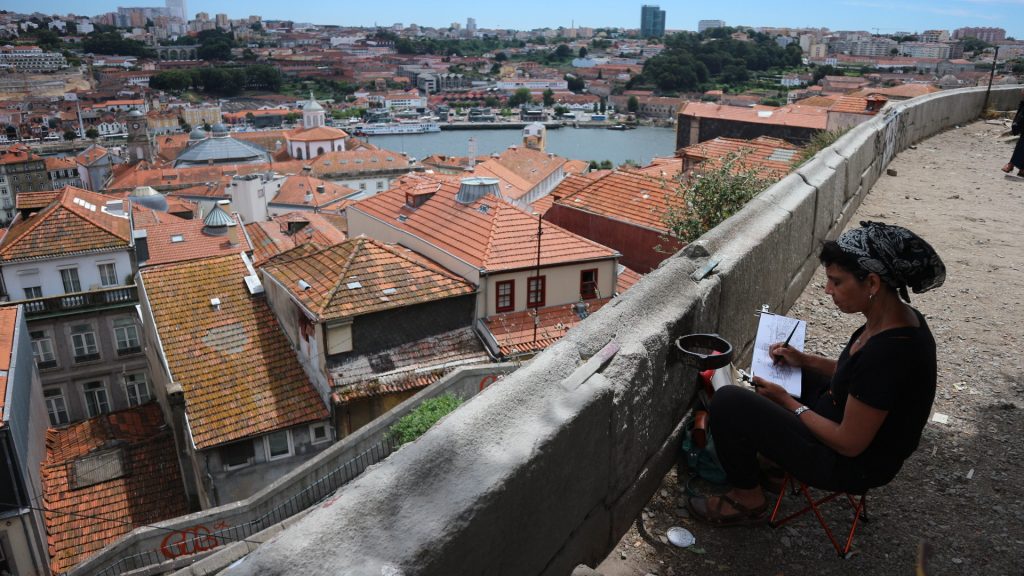 Here you will find the BEST viewpoint of Porto. From this location you get the perfect view of the Luis 1 bridge, Porto and the Douro river. Best of all, it's totally free! To open the location in Google Maps, click here.
You'll find plenty of street artists here getting the perfect landscape to paint. If you're after a souvenir, many of them sell these paintings too.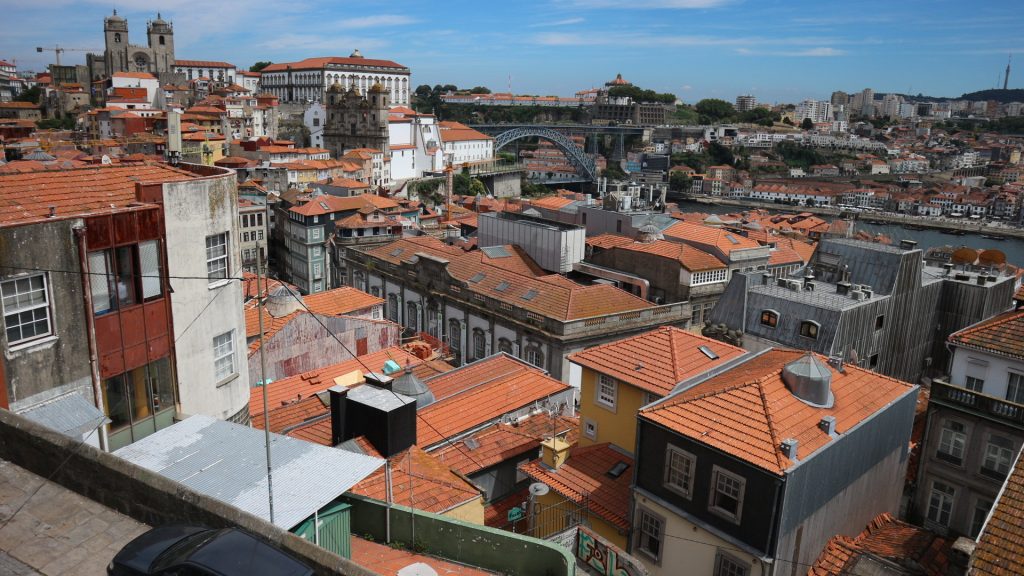 Best Bars in Porto
Mirajazz
This will be one of the best cheap bars that you will visit in the world. The location is simply stunning. Set on the banks of the River Duoro you can chill out with a glass (or bottle) of wine and watch the world go by.
Michael first stumbled across Mirajazz by luck. He was in Porto on a trip by himself when the searing Portuguese heat was too much for him. He decided to jump into the nearest waterhole, which was Mirajazz. On the first visit it was so quiet, Michael was the only one there, he enjoyed the music which was largely motown and ended up spending his whole afternoon drinking Heineken and then red wine. The prices here are surprisingly cheap, a pint of Heineken will set you back just €2.50 and a bottle of wine starts from just €8.
Mirajazz is a great spot for sunset but you must book in advance as it gets very busy.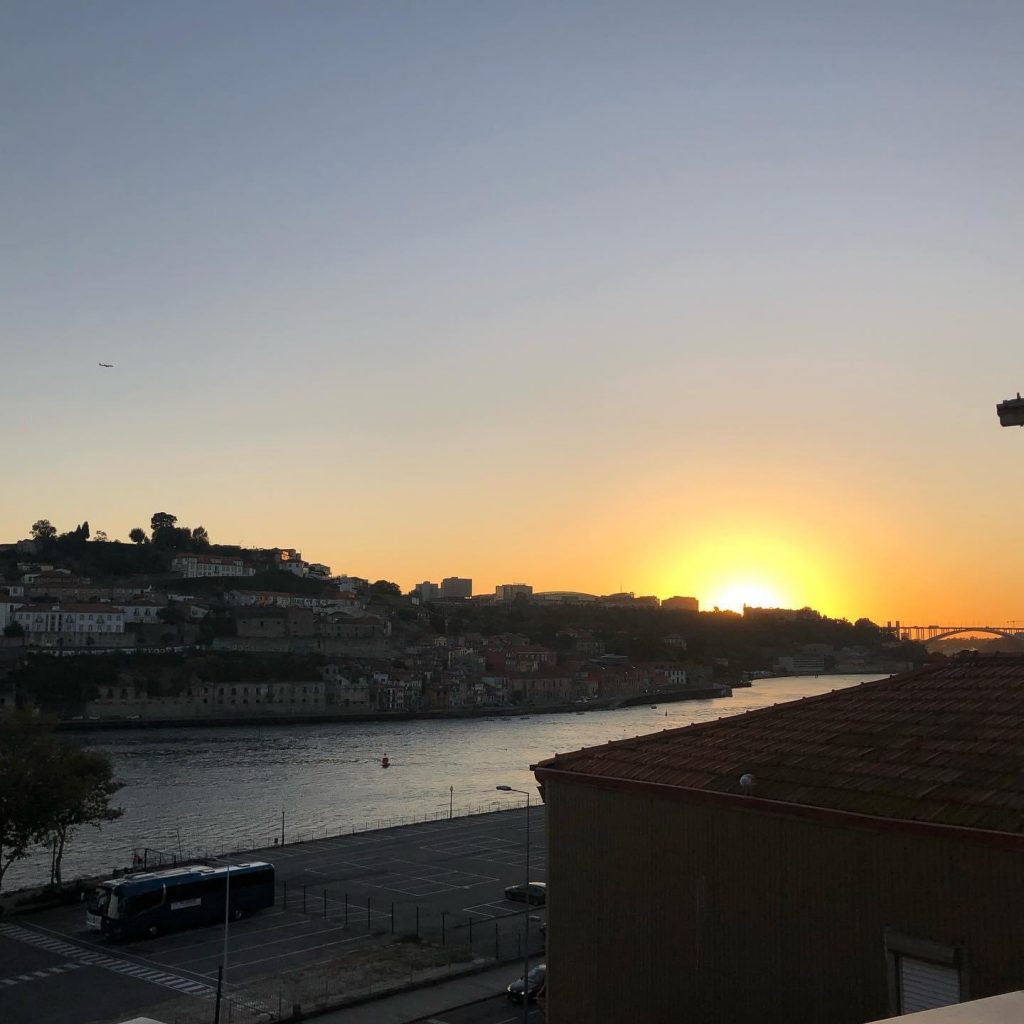 Base – Garden bar
Base is a green, quiet haven in the middle of the city. We stumbled across Base purely by chance whilst exploring Porto. It is a must do in the summer, it's a great place to chill out and sunbathe whilst sipping on your favourite drink. There's one thing that lets base down, the service. On Michael's solo visit to Porto he waited at the bar for ten minutes and still didn't get served. He ended up leaving and not going back.
Adega Sports Bar
Porto is a football crazy city but surprisingly sports bars in the cities are pretty much non-existent. Adega is the one sports bar that we found in the centre, it has a great atmosphere and shows pretty much all sport. If you're in Porto and wanting to watch the Premier League then this is the best place. The drinks in here are super cheap and they serve your typical sports bar food of burgers, nachos and wings.
Best Cheap Eats in Porto
Hamburgueria DeGema
Yep, you probably guessed it, Michael gets a burger everywhere he goes and Porto was no exception. This place just does everything right, from the beers to the chips to the beers! As Michael is a chicken lover he opted for the double grilled chicken breast, it was cooked to perfection in a succulent seasoning. The staff are great and speak good english and if you are doing Porto on a budget then it cannot be beaten for value for money.
Bugo Art Burger
Bugo is a bit of a walk from the old town centre but it is a walk well worth making. We visited here as a couple as having read the reviews they catered for both of our tastes and their vegetarian burgers were apparently the best in town. We can confirm that this is true! They specialise in only burgers and that definitely tells in the quality of their burgers. It's a little bit more expensive then other burger bars but it's worth paying.
Tasty District
This food court will meet all of your culinary needs whilst in Porto. The food here is mostly cheap eats but the quality is fantastic and more importantly they are all small independent outlets. Michael visited Tasty District alone and opted for the Mexican stall, the food was fantastic and he even went back a second time!
Real Thai Thai cuisine
Michael visited this Thai restaurant on his solo trip to Porto on the recommendation of the staff at the hostel. The Pad Thai is probably the best that he has had on his travels and it was very affordable. A bonus here is that you can sit outside, making it the perfect place to grab lunch on a summers day.
Tips – Visit Braga and Guimaraes
On Michael's solo trip he visited the cities of Braga and Guimaraes. Both Cities are hidden gems just North of Porto and are super easy to reach by public transport.
To get to Braga use the Linha De Braga. With this being a local public transport train it does stop around 20 times and takes around an hour. However, the cost is only €3 one way. Braga can be seen in a day however we'd recommend a night stay, it's a great city.
To get to Guimaraes use the Linha de Guimaraes. This takes around 75 minutes and is the same cost as the Braga line, €3. Unfortunately there isn't a line between Guimaraes and Braga, meaning you have to either get a local bus or a taxi between the cities. Both lines depart from Sao Bento station.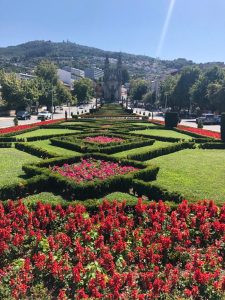 Is Porto Worth Visiting?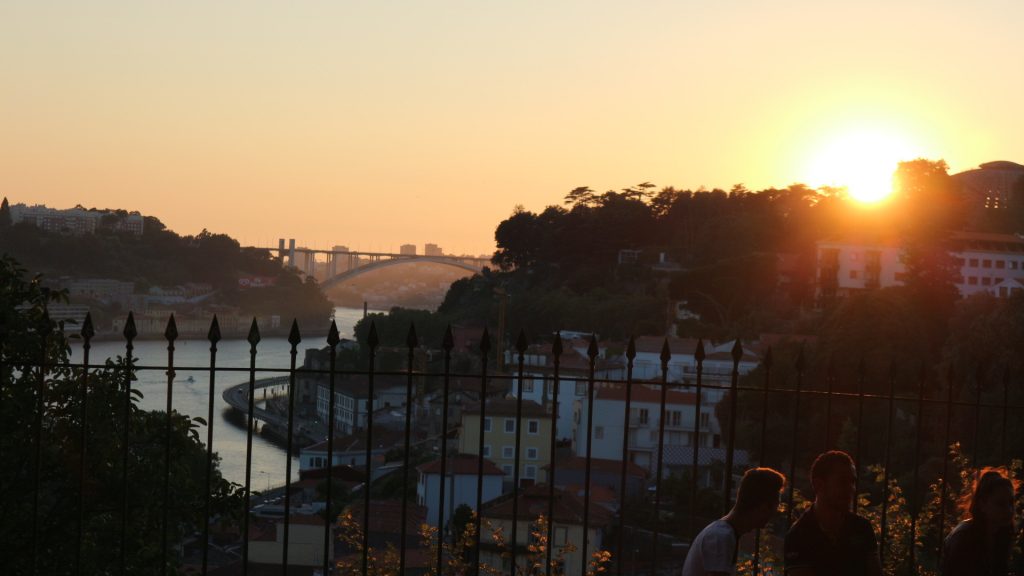 Porto is a must visit for anyone planning on visiting Portugal. We have travelled the world and Porto is easily in the top 5. It's a bustling city with an old town feel. The riverside is simply stunning, there is so much to see, the food and the people are great and Porto is also great value for money. If you're looking for a sunny city break then Porto should be top of your list.
Check Out Our Other Destinations