Some cities just attract you. We're not sure why but we had always wanted to visit Valencia. It seemed to have it all, stunning strips of golden sands, an historic old town, a modern science centre and one of the worlds most famous football clubs and stadiums. Is Valencia worth a visit? Click to find out.
We've always wanted to visit Valencia. One problem, it's a pain to get to from the North of England which just seems to fly to Alicante or Barcelona.
When we were planning our European Tour of 2018 Valencia was a city that we both agreed we must visit. Luckily the flight times worked from our starting point of Porto. We flew with Ryanair from Porto to Valencia, the budget airline got us there on time with a flight time of just 90 minutes.
Valencia Airport to the City Centre
It's one of the headaches that always faces us when arriving in a new city. How easy and quick is it to get to the city centre from the airport. We usually begrudge paying the expensive taxi prices to and from airports as the fares sometimes more than double.
It was off to Google to research and we found out that Valencia's metro system runs all the way to the airport, perfect. On arrival into Valencia the airport was super quiet and as we only had hand luggage and were travelling from another Schengen area then we did not have to pass passport control. Tickets for the metro system must be purchased before boarding, this was quick and easy to do and the station at the terminal has many machines.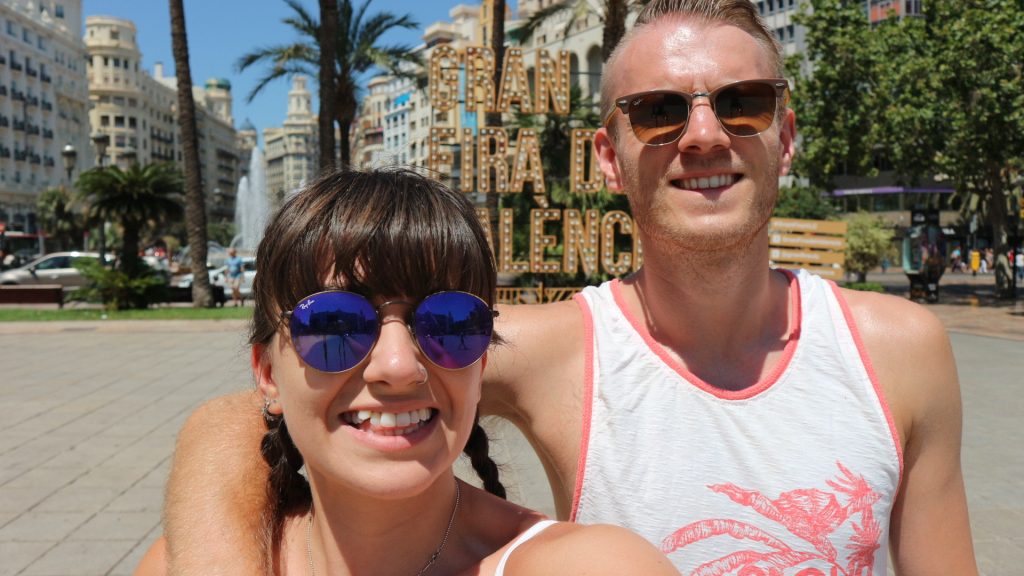 We found that the system was super easy to navigate and we were at our hotel within just one hour of landing, from the airport to the city centre it's around 30 minutes.
Valencia Hotel Review
Hotel Villacarlos
We are quite picky when it comes to hotels and accommodation. Research, reviews, ratings – Those are the three R's that we always go on. Hotel Villacarlos ticked all of the boxes and it was within our price range. Perfect. Booked.
We were happy, location – excellent. Staff at the front desk – helpful and friendly. Sadly, that's where the positives end. We arrived at our room and it was like stepping back into the 1970's. The decor was nothing like in the photographs. We requested a non-smoking room but the air in the room was filled with the smell of stale cigarettes. We were so disappointed as this has the making of a great hotel. Sadly, it put a bit of a downer on our trip and we dreaded going back on a night as we found the room to be very miserable.
Things To Do In Valencia
Mestalla Forever Tour Review
Being brutally honest, the Mestalla is the main reason that Michael wanted to visit Valencia. The stadium is famous for its super-steep stands and raucous atmosphere. A big plus to the Mestalla is that it is only a 15 minute walk from Valencia's old town, making it easy to get to by foot.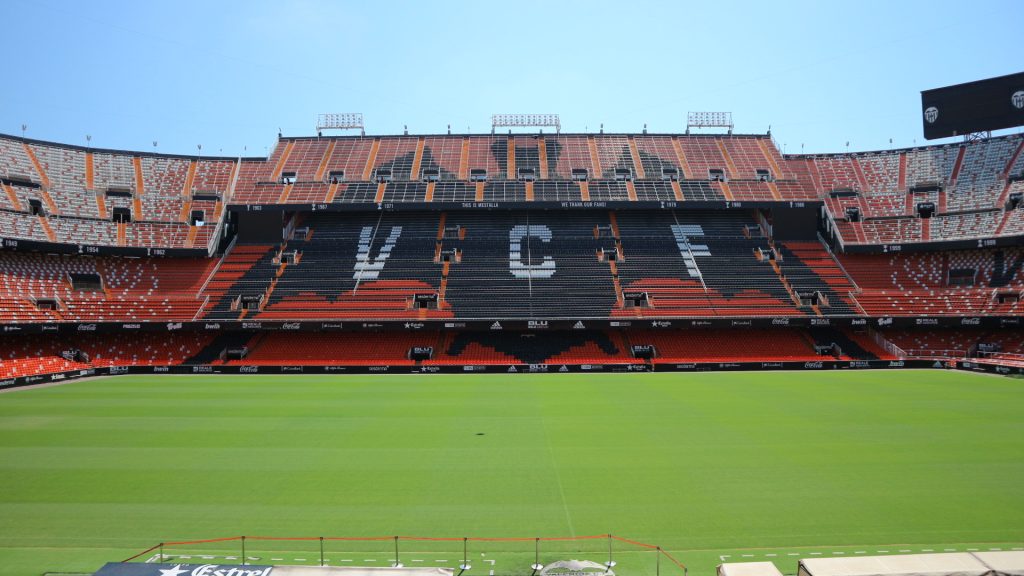 Unfortunately, there was not a match being played when we visited Valencia so we had to make do with a tour. The tour was brilliant. We have forgotten the name of our guide but he was a season ticket holder at Valencia. His knowledge of the city, stadium and players past and present was second to none.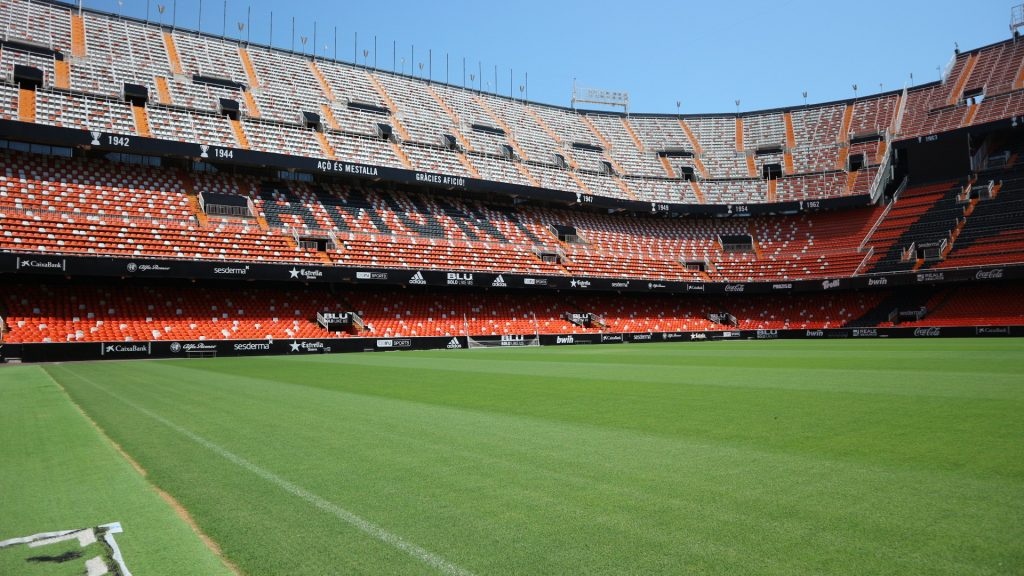 The Mestalla simply oozes history, it's rare for a stadium to feel atmospheric when empty but the stands at the Mestalla seem to hook you in. It has, however, had it's best days and is looking very worn down. Valencia are a huge club who strive to be fighting at the top of La Liga against Barcelona and the Madrid clubs. The Mestalla, sadly, lets the club down due to a real lack of quality facilities and in capacity.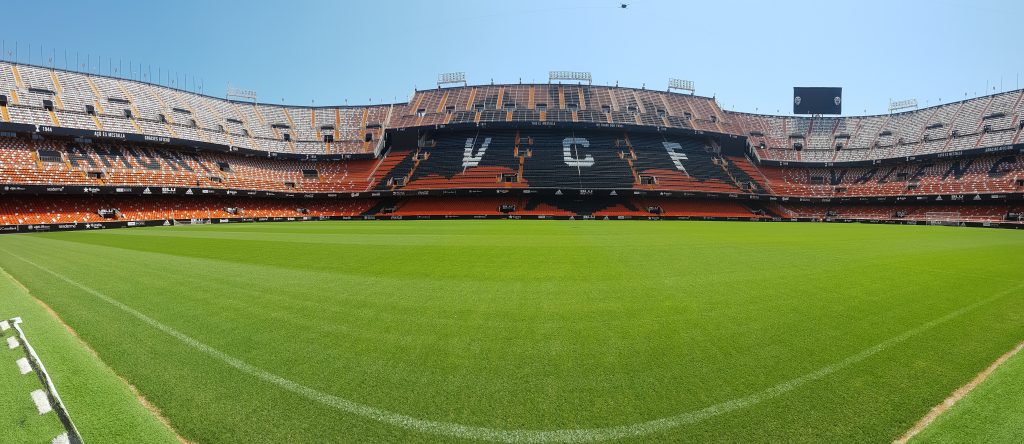 On the tour you will be guided around the famous arena, gaining VIP access to the changing rooms, dugouts, pitch-side area, hospitality area and even the clubs very own church! Yep, they have their own little chapel which is used by players to say their prayers before a match.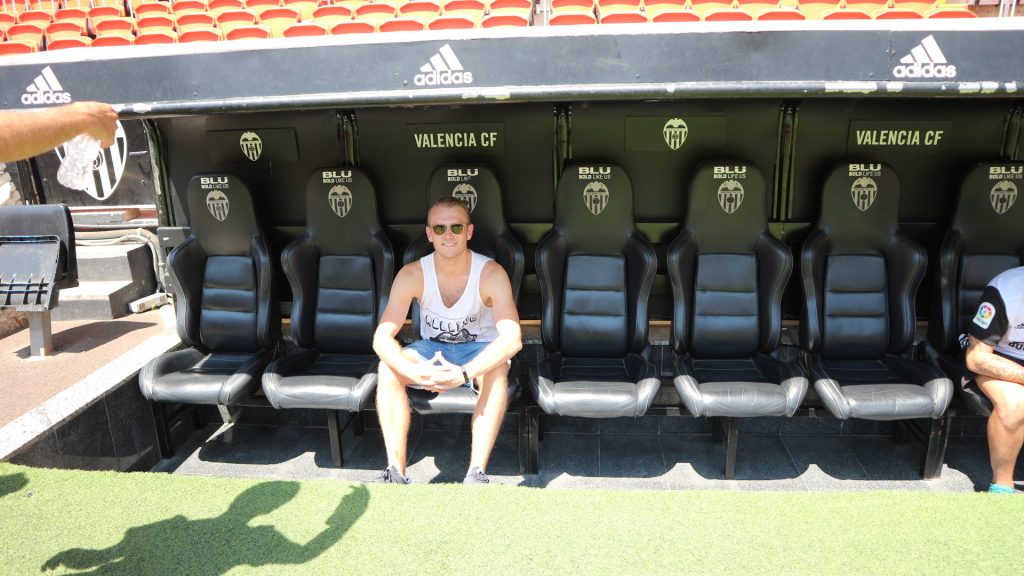 The tour costs €11.50 and lasts around 90 minutes and is very much access all areas. It's an absolute must for any football fan that visits Valencia.
It will be an incredibly sad day when the doors are locked for the final time at the Mestalla. Nou Mestalla will eventually be Valencia's new home, however, it has stood as a shell on the edge of town for around 15 years with no sign of further development due to financial problems at the La Liga club.
Book the Mestalla Forever Tour, here.
Valencia Beach
It's very rare that you have a stunning beach a stones throw from a city centre. The only other place I can think of that offers this is Barcelona.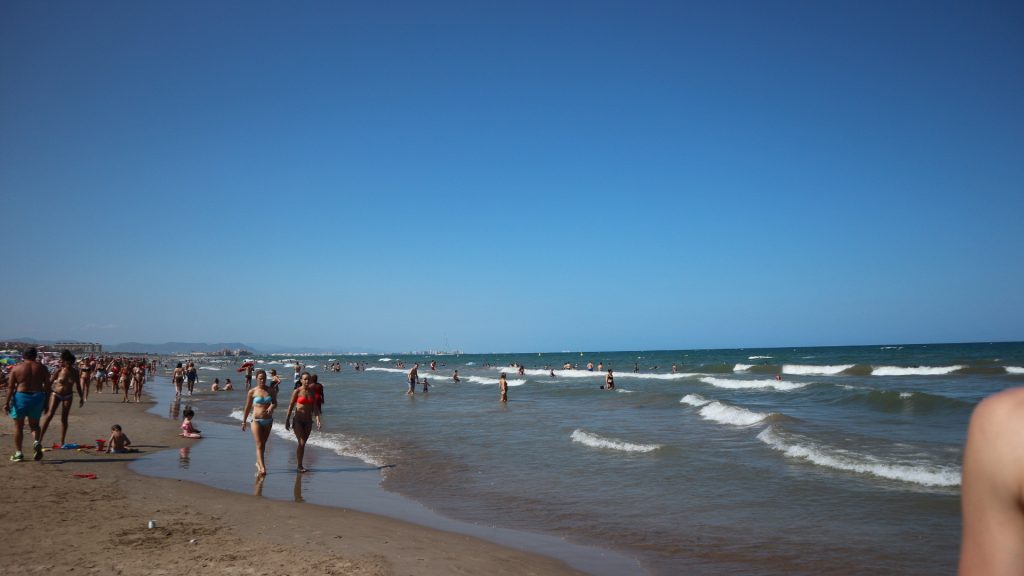 After a day of exploring we decided to wind down for the afternoon and chill at the beach. The weather agreed with us, with the temperature being in the mid-30's and a cloud wasn't to be seen. The Spanish sun was smiling down on us, blissful.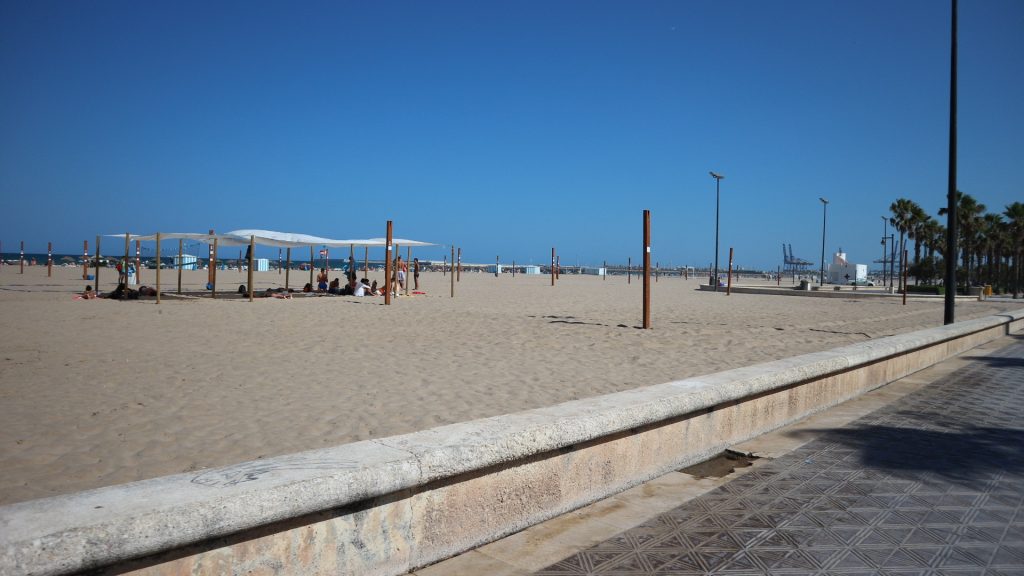 We originally planned to walk from the hotel to the beach, however the heat was too much. We decided to grab a grab. Grab are the Spanish versions of Uber (Uber is banned in Spain). We found Grab to be way better than Uber, the drivers were friendly, reliable and each journey we were given a bottle of water each. The cars were also super fancy which was definitely a bonus.
Ciudad de las Artes y las Ciencias
We'll be honest, we aren't really Science type people. What attracted us to Ciudad de las Artes y las Ciencias was the stunning modern design of the buildings. The campus is now synonymous with Valencia and it's almost as well known as the old town.
Now, we didn't do any of the museums but others who we met on our travels told us they were fantastic. We spent our time wandering around the grounds including the gardens and park whilst soaking up the morning Spanish sun. The architecture is something you will only find here, making it a must visit when in Valencia. It's also one of the twelve treasures of Spain!
We spent a full morning here but if you want to visit the museums you'd need around a day and a half.
Valencia Old Town
Valencia's old town stretches back a mere 2000 years and is an explosion of life, vibrancy and architecture. The winding streets feature stunning buildings from Roman, Arabic, Gothic and Baroque styles. Like many old towns you will lose yourself in a labyrinth of tight, winding streets before finding yourself in a square of restaurants or outside of the famous Valencia Food Market.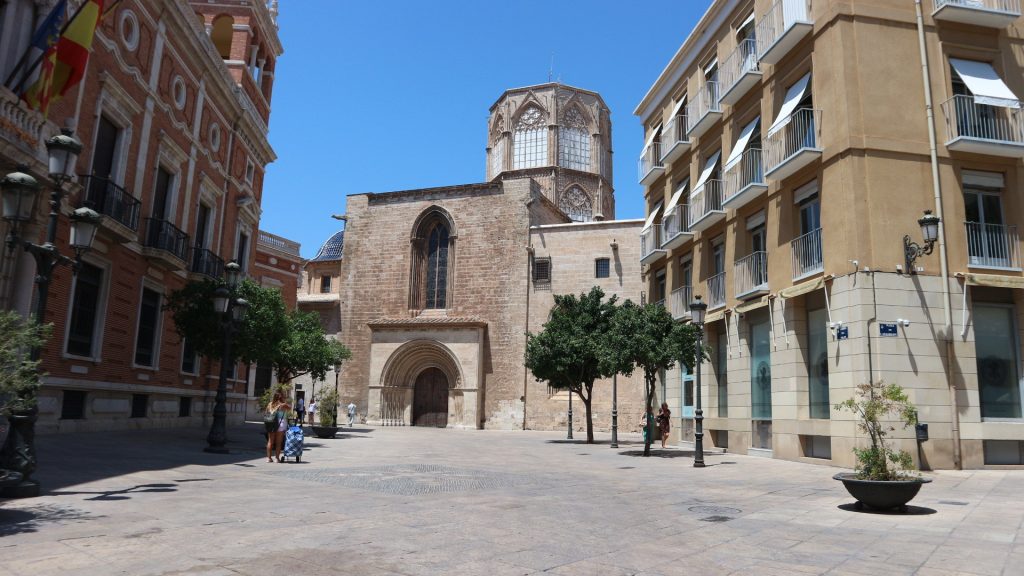 We much preferred Valencia's old town over that of Barcelona, it is a lot less touristy and much cleaner. You can do the Old Town all on foot as it's quite small. Sites to see include Valencia Cathedral, The Central Market of Valencia and La Lonja De La Sed.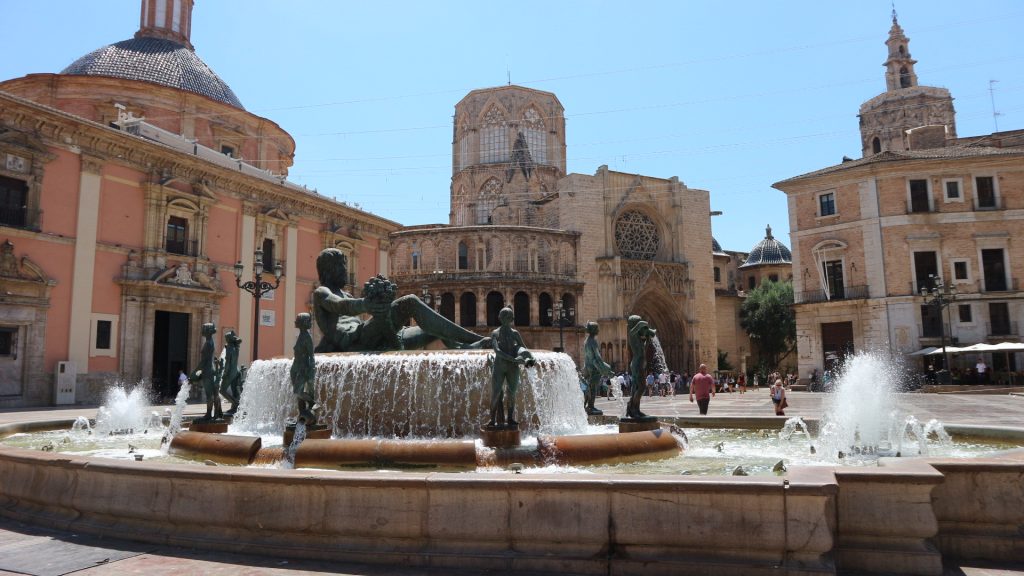 Valencia Cathedral – Best Viewpoint in Valencia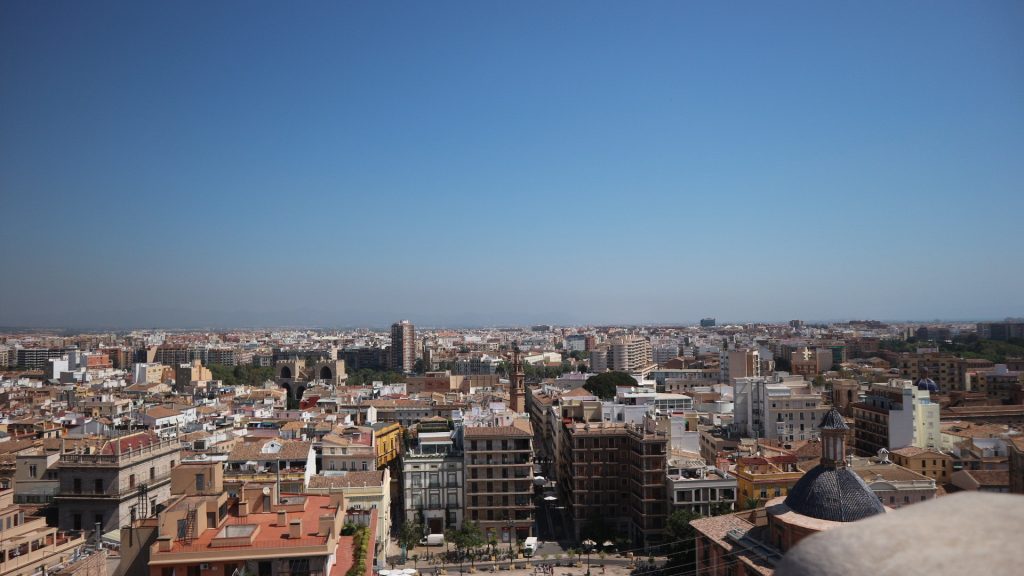 Valencia Cathedral stands proud in the centre of the old town and symbolises the most important building in the city to it's people, well maybe apart from the Mestalla. It costs 8 euros to visit the interior of the cathedral and a further 2 euros to climb the tower of the cathedral. We decided, due to time constraints and a queue to get into the cathedral to just pay the €2 to climb the tower.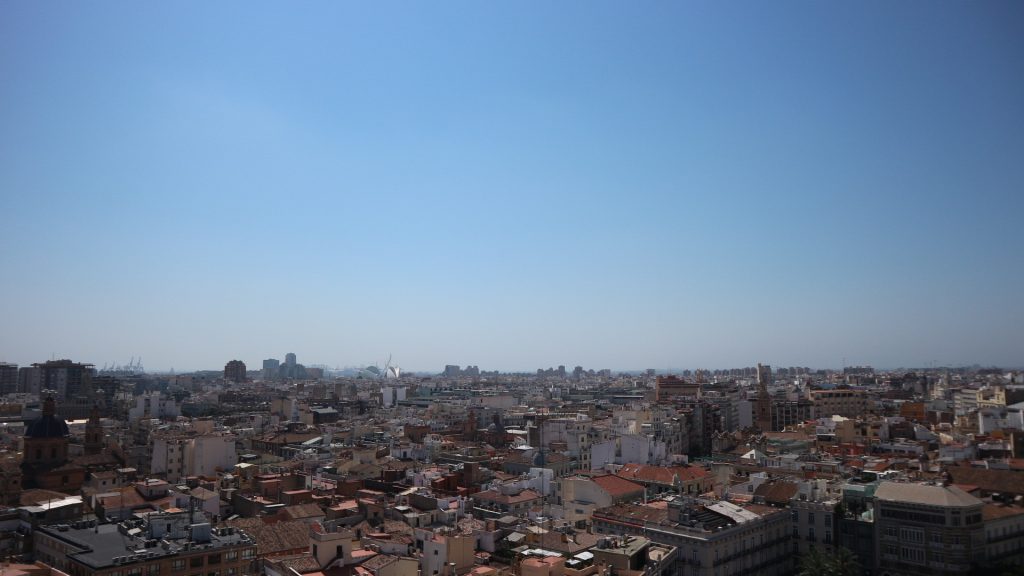 It's quite a long trek to the top, but wow, the views are something else. The Cathedral Tower is by far one of the biggest structures in the old town, meaning you get stunning panoramic views across the city. This was a highlight of our time in Valencia and for the small fee of just €2, a must do.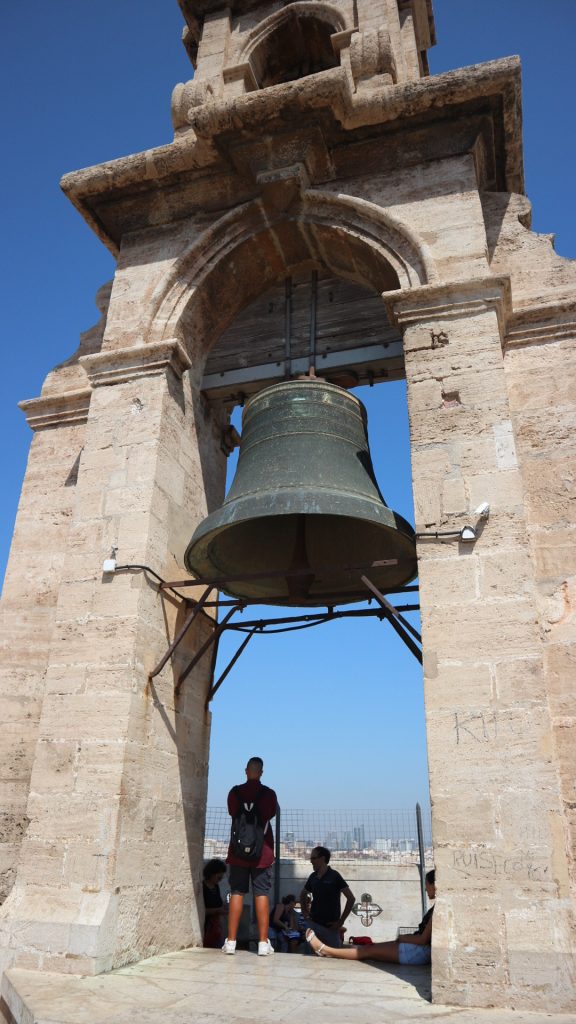 Where to eat in Valencia
Lizarran Port Valencia
Food, food, food and even more food.
When you go to Italy you eat Pizza and Pasta. When you visit Spain you eat Tapas. It's international law, isn't it?
Lizarran was close to our hotel and is your typical neighbourhood restaurant. The plastic tables are crammed together and the decor leaves a lot to be desired. The food and service however, is always the highlight.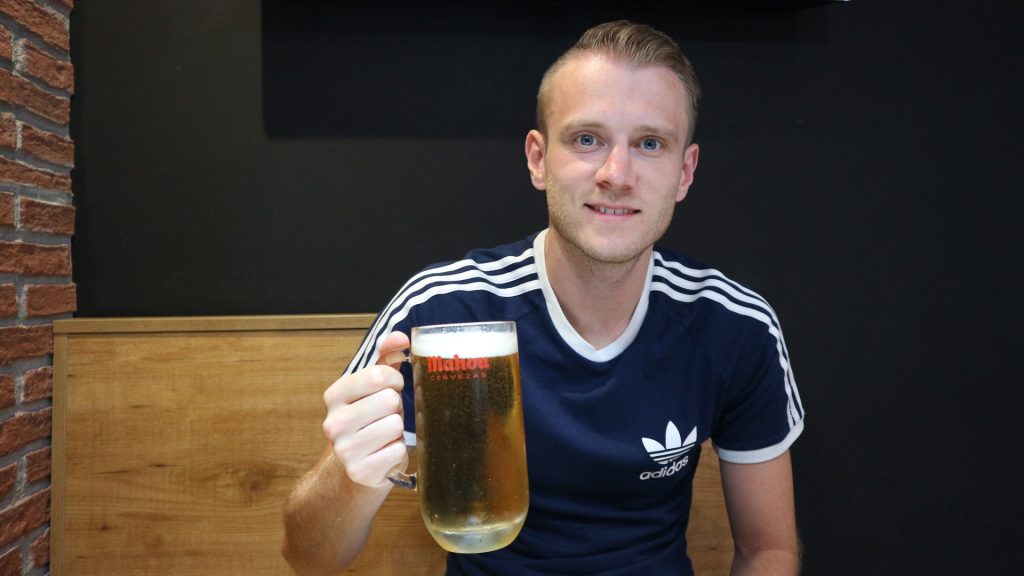 On the evening that we visited there was a special offer on, 3 tapas and 2 small beers for just €8.95. We thought that it sounded too good to be true but it wasn't! The food was fresh and delicious and the beer superb. For a cheap eat and great tapas then Lizarran is a must try in Valencia.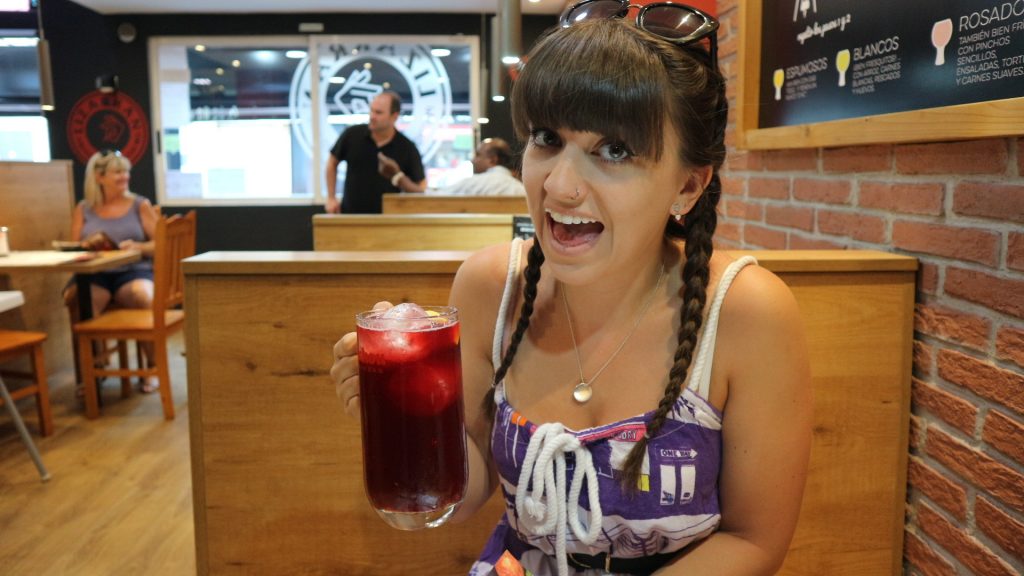 They also did some amazing JUGS of sangria! It was delicious and perfect for cooling down after a long day in the sun!
Best Bars in Valencia
Normally our list of bars is quite large as we enjoy a drink whilst on our travels. However, with us only having a short amount of time in Valencia we didn't do that much partying. The bars we did have a drink in were luckily for us, fantastic!
Beer and Travels
We worked up quite a thirst after a long trek up the winding staircases of the Valencia Cathedral Tower. After enjoying the views Michael's first thought was to find a pub near-by where we could chill for an hour and recharge our batteries (outside, whilst getting a tan, of course).
A quick search told us there was a few bars within walking distance. We set off and found a haven just two minutes walk from the cathedral. The street was quiet and in the distance you could see the cathedral. They also had outdoor seating, so it ticked all of the boxes. The decor inside was of a typical Irish pub. We were very impressed with the selection of beers and we both opted for Estrella Galicia. At only €2 per bottle it represented great value for money in such a good location.
Birra and Blues
Birra and Blues seems to be in the centre of all of the nightlife in Valencia. It's on a cross-roads of the old towns busiest streets. It is always busy which is a good sign. The beers here are fantastic, Birra and Blues is it's own microbrewery so the beers you get are one of a kind and from the local area. We had a few IPAs and enjoyed the experience a lot. The average price of a beer was around €4.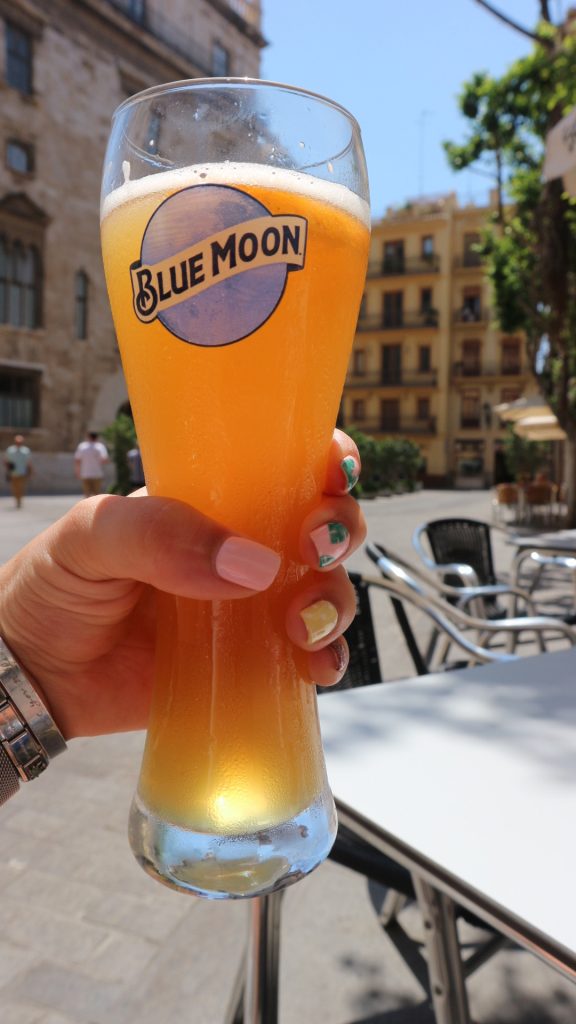 We also ate here, but to be honest we can't remember what we had and what it was like! You can find the menu, both food and drinks, here.
Is Valencia Worth Visiting
Most definitely! Don't get us wrong, Valencia isn't our favourite Spanish city, that accolade goes to Seville but it has so much to offer for travellers. We found that there was a lot to see and do and the majority of bars and restaurants were great value for money. If you prefer less touristy destinations then Valencia should be on your list above the likes of Barcelona and Madrid. We see Valencia as a bit of a hidden gem, nestled in-between Barcelona and Benidorm which many Europeans sadly miss out.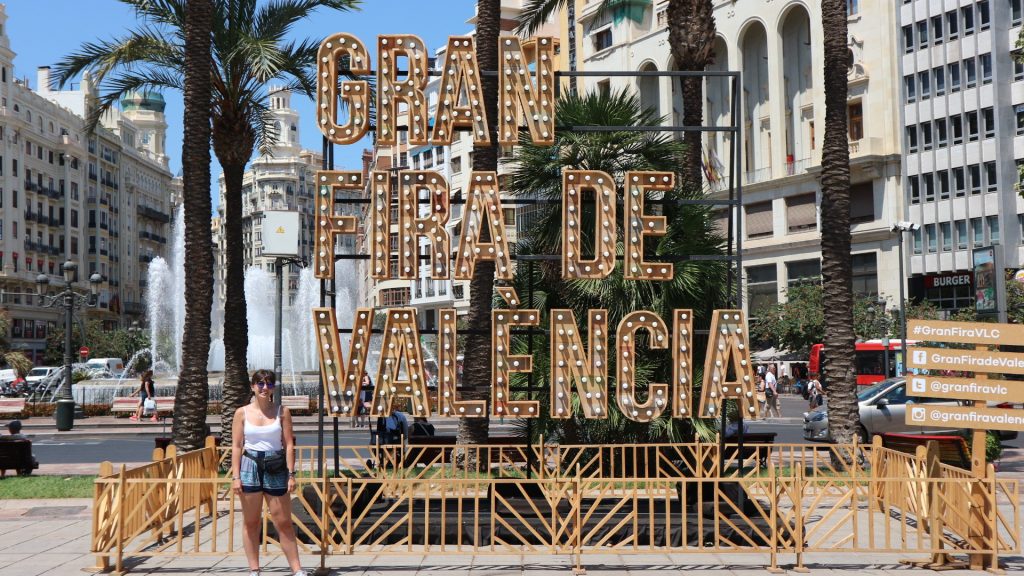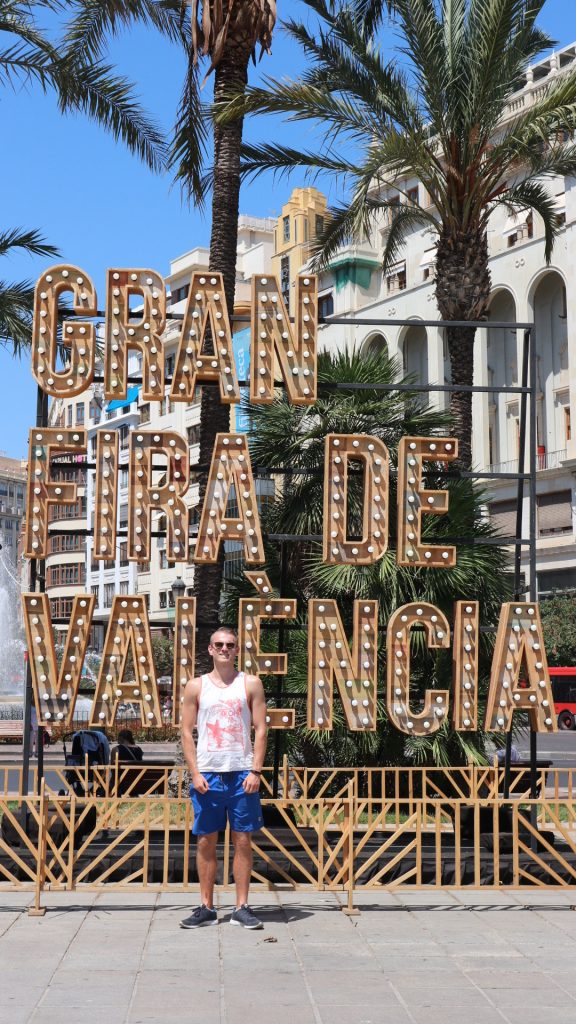 We felt that two days was enough to see Valencia, we probably would not go back except to see a football match at the famous Mestalla.
Check Out Our Other Destinations