From Pagodas to water puppet shows, from rooftop bars to rickety old bridges and everything in between, here is our ultimate guide to visiting Hanoi.
Booking Process
We decided that Hanoi would be the starting point of our Vietnamese adventure purely because the flight times agreed with our schedule. It was a great starting point for our trip.
We flew from Newcastle to Dubai, had a 3 hour wait and then flew from Dubai to Hanoi. Each flight was around 7 hours and we tried to sleep the majority of the second to try and skip out on the jet lag.
We were lucky that we had some air miles from a previous trip and managed to get £135 off our flight prices per person. This made the price £500 for return flights and this was also flying back from Ho Chi Minh City. It usually works out more expensive to fly back from a different airport but we were happy to do this as we wanted to explore as much of Vietnam that we could squeeze into our two and a half weeks.
The flights were booked directly on the Emirates website and found this to be our best option. We always tend to book everything separately so it was no different for this big trip. We also knew that we wanted to visit several cities on this adventure so now the outbound and inbound were booked, we just had the middle to arrange.
When searching for accommodation, we used hotels.com and decided that we would actually book hotels. Something we don't always do. We stumbled across The Acoustic Hotel and decided that the location was perfect for what we wanted. The Acoustic Hotel was around a 5 minute walk from Train Street. A huge bonus was that it was also within walking distance to all of the other sites we wanted to see in Hanoi.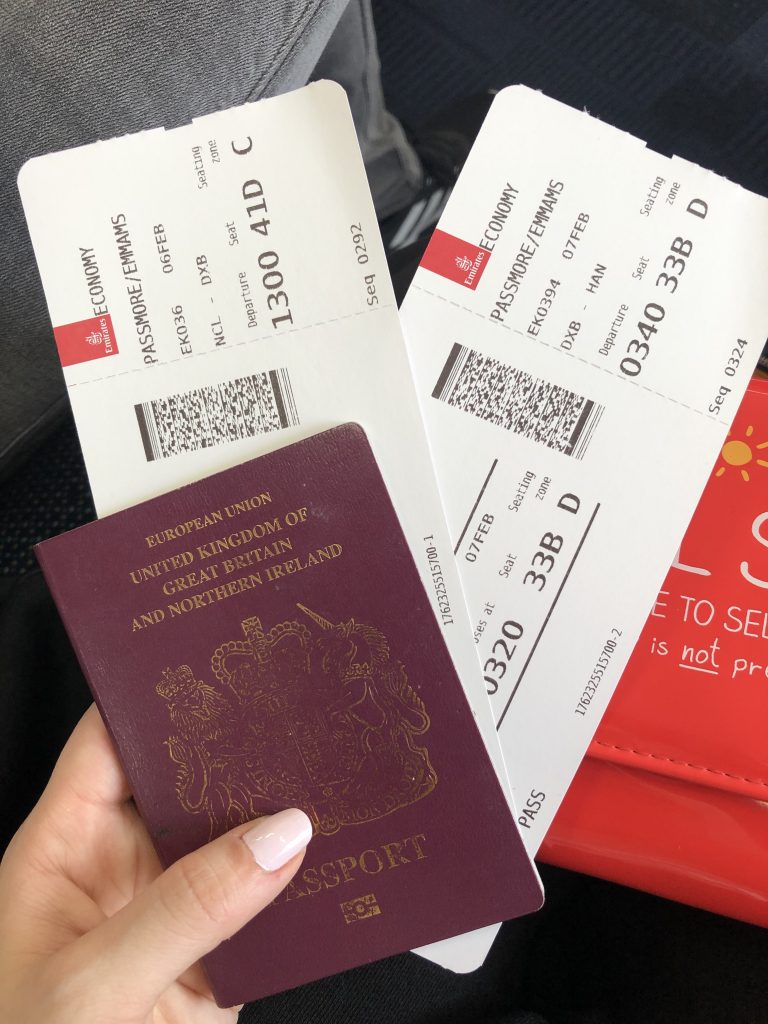 How to get from Hanoi Airport to the City Centre
We decided it would be easier for us to book a transfer directly through to the hotel. The last thing we wanted after a day of travelling was to source our own transport. This worked out perfectly and our taxi driver was waiting outside of departures when we had collected our bags. At around £10, it was a bargain.
Where to stay in Hanoi?
The Acoustic Hotel
The Acoustic Hotel was amazing. When we first arrived, we were met by the hotel staff coming out to the taxi and taking all of our bags. Including our hand luggage. They honestly couldn't have been more helpful. We walked in and were immediately directly to a cosy corner of sofas and told to relax whilst they check on our room. They then brought us some cinnamon tea which they had made themselves and some little sweets. YOU MUST TRY THIS TEA! It was outstanding. Neither of us are tea drinkers but it was just so refreshing after so many hours flying and travelling and was just such a lovely gesture.
Once we'd filled in a few forms, we were set and took to our room. Our bags were brought up just after us. The hotels itself is so modern and stylish. Not at all what we expected from Vietnam! The room was quite small that we were in, but the bathroom was big and had plenty of space just for the two of us.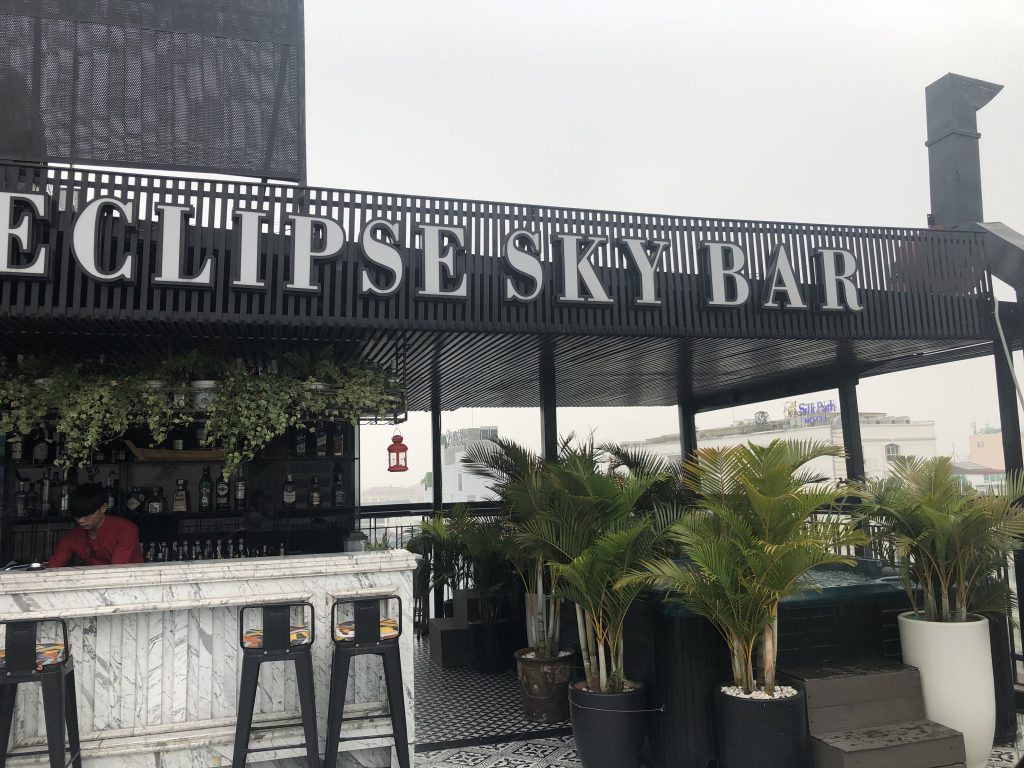 It was a little noisy on a night and early morning, but nothing too bad where we didn't sleep. This was mainly just other people being noisy making their way up to the restaurant for breakfast and returning on a night from being out.
When we arrived, we also booked ourselves in for a massage before we went anywhere as Michael thought it would be just what we needed. We promptly got changed and headed straight down to the hotel spa which is located on the basement floor.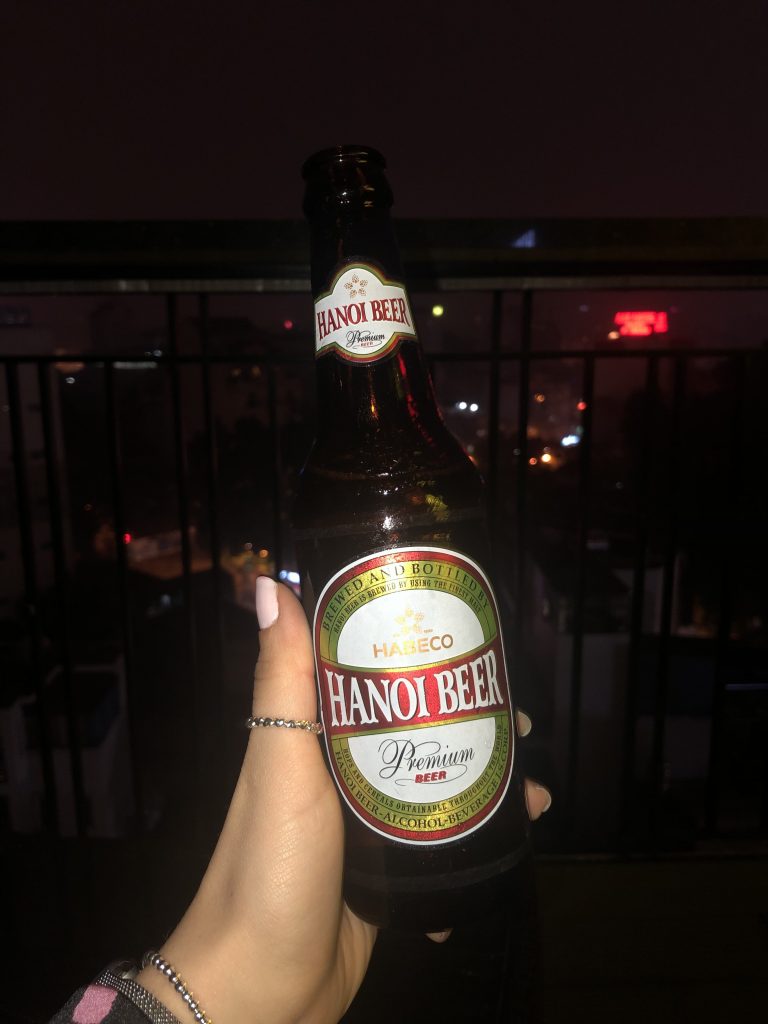 The Spa
The spa is so relaxing, especially after a long flight. The masseurs placed us in a room together where they performed the massages at the same time. It was such a great experience as we haven't really done any spa trips before. They found knots that we didn't know we'd had. After the spa, we headed up on the roof of the hotel as this is where the bar and the hot tub are located. They quickly sorted the hot tub out for us and we jumped straight in. We couldn't have planned a better arrival if we'd tried. It truly was perfect after all those hours in the air.
We also booked breakfast at the hotel to make sure we had a meal before setting off for the day. There were some good selections of food at breakfast and my personal favourite was definitely the poached egg and toast. Michael loved trying all of the different meats that they had along with the noodles. They also had a really good selection of fruit. Including our new favourite, dragon fruit! It was definitely worth getting the breakfast included overall.
Transport in Hanoi
We did not use any public transport whilst in Hanoi, we religiously used Grab. Please be aware that Uber is not available in Vietnam.
Taxis
Now we don't like to recommend that tourists don't use taxis in our guides however all we heard from travellers we met who used taxis were horror stories. One couple who we met on a day trip informed us that they were charged 1millionVND (£30) for a 5 minute journey, the cost of this in a grab would have been 15,000VND (50p.) If you choose to use taxis then please get a price from the driver beforehand.
Grab
This app was a lifesaver, especially for our holiday budget. Grab works exactly the same as Uber, it's easy to sign up and even easier to use. The cost of the journeys are mega cheap. Please remember to tip your driver as they don't make a lot from Grab. We always tipped in cash, which the drivers were extra grateful for. You can download the Grab app from Android and Apple marketplaces.
Things to do in Hanoi
Train Street
Train street is definitely one of our favourite things we visited when in Hanoi. Guards do block certain parts of Train Street, unfortunately this is due to injuries sustained by tourists.
Here is a handy tip, if you head up to 30 Train and Cafe 74 and get yourself a drink, they have signs showing the times of the trains. This allows you to plan for the passing trains, allowing you to get that perfect photo opportunity. When the guards weren't looking, we did manage to get the café owner to take a few photos of us. He was fantastic and took LOADS for us. It was a great experience to sit and watch the trains go by too. Please be very careful on Train Street, the trains get very close to you and the buildings. Guards really are needed in this area to stop tourists from getting injured.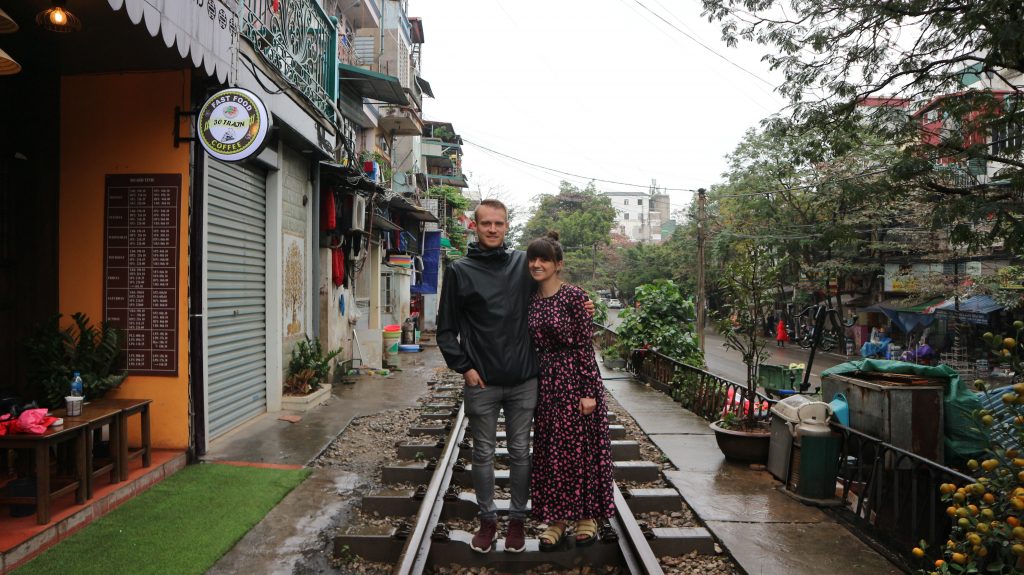 Beer Street
Well, Beer Street was an experience. We went there on our first evening as apparently, this is the place to go. However, if I'm being honest, I hated it. It was crowded, restaurant and bar staff kept hassling you to get in and SO MANY BIKES! Don't get me wrong, some people must love it as it was bustling and buzzing. However, for us, it was just too much. We much preferred train street and chilling in the quiet where it was a lot cleaner
Ho Hoan Kiem Lake and Ngoc Son temple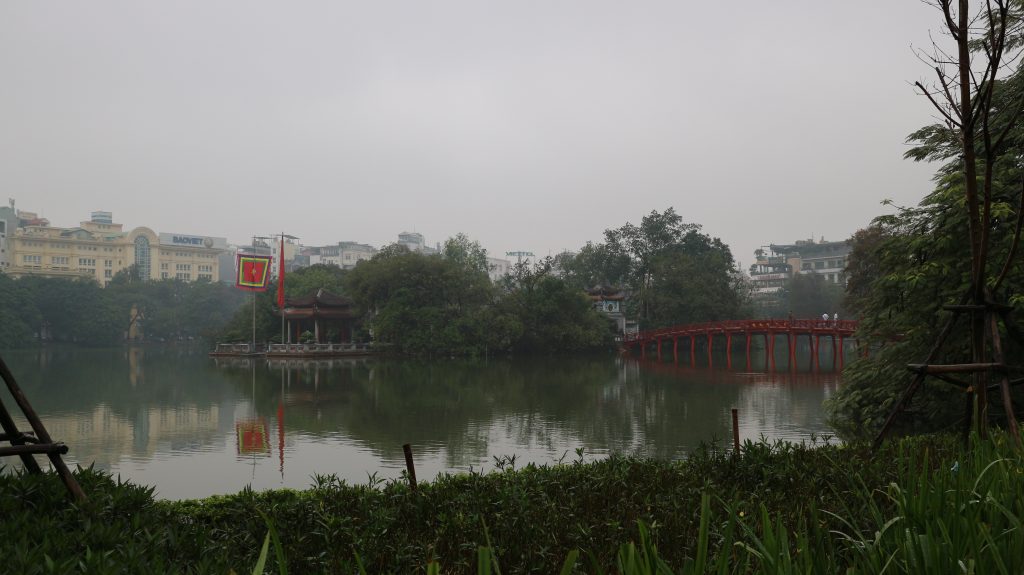 Ho Hoan Kiem Lake gracefully sits in the centre of the bustling Vietnamese capital. The 700 metre lake is a rare piece of tranquility in the centre of a sprawling urban landscape. On our first day exploring Hanoi Ho Hoan Kiem Lake was our first port of call. Whilst taking in the sights and sounds of Central Hanoi we noticed a temple, perched majestically in the middle of the lake. Ngoc Son Temple is so picturesque, their is an entry fee but it is minimal, please be advised that it is cash only. The temple is quite small and it will only take you 20 minutes to see.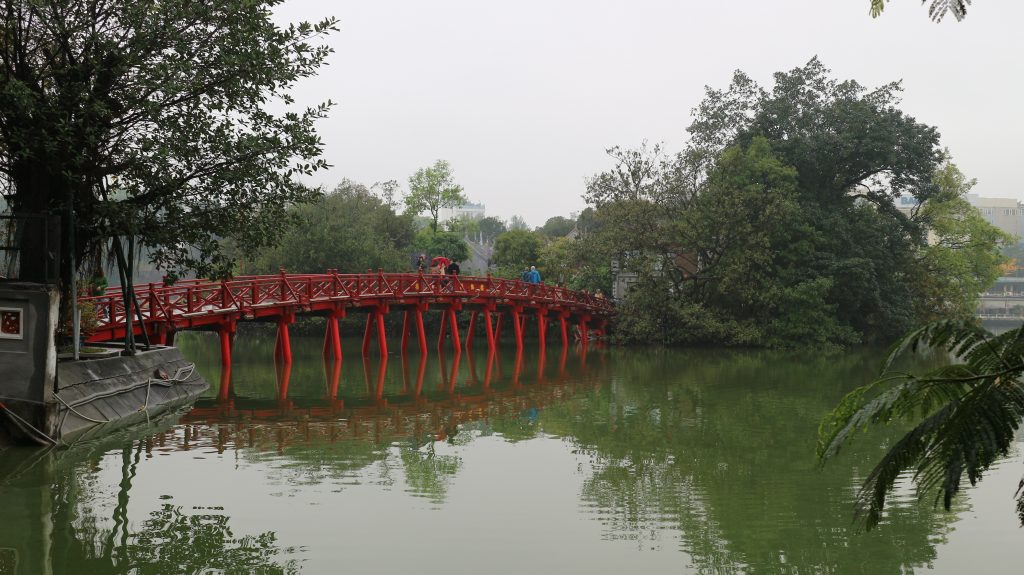 Tran Quoc Pagoda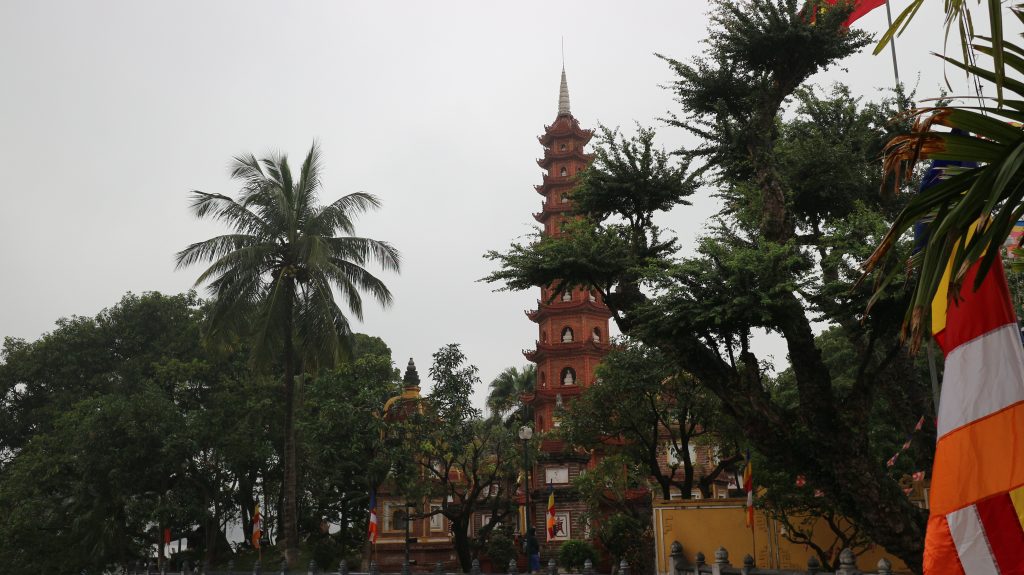 Tran Quoc Pagoda is a taxi ride from Hanoi centre. As keen walkers, we decided to tackle the one hour walk to the pagoda. The walk is quiet but we managed to take in all of the sites on the way. When we got there, it was quite busy but it was to be expected. The culture and architecture of the temples were astounding. We also ended up spending a lot of time looking at the posters of Karma and what the Buddhists believe in which was great to see. We actually walked away believing in karma more than ever which I didn't expect either. It was so peaceful here considering there were quite a lot of tourists visiting this particular temple. It was definitely worth a visit!
Phu Tay Ho
A friend who lived in Hanoi recommended we visit Phu Tay Ho, in a grab it took us around 20 minutes to get there from Central Hanoi. This place was full of locals and we got the feeling we were the only tourists there. Phu Tay Ho is a sacred place of worship and it is well worth seeing.
Thang Long Water Puppet Show
Dating back to the 11th century, the art form of The Water Puppet Show is steeped in Vietnamese culture and history. Tickets were well priced, we opted for the middle tier (both in price and location), the view was great and the show was well worth seeing. Thang Long Water Puppet theatre is located close to the Ho Hoan Kiem Lake. This is a must-do whilst you're in Vietnam.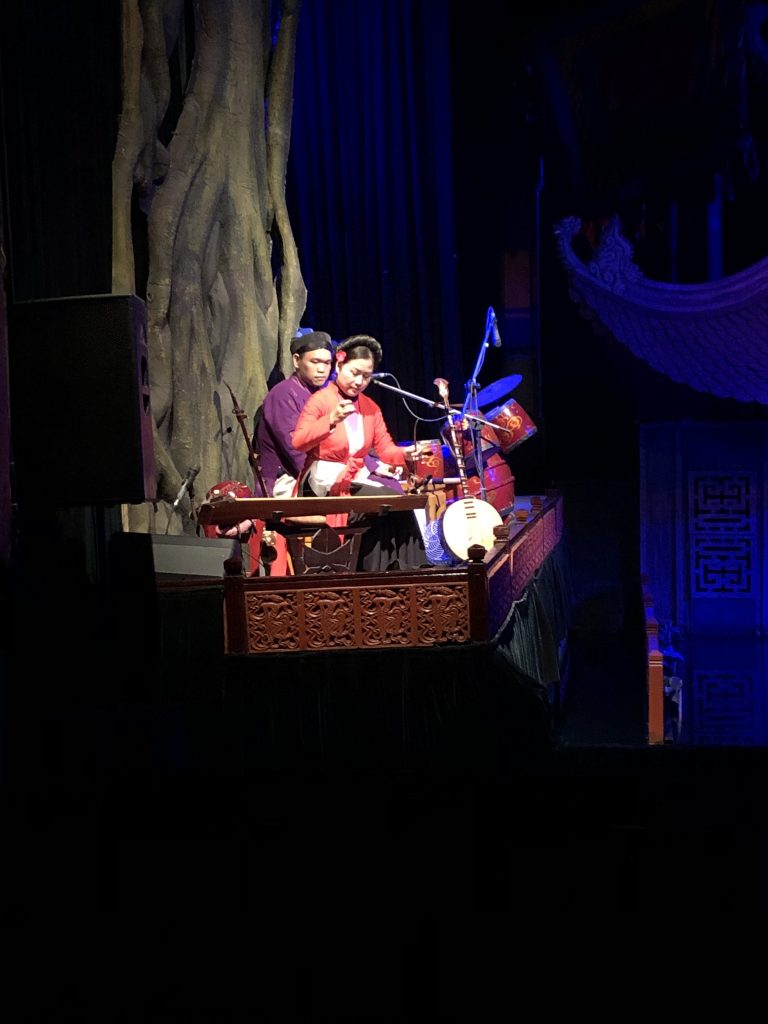 Long Bien Bridge
Long Bien Bridge is one of the most famous landmarks in Hanoi. The bridge spans an impressive 2.4 kilometres above the Red River. We did attempt to walk the entirety of the bridge but as we reached the half way point we decided it would be wise to walk back. It is an impressive structure, however it is falling into a state of disrepair and we did not feel safe whilst walking across it. For us, it would be better to take in the views of the bridge from the Serein Cafe, which we explain in the drinks section below.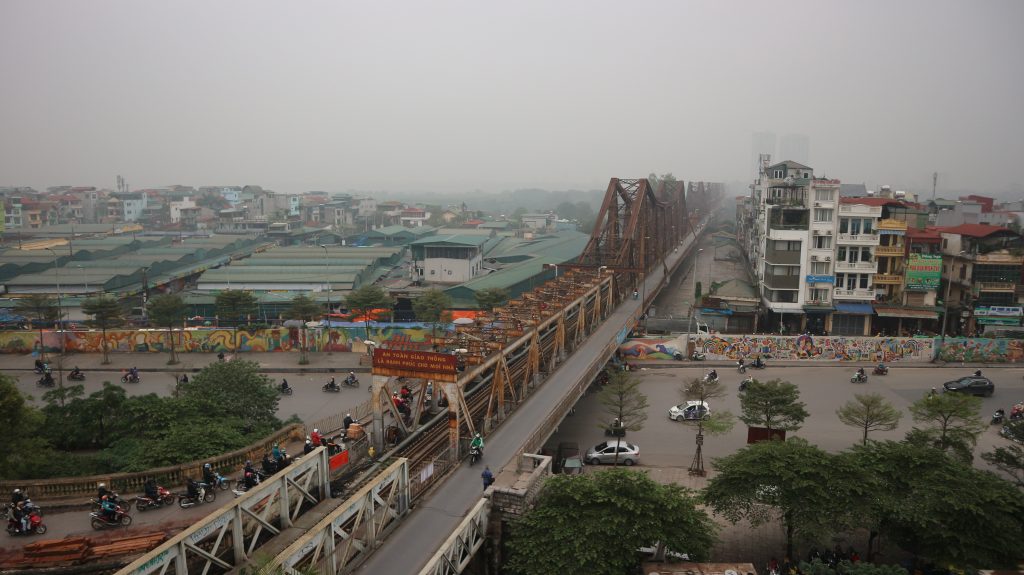 Where to eat in Hanoi?
Cloud Nine Restaurant
Cloud Nine was one of our favourite dining experiences in Vietnam. Don't get us wrong, it's very expensive for Vietnamese prices but if you are used to paying Western European prices then it's great value. The restaurant is set up on the top floor of the La Siesta Hotel. Grab your taxi to this location and then head to the top. From Cloud Nine you will get excellent panoramic views of Hanoi, this is worth paying a premium for, believe us.
Now, the important part, the food. Views – unforgettable, service – exquisite, food, thankfully, delicious. Cloud nine really does tick all of the boxes. Michael opted for the chicken pad thai whilst Emma opted for the Veggie pad thai. The starters and desserts were both brilliant. Both of the meals were excellent and coupled with the service and views really made this an extra special Hanoi experience. It was that good that we came back for a second visit!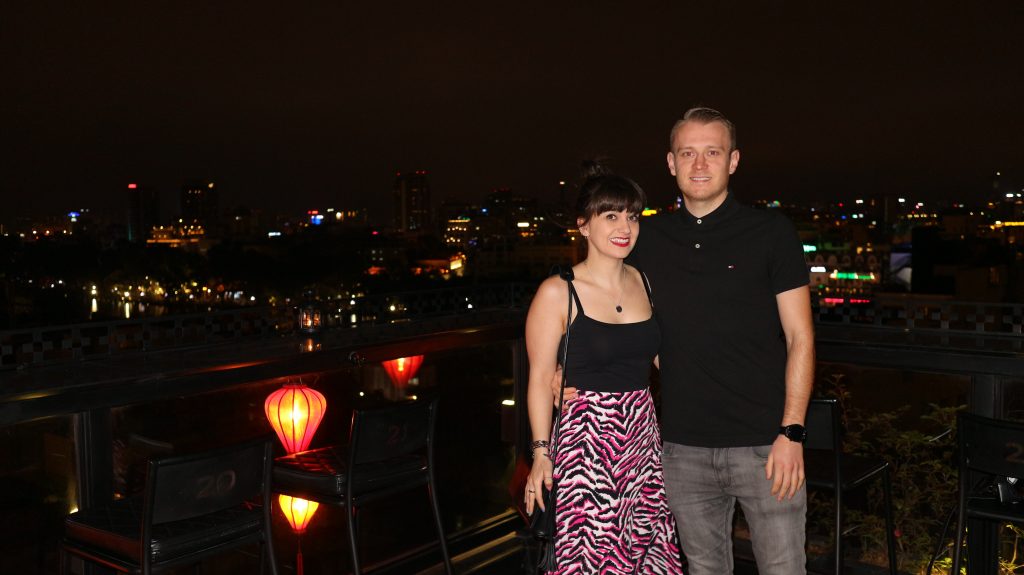 Valhalla Burger Bar
Right, you've had our suggestion for a posh place to eat, now we'll talk about street food. Street food is a specialty in Vietnam and a must whilst in Hanoi. You will find endless reviews on the best Pho in Vietnam but here at Trip Adviseher we like to offer you something different. Valhalla Burger Bar is located just off Beer Street, we'll be honest, from the outside it looks less than impressive. However, once you look past the run-down exterior and interior it's a real diamond in the rough. Our budget took quite a battering at Cloud Nine so we needed a cheap night.
Emma opted for a veggie burger, it was not her best meal in Vietnam but for the value it was great. Michael opted for a double chicken breast burger, this was delicious and surprisingly one of the best burgers he's had whilst travelling. Both of our meals were accompanied by a bottle of Tiger and fries. The total cost, £8.
Poke Hanoi
Wow, what can we say. They say New York is so good that they named it twice, on that basis this place should be called Poke Poke Hanoi.
The one thing we HATE to do on our travels is visit the same place twice, unless it's special. Poke Hanoi, is special.
Poke Hanoi offers Hawaiian style poke and smoothie bowls. This hidden gem is literally hidden, located a few doors up from the Mcdonald's on the corner of Pho Hang Bai.
All of the food at Poke Hanoi is fresh, we visited in for brunch and dinner over the course of two days and on both occasions the food was faultless. Vegetarian and Vegan options are offered at Poke Hanoi. If you are wanting fresh food and something a bit different the Poke Hanoi is a must.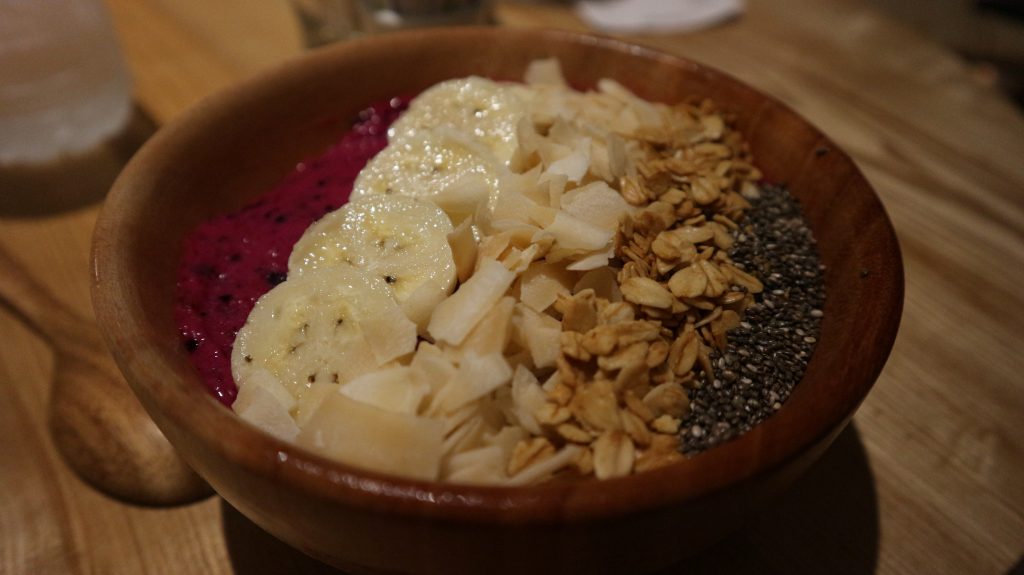 Tacos – Fresh and more 2
If you're a regular to our blog then you will know that we are huge fans of Mexican cuisine. On a visit to Tran Quoc Pagoda we were getting quite hungry, we checked out some options in the local area and Google recommended Tacos.
This area of Hanoi is really quiet, the polar opposite of the hustle and bustle of Beer Street. Tacos overlook Ho Truc Bach, a stunning lake in this suburban area. The food in this restaurant was great, it was really quiet when we were there but the service and food was top quality.
Where to drink in Hanoi?
On our first night, like all tourists, we headed down to Beer Street, this place as previously explained, overwhelmed us. Instead of writing about Beer Street, we want to tell you of the hidden gems and stunning rooftop bars that we found along the way. Bia Hanoi is the local beer and we both absolutely loved it, you could pick it up in most bars for 30VND (about 50p!).
Serein Cafe
This cafe is the ideal vantage point for your perfect photo opportunities of the Long Bien Bridge. Tip: Keep heading up the stairs until you reach the rooftop terrace, once here you will see a spiral staircase to your right, climb the staircase and find yourself at the highest point of this cafe with the best view.
Prices in the Serein Cafe were expensive, however, this was to be expected due to its location.
Central Sky Bar
Yes, another rooftop bar, if you haven't guessed already, we are huge fans of suppin' on a cocktail with stunning panoramic views. Out of all of the sky bars in Hanoi, this one was our favourite. It's quite hard to find, you need to go to the Delicacy Central Hotel in Downtown Hanoi and take the elevator up to the 12th floor. On your exit from the elevator, you will be greeted by one of the staff members who will look after you for your duration. As with all rooftop bars, the price you pay is more than on street level, however, they run a happy hour between 5 and 7pm where all drinks are buy one get one free.
Moonlight Sky Bar
Located on the top floor of the very plush La Siesta Classic hotel lies the stunning Moonlight Sky Bar. This rooftop bar spans over two floors and even has a model of the Long Bien Bridge for photo opportunities. The views from here are great but we did prefer the views from the Central Sky Bar. Moonlight Sky Bar is also more expensive than Central Sky Bar and we didn't feel the service to be as good.
Bromance and Beer
We luckily stumbled across this place on the way to Chua Tran Quoc. The decor is nothing special however it was great to see a large selection of Asian and European beers on the menu. Bromance and Beer overlooks Ho Truc Bach lake and is a great space for people watching.
Turtle Bay Brewing Company
A must for fans of craft beer. After we visited Phu Tay Ho we decided to take a wander around the local area. To be honest, it didn't seem like there was a lot there, that is until we stumbled across Turtle Bay Brewing Co. For us this was the best craft beer spot in Vietnam and the beers they brewed on site were stupendous. Turtle Bay also boasts bar games including darts and giant Jenga! We did not grab any food in here but it also looked delicious.
Day Trips from Hanoi
The day trips from Hanoi were extra special, unfortunately, due to the time we visited Hanoi we did not manage to visit the Sapa rice fields. We did however visit Ninh Binh, Mua Caves and Tam Coc in one day, you can read about this excursion, here.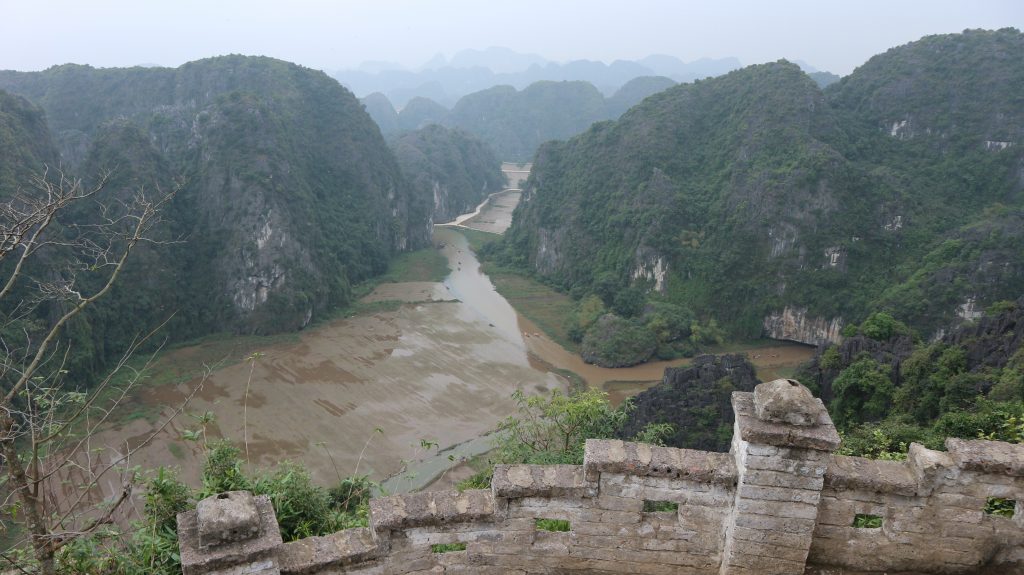 We also visited Halong Bay. This was incredible. We chose the overnight cruise for Halong Bay and it was simply incredible, you can read about our trip to Halong Bay, here.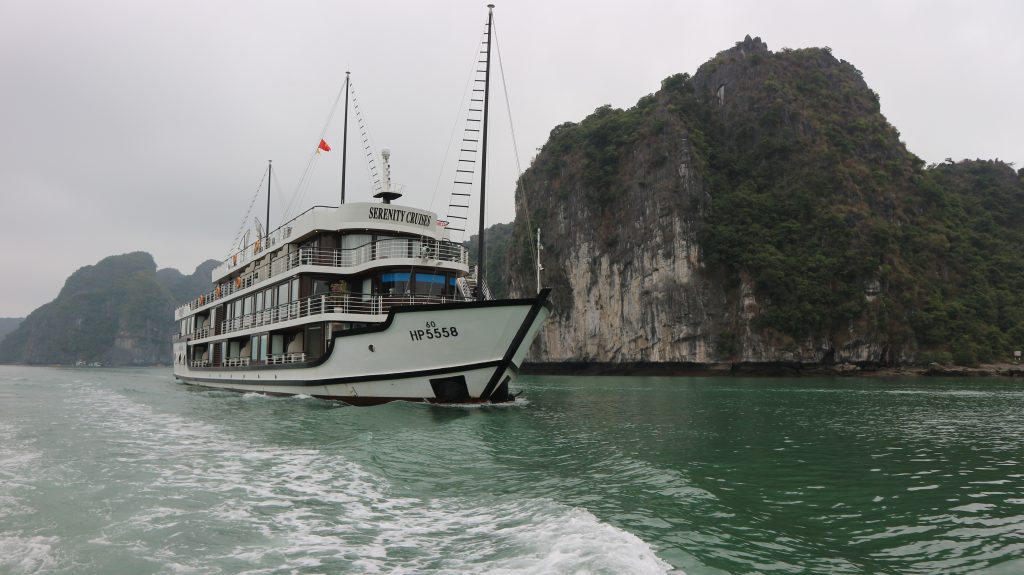 Is Hanoi worth visiting?
Hanoi is definitely worth visiting and we would recommend that you spend at least 3 days to see the city. The capital city is a great starting point to begin your Vietnam adventure. It's also a great place for many fantastic day/overnight trips. it's inexpensive, the nightlife is great and the food fantastic. Don't miss it!
Where we visited in Vietnam
Ba Na Hills – Golden Hands Bridge
Cu Chi Tunnels and Mekong Delta
Check Out Our Other Destinations