The Cu Chi Tunnels and Mekong Delta are the two most popular day trips from Ho Chi Min City. Find out why these sites are worth visiting.
Where is the Mekong Delta and Cu Chi Tunnels?
The Mekong Delta lies to the west of Ho Chi Min City and can be reached by a tour bus in two hours. Cu Chi Tunnels are north of Ho Chi Min City and it will take your tour bus around an hour to get there. Due to our tight schedule in HCMC, we decided to do the trip in one day. This was more than enough time to do both tours but we believe an overnight stay in the Mekong Delta would be fantastic.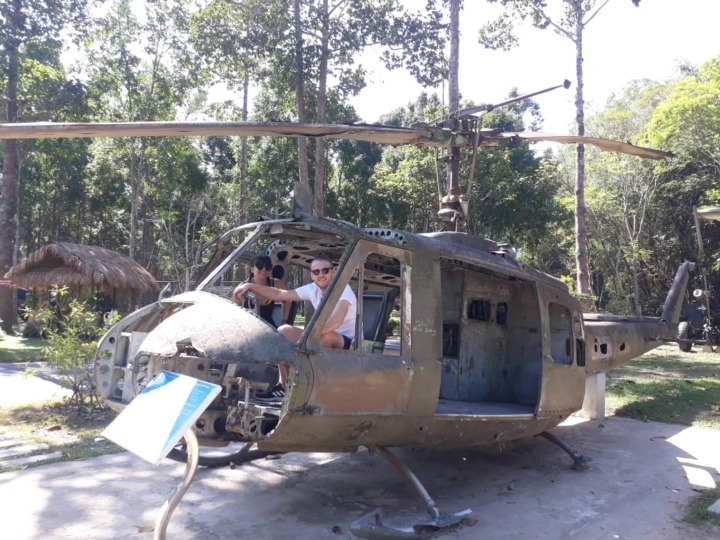 How to book Cu Chi Tunnels and Mekong Delta?
After speaking with a lovely mum and daughter (Sorry we can't remember your names!) at the Ba Na Hills, they recommended this tour which included both a visit to the Cu Chi Tunnels and the Mekong Delta. The tour was with a company called Hana Tourist and we booked directly through their website/Facebook page. The tour cost around £40 per person and included:
Pick up and drop off from our hotel
Water on board
Admission to the Cu Chi Tunnels with our guide
Lunch Trip along the Mekong Delta
Boat ride along the Mekong
Full Day trip – Cu Chi Tunnels and Mekong Delta
We got picked up from our hotel bright and early at 7am by our guide Jimmy. He was really friendly and stayed with us throughout the entire day. The Cu Chi Tunnels were to be the first destination. This was around a 2 and a half hour journey with a rest stop in between.
Neither of us were feeling very well on this journey and I must warn you it is a very bumpy journey to get there! Make sure you eat well and don't have too much to drink the day before!
Cu Chi Tunnels
A brief history of the Cu Chi Tunnels
The Cu Chi Tunnels were built by hand in the 1940s by Communist forces as they fought the French in this part of Southern Vietnam. These underground hideouts were used in the wars against the French and the Americans to house soldiers, transport messages and weapons, lay traps and launch surprise attacks.
Our visit
Once we arrived at the Cu Chi Tunnels, Jimmy showed us around and the meeting points. He then did the most amazing thing and offered to take photos of everyone on the tour. Whilst on the bus, he asked for our details and throughout the day he used WhatsApp to send the photos over to us! This made the trip and he was all about those angles and walking shots!
At the tunnels, we wandered around the trees and were pointed out the areas that the tunnels when under. We were given yucca and with salted sesame seeds to try which was also a lovely treat! We even had a chance to try and go down in one. I wasn't up for it (Emma) but Michael thought he'd give it a try. After a couple of seconds in there, he changed his mind as there were quite a few people also down there and it was very claustrophobic. Michael is also quite tall and the space was very restrictive. If you are brave enough, be prepared for how many people will also be down there with you as it is a one way in one way out system.
We did then go down in to some larger tunnels and rooms which were less claustrophobic. They really were fascinating to see. Jimmy then took us to an area which showed all of the weapons and traps they used throughout the war and did demonstrations with each of them. They are brutal and it shows how Guerilla warfare played a huge part in the Vietnam war.
There is an additional option to do some shooting at the shooting range there, however, this is at an additional charge and having read previous reviews, we didn't think this would be worth it.
Lunch
After the tunnels, we headed for lunch at another pit stop My Tho and honestly, it was more of a banquet! They kept bringing more and more platefuls over of meats, fish and vegetables! Unfortunately, we still weren't feeling the best so didn't have as much as what we would normally have but it was still a lovely meal.
Are the Cu Chi Tunnels worth visiting?
Overall, it was a fascinating experience at the Cu Chi tunnels. We'd definitely recommend it to anyone staying in Ho Chi Min City.
Mekong Delta
Once we'd been to the Cu Chi Tunnels and My Tho, we hopped back on the mini bus and made our way to the Mekong Delta. Again, this journey is very bumpy so be prepared if you're feeling unwell or if you get travel sickness.
We then arrived and boarded a boat to set sail down the Mekong River. We saw fish cages, floating houses and the Four Holy Islands, – Dragon, Unicorn, Tortoise and Phoenix.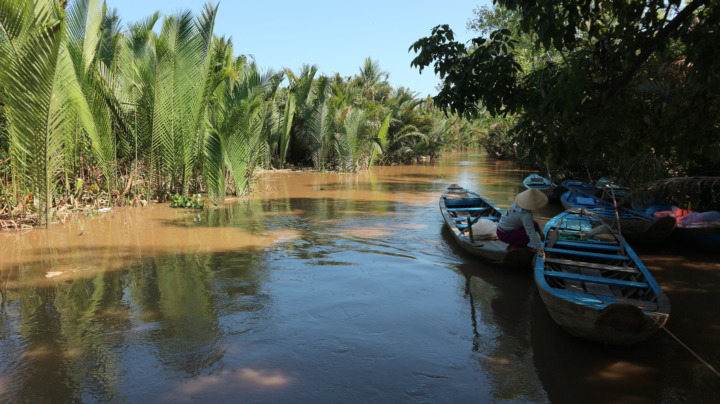 The next stop was at an islet, we visited where they made coconut candies and sampled lots of the different flavours. They were so nice, we purchased around 5 packets! It was fascinating to watch them make the candies too.
Bee Farm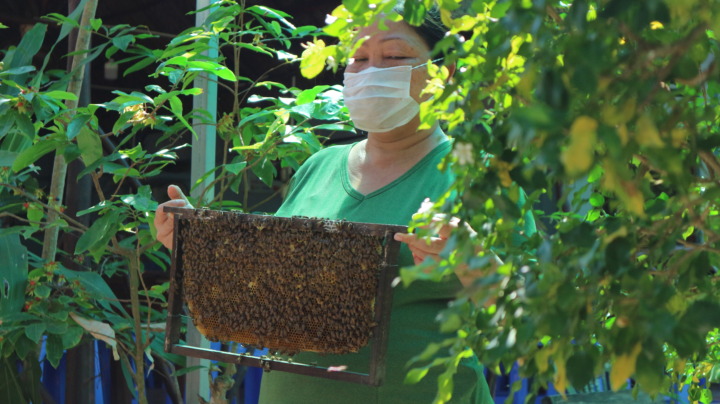 After a short while in the shop, we took a short car journey to a tropical garden where we were shown a bee farm and treat to fresh tea and locally made honey! Now I'm not going to lie, this was terrifying for me. If you're scared of bees, you're not going to like it. They are EVERYWHERE. It was a lovely experience but I was just too scared to sample any due to the bees flying so close. Michael loved it though and had my portion!
After our tea break, we headed out back to see if any of us wanted to hold a PYTHON! Yes, you heard me right! I'm not normally one to get involved but I've always wanted to hold a snake! It was super heavy and a little scary but I honestly loved every second of it!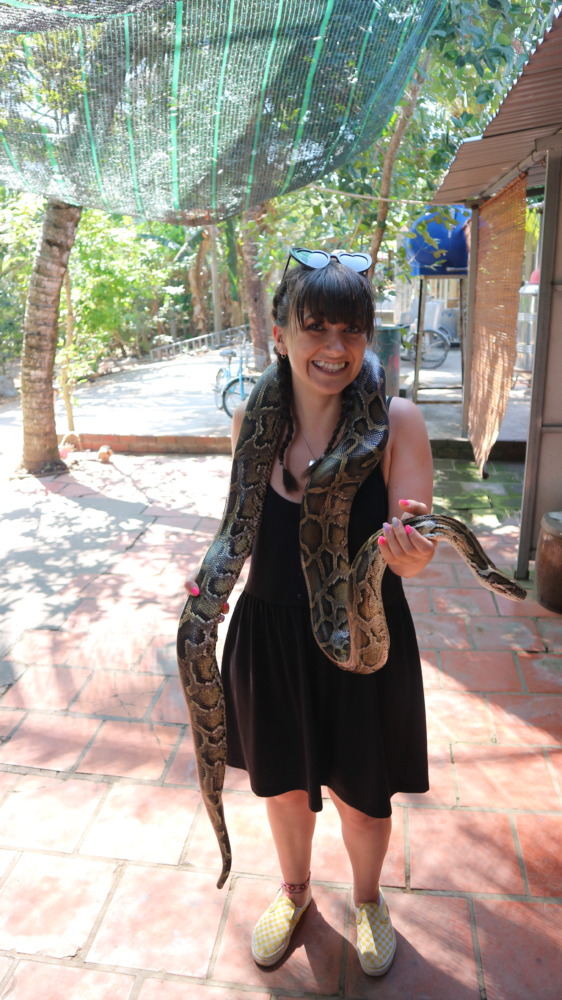 A performance by the locals
Jimmy then took us to another area where we were gifted a performance of some locals with guitars and singing. It was beautiful and in such beautiful surroundings.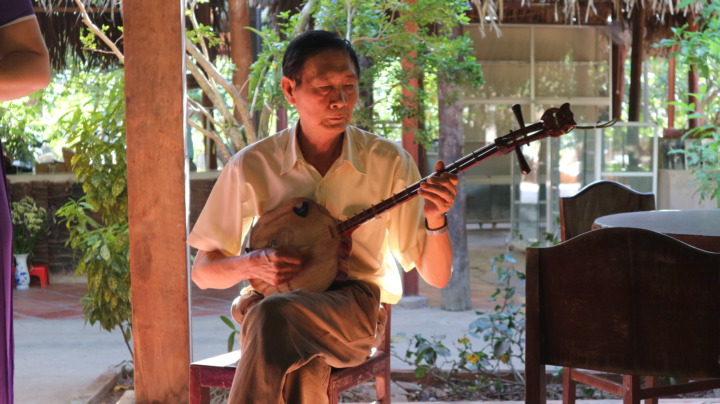 From here, we then headed to the river again and waited to get in to one of the smaller boats. Now this was an amazing experience and we loved every minute. It was so relaxing and calm. On our boat, it was myself, Michael, Jimmy and a lady who was paddling. Please be aware it may not just be your small group in this boat, we were quite lucky and managed to get our own so we were thrilled.
After around 30 minutes of travelling down the river in our little boat, we headed back to the bigger boat to take us back to the bus.
On the bigger boat, we were given a coconut eat too which was amazing as it was such a hot day!
Is the Mekong Delta worth visiting?
Overall, we definitely recommend this full-day tour and couldn't recommend out guide Jimmy enough! If you're lucky to get him on your tour, you'll definitely not walk away disappointed!
Where we visited in Vietnam
Ba Na Hills – Golden Hands Bridge
Cu Chi Tunnels and Mekong Delta
Check Out Our Other Destinations