Rome needs no introduction, 9 million tourists flock to the Italian capital every year. Rome is steeped in Roman, Italian and Religious culture. Michael has visited Rome on three occasions and we have visited as a couple once. In our guide to Rome we will tell you of the best sites to see, a very decently priced central hotel, the best cheap bars and quality restaurants which won't empty your wallet.
We travelled to Rome from Seville and got the train from the airport. The train journey itself wasn't too bad, however, it was so late! We had to wait around 30 minutes past the time it showed and there were no real notices about the delays other than the time increasing constantly. We did get on it in the end though and made our way to the hotel. Please bear this in mind when you are travelling by trains that delays can occur, especially if you're travelling in the evening time.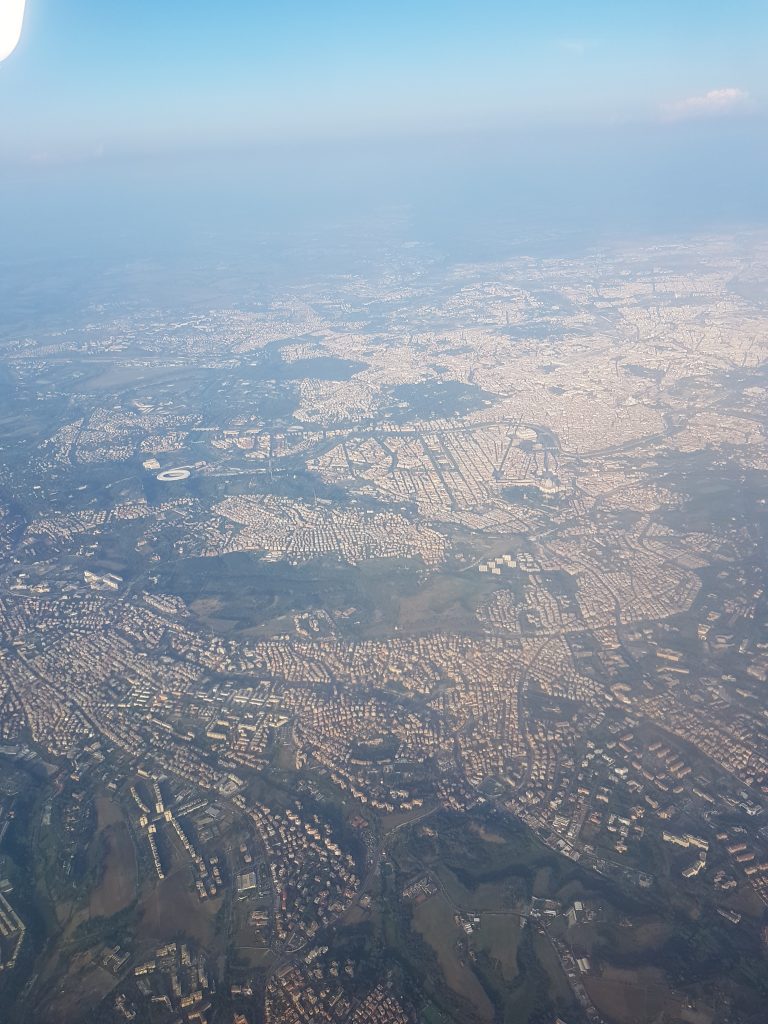 Where To Stay in Rome
We stayed in the Hotel Nuova Monaco.
When we were looking to book, we saw that the costs were so high in a lot of the hotels but this one was so reasonable. It was around a 20 minute walk from the train station which wasn't too bad considering we had large backpacks with us.
Taxis/ubers in Rome are super expensive and for this short drive it was showing at around 70 Euros! Not for us at all for that price!
The hotel itself is perfect for budget travellers. We were only staying for 2 nights and we needed to squeeze everything in to a day and a half , therefore we would not be spending much time in there. The gentleman who greets you does not speak a lot of English but he is really friendly. The great thing about this hotel was that they didn't let you take the key out with you. This is perfect in Rome where pickpocketing is rife.
Overall, we would definitely stay in this hotel again. It was super quiet and is ideal for a brief stay in Rome.
Rome's Must See Sites
Trevi Fountain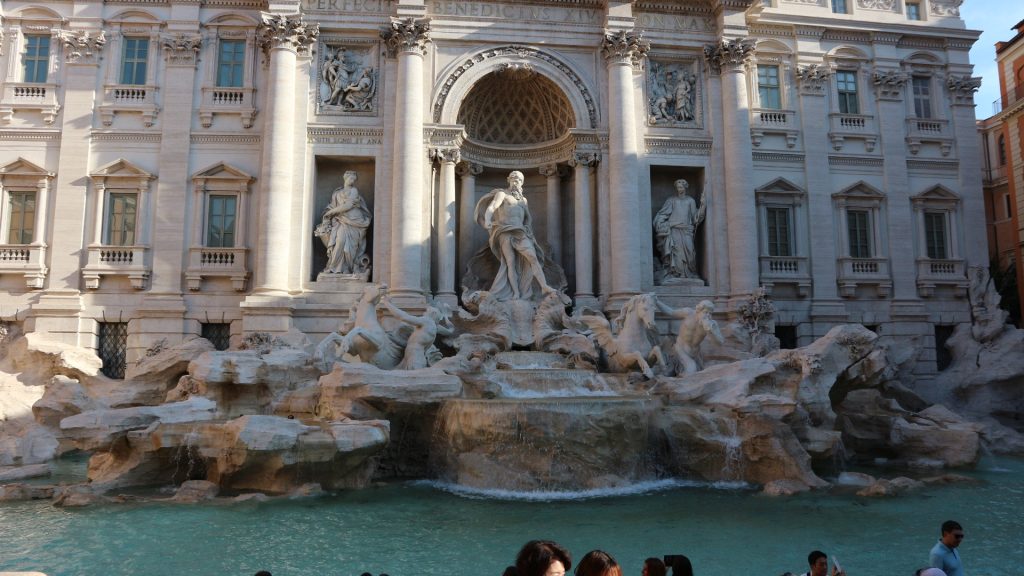 The Trevi Fountain would be our first stop, we got there at around 8 am, before the crowds. We knew from reading reviews online that it gets really busy so planned to get there as early as possible. At this time there are still a few people around but plenty of space to get the photo that you want. You also get more time to sit and enjoy watching the fountain itself. We 100% recommend going as early as positive to get those insta shots and enjoy it with limited people around.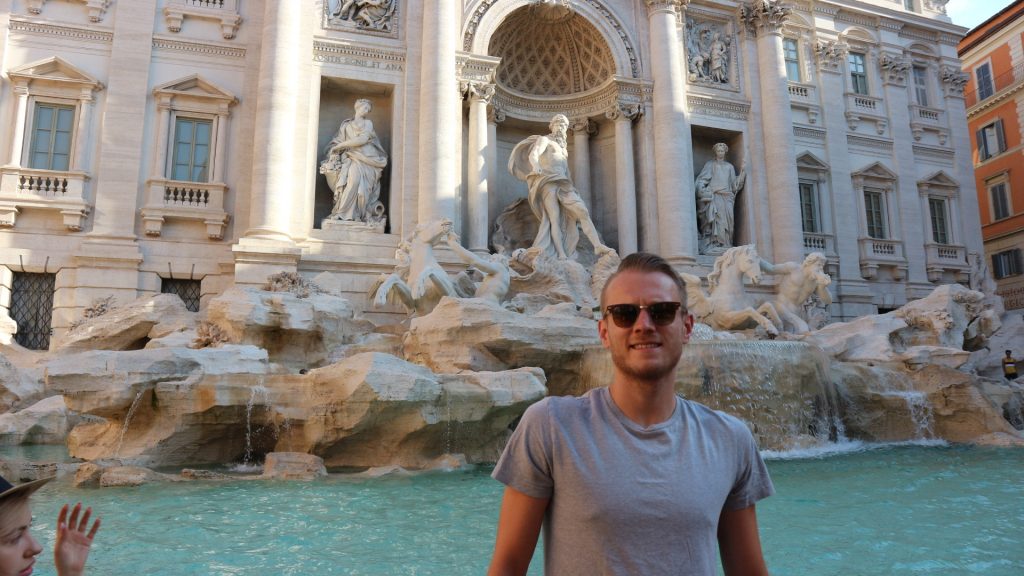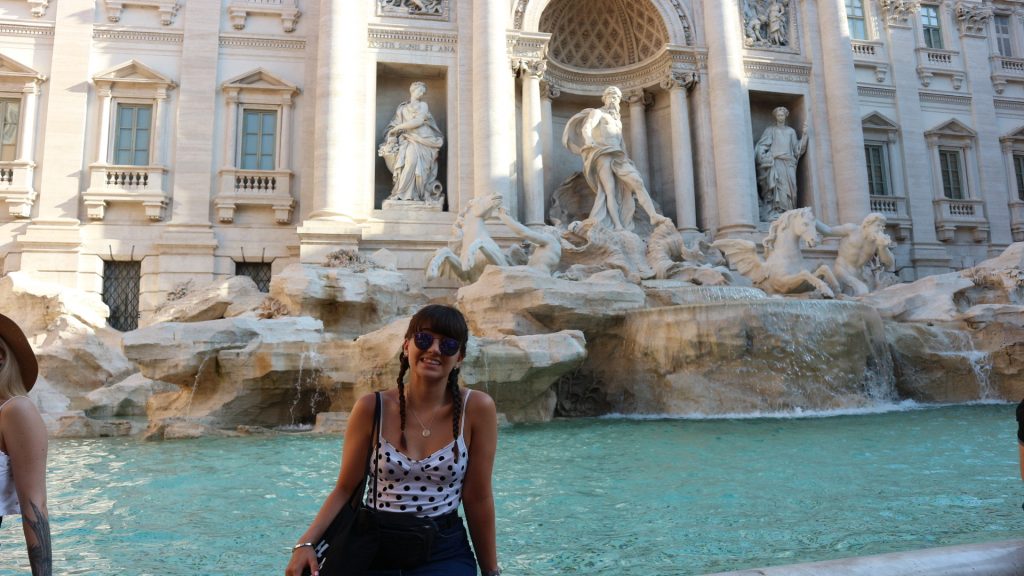 Tips on Visiting the Vatican City
Straight after the Trevi Fountain, we walked straight to Vatican City. It was a really hot day and the walk was beautiful through the amazing streets of Rome.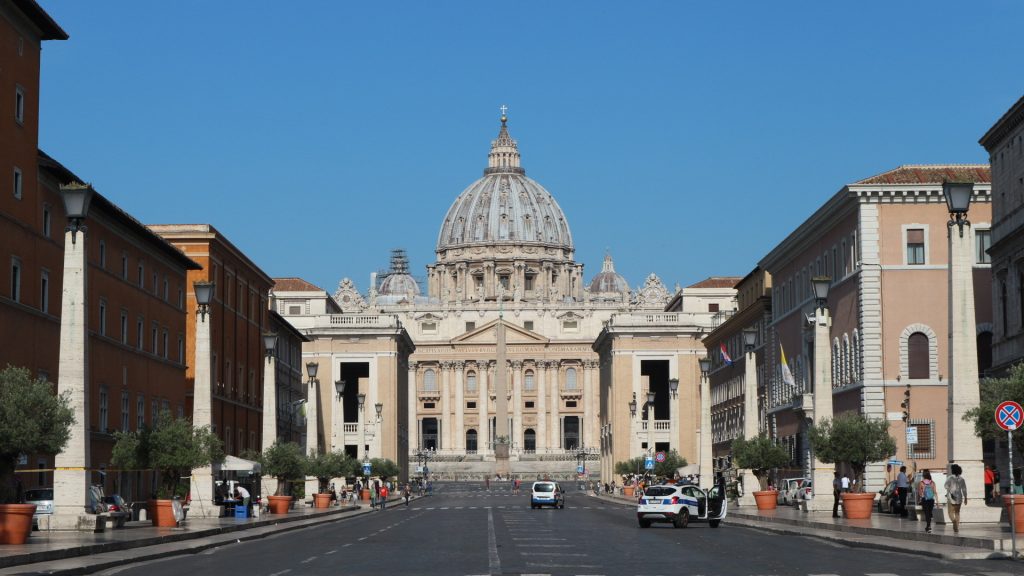 We also found out that on the last Sunday of the month, it was free to go to the museum inside the Vatican City. This was perfect as miraculously, the day that we were in Rome was the last Sunday of the month. We arrived quite early in the morning, just after 9am and the queues weren't too bad. We managed to get straight in and start exploring.
Covering Up
Tip for visiting here, make sure you wear clothing that covers your knees and shoulders. As it was such a hot day, Emma wore a skirt and vest top but carried some culottes and a normal t-shirt in her bag to quickly put on whilst we were in the queue. This worked out perfect. So many people were turned away for not being covered and were forced to pay the extortionate prices from the street vendors for a scarf to cover up.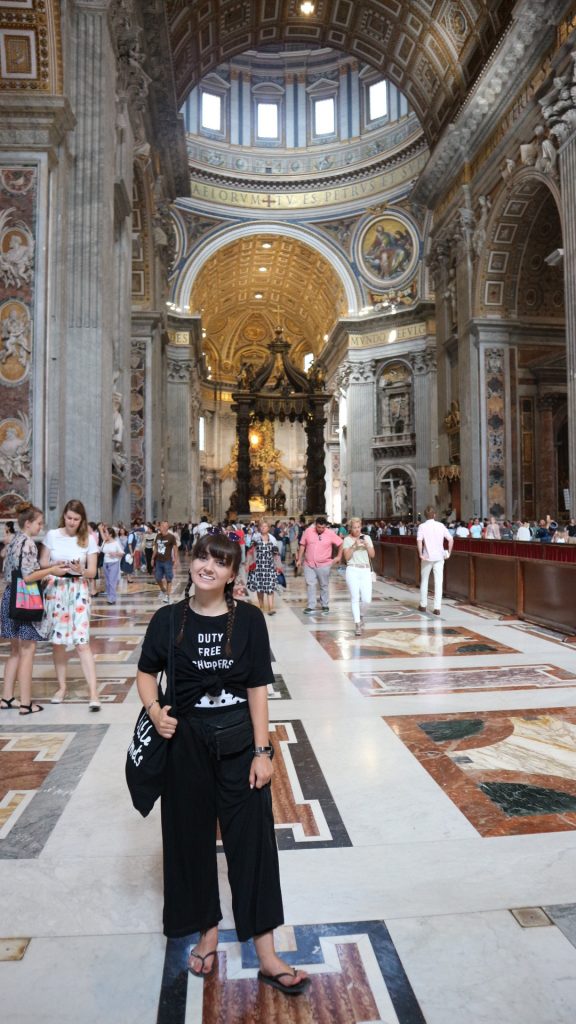 Another tip would be that if it is hot when you visit, whatever you wear, make sure it's lightweight and breathable. Climbing to the top of the tower gets incredibly hot and humid so heavy materials won't help you out with the climb.
Inside The Vatican
We had a wander around and made the climb to the top of the tower. The walk itself seems to take forever and the corridors get very small in some places which isn't great if your claustrophobic so be careful. You may need to step in to the sides to let people past and up the stairs too so just be kind and courteous. There are a total of 551 steps but it honestly feels like so much longer. You can opt to get an elevator part way, however, this will set you back 7 Euros and you would still need to walk 320 steps. We don't think it is worth it, therefore we recommend that you walk the steps, to be honest it isn't a bad or difficult climb.
The view from the top is stunning and you can see for miles! After the heat and the tight corridors, it was definitely worthwhile and we would 100% recommend visiting.
Colosseum
The Colosseum is Rome's most monumental ancient sites and also Italy's top tourist attraction. It's also know as the Flavian Amphitheatre where games involving gladiators fighting wild animals or even each other took place. The Colosseum was inaugurated in AD 80 and was created to seat 50,000!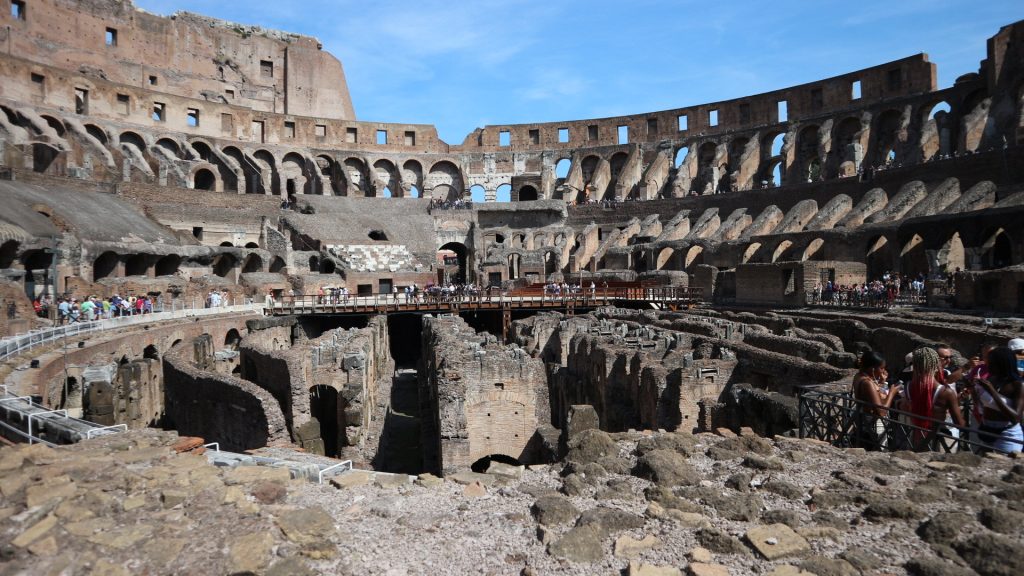 The Roman amphitheatre was one of the main things that we wanted to visit when we were in Rome and we made sure we prebooked our tickets before we went to make sure we would go. Entry costs around 16 Euros per person for entry for 24 hours into the Colosseum which we didn't think was a bad price at all considering it was top of our list of attractions that we wanted to see.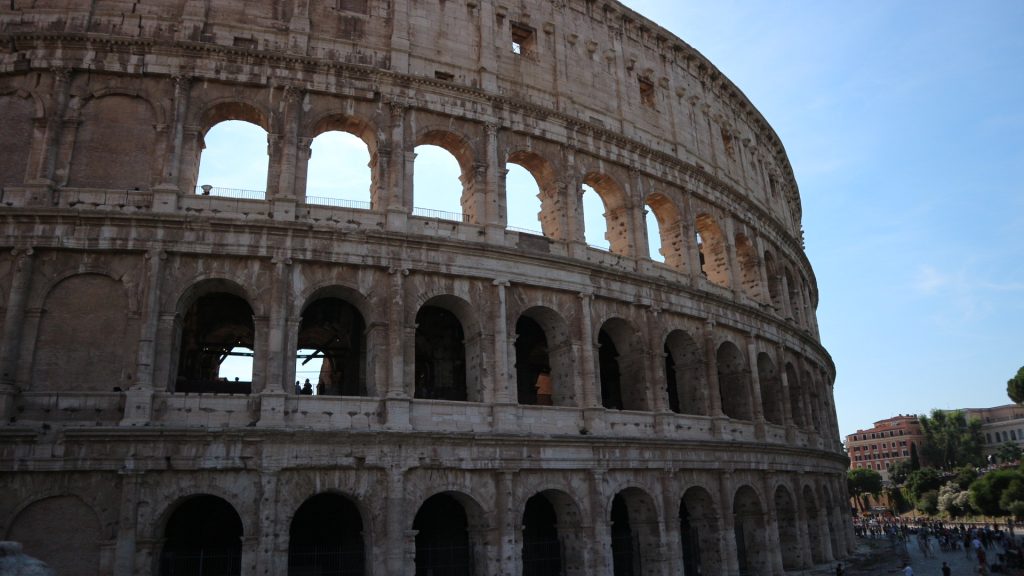 It is incredible to see how much of the original structure remains and you will be in awe of this as you wander around its pillars.
It looks even better in person than it does in the photos too and we would highly recommend anyone to visit.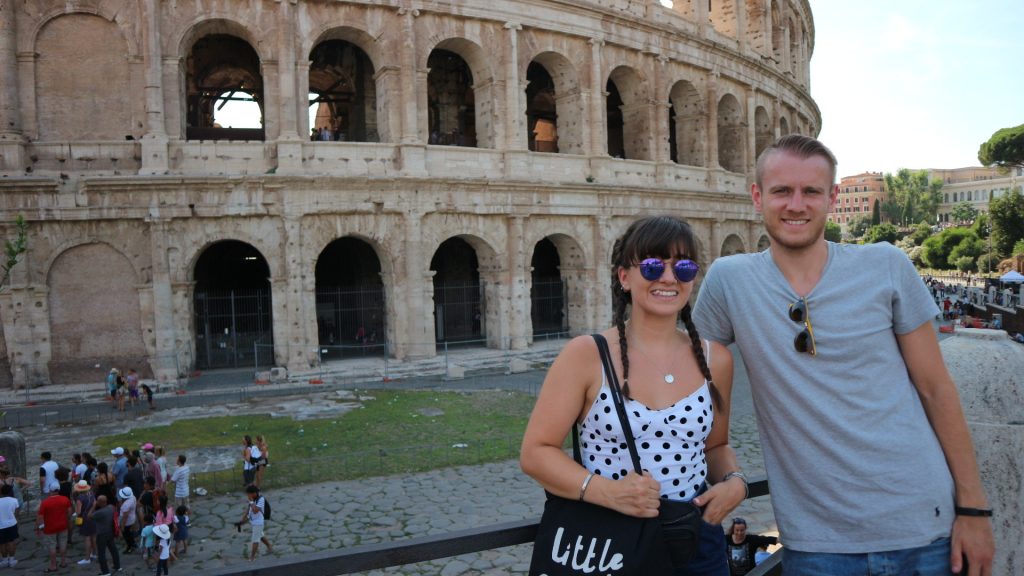 Spanish Steps
The Spanish Steps are a set of steps which climb a steep close between Piazza di Spagna, which is located at the base, and Piazza Trinita Dei Monti. At the top of the steps is also the Trinita Dei Monti church. At the base of the steps there is also a beautiful fountain – Fontana della Barcaccia.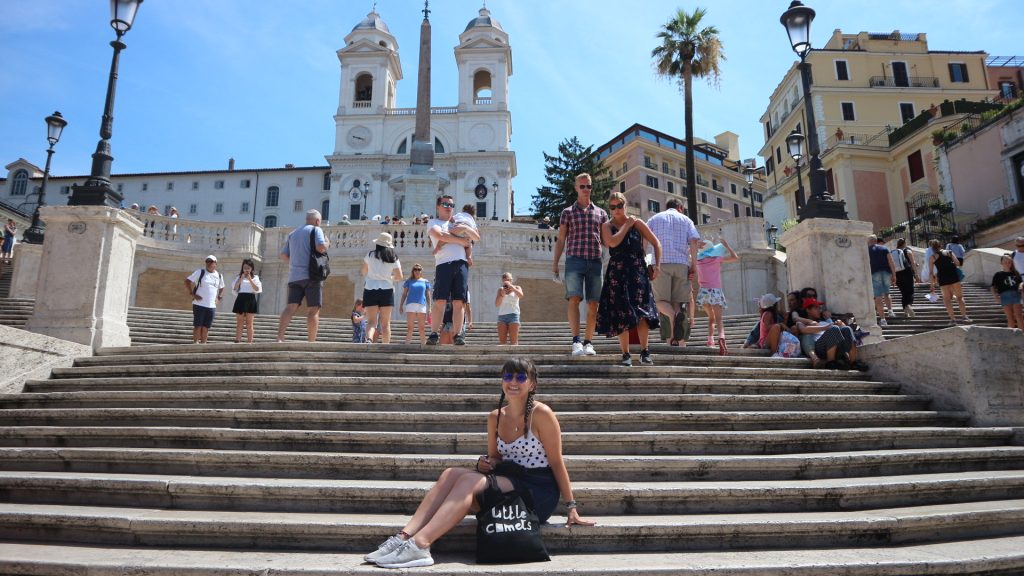 The area is a bustling and vibrant place surrounded by shops therefore it gets exceptionally busy. We quickly managed to get a couple of snaps when there were a few gaps amongst the other tourists.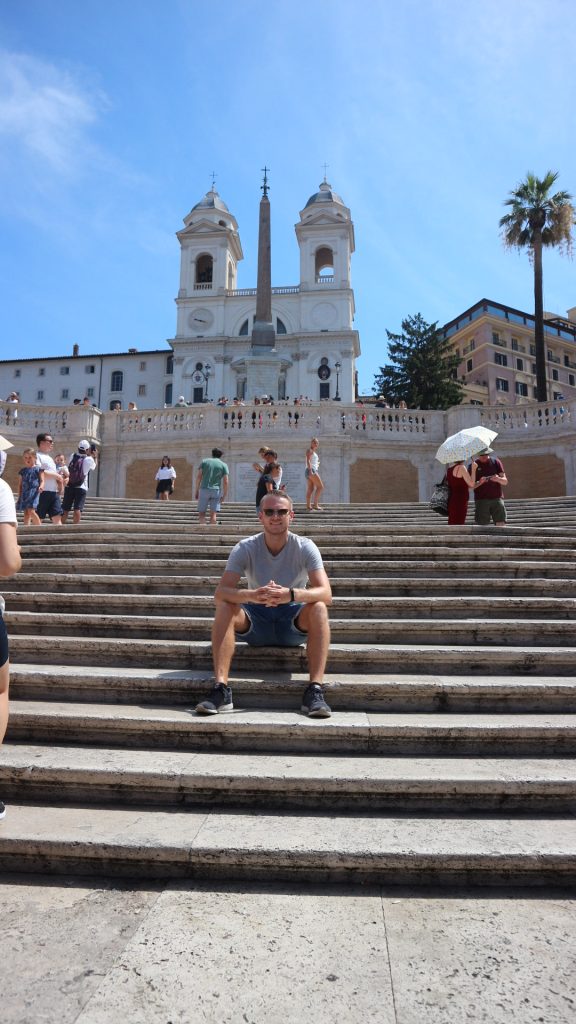 Overall, it really is a beautiful area to get some nice photos but it does get extremely busy. We would advise to go either early morning or late in the evening as peak times are packed with crowds.
Pantheon
The Pantheon is one of the architectural masterpieces in the Italian Capital. It is also the best preserved building from Ancient Rome from AD 125. It's located in the heart of the Ancient City of Rome and leads off into narrow lanes and streets. The Piazza Della Rotonda is also a lively square filled with cafes, bars and restaurants. This is located just outside of the Pantheon. It is an extremely busy area, like the majority of the main attractions in Rome.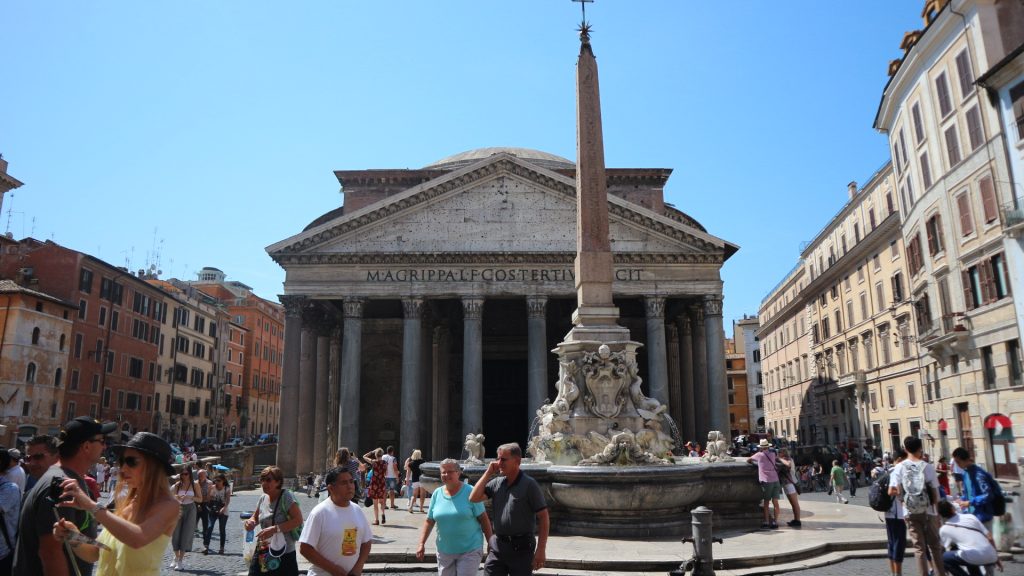 We visited quite early and got inside without queuing for too long. As soon as we walked in, we noticed the incredible ceiling and couldn't stop looking up!
Inside, visitors must be silent and respectful. You can take photos however the flash must be off.
It's opening hours are:
Monday-Saturday: 9am- 7.15pm
Sunday: 9am – 5.45pm
Public holidays: 9am – 12.45pm
The Pantheon is closed on some national holidays and if a mass is taking place.
The Best Viewpoints in Rome
Here we will tell you the best viewpoints in Rome. All of the viewpoints are absolutely free.
Terrezza Del Pincio
Wow, Terrezza Del Pincio is simply stunning and the best viewpoint in Rome for sunset. The panoramic views are unbeatable and the Vatican sits at the centre point. Anyway, we will let the video below do the talking, this is a place you must visit when in Rome.
We have a great story from Terrezza Del Pincio. By chance we bumped into two of Michael's friends from his time at University. Rob and Sarah met at University and they were in Michael's classes. By some weird and wonderful chance we crossed paths on a very quiet street in Rome. We asked each other where they were going and by chance they were also heading to Terrezza Del Pincio.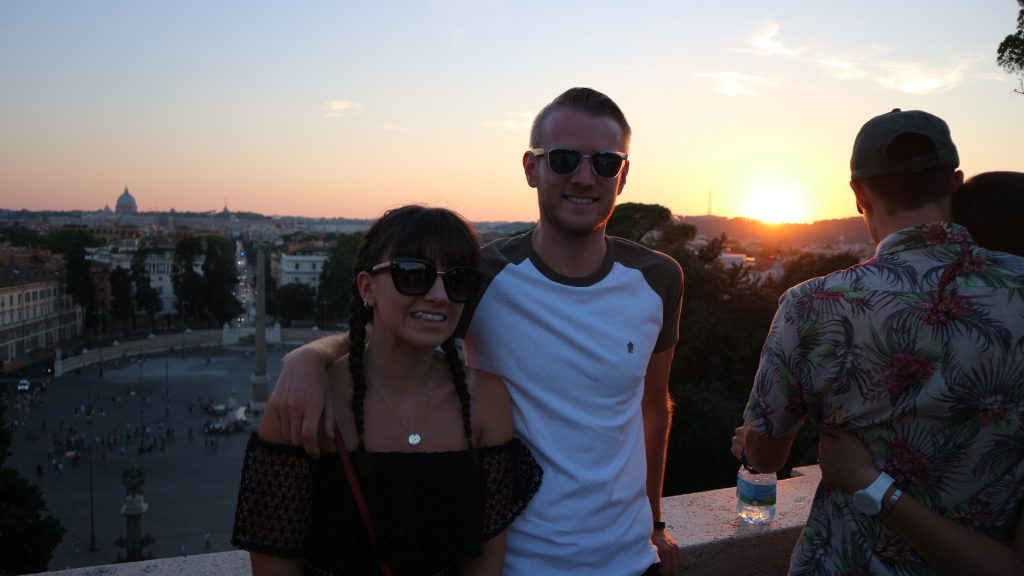 The four of us made the ascent to the stunning viewpoint but Michael sensed Rob was a bit nervous and for some reason he really did not want to miss the sunset. We got up there and as the video above shows, it was perfect. We parted our ways to enjoy the sunset and when we sat down for our evening meal we found out that Rob had proposed to Sarah! No wonder he was nervous!
Punto Panoramico
Punto Panoramico offers an amazing view over Rome and the Vatican. The walk to get here is quite strenuous but it is worth it for the views when you get to the top. You will be able to see all of Rome's sites from here.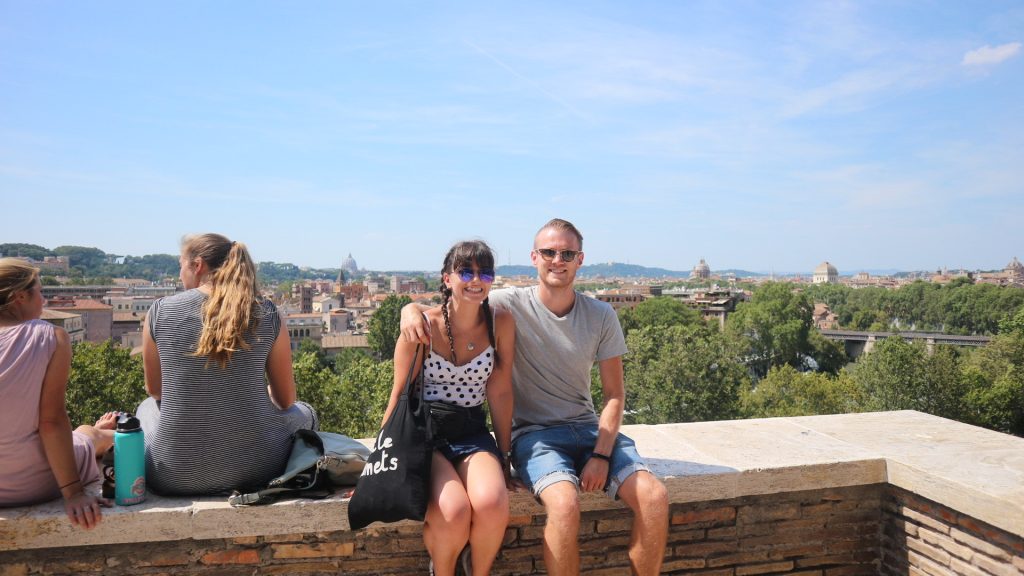 Trastevere – A Local place to eat and drink
On one of the trips with his friends Michael was staying outside Rome centre in Trastevere. On their walks to and from the centre they stumbled across an area that had reasonably priced restaurant, vibrant bars and friendly locals. It almost feels like a small Italian Town and not part of the nations capital.
One of the few negatives of Rome is how expensive the food and drink can be. However, Trastevere offers affordable and authentic food, drinks and overall experience at a very reasonable price. The area is vibrant and is full of locals, always a good sign.
Cheap Bars In Rome
Bar San Calisto
We found that the cheapest bars in the whole of Rome were in Trastevere. The cheapest bar in Rome is Bar San Calisto. A full bottle of Red or White wine will set you back just €7 whilst a bottle of Peroni is just €1.50. Elsewhere in Rome you would expect to pay at least €20 for a bottle of wine and around €8 for a beer. The atmosphere here is super lively and it attracts a very young crowd of both tourists and natives.
Cave Canem Trattoria
On all of Michael's three trips to Rome he has frequented this restaurant. The reason? You can pick up 1/2L of house wine for just €6, yes, you read that correctly, €6. Located on one of the main squares in Trastevere this restaurant offers affordable food and drink. Michael has never ate in this restaurant but when he was travelling with friends some of the party ordered pizzas and they said they were delicious.
We recommend that you sit outside of the restaurant, on their street terrace, it's a great place to sit and watch the world go by. You will be hard pushed to find a better place for quality and value for money.
You can view their menu and keep up to date over on their Facebook page, warning, it may make you hungry!
Best Restaurants in Rome
Pasta E Vino Osteria
Pasta E Vino Osteria is located in the Trastevere area of Rome. The setting, service and food is all excellent. The pasta is probably the nicest that you will have anywhere in the world, it is genuinely fresh and handmade. We stopped here for Lunch and a much needed break from our busy schedule. Michael went for the Carbonara (€9) which is up there with the best he has had and Emma went for the Pomodoro €8.50. Both dishes were absolutely delicious and the value for money at Pasta E Vino is fantastic.
In the centre of Rome you would pay at least double for Pasta and it would not even be half as good. We can not recommend Pasta E Vino Osteria enough to you. You can view their menu, here.
Football in Rome
Football is life for many Romans and the city is shared by two of Italy's biggest clubs, Lazio and Roma. Both clubs currently share the gigantic 72,698 capacity Stadio Olimpco, which is the second largest stadium in Italy.
Michael visited with two friends on his first flying visit to Rome, they were only there for one night to take in the football. They don't do anything by half's and we were in Rome for Roma v Real Madrid. A standout game featuring one of Ronaldo's most famous Champions League goals. He'll take you through his experiences.
How To Get Tickets for Roma
Tickets are usually easy to purchase for Roma. They average around 38,000 per game, somewhat 34,000 short of capacity. If it's not a European game against a giant club or the Rome Derby then you will be okay for tickets. Simply head to their ticketing site on their website. It's all in English and easy to follow. You will have to take your passport to the game for ID purposes, this is Italian law.
As Roma were playing Real Madrid tickets were hard to purchase, we managed 3 tickets in the Curva Sud, due to the Roma Ultras boycotting the game. The atmosphere was incredible but we did feel on edge whilst in there.
Are tourists welcome at Roma/Lazio?
I'll give you my honest opinion, it's a very hostile atmosphere, one of the most hostile that I have visited. The police presence all around the stadium was at a level I have never seen at a football match before. This may be because it was such a high profile fixture against the biggest team in the world. I would not recommend going to see Roma/Lazio if you are not a frequent visitor to football.
Is Rome Worth Visiting?
Overall, Rome was everything we expected and more. We expected busy streets filled with tourists and beautiful buildings and we got just that. The architecture is incredible in all of Italy, however Rome really did blow us away with the likes of the Colosseum and the Pantheon, it really is a special place.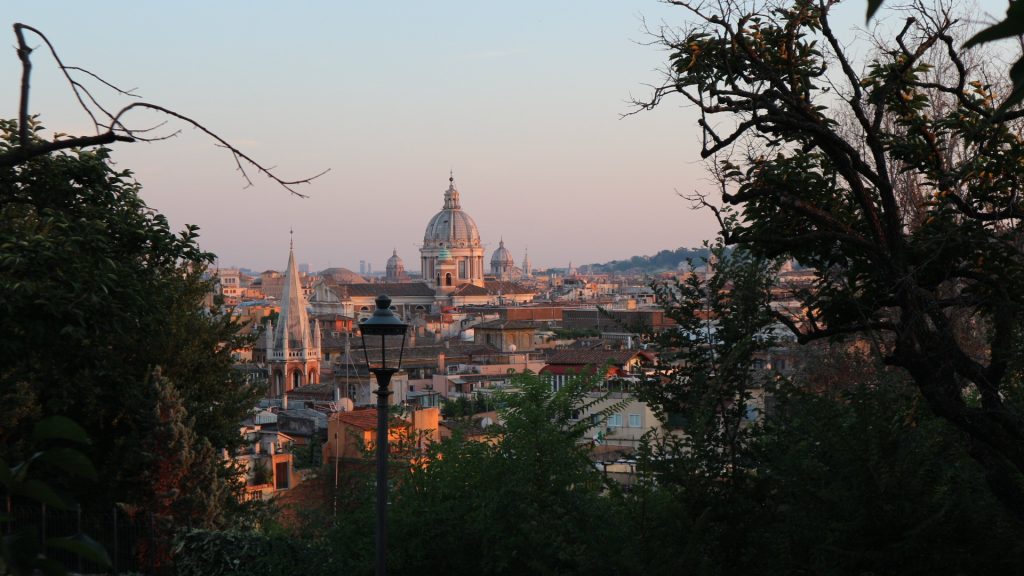 The food was also a highlight, I mean, come on, you can't go wrong with Italian food! It always tastes amazing. We'd definitely recommend going to Rome but be prepare yourself for a lot of walking and make sure you pack comfy shoes! As we were only there for 36 hours, we had to squeeze everything in to this time and ended up walking 17 miles in one day. We recommend 3-4 days would be plenty of time to explore the beautiful city of Rome. One day we hope to return and take it at a slower pace.
Check Out Our Other Trips