So, Rhodes. Not somewhere that we expected to be going. This was a very last-minute trip and was booked around 3 weeks before we were due to fly. It was also our first package holiday since 2014, so definitely a completely different experience for us in a long time.
The Booking Process
We booked the package holiday through TUI and we booked to fly from Newcastle as this is our closest local airport. The holiday cost was £470 per person plus an additional £20 per person for testing. (This was a discounted price through TUI which we felt was an excellent price). The hotel was also all inclusive.
The flights were unfortunately night flights. Flying out at 9pm and arriving at 4am, Greece time.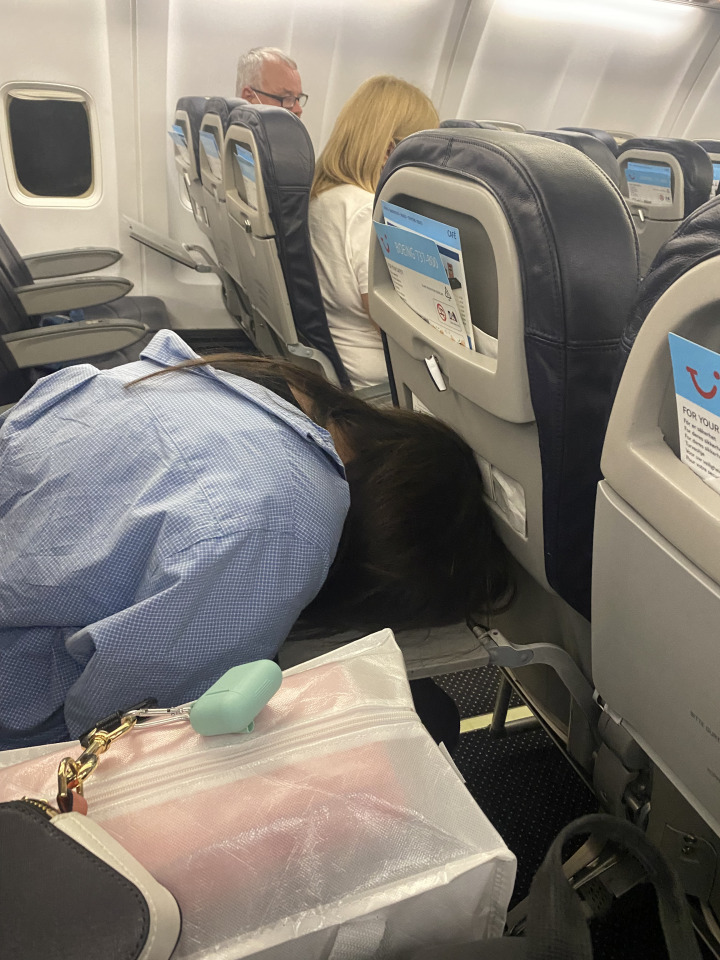 The hotel we booked was for the Atlantica Princess Hotel which was 4 stars.
The hotel itself looked beautiful when we arrived, although bleary eyed, and we couldn't wait to explore it the next morning.
They provided us with a Family room with a sea view on the first floor which we were pleased about as we didn't want to go in the lift longer than necessary as it was a very tight space. The family room was extremely spacious and offered a large bed and a bunk bed at the bottom of the room. The bathroom was also the perfect size for what we needed. The balcony was also great as it meant we could see how windy it was each morning by looking out at the sea. From this view you could also see Turkey as strangely it isn't too far away!
The next morning, we promptly woke up around 8am, got ready and took our towels down to the pool (haven't missed doing this!). Much to our surprise, there weren't took many towels out and we found that the hotel wasn't at full capacity so we had a choice of where we wanted to go.
Breakfast at the hotel:
The breakfast at the hotel was the same each day, however, there were plenty of options. They had hot and cold choices with a range of each of these. They had around 8 types of cereal with both hot and cold milk. I must add that the milk tasted good too, unlike some of the places we've been to. Then for hot food, they had the usual, eggs in all ways, sausages, beans, pancakes etc. Overall, we were extremely happy with the food choices.
Snacks and bar:
There was a poolside bar and snack bar for during the day. The snack bar consisted of a fridge with jelly and fruit and then a counter where you could get pork gyros, vegan falafel and humus wraps and chips. These were amazing and we dived in to a few gyros and wraps during our stay. The bar area was lovely and the staff provided usually 2 drinks at a time for everyone. You could also request ice creams from here too. The drinks didn't taste watered down and Michael made sure to sample all of the cocktails on the menu during our stay.
The poolside bar was also where we sat on an evening as the stage for the entertainment was right next to it, but we'll come back to that later.
Lunch:
For lunch, it was an outside buffet. This was perfect as, although you couldn't go in with swimwear on, you could pop your beach cover up on or a baggy t shirt and go stuff your face! This food was different each day but did have the basics of salad, chips, pasta and rice so you know that you always have them. The food was always very fresh and beautifully prepared. They also had a deserts counter with fresh fruit, cakes and plenty of ice cream.
Dinner:
Now this is where the hotel were amazing. They had themed nights with plenty of options for the whole family. During our time at the hotel, our personal favourites were the Mexican and Asian nights as these are our favourite cuisines anyways so you must understand out excitement when we realised both would have a dedicated night. I can tell you, we never went hungry and always had more than one plate to sample all of the goods. There was also the same desert table with the choice of fruit, cakes and ice cream again.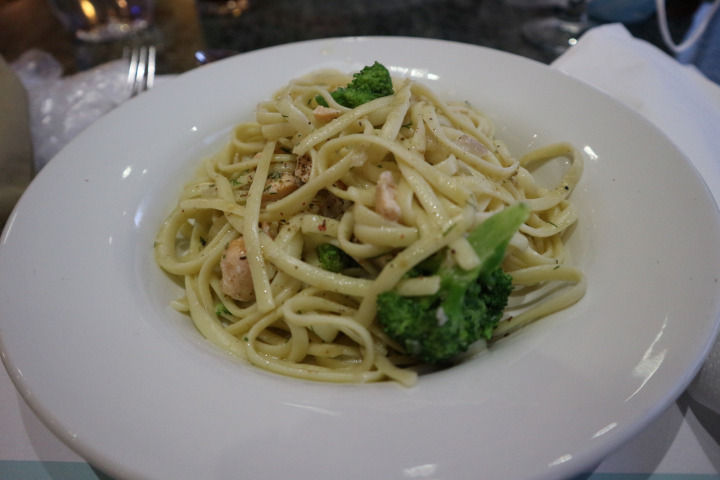 A la Carte:
During the stay as an all inclusive guest, you get one night free in the a la carte restaurant. We booked this for the Thursday evening to break up the week a bit. Now, although the food was delicious, this wasn't our favourite food night and would possibly skip this if we went back. What we did experience, however, was incredible service on this night.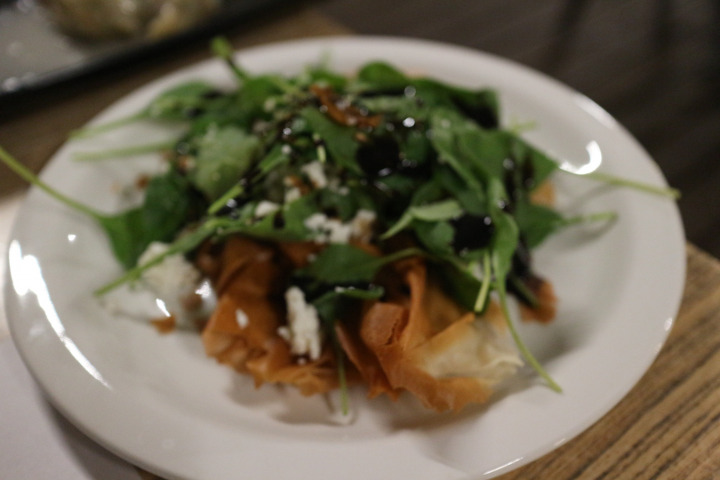 Emma is super annoying on holiday and although she eats fish, she is predominantly vegetarian. Unfortunately, she's the worst kind of person who doesn't like mushrooms. And I bet you can guess what the veggie option was?! However, after letting the staff know, they kindly offered to make up something else and they managed to make an incredible cheese risotto. This, we thought, was incredible service and cannot thank them enough for accommodating Emma's needs.
Entertainment:
You guessed it, the entertainment at the hotel was also amazing.
The reps hosted water polo, darts, football, water volley ball and aqua gym every day during our stay. Michael got involved with the water polo, darts and volleyball and absolutely loved it. It's a great way to get chatting to other people staying at the hotel too.
On an evening, they either put on a show, hosted a quiz or a bingo night.
The evening entertainment was usually a show however, that the reps had choreographed themselves with dance and singing. It really was incredible to see how much effort they put in. They even did a full performance of the Greatest Showman which was definitely a highlight of our stay.
Things to do in Rhodes:
Rhodes Town:
We visited Rhodes Town on one of the days during our stay so we could get out and explore. It was around a 15 minute walk to the bus stop and then 15 minutes on the bus. (The bus was also airconditioned which was perfect). It cost 2 euros 50 per person each way. Rhodes Town is a beautiful medieval city with a labyrinth or maze like streets filled with ruins and plenty of shops, bars and restaurants.
We loved wandering the streets and getting lost amongst all of the little markets. We would 100% recommend taking a day trip here, it was one of our highlights of Rhodes.
Car Hire in Rhodes:
During our stay, we decided that one on day, we would hire a car to explore more of the island. We originally priced this up at the hotel which we were quoted just under 60 euros. After a little walk out, we stumbled across, Rent a Car Star. The man working there was lovely and managed to offer us 40 euros for a small car. This was exactly what we needed so we booked this immediately. We opted for a 4-door smart car, automatic which was perfect for us. Emma did the driving too.
Where to visit in Rhodes
Ruins of Acropolis and Stadium
The Acropolis of Rhodes is situated just 3 kilometres south of Rhodes Old Town. The site contains the Temple of Apollo which is a stadium, the Temple of Apollo and small theatre. As this space was quite open we decided to put the drone into action to capture the entire area from the air.
Entry to the site was completely free and parking was also free. The site doesn't take too long to see and can be seen in 60 minutes.
Lindos
Michael had visited Lindos on a family holiday around 10 years ago. He couldn't remember much so we decided to make the drive down on the day we hired the car.. The first thing that struck us was the sheer amount of cars in Lindos, it was rammed! We managed to find a space about a ten minute walk from the historic centre, an added bonus was that it was free.
We made the short voyage down the steep bank to the old town. Unfortunately, it was nothing like we expected. Rhodes Town blew us away and I think by seeing Rhodes Town first took a lot of the shine off Lindos. We personally didn't find Lindos to be anything like Rhodes town and ultimately we were disappointed. The small streets were packed and we found that every restaurant was very overpriced.
We had some food, explored the city but decided to leave after a few hours as it just wasn't for us. It was a real disappointment of the trip as we thought it would be one of our highlights.
Tsampsika Beach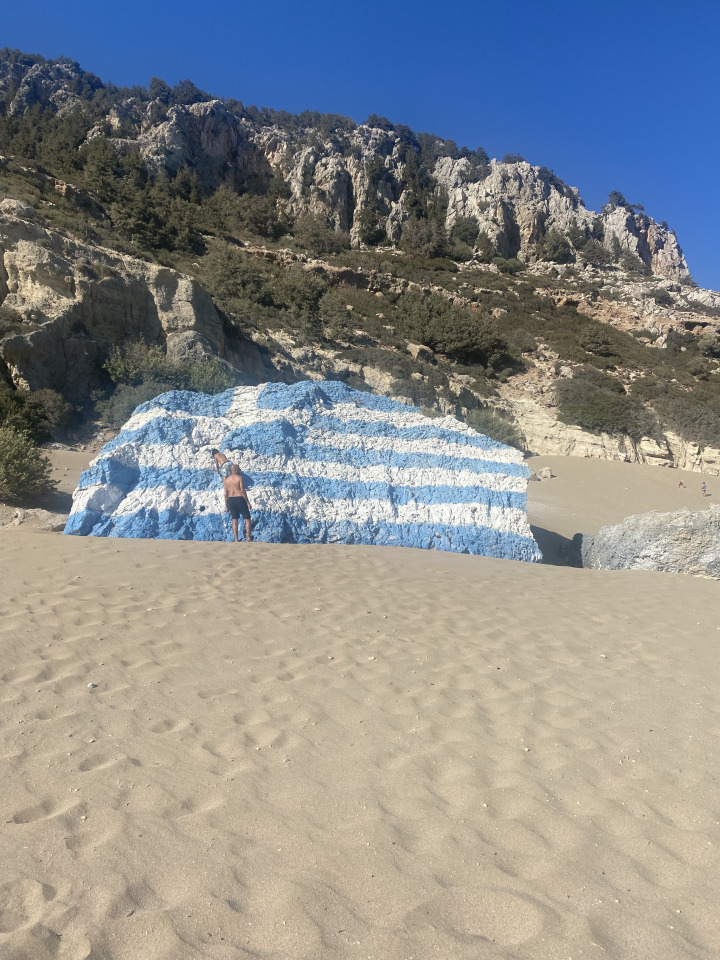 Wow, just wow. This is one of the best beaches we have visited. We spotted the beach after a hike up the nearby Tsampsika Monastery, quite frankly, it looked like a paradise. After spotting the beach we instantly went to explore. On the drive down we were stopped in our tracks, not by police or the like but by goats! Goats line the road and block cars and you must give them a bribe of a few blades of grass. Once we got down we were not disappointed. The beach was stunning with golden sands, beach bars and a clear blue sea. If you're looking for a beach to chill out on, then this is the place.
Tsampika Monastery
Do you want to feel like you're on top of the world? You must go here, it feels like you can see the entire island, we'd bet a few euros that you can. We drove up a steep bank (which Emma nearly took us off the side of) and parked in a rocky, dusty car park. We then set off up another steep hill.
If you have trouble walking or health issues then I would not recommend this climb, it's very steep and tested us. The views from the top however are amazing.
Panorama Tsampikas Taverna Restaurant
If you can't make the hike up to the monastery then Panorama Tsampikas Taverna Restaurant offers similar breathtaking views. We only had time for a quick drink here but drinking an ice cold Mythos with stunning views was a real highlight of the holiday. The service was fantastic and we were a bit gutted that we had dinner earlier as the food also looked great. Panorama Tsampikas is located just off the main highway to Lindos so you can't miss it.
Filerimos Monastery
From our hotel in Ialysos we looked up to mountain which engulfs the town. After a quick Google search Michael found out that there was a monastery and other cool things up there. I wanted a day by the pool but Michael is very active and can't really sit still. He persuaded me to walk up, he did say it would only be around 45 mins and steep in parts.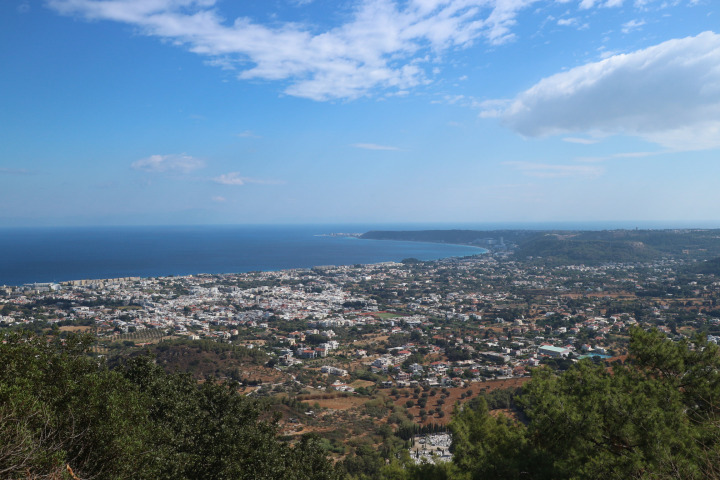 How did it turn out? Well, it turned out to be a 4 hour round hike which was pretty much steep in all parts. We're both fit and the walk up was tough. Halfway up the ascent is a pretty little church called, Prophet Elias Holy Orthodox Chapel. It's pink exterior gives it a charming look and it looks fantastic nestled in the trees.
Once you get to the top there are ostriches everywhere, literally everywhere! They're by the big cross on the hill and actually in the monastery. It's surreal! From the Filerimos Cross you get some of the best views of the island and on a clear day you can even see over to Turkey. You also get a fantastic view of planes coming into land at the nearby airport.
The actual monastery costs €6 to enter, to be honest it was quite small and not worth the entry fee but after the hike up we couldn't exactly not see it!
Is Ialysos and Rhodes Worth Visiting
We booked this holiday last minute without pretty much any research and it turned out to be one of our best holidays. Rhodes has plenty to offer and Ialysos itself had everything that we needed (except a sandy beach). The Atlantica Princess was a brilliant hotel with some of the best variety of food that we have encountered at an all inclusive. If you want a relaxing break then we would definitely recommend it.
There seems to be something for everyone in Rhodes, the island is steeped in history and also has fantastic wildlife and nature.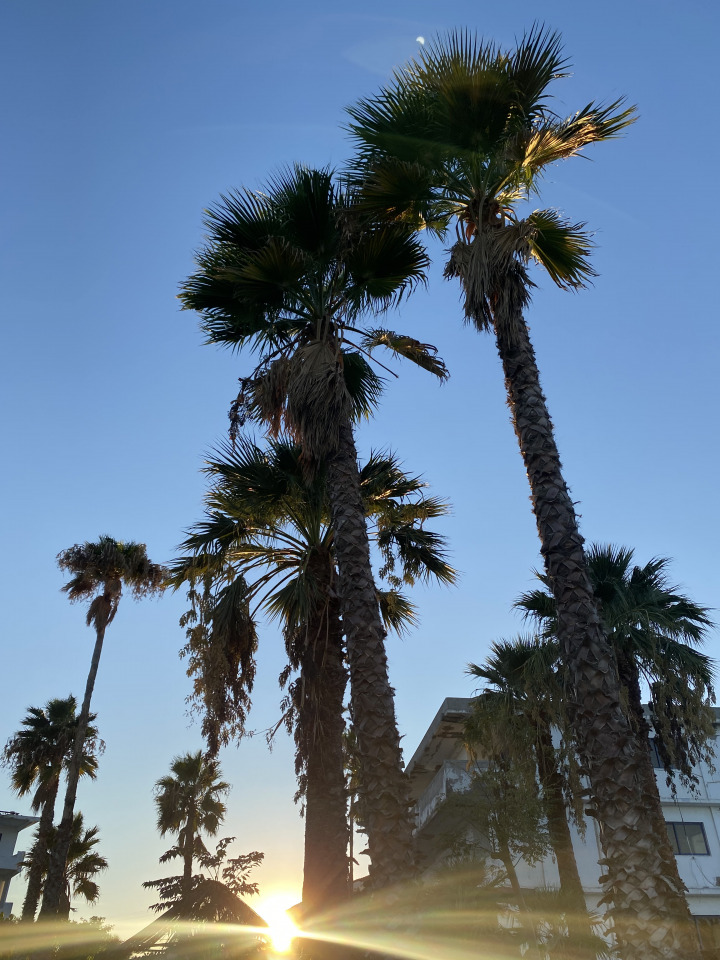 Check Out Our Other Destinations